We know that looking for breeders with English Labrador puppies in the United States can sometimes be difficult, especially when you are unsure about where to start looking. Fortunately, we've compiled a list of some of the most experienced, reputable breeders across the United States.
As their name suggests, English Labrador Retrievers were originally bred for retrieving. They collected games that their hunter owners managed to shoot while out sporting. They're known for various uses, including obedience competitions and assistance dogs, but, more prominently, they are great family pets.
Before scrolling down this list of breeders with English Labrador puppies in the USA for sale, you can check out these other recommendations from our team at We Love Doodles: Best Australian Bernedoodle Breeders in USA and Best Blue French Bulldog Breeders in the USA.
English Labrador Breeders In The USA
You could probably find a backyard breeder churning out enough puppies that you only have to pay half the rate of a good breeder but don't be fooled by the lower price tag, and you'll often end up paying substantially more for health issues further down the line. Here are some of the best quality breeders of the chunky style English Labradors in the United States.
Labrador Product Recommendations: Best Shock Collars For Dogs Barking and Best Paw Cream For Dogs.
1. PuppySpot's Labradors For The USA
Buying a puppy isn't as easy as it was maybe a decade ago. It involves all types of scams that you can think of. Quickly breeding puppies is one of the most common ones that destroy the puppy's health, making the poor soul more vulnerable to diseases, viruses, and weaknesses. PuppySpot, the game-changer in the puppy business, solves this problem for all buyers.
PuppySpot is quite different from traditional puppy sellers, and what makes them different is their screening process. They will leave no stone unturned to get only the best and fittest puppies listed. 
This process is backed by over 100 checking points, with the expert screening of PuppySpot. It has been seen that only 10% of the breeders who apply can get their puppies listed on PuppySpot. The screening process is said to be the strictest in the US by a long shot. 
As the screening of puppies wasn't attractive enough, PuppySpot also offers a 10-year health warranty on all its puppies. A nose-to-tail health check with PuppySpot's 10-year warranty is the kind of peace we all need while buying a puppy.
PuppySpot isn't just limited to a single state or a few of them. They are delivering all across the US with their puppy airline. There are no waitlists or long queues while buying puppies at PuppySpot either. It is as easy as it should be, with more workload on PuppySpot and least on the buyer, as they will only be selecting the type of breed, size, gender, and coat of color. The rest of the process, from vetting to shipping, will be taken care of by PuppySpot.
PuppySpot isn't a new name in the industry. Over 225,000 families have trusted PuppySpot and are more than satisfied with their purchases. Its proof is in the verified 10,000+ 5-star reviews and an A+ business profile on Better Business Bureau (BBB).
PuppySpot is a proud partner of the American Kennel Club (AKC) and American Humane Society, which further shows its vision of delivering safe, healthy, and happy puppies to all the households in the US. Connect with the perfect puppy of your dreams at PuppySpot with ease, without worrying about its health and wellbeing. Their website is also easy to browse and understand for everyone alike, making puppy buying a fun, safe, and hassle-free experience for anyone who would like to bring a new puppy home.
PuppySpot Details
2. KevMar Labradors
KevMar specializes in raising AKC breed standard English Labradors. The puppies they breed are stocky with lovely chunky heads, everything you expect from the breed. In 2015 they won the Eukanuba Championship with Winston, one of their most successful males. Alongside genetic testing on all of their breeding dogs, KevMar also performs X-rays to ensure their joints are healthy and don't pass any complications to future litters.
All puppies are examined by a vet within 72 hours of purchase and come microchipped, wormed, and vaccinated. Owners also receive a copy of the parent's health tests, accomplishments, and titles. If you're looking for English Lab puppies from a kennel with great showing accolades, then KevMar is worth a visit.
KevMar Labradors Details
3. Kampmeier Labs
Kampmeier Labs are constantly working to better each generation of puppies they breed. Litters are socialized by the family early on, including their grandchildren, so they get early exposure to kids. New owners can watch their puppies develop and grow via their Facebook page.
Kampmeier introduces their puppies to life's stresses early on, including introducing them to new sights, sounds, and different textures and objects to explore. They aim to have well-socialized, confident puppies enter their new homes. Puppies come with a health certificate and vaccinations and are wormed before leaving the breeder.
They are micro-chipped, including free lifetime registration for the new home and a health guarantee from the breeder. Some litters are due soon, but these breeders get snapped up quickly. To secure a puppy from them, you need to complete a questionnaire and undergo some basic home vetting, but if you're searching for a well-bred English Lab puppy, they're a good start.
Kampmeier Labs Details
4. Rock Creek Labradors
Rock Creek Labradors are relatively small breeders who often don't have litters available. However, have 30 years of experience under their belt. The puppies they breed are broad, stocky, and healthy and make great companion animals. Rock Creed carefully selects their breeding bitches for temperament to make the best family pets, and all breeding dogs undergo rigorous health screening before they are bred.
At just three weeks old, Rock Creek Labradors begin the process of potty training their puppies, so by the time they're ready to go into their homes, they're already learning the skills they need to become great pets. They have a litter on their way soon so if you're looking for English Lab puppies for sale, check their website.
Rock Creek Labradors Details
5. Delight Labrador
Delight Labradors aim to breed top-quality, all-purpose puppies that adhere to AKC breed standards. Quality is just as important as temperament and its suitability for companionship. Delight Labs are not just responsible breeders. The owner of the kennels is also a qualified AKC judge, so who better understands good breeding than someone who judges dogs in the show?
Delight Labradors encourage future puppy owners to get in touch with them and ask questions before purchasing a puppy. They want to ensure that every English Lab puppy they breed goes into a good, loving home that will take the time to find the right match.
Delight Labrador Details
6. Suebel Labradors
Suebel Labradors breed wonderfully chunky puppies with the English Labrador breed standard. They breed dogs for pets, agility, obedience, and assistance, so all of their puppies come with an AKC Limited Registration. Those wanting to breed or show their puppies would have to get full registration.
All puppies come with a 12-month health and temperament guarantee and will have been checked by a vet and vaccinated before going into their home. Suebel has several early training videos on their website to demonstrate how quickly their puppies learn and what they do with them before leaving for their forever home. If you're looking for English Lab puppies for sale that come with some basic training, Suebel is a great place to look first.
Suebel Labradors Details
7. Misty Woods Labradors
Misty woods breed to produce puppies for a range of different purposes. They have bred puppies that later became qualified medical detection dogs and assistant dogs. Their dogs also compete in rallies, agility, field trips, and almost any other competition you can name. They're a versatile line of dogs making great family pets. All dogs they use to breed are AKC registered and have hip and elbow scores to make sure they're only breeding the most physically sound English Labrador puppies.
Puppies come fully wormed and microchipped, and they also start their vaccination course while with the breeder. Information about their parent's genetics and health scoring come included in their puppy pack for transparency. They have a few litter or English Lab puppies for sale, and more on the way, so be sure to look at their website.
Misty Woods Labradors Details
8. Stone Haven Labradors
Sone Haven breeds happy, healthy, family-oriented puppies. Breeding Labradors since 1980, they strive to constantly produce better and healthier litters with amazing temperaments suitable for family life. All of their puppies receive bottle-feeding and nursing from their mothers to make stronger bonds with humans. They are socialized early on and undergo temperament testing to ensure they go to the right homes.
Puppies receive their first vaccinations and a physical exam before going home, and the breeder even includes a copy of their own published book. After 40 years of breeding, they have plenty of tips about raising and training your puppies to pass on. They offer lifetime support to every puppy to make sure they remain happy in their forever homes and encourage contact and updates from anyone who has purchased an English Lab puppy from them.
Stone Have Labradors Details
9. Kohler Creek Labradors
Kohler's Labradors undergo full medical and genetic checks before producing litters for the breeder. They're cleared of any elbow, hip, and eye issues and are all fully AKC registered. They breed predominantly for temperament as most puppies go into pet homes to become loving companions. Families wanting to buy puppies from their litters will have to undergo screening to ensure they can offer suitable homes.
They don't often have puppies available but are planning at least one litter for 2022, for which you can fill out a questionnaire for now. Kohler doesn't breed Labradors as a career; instead, it's a hobby, so you can be sure that when you buy a puppy from them, you'll be getting a well-socialized and loved little addition.
Kohler Creek Labradors
10. Chilbrook Labradors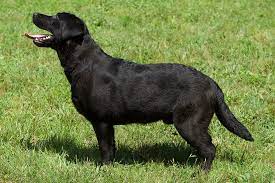 Chilbrook is an expert in producing all-around Labrador puppies that can fulfill various roles, including working assistant dogs or just loving companions. They've been breeding since 1969 and continue breeding from and developing the same bloodline they started. Chilbrook aims for their puppies to go into their forever home well socialized and with basic manners.
All puppies are vet checked and come wormed and vaccinated. Chilbrook has a renowned reputation for breeding excellent quality puppies while they're on the higher end of the price spectrum. If you're looking to get an English Lab puppy from them, you can be looking to spend $4,000 for a healthy puppy with a good lineage that will give you less worry in the long run regarding possible health concerns.
Chilbrook Labradors Details
Choosing an English Labrador Breeder in the USA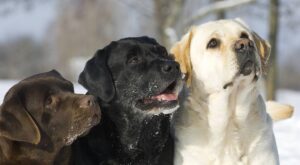 There is no magic wand to wave that can tell you if a puppy you buy will have any ongoing health concerns in the future, but as an owner, the best thing you can do for your future puppy is to make sure they come from a good breeder. A good breeder will usually mean they have a reputation.
Before talking to a breeder, you should look at their reviews online or ask around. If they're a complete unknown but have been breeding for several years, there could be something amiss. Breeders should have full transparency when discussing their litters with potential homes.
They should be willing for families to meet the mum, although sometimes meeting the male dog who fathered the litter won't be possible if they used a stud dog. Reputable breeders will perform DNA and OFA testing to ensure no genetic issues are bred into their lines.
They shouldn't be breeding from dogs with joint issues or any other hereditary ailments. Puppies should have their vaccinations at least started and come dewormed with a recent health check. Many breeders will offer health warranties if they're confident in the health of their puppies which is always a positive sign.
More Information About English Labrador Puppies in the USA
The English Labrador Retriever is the same breed as the American Labrador Retriever, and the kennel club doesn't recognize them as different breeds. However, there are some quite prominent differences between the two. The two varieties of Labradors tend to be bred for different things. American Labradors are bred namely for sports.
They have a lean, muscular build with smaller heads and are often taller. English Labs are substantially chunkier but shorter with a slightly thicker coat. Some active families may prefer the lean build of the American Labrador. However, English Labradors tend to be calmer and are classic family dogs.
Conclusion For "English Labrador Puppies in the USA"
Vetting your breeder before purchasing a puppy from them is one of the most important things you can do when you plan on getting a new family member. Poorly bred dogs are more at risk when it comes to health issues. Without detailed knowledge of their lineage, they could be carrying hereditary conditions or a predisposition to poor joint health. Communication is one of the most important factors when finding your breeder.
You must get a feel for them and like them before buying a puppy from them. Buying a puppy from a good, respected breeder like any of the ones you see on our list means you're furthering healthy breeding lines. Following the tips in this article, you can find several responsibly breeders with English Lab puppies for sale across the USA.
For more guides similar to this list of breeders with English Labrador puppies in the USA for sale, you can check out:
If this guide of breeders with English Labrador puppies in the United States, you can learn more about this dog breed by watching "10 Things Only Labrador Dog Owners Understand" down below:
Garrett loves animals and is a huge advocate for all Doodle dog breeds. He owns his own Goldendoodle named Kona. In addition, he volunteers at the Humane Society of Silicon Valley, where he fosters dogs and helps animals. Garrett enjoys writing about Doodles and believes that dogs can teach humans more about how to live than humans can teach a dog.
Why Trust We Love Doodles?
At We Love Doodles, we're a team of writers, veterinarians, and puppy trainers that love dogs. Our team of qualified experts researches and provides reliable information on a wide range of dog topics. Our reviews are based on customer feedback, hands-on testing, and in-depth analysis. We are fully transparent and honest to our community of dog owners and future owners.