If you're searching for the best English Bulldog breeders in New Hampshire, you've come to the right place. Then you have come to the right place. Below, we have compiled a list of the top breeders and neighboring states.
Before scrolling down this list of English Bulldog breeders in New Hampshire, you can check out these other recommendations from our team at We Love Doodles: Best Cane Corso Breeders in New Hampshire and Best Cavalier King Charles Breeders in New Hampshire.
English Bulldog Puppies For Sale in New Hampshire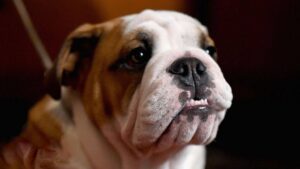 A good and reputable English Bulldog breeder will provide all the documentation that ensures you get a healthy, temperamentally sound and purebred English Bulldog. Some not-so-reputable breeders may try to pull one on you by offering you a puppy that isn't up to the standards.
It may not only have disqualifying traits but health issues as well. Therefore, it is very important to select your English Bulldog breeder after careful consideration. Here are the top English Bulldog breeders in New Hampshire and neighboring states.
English Bulldog Product Recommendations: Best Plaque Removers For Dogs and Best Shock Collars For Dogs Barking.
1. Bayside Bulldogs
Sheila Wright, the owner of Bayside Bulldogs, has been breeding English Bullies for over two decades. Her goal has always been to focus on quality and not quantity. As a result, she only produces 1-2 liters per year. Her breeding pairs are also AKC registered and are kept in climate-controlled 'puppy rooms.'
Once the puppies arrive, she even crate and paper train them before sending them to their forever homes. Ms. Wright also has a licensed veterinarian check all her English Bulldog puppies for sale in New Hampshire and the breeding pairs for eye, heart, and joint issues. Each puppy goes home with a signed health certificate from a registered veterinarian.
Bayside Bulldogs Details
2. Glory B Farm/Kennels
Glory B Farm Kennel was established in 1957. Its owners, Deborah and Richard Schwartz have been selectively raising AKC English bulldogs in their state-of-the-art facility and proudly claim that all their dogs are better than the breed standard. Spread over 12 acres, their healthy and happy English Bullies get plenty of room for walking and exercise.
The Schwartzes also test their breeding stock for common genetic issues like hip and elbow dysplasia and eye problems. They are also a member of the  Bulldog Club Of America. On their website below, check out photos of their purebred dams, sires, and English Bulldog puppies for sale in New Hampshire.
Glory B Farm/Kennels Details
3. Brownfield Bulldogs
In Maine, Brownfield Bulldogs is a reputed AKC registered English Bulldog facility. Their pets are very well-cared for and get holistic grain-free food, regular vet exams, and plenty of exercises.
When you buy a Brownfield English Bulldog, you also get microchipping, first-year vaccinations, and certification from a licensed veterinarian. Your puppy also comes with a puppy kit to help it with the transition. Here are their details of Brownfield Bulldogs if you want news about upcoming litters.
Brownfield Bulldogs Details
4. Sandy Bottom Bulldogs
Looking for a rare coat color English Bulldog? Then check out Sandy Bottom Bulldogs of Massachusetts. These hobby breeders have unique English Bulldog coat colors and follow a strict vetting procedure before sending their puppies home. Sandy Bottom Bulldog breeders are quick in responding and reply within 24 hours.
They also provide a health guarantee, and every puppy goes home with proper nutrition, health certificate, deworming, up-to-date vaccines, registration papers, and a 30-day money-back guarantee. Sandy Bottom English Bulldogs are all AKC registered and bred to AKC standards. Here are their details if you want to contact them.
Sandy Bottom Bulldogs Details
5. Berkshire Bulldogs
Berkshire Bulldogs is a small hobby breeding facility located in MA. The owners are Shelby Powell & Scott Washburn. Shelby started breeding Olde Bulldoggs in 2001 and later added English Bulldogs to the program. Ms. Powell has documented the effort that goes into breeding English Bulldogs.
She states that it is not an easy breed to mate as they may need artificial insemination, stud services, and C-sections. Moreover, the puppies need careful monitoring and climate-controlled environments for several weeks of their early lives.
Berkshire English Bulldogs are healthy, happy, and socialized with kids. They are also AKC registered. Ms. Powell and Mr. Washburn test their breeding dogs for patellar luxation, a major health issue in English Bulldogs.
Berkshire Bulldogs Details
6. Smooch-A-Bulls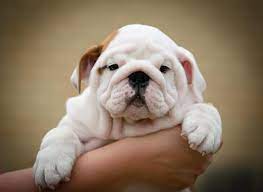 Smooch-A-Bulls is a Bulldog Breeder based in Weedsport, New York. Owners Robert Kiesznowski and Christine Elliott-Kiesznowski ensure that their dogs get the best farm life with fresh air, healthy food, and plenty of room to roam and play.
They also keep Shetland Sheepdogs on their farm Smooch-A-Bulls has received the AKC's Breeder of Merit certification, and they also have several champion English Bulldogs. Before mating, they are all tested for genetic diseases – especially joint and eye issues.
Smooch-A-Bulls Details
7. Laurel Ridge Bulldogs
Laurel Ridge Bulldogs is a breeder based in Connecticut, and they claim to have the 'sweetest' purebred, AKC English Bulldogs you'll ever meet. They have owned Bulldogs since 2001 and started breeding them in 2012.
Laurel Ridge Bulldog breeders strive for excellent conformation, health, and sweet temperament. When writing this guide, they did not have any English Bulldog puppies for sale, but you may contact them for upcoming litters on the links given below.
Laurel Ridge Bulldogs Details
8. Romanis Legacy Bulldogs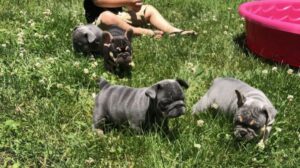 Romanis Legacy is a small New Jersey-based, family-owned, AKC English Bulldog breeder. They are not a pet store; all their dogs live with them. The owner, Paola Romani, also keeps English Bulldogs in rare and traditional colors and breeds French Bulldogs.
The Romanis encourage potential pet parents to come and visit their Bulldogs at their veterinarian's office in New Brunswick, New Jersey. You can also call/text them after the sale if you have any questions about your new puppy.
All Romani Bulldogs are socialized with kids, adults, and adult dogs, and the household is desensitized. Moreover, all Romanis Legacy Bulldog puppies only leave home after deworming, being vaccinated, and health registered by a vet.
Romanis Legacy Bulldogs Details
9. Old Real Bulldogs
Old Real Bulldogs is a New York-based breeder having Winston bloodlines of real English Bulldogs. They have been keeping Bulldogs since 1950. In addition to multiple offices and kennels in New York, they also have kennels and offices in South Carolina.
The facility also provides dog grooming, pet boarding, dog walking/pet sitting, worldwide pet transport, etc. Old Real Bulldogs live up to their name – they have been studying Bulldog genetics for several decades to overcome the disappointing health issues the breed is known for.
Their dogs have developed stamina and endurance for two or more hours in the summer heat and other extensive circumstances. All dogs are tested for eyes, heart, elbows, and hips. You can get working dogs as well as pet Bulldogs at this facility. Old Real Bulldogs are also proud members of the Old Red English Bulldogs Association Inc. and strictly adhere to their code of ethics.
Old Real Bulldogs Details
10. Mythic Bulldogs
Mythic Bulldogs is based in Bridgewater, NJ. Owners Adiela, Mateo, and Carlos have constantly been looking to better the English Bulldog breed since 2003. No wonder they have received rave reviews on their Facebook page and Google.
Mythic English Bulldog puppies come with a 1-year warranty, and their vaccines and deworming are up-to-date. All their puppies are 100% purebred. They are also microchipped. Owner Carlos encourages customers to visit their puppies or meet them on FaceTime. They do not have a puppy delivery service to New Hampshire, but they do deliver puppies to NJ, NY, PA, CT, MA, etc.
Mythic Bulldogs Details
How to Find The Best English Bulldog Breeders in New Hampshire
Once you've decided to bring home an English Bulldog, you need to find a reliable and reputable breeder. You also want to meet the puppy before bringing it home. Good breeders will encourage you to visit their facility. They will also share the contact details of their vet and happily show you records of the genetic tests they have conducted on their breeding pairs to rule out health issues.
Always read the contract thoroughly once it is drawn. Many English Bulldog breeders in New Hampshire have these contracts posted on their websites. A detailed contract will indicate if you can show your English Bulldog or use a male Bulldog as a stud. Good breeders will also happily take back the puppy if you are unable to keep it for some reason.
More About English Bulldogs From New Hampshire
English Bulldogs stand between 12 to 14 inches at withers and measure between 40 and 50 pounds. They are short, stocky, muscular, and wide, and their faces are characterized by folds of wrinkled skin.  Their tails are short, and like all brachycephalic breeds, they have flat noses.
English Bulldogs came from England and were mainly bred for fighting bulls. Today, they may be used as working or hunting dogs, making excellent family pets.
Modern Bulldogs from ethical and reliable breeders make calm, quiet, and lovable pets. They get along well with kids and other dogs. They may not be too active and would rather spend the day lounging at your feet.
Conclusion For The Best "English Bulldog Breeders in New Hampshire"
The best English Bulldog breeders in New Hampshire strive for the breed's welfare. They have been studying Bulldog genetics to produce litters with fewer health issues.
There are a couple of top-rated English Bulldog breeders in New Hampshire and some in its neighboring states. We hope you find a healthy, happy English Bulldog puppy at one of the breeders above.
For more guides similar to this list of English Bulldog breeders in New Hampshire, you can check out:
Before you bring home an English Bulldog puppy from a breeder in New Hampshire, you can learn more about the breed by watching "English Bulldog Breed Review" down below: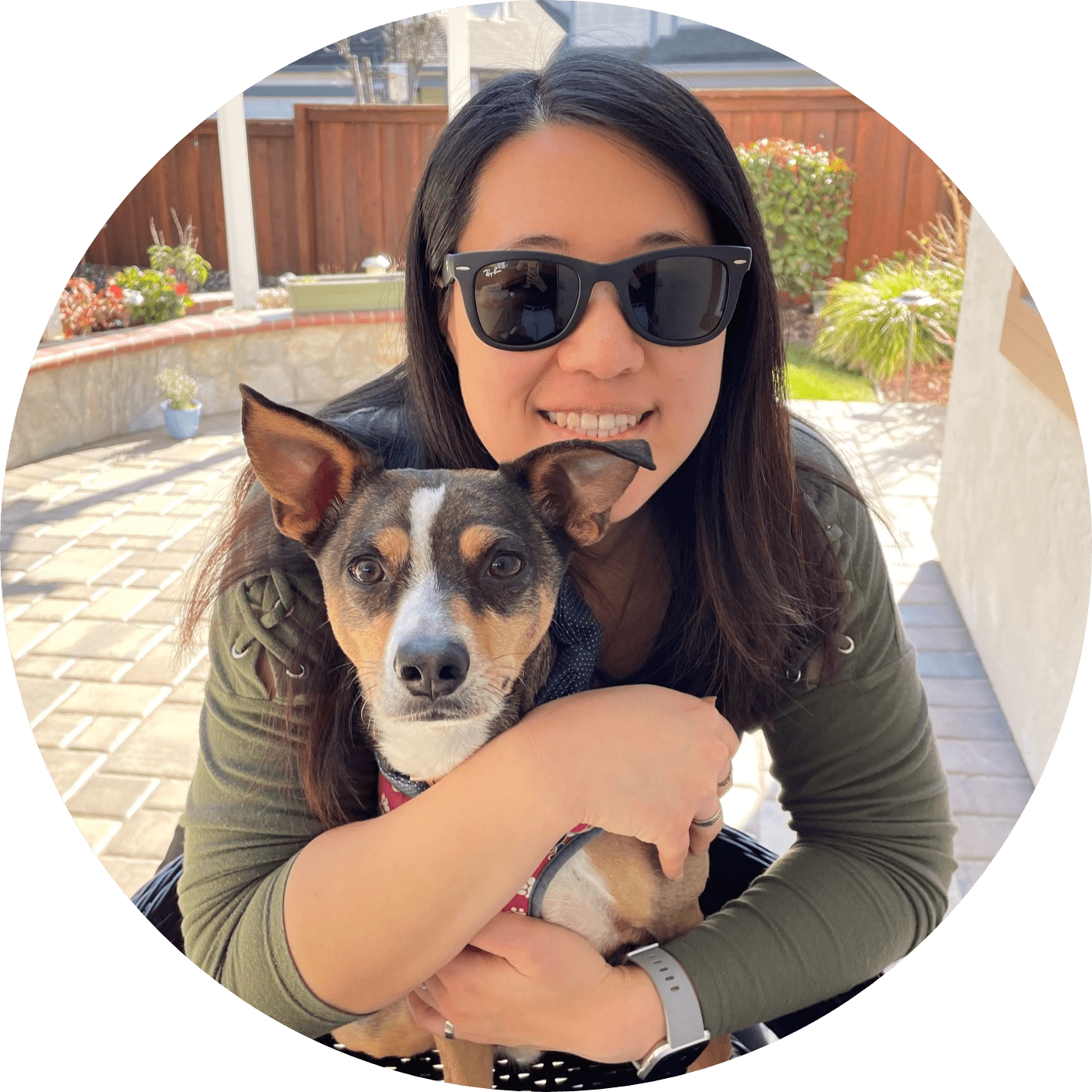 Dr. Sabrina Kong graduated from the Royal Veterinary College in England in 2016 and has been working at a small animal clinic in Northern California since then. She grew up in the Bay Area and got her bachelor's degree from Cal Poly San Luis Obispo. She also became a Certified Canine Rehabilitation Practitioner through a program at the University of Tennessee.
When she isn't in the clinic taking care of her four-legged patients, she enjoys traveling and trying new foods with her friends and her three-legged dog, Apollo. She adopted Apollo from her clinic when he was a puppy with numerous health issues. Dr. Kong truly cares about taking care of animals.