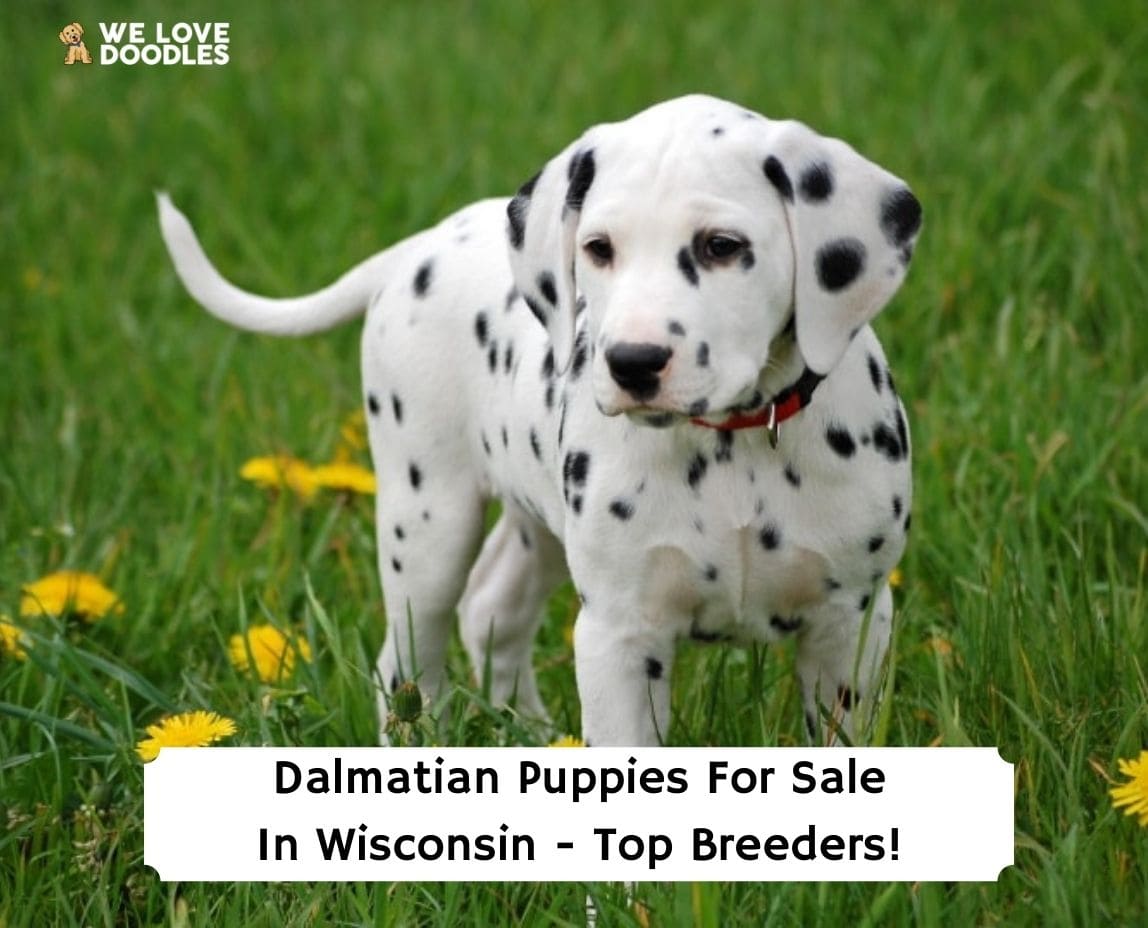 Are you searching for Dalmatian puppies for sale in Wisconsin? You've come to the right place. Dalmatians are high-energy dogs that are known for their iconic black spots. They make great pets as they are social and love living with a family. Although a Dalmatian may be somewhat hostile to strangers, it becomes friendly with time.
Before scrolling down this list of breeders with Dalmatian puppies in Wisconsin for sale, you can check out these other recommendations from our team at We Love Doodles: English Bulldog Puppies in Utah and Basset Hound Puppies in Wisconsin.
Dalmatian Breeders In Wisconsin
If you are looking for an intelligent and sensitive breed, you will not be disappointed with the Dalmatian. However, you must remember that it does not like being left alone and can indulge in destructive behavior if bored or neglected.
To get your hands on a well-socialized and healthy Dalmatian puppy, you need to make sure that you get one from a quality breeder. Here are some of the breeders that are widely known throughout Wisconsin.
Dalmatian Product Recommendations: Best Air Dried Dog Food and Best Dog Football Toys.
1. Rose' N Dal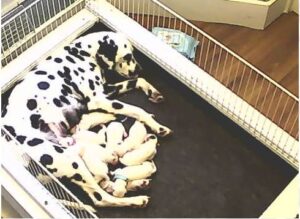 One of the best breeders to get Dalmatian puppies in Wisconsin is Rose' N Dal. It started in 1987 and has come a long way since then. It started from humble beginnings, but now its Dalmatians participate in local dog shows. In addition, they are known throughout Wisconsin for their friendly disposition.
The owner has invested substantial money in the Dalmatian breeding program; the puppies are bred with champions to ensure quality. As litters become available from time to time, you will need to keep in touch with the breeder and make a deposit to bring one home.
Remember that the breeder makes sure your lifestyle suits the Dalmatian before agreeing to hand it over. A great thing about the breeder is that it accepts puppies from owners who can no longer care for them. Moreover, the breeder also offers a wide range of items for Dalmatians. Therefore, before you adopt a puppy, it will provide you with all the information you need to look after it.
Rose' N Dal Details
2. Moen Lake Dalmatians
The next breeder known for Dalmatian puppies in Wisconsin is Moen Lake Dalmatians. It is dedicated to breeding the perfect dogs whose ability, temperament, appearance, and health are true to the breed. What sets the breeder apart is that it aims to eradicate deafness.
Moreover, it focuses on the health of puppies, which is why none of its puppies have high uric acid. Boasting grand champion bloodlines, you can rely on it to find a pet with great qualities. The owner has graduated from the American Kennel Club Canine College and strives to provide proper health testing.
Moen Lake Dalmatians consider genetic screening, temperament, and health issues to ensure that interested adopters get their hands on the puppy of their dreams. The available Dalmatians have been tested for hearing, eyes, hip dysplasia, hyperuricosuria, thyroid, and genetic defects.
It provides all relevant documents to ensure you have all the necessary information. In addition to this, it also conducts wellness exams. You will also appreciate that it offers free pet insurance for up to a month. Finally, each dog is socialized, so you do not encounter any problems later down the road.
Moen Lake Dalmatians Details
3. CR Dalmatians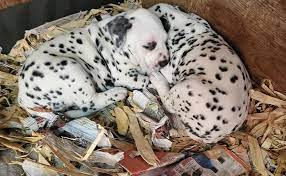 CR Dalmatians tops our list for Dalmatian breeders in Wisconsin. Founded in 1978, it has offered countless puppies to loving pet parents. Its breeding program only has a few Dalmatians, so it focuses more on quality. You will need to pay a deposit to be on its waiting list. You can submit your application with a deposit of $100 to be put on the waiting list.
Interested pet parents on the waiting list are given first rights when a litter becomes available. They have both black and white-colored dams and a liver-spotted sire, so they always get a variety of colors in their litters. If you are looking for the ideal Dalmatian, you do not need to look any further, as it provides many options.
CR Dalmatians Details
4. Paisley Dals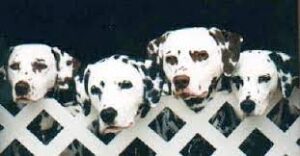 If you have exhausted all options for Dalmatian puppies for sale in Wisconsin, check out Paisley Dals, a breeder in Minnesota. With more than 40 years of experience breeding and showing dogs, you can rely on the breeder to find the best puppy for your home.
Paisley Dal is proud to be the breeder of Argus, the Dalmatian who ranked among the top 10 Dalmatians in the USA for 3 consecutive years. Argus also won the Best of the Breed award in 2008. Having bred famous dogs, the breeder provides a great deal of knowledge about breeding well-adjusted Dalmatians. Even though many of its dogs are show dogs, you can reach out to the breeder to find a family pet.
The litters are bred with show potential in mind. Good temperament is its number one priority, as well as excellent health. Appropriate health testing is conducted, and the dogs have a CHIC number. On top of this, the puppies are evaluated for attitude, willingness, and soundness. They are neutered/sprayed. You will find the puppies to be carefully placed, BAER tested, health-checked, and fully socialized.
Paisley Dals Details
Choosing a Dalmatian Breeder in Wisconsin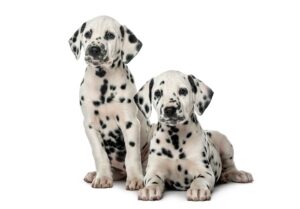 Before adopting a Dalmatian puppy, you need to find a trustworthy breeder. Here are some things you need to consider to help you choose the right breeder for dog adoption.
Reputation: If there is one thing that you cannot afford to ignore when on the lookout for a Dalmatian breeder, it is reputation. There is a lot that you can learn from the reputation of the breeder. Always choose a reputable breeder to ensure that you get a quality pet. Otherwise, you would have no one to reach out to if you are unsatisfied or experience any issues. The internet is a great place to gather more information about different breeders; read online reviews and customer feedback to
Health Checks: The next thing that you should consider is health checks. Look for a breeder who regularly conducts health checks to ensure you bring a healthy puppy to your home. The last thing you want is to get a dog suffering from a serious health condition. The breeder must be concerned about the health of its puppies. If that is not the case, you would have to take your new pet to the vet regularly and incur additional costs.
Health Warranties: In addition to health checks, you must find a breeder that offers a health warranty. It ensures you do not have to stress the puppy suffering from a serious illness. With a health warranty, you would be able to reach out to the breeder to get compensated if the dog is found to be ill. There is nothing more important than health warranties. Hence, you must look for a breeder who provides a healthy warranty when you adopt a puppy.
DNA Testing: DNA disease should never be taken lightly. You must choose a breeder who conducts DNA testing and shares the results with you. Otherwise, the Dalmatians you adopt might be suffering from a genetic disease. It is also a good idea to get to know the puppy's parents so that you bring home the best pet. The more information you can gather, the better. It makes sense to focus on DNA testing as it allows you to pick out a healthy puppy.
Vaccinations: Get a vaccinated Dalmatian, as you never know what illness the puppy might be suffering from. Vaccination ensures that you get a pet that is happy and healthy.
Communication: To avoid any socialization issues, you must also look for a breeder with a dedicated socialization program to meet the communication needs of the puppy. It would allow you to get a puppy with no problem socializing with you and your family.
More Information About Dalmatian Puppies For Sale In Wisconsin

What Is the Cost of Dog Adoption in Wisconsin?
When it comes to dog adoption in Wisconsin or any other state, the amount of money you will need to spend depends on the breed you want to get.
Are There Dalmatians in Wisconsin?
The number of Dalmatians in Wisconsin is on the rise. The chances are that you might have spotted one no matter where you live in the state.
Can Wisconsin Residents Get a Dog?
Yes, Wisconsin residents can easily get a dog. However, if you are a tenant, you will need to discuss with your landlord whether you can adopt a puppy or not.
Conclusion For "Dalmatian Puppies In Wisconsin For Sale"
Once you have finished reading the post, you will know everything there is to know about Dalmatian breeders in Wisconsin. Make sure you choose the right breeder to get a healthy puppy that enjoys being around people.
There is no denying that Dalmatian puppies are adorable. This is why you will love to have them in your home. Their unique spots make them stand out. Besides, you can always take them for a picnic or stroll as they are very active and humorous.
For more guides similar to this list of breeders with Dalmatian puppies in Wisconsin for sale, you can check out:
If this guide of breeders with Dalmatian puppies in Wisconsin is for sale, you can learn more about this dog breed by watching "Dogs 101 – Dalmatian" down below:
Garrett loves animals and is a huge advocate for all Doodle dog breeds. He owns his own Goldendoodle named Kona. In addition, he volunteers at the Humane Society of Silicon Valley, where he fosters dogs and helps animals. Garrett enjoys writing about Doodles and believes that dogs can teach humans more about how to live than humans can teach a dog.
Why Trust We Love Doodles?
At We Love Doodles, we're a team of writers, veterinarians, and puppy trainers that love dogs. Our team of qualified experts researches and provides reliable information on a wide range of dog topics. Our reviews are based on customer feedback, hands-on testing, and in-depth analysis. We are fully transparent and honest to our community of dog owners and future owners.