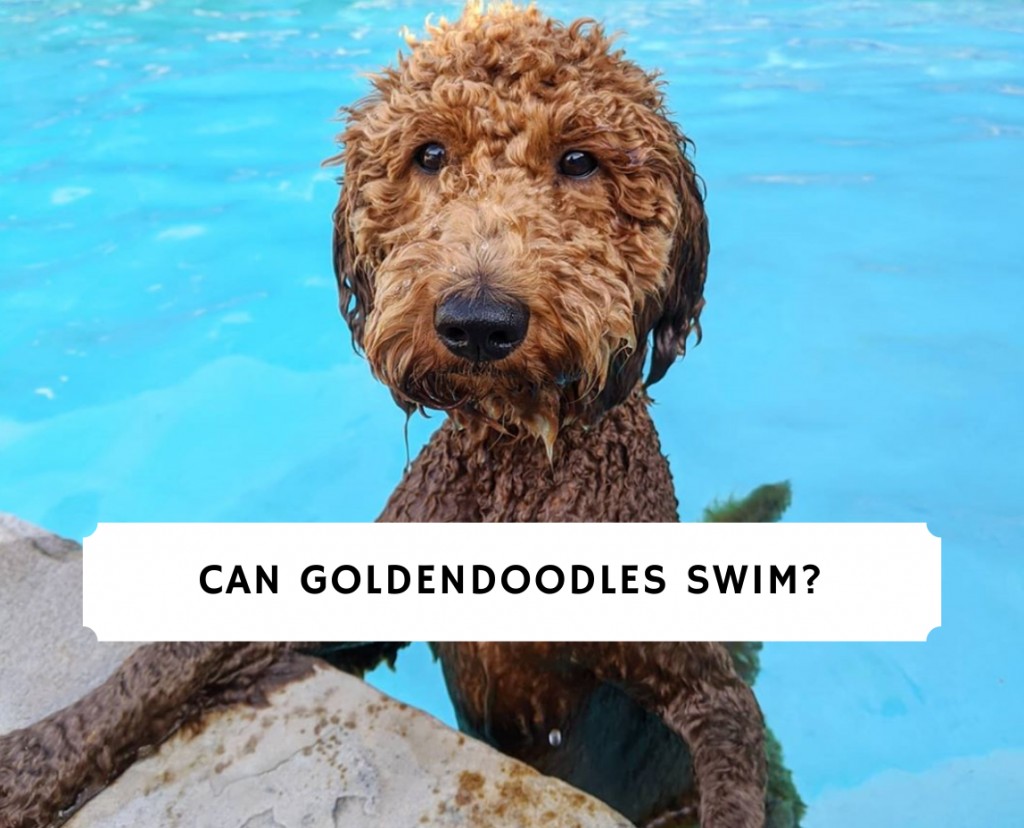 Goldendoodles are a mix between two popular, water-loving breeds, the Poodle and the Golden Retriever. Goldendoodles are the perfect companions if you're all about the swim life and want a dog that loves spending time in the water as much as you do.
But can Goldendoodles swim? More importantly, do Goldendoodles like to swim? While no two dogs are exactly alike, most Goldendoodles love the water. They are typically very strong swimmers from the start. However, some Goldendoodles puppies may need a little help from you at the start.
Here are a few things to keep in mind before taking your furry best friend for a dip.
Other articles you might like: Best clippers for a Goldendoodle
Take Puppy Steps
Introducing your Goldendoodle puppy to the joys of swimming in a smaller body of water is a safer idea than taking them to the lake or the ocean for their first swim. Inflatable pools and teething puppies are a terrible combination, but kiddie pools made of hard plastic are a great way to teach your puppy to swim in a safe environment.
If your dog is cautious about getting in the water, you can throw their favorite toy in. (Make sure it's washable if their favorite toy happens to be a plushie!) Getting in the water with your Goldendoodle also builds trust. With time and patience, swimming together can become a favorite pastime.
Older dogs — and more experienced puppies — can get started in adult-sized pools as long as they know how to exit the water. Dogs are usually the leap-before-you-look member of your friend group, so getting them into the water isn't as difficult as teaching them how to get out.
Goldendoodles are extremely intelligent and easy to train, and luring them to the exit with a treat is a great way to reward them as you teach them how to get in and out of the pool.
There are pool ramps for dogs available if your pool is accessible by ladder only. These are especially great for puppies with short legs and older dogs that might need a bit more help.
Keep Swim Time Safe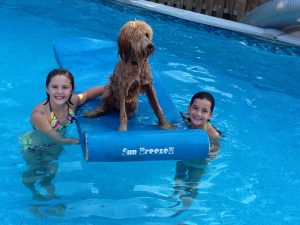 It's common sense that you should never let your dog swim alone, but there are a few other things to keep in mind before turning a Goldendoodle loose in the pool. Make sure no chemicals are lying around. Dogs are insatiably curious, and you don't want your fur baby getting into a bottle of chlorine.
Older dogs are generally pretty good at knowing when to stop for a break, but puppies — like small children — may try to fight through their exhaustion because they want to play. Enforce breaks, especially when it's hot out, when they seem to be slowing down.
Now would be an excellent time to offer them a treat, so they equate getting out of the water with being rewarded. You should also keep plenty of water on hand during breaks, and try to retreat to the shade while you and your dog cool off. Because of their lighter coats, Goldendoodles are especially prone to sunburn.
Stay Safe in the Water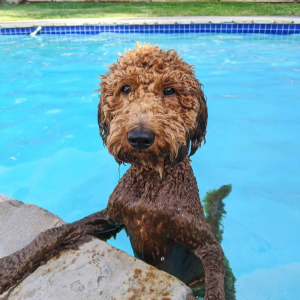 Once you've established that your Goldendoodle can swim, you may want to venture out of your backyard pool and into a lake, river, or the ocean. Even if your dog is a talented swimmer that knows how to exit the water, you should always keep an eye on them, especially in moving bodies of water.
Tides and currents can change on a dime, so you'll want to stay near your dog. Always consider your Goldendoodle's health before you take them swimming in a river or the ocean. Puppies might become overwhelmed and panic, and older dogs aren't as fit as they used to be. It's never a bad idea to invest in a lifejacket for your dog.
To be on the safe side, you might want to become CPR-certified for animals.
Keep an eye out for anything potentially hazardous on the shore. Broken bottles, garbage, fishing gear like hooks and wires, and sea life could be dangerous to your mini Goldendoodle puppy. In addition, check your Goldendoodle's paws after swimming to make sure they haven't stepped on anything sharp or developed a sunburn. Yes, even the pads on their paws can get sunburned!
A Brief Word of Caution About Blue-Green Algae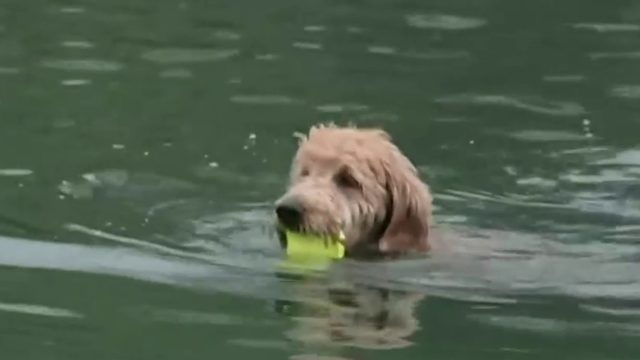 Stay educated about your local water condition before swimming with your dog, as swimming in waters infested with blue-green algae, potentially deadly cyanobacteria, could have tragic consequences if your Goldendoodle swims in the water. Blue-green algae blooms are most commonly found in still, fresh waters like ponds and lakes during the summer months.
Toxic levels of this bacteria have recently been found in California, Florida, Georgia, Indiana, Kansas, Maine, Minnesota, New York, North Carolina, Oregon, Rhode Island, Texas, Vermont, and Wisconsin.
You can't always see or smell blue-green algae, so if you don't know the water is safe, the safest thing to do is swim elsewhere.
Post-Swim Goldendoodle Grooming
Grooming plays a vital role in caring for your dog. Not only does it cut down on the amount of fur and dander your dog sheds, but it's essential for their comfort. Grooming removes any mats and dirt that could be hiding in your dog's coat. It also allows you to perform an at-home health check — look out for any mysterious bumps, lumps, or scratches.
Because grooming is an essential part of your furry friend's care, it's a good idea to get started young, around 12 weeks. Grooming your Goldendoodle won't be as much of a hassle if you treat the process as another time for playing and bonding.
Grooming your dog is especially important after a swim whether the water is chlorinated or not. Rinse off all the chemicals — or salt if you've been swimming in the ocean — as soon as possible to avoid skin irritation. Then it's time for a shampoo. Look for something designed specifically for dogs. No matter how great your shampoo smells, it could sting your dog's eyes or damage their skin pH.
You should also make sure to clean your Goldendoodle's ears weekly if you swim often. During the colder months when you're unlikely to dive in, a monthly cleaning is just fine. Cleaning your Goldendoode's ears after they swim helps to prevent ear infections and bacteria from growing. 
Conclusion for Can Goldendoodles Swim?
Goldendoodles are the perfect dogs for water-lovers. Intelligent and playful, they learn quickly and adapt to water with ease. While you should always take precautions when swimming with your dog, it's a great way to keep them active, burn off excess energy, and bond with your furry pal.
The title of the article is, "Can Goldendoodles swim?" However, the better question might be, "How do I keep my Goldendoodle out of my pool?" Most Goldendoodles absolutely love swimming and gravitate toward pools, lakes, and rivers.
Other articles you might like:
Garrett loves animals and is a huge advocate for all Doodle dog breeds. He owns his own Goldendoodle named Kona. In addition, he volunteers at the Humane Society of Silicon Valley, where he fosters dogs and helps animals. Garrett enjoys writing about Doodles and believes that dogs can teach humans more about how to live than humans can teach a dog.
Why Trust We Love Doodles?
At We Love Doodles, we're a team of writers, veterinarians, and puppy trainers that love dogs. Our team of qualified experts researches and provides reliable information on a wide range of dog topics. Our reviews are based on customer feedback, hands-on testing, and in-depth analysis. We are fully transparent and honest to our community of dog owners and future owners.