We published a guide on cooking chicken for dogs knowing that it's perfectly safe as long as you don't provide any harmful ingredients. However, many people have second thoughts about chicken nuggets. Can dogs eat chicken nuggets, and will it be harmful to them? When it comes to dogs consuming meat, there is little that they won't try.
Cartoons depict this obsession with dogs dreaming of thick, fatty streaks or chicken legs dancing as their thoughts. While dogs might pass on a spinach salad, they're sure to devour a plate of meat after the blink of an eye. While dogs love eating meat, it doesn't mean that everything is perfectly safe. People often feed dogs human food without thinking about the harmful ingredients that could cause health problems for their companions. Not everything safe for humans is safe for dogs.
One type of food our team at WeLoveDoodles would like to discuss with you today is chicken nuggets. This is a standard meal that's served in numerous fast-food branches, restaurants, and grocery stores. If you're planning to go through a drive-thru to pick up a 6-piece chicken nugget believing that it's a good source of protein, then here's what you need to know.
Chicken nuggets can both be safe and unsafe for your dogs depending on what ingredients were used by the time the meal is fully cooked. To help your companion live a healthy life without any unnecessary problems, this guide will guide you on what you need to know about chicken nuggets and dogs.
Before scrolling down, check out our recommendations and tips because we think it could help your dog: Best Dog Food with Vitamins and Minerals and Tips For Choosing a Good Dog Food
Can Dogs Eat Chicken Nuggets?
While many people think tossing chicken nuggets towards their dog will allow them to enjoy a nice delicious meal, it's best to reconsider. There are safety risks involved when you're feeding your companion chicken nuggets without fully understanding the ingredients. In case you didn't know, there are simple ingredients that'll taste delicious to humans but can be extremely harmful to dogs.
Chicken is an excellent source of protein for your dog. After all, it's a lean protein that can help your dog grow strong and healthy. Some dog food might even incorporate chicken into their mixes to take advantage of this healthy protein source. Unlike a pure chicken dish, chicken nuggets contain other ingredients that many people don't realize. Depending on what's cooked with the chicken nugget, your dog consuming it can both be good or bad.
Dog Food Recommendations: Best Air-Dried Dog Food
Safety Risks When Feeding Chicken Nuggets To Dogs
Similar to all human dishes, there are safety risks involved. To fully understand the risks, we need to understand what chicken nuggets are made of. What makes them "chicken nuggets" is the thick, fried breading that is often filled with preservatives with other additives. These additives can either be safe or potentially harmful for your companion. If you decide to make your chicken nuggets using your unique recipe and breading, your dog might be safe as long as you exclude harmful ingredients.
However, if you purchase your chicken nuggets from fast food places like Burger King or McDonald's, you should probably reconsider and steer off. Chicken nuggets purchased at fast food places are often packed with additives, preservatives, and other unhealthy ingredients. They're highly processed and offer a much lower level of nutritional value than other forms of chicken. You should avoid feeding your dog chicken nuggets from fast food locations because the batter that surrounds the chicken is highly processed and deep-fried. It's not recommended, and it's not an ideal choice for your companion.
While the batter and deep-fried flavor can be delicious to humans and dogs, it can compromise their overall health if owners aren't cautious. Another issue with the breading of chicken nuggets from fast food places is the possibility of any additional preservatives such as salts or seasonings added. For instance, garlic salt contains other ingredients such as onions and garlic, a potent ingredient. Keep track of harmful components to help you prevent any unnecessary issues in the long term. You should also be aware of how these chicken nuggets are prepared.
Typically, they're deep-fried in oil, which has high trans and saturated fats. Both of these can have adverse side effects for your companion. As with any junk food, it's important to stay cautious with the right intent when you're sharing these snacks. The stomach of dogs is not designed to be as tolerant to some ingredients as humans' stomachs can do. If your only option and last resort has to be chicken nuggets, remember to peel off the breading. This will help lessen the number of toxic ingredients while providing as much protein as possible for your dog.
Dog Food Recommendations: Best Dog Food To Build Muscle
Health Concerns and Chicken Nuggets For Dogs
Chicken nuggets aren't necessarily bad because of the protein source, but the type of ingredients could change that. You should avoid it if possible especially purchasing from your local grocery store or fast food locations. Given the high amounts of preservatives, fats, and oils used in the processing and cooking of chicken, nuggets aren't a wise choice for your dog. It's a massive no if your companion is suffering from pre-existing health conditions. If your companion suffers or suffered from diabetes, heart conditions, or other medical issues – it'll likely be more sensitive to:
High Amounts of Salt
Sugar
Carbohydrates
Most of these ingredients are packed in the breading, which is why we recommend that you remove it if feeding chicken nuggets from fast food location is your absolute last resort. The number of chicken nuggets that your companion can eat or the likelihood of negative effects after eating them might depend on your dog's size. Generally, larger dogs will likely have a higher tolerance compared to smaller dogs. Smaller dogs have a more gentle and sensitive digestive system.
If your dog consumed chicken nuggets, you should stay alert and monitor your companion's health. This way, you'll know whether it's feeling well or if it's behaving strangely. If you notice any signs of discomfort or pain, you should contact a dog medical professional for any possible solutions to help them feel less discomfort.
Dog Food Recommendations: Best Dog Food Without Chicken
Conclusion For "Can Dogs Eat Chicken Nuggets"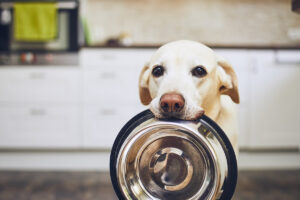 Even though it's not recommended for dogs to consume chicken nuggets from fast-food restaurants, it doesn't mean that they can't have their own special "chicken nugget recipe."You can create the perfect recipe for your companion to experience the same delicious jo with learning and patience. If you're not good with cooking, you can check out chicken recipes created specifically for dogs. There are a variety of brands offering chicken treats and food. By purchasing chicken dog food from a reputable brand, your dog is safe from the dangers of consuming toxic ingredients. You can find a variety of chicken food such as dried or cooked.
There are also other protein-packed snacks that can keep your dog full without the added negative effects that deep-friend breading can bring. You can find snacks that have more a more moderate calorie count or that'll keep them filled for hours. When you're searching for an alternative to chicken nuggets for your dog, it's important to keep a list of harmful ingredients to ensure that your companion can live a healthy and safer lifestyle. Finding better alternatives can help prevent unnecessary risks like diabetes and heart conditions. Treat your companion's body like how you would treat yours.
For more information about dog food, check out:
To learn more about what your dog shouldn't eat, watch "Dangerous Foods Your Dog Should Never Eat" from Jaw-Dropping Facts down below: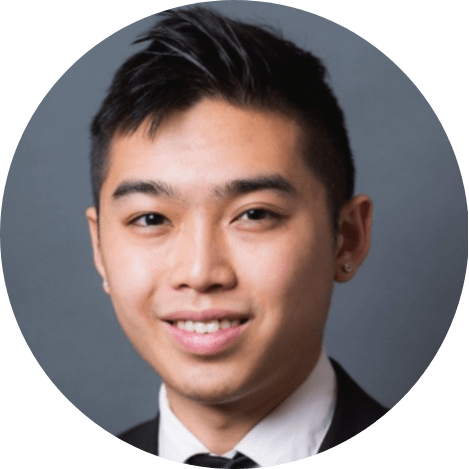 Andy is a full-time animal rescuer and owner of a toy doodle. When he's not saving dogs, Andy is one of our core writers and editors. He has been writing about dogs for over a decade. Andy joined our team because he believes that words are powerful tools that can change a dog's life for the better.
Why Trust We Love Doodles?
At We Love Doodles, we're a team of writers, veterinarians, and puppy trainers that love dogs. Our team of qualified experts researches and provides reliable information on a wide range of dog topics. Our reviews are based on customer feedback, hands-on testing, and in-depth analysis. We are fully transparent and honest to our community of dog owners and future owners.