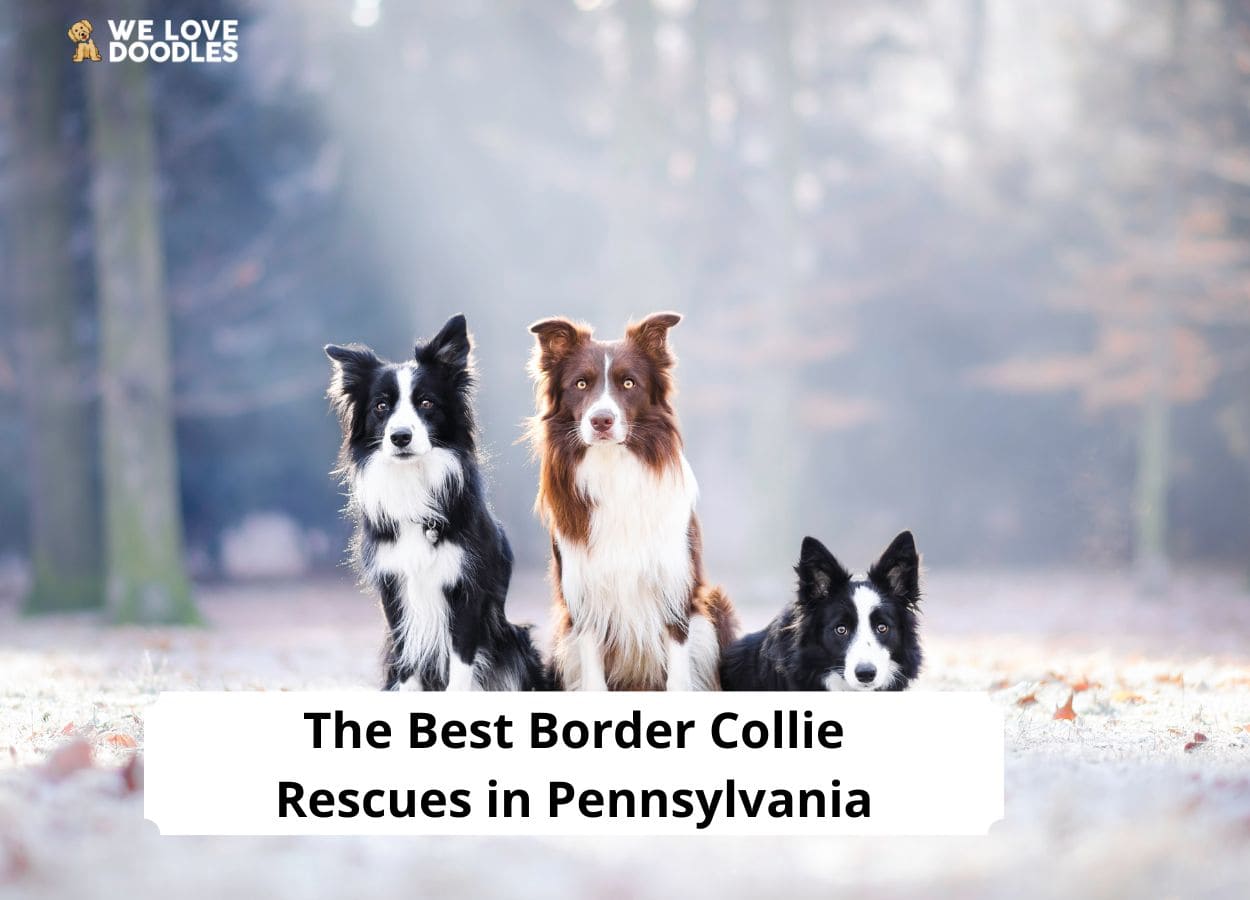 Finding reputable order Collie rescues in Pennsylvania (PA) can be challenging as there aren't many breed-specific rescues in town. However, many reputable all-breed rescues are working diligently for the well-being of the dog population in PA, and you can easily find Border Collies at these organizations.
This article lists 3 all-breed rescue organizations operating in PA and 1 Border Collie rescue located in the neighboring state of Maryland. All rescues listed here have been vetted independently, and we can vouch for the authenticity of their rescue programs.
While it may take longer to adopt a Border Collie than to purchase one, we strongly suggest you adopt rather than shop. There is a pet dog overpopulation problem in the US, and dog rescues are packed to the brim with abandoned and surrendered dogs.
Dogs have always been popular in the US, but their popularity has grown multifold over the past 3 decades. Unfortunately, notoriety has made dog rearing a business rather than a passion. The objective of every trader is to make capital, so it is no surprise that some dogs are bred and raised in deplorable circumstances to earn a few bucks.
For these reasons, dog enthusiasts must choose to adopt dogs from rescues rather than commission breeders to bring more puppies into this world. Giving a dog a second shot at life is what adoption is all about, and the rescues listed below help you do just that!
Before you scroll down this list of Border Collie rescues in Pennsylvania, you can check out these other rescue shelter recommendations from our team at We Love Doodles: Best French Bulldog Rescues in Pennsylvania and Best Cockapoo Rescues in Pennsylvania.
1. Mid-Atlantic Border Collie Rescue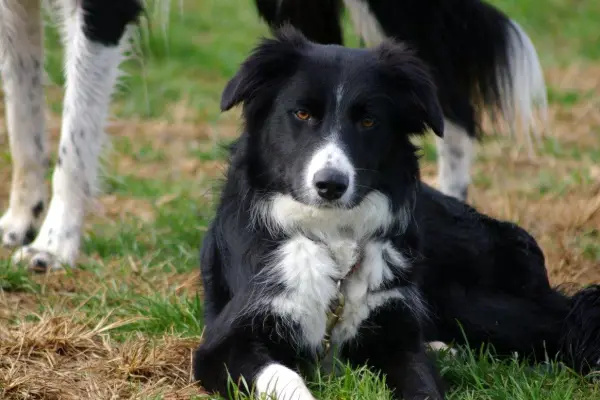 Mid-Atlantic Border Collie Rescue is one of the leading Border Collie rescues in Pennsylvania (PA). It works relentlessly to find forever homes that are a perfect match for each dog and is the best organization for improving the lives of abandoned Border Collies.
MABCR, which has worked with and researched this breed for over 30 years, is well-equipped to rescue Border Collie dogs from potentially unsafe circumstances and put them in loving, permanent homes. The bulk of MABCR's activities is managed by volunteers who have lived with and worked with Border Collies for years.
MABCR covers the District of Columbia, Maryland, Delaware, Pennsylvania, New Jersey, Virginia, New York, North Carolina, and West Virginia. It accepts surrenders and gives preference to adoption applications from residents of these states. Applications from regions outside of their standard service radius will be reviewed on an individual basis.
Because of its long history of compassionate care, Mid-Atlantic Border Collie Rescue is uniquely positioned to drastically improve the lives of abandoned Border Collies. Their primary target audience is their neighborhood.
The devoted team at Mid-Atlantic Border Collie Rescue is committed to the success of your relationship with your new furry friend. It offers training and access to beneficial online resources to help dog owners build a loving relationship with their dogs.
Their first objective is to place each dog in a permanent loving home. They have a rigorous system to guarantee that each puppy is carefully matched with a family that can satisfy all of their requirements.
MABCR was formed to keep dogs in their homes; they understand that dogs function best when cared for by their human partners, so they have grown to become guardians of these dogs in the hopes of finding them a new, permanent home.
Mid-Atlantic Border Collie Rescue Details:
2. Furry Feet Rescue
Walnutport, Pennsylvania, is home to the excellent Furry Feet Rescue organization. This organization's purpose is to preserve the lives of stray or abandoned small animals in Pennsylvania by rehabilitating them and putting them in new, permanent homes with compassionate individuals.
As a nonprofit organization, Furry Feet's purpose is to find loving homes for all animals who come through its doors. All Furry Feet creatures are micro-chipped, sterilized, vaccinated, and given a clean bill of health (unless explicitly stated otherwise).
Furry Feet Rescuemakes great efforts to locate perfect homes for the animals in their care and assure their well-being. Another emphasis is raising public knowledge and education on pet health, diet, vaccines, and how to be a good pet buddy.
This no-kill shelter allows the adoption of dogs, cats, and, on occasion, rabbits and guinea pigs. Dogs are spayed or neutered and vaccinated before being placed for adoption.
Furry Feet Rescue Details:
3.  Street Tails Animal Rescue
Street Tails Animal Rescue (STAR)is a fantastic puppy rescue in Pennsylvania (PA). This rescue has worked relentlessly to save as many creatures as possible each year since its beginning in 2001. The organization is now officially a nonprofit, thanks to the efforts of its volunteer team.
This rescue organization exclusively takes dogs from overcrowded shelters to save them from cramped living conditions and euthanasia. Unfortunately, it does not accept general public pet surrenders.
Lindsay Condefer established Street Tails Animal Rescue (STAR) in 2001 in Philadelphia, Pennsylvania. Lindsay's pet store was the original site for the group, and she set out to rescue as many dogs as possible. Today, the organization has developed into a flourishing nonprofit animal rescue organization staffed by many committed volunteers.
STAR has a rigorous adoption process; rescued dogs are examined when they are brought in for physical and psychological assessments. Afterward, they are given the care they need to overcome the trauma they faced in their past life.
STAR volunteers publish the details online when an animal is ready for adoption. They carefully vet the adoption applications, run background checks, and meet with the applicant to ensure their dog is going to the right home.
Street Tails Animal Rescue Details:
4. Because You Care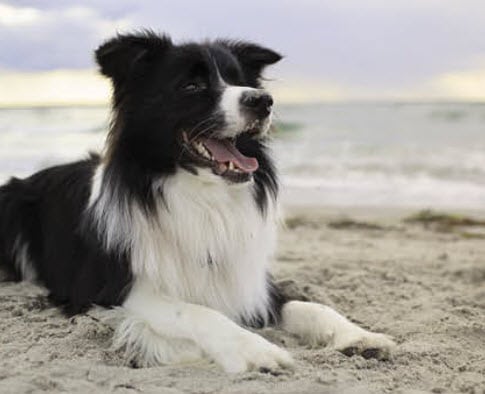 If you are unable to find Border Collie rescues in Pennsylvania (PA), consider Because You Care. A 501(c)(3)pet rescue in Pennsylvania (PA), this dog rescue helps dogs that have been neglected, abused, or abandoned with vital medical care and loving care (and, of course, a new forever home).
The rescue employs a foster family system to give temporary homes to the animals while they hunt for permanent ones. The generous foster families open their homes to rescued dogs and give them the love and care they deserve.
Because You Care's website lists a variety of spayed and neutered dogs available for adoption, including Border Collies, spaying and neutering are included in the adoption price. Moreover, the dogs come fully vaccinated and groomed.
Because You Care Rescue Details:
How to Choose Border Collie Rescues in Pennsylvania?
Did you know that around 670,000 dogs are killed in shelters yearly in the United States? More than 500,000 canines were denied a second chance in 2022. They waited for a ride home, but nobody showed up, and they had to be putdown.
Therefore, we encourage dog enthusiasts to adopt as many dogs as they like from rescues. However, what factors should you look for when choosing a return to ensure you get a healthy pup? Here are a few things to consider:
Introduce your Border Collie to the family correctly – How a dog, particularly a rescue dog who may have had a difficult past, is introduced to your family is crucial. You want things to go well so they can relax (or at least be as stress-free as possible). That implies you must complete the final preparations for the whole room before they move in.
Rescued dogs cost less –If you're wondering how much it costs to adopt a dog, the good news is that you won't have to break the bank. Adopting a dog from a shelter is far less costly than purchasing one from a breeder, and it is completely free in many circumstances. When you consider that the cost of microchipping, spaying or neutering, deworming, and vaccines is often included in the adoption fee for a rescue dog, the financial commitment to adopting a dog becomes even less.
Despite your best efforts, you may not be a suitable match for a dog rescue organization or a shelter dog. Even though many dogs need homes, shelters should always undertake rigorous background checks on prospective adopters. Every dog eligible for adoption deserves to be loved and flourish in a home where it will never have to return to the shelter.
Conclusion For "The 4 Best Border Collie Rescues in Pennsylvania"
The reasons why dogs end up in a shelter are not always evident. The dog might have gone missing or been abandoned. Maybe the former owner passed away, or the animal was always a stray.
All living beings have the right to a good life and an opportunity for happiness. Moreover, adopting a dog is a unique and gratifying experience, as dogs make terrific companions.
These Pennsylvania-based rescue groups are all excellent options for anybody wishing to add a dog to their household. We wish you success in your hunt for a new furry family member and hope you found this post informative.
For more guides similar to this list of Border Collie rescues in Pennsylvania, you can check out these other rescue shelter recommendations from our team:
Before you adopt a Border Collie companion from a rescue shelter in Pennsylvania, you can learn more about this dog breed by watching "5 Things You Must Never Do to Your Border Collie" down below:
Garrett loves animals and is a huge advocate for all Doodle dog breeds. He owns his own Goldendoodle named Kona. In addition, he volunteers at the Humane Society of Silicon Valley, where he fosters dogs and helps animals. Garrett enjoys writing about Doodles and believes that dogs can teach humans more about how to live than humans can teach a dog.
Why Trust We Love Doodles?
At We Love Doodles, we're a team of writers, veterinarians, and puppy trainers that love dogs. Our team of qualified experts researches and provides reliable information on a wide range of dog topics. Our reviews are based on customer feedback, hands-on testing, and in-depth analysis. We are fully transparent and honest to our community of dog owners and future owners.