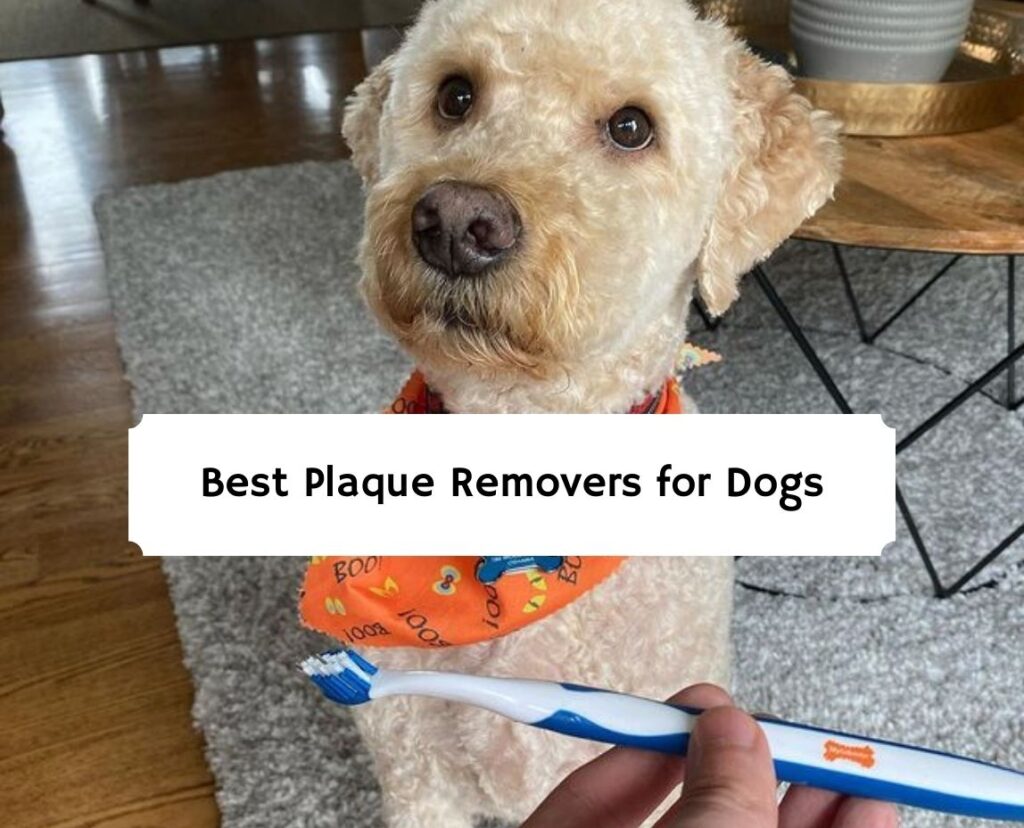 Did you know that over 80 percent of all pets will have some periodontal (around the tooth) disease before they reach three years of age? To keep your dog's teeth healthy, you need to invest in regular checkups, professional cleanings, and daily oral care. 
This will increase your dog's chances of keeping a healthy mouth and have a longer lifespan. In this review, we're going to give you our top 8 picks for plaques removers for dogs in 2021.
Dog Teeth Problems
Research shows that dogs can have dental problems as young as three years old. Dogs should have their teeth brushed thoroughly at least two to three times a week for five to ten minutes each session. Ideally, you should brush your dog's teeth every day. The American Veterinary Dental Association (AVMA) explains that "Early detection and treatment of periodontal disease is critical because advanced periodontal disease can cause severe problems and pain for your pet. Periodontal disease doesn't just affect your pet's mouth. Other health problems found in association with periodontal disease include kidney, liver, and heart muscle changes."
To find the best dental pet products for keeping your dog's mouth tartar free, you should opt for pet dental products with the Veterinary Oral Health Care (VOHC) seal of approval (the dog and cat equivalent of the A.D.A. seal of approval).
Today, we will review the 10 best plaque removers for dogs in the form of toothpaste, toys, dog treats, and bones. We highly suggest that you try a combination of products to supplement brushing your dog's teeth.
In a rush? Here are the top picks!
Product
Best Toothepaste
Virbac CET Enzymatic Toothpaste
Best Chew
Greenies Original Dog Chews
Best Dog Food
Hill's Science Adult Oral Care Food
Arm & Hammer Dog Chew Toy
Image
Virbac pet toothpaste is a great way to help maintain your pet's dental health. Virbac, an industry leader in pet health care products, knows how vital regular brushing is for your dog or cat. That's why they've developed Virbac toothpaste, a fresh-tasting toothpaste that's clinically proven to reduce plaque and tartar buildup.
When paired with the C.E.T. Enzymatic Chews, Virbac Toothpaste's unique formula helps clean your pet's teeth and freshen their breath. The toothpaste is made in the U.S.A., contains safe ingredients, and is available in five flavors: beef, poultry, seafood, malt, and vanilla mint.
Features
Over 18,700 positive reviews

Vet recommended

Enzymatic toothpaste

Reduces plaque & freshens doggie breath
Virbac C.E.T. Enzymatic Oral Hygiene Chews for Dogs offer the benefits of the clinically proven Virbac Toothpaste in a delicious, tasty dog treat. Each C.E.T. Enzymatic Chew contains a unique blend of Virbac's enzymes and minerals, which help fight plaque and tartar buildup. 
Virbac C.E.T. Enzymatic Oral Hygiene Chews for Dogs features a single-layer with a 100% beef rawhide containing an appealing poultry flavor. These vet-recommended chews are crafted with the exclusive Dual Enzyme System that combines a natural antiseptic plus an abrasive texture that works with the dog's chewing action to remove tartar and provide plaque control. 
Features
An exclusive dual enzyme system

Affordable

Oral hygiene pet chews

Crafted with select beef hide

Limited ingredients

Over 7,000 positive reviews
The Arm & Hammer Super Treadz Dental Dog Toy helps keep your dog's teeth clean while he plays. These toys are the ultimate, durable dental toy for your pet. They are specifically designed to help freshen breath, stimulate gums, and reduce tartar and plaque buildup while the extremely durable body withstands even the most aggressive of chewers. 
This dog dental product features natural rubber and baking soda crafted from highly durable rubber to withstand even the most aggressive chewers. We like this product because not only is it baking soda infused, but it also dispenses treats.
Features
Baking soda infused

Freshens breath & reduces tartar

Extremely durable rubber design to withstand excessive chewing

Over 21,400 positive reviews
Hill's Science Diet Adult Oral Care Dental Health Dog Food is recommended for adult dogs. This dog dental care food features a unique kibble designed to clean teeth and reduce tartar buildup, keeping your dog's teeth and gums healthy and strong and promoting good doggy breath. 
The crunchy texture provides a natural flossing action while reducing tartar and plaque. It also contains Omega-6 fatty acids and vitamin A to support a shiny, healthy coat. This formula is not recommended for puppies, pregnant, or nursing dogs.
Features
Nutrition crafted to improve dental health

Crafted with interlocking fiber, technology cleans canine teeth and supports fresh breath with every bite.

Over 3,000 positive reviews

US veterinarian # 1 recommended

Leading brand in pet nutrition

VOHC accepted
Treat your small dog to the taste of Purina DentaLife Oral Care Treats for Dogs and watch as they go from lazing around on your sofa cushions to dutifully crunching away on these tasty, nutritious treats. 
Chewing is a natural behavior for dogs, so providing them with tasty chew treats supports their dental health. We like Purina Dental Life oral care treats for small pets because they're crafted with eight distinct ridges and a porous texture to help clean hard-to-reach teeth down to the gum line. Here's' the takeaway:
Features
Innovative design with a chewy, porous texture

Priced affordably

Over 4,600 positive reviews

US veterinarian # 1 recommended

Made in the U.S. facilities

57% average reduction in tartar buildup

VOHC accepted
Greenies Dental Chews provide a total oral health solution for your dog. They are made with natural, easy-to-digest ingredients, which make them safe and gentle enough to eat. Greenies dental chews even helps control plaque & tartar buildup, freshen breath and keep teeth clean. 
These dental chews are clinically proven to reduce plaque and tartar buildup and provide up to 12 hours of fresh breath.
Features
Over 21,700 positive reviews

VOHC accepted

Vet recommended for dental care

Crafted with natural ingredients including vitamins, minerals & nutrients

Freshens breath

Many options available, from weight management to aging care
Petsmile Professional Dog Toothpaste is a professional strength, complete oral care dog toothpaste with Calprox and can be used as a daily dog toothpaste to maintain healthy teeth and gums. It is one of the few toothpastes that is a formulated and veterinarian approved for complete oral care toothpaste for dogs. This also features an integrated applicator tube for easy use. 
This toothpaste tastes excellent; your dog will love it! It's also VOHC (Veterinary Oral Health Council) approved. We like this pet toothpaste because your pet can immediately eat or drink after applying the Petsmile toothpaste. 
Features
Calprox to inhibit plaque & tartar formation

VOHC approved

Veterinary approved pet dental care

Vegan & cruelty-free

Made in the U.S.
The Kong Core Strength Rubber Ball is a rubber ball designed for powerful dogs that love to fetch and chew. The dental care pet toy provides a fun way to maintain your pet's teeth and gums while strengthening their jaw muscles. This rubber ball is made with a unique, incredibly durable KONG rubber formula to keep it from breaking and features a multilayer design for long-lasting chew sessions.
Features
Textured body great for cleaning teeth

Designed to extend play sessions for ongoing fun

Super durable pet dental toy

Affordable

Available in medium and large sizes
Kong Puppy Goodie Bone – Kong pet products are widely used by veterinarians, pet professionals, and satisfied pet owners because of their dedication to pet safety, fun, and activity.
Made from the KONG Classic unique puppy rubber, this bone teaches puppies to appropriate chewing behavior while easing aching teeth and gums.
KONG Puppy Goodie Bone with Rope is a petite version of the petite Goodie Bone toy. This pet dental bone is the perfect solution to keep your pet's teeth and gums healthy! Teeth Cleaning: The all-cotton rope helps to clean teeth and gums for improved dental hygiene.
Features
Over 3,000 positive reviews

For puppies up to 35 lbs. / 16 kg. 

Affordable

Globally Sourced Materials

The soft teething rubber formula 
KONG Ziggies are delicious, bite-sized snacks that contain a tasty meaty center wrapped in a crispy layer. These snacks help to keep your pet's teeth strong and healthy by satisfying their natural urge to chew. Perfect for any pet parent on the go!
Crunchy layer fulfills natural chewing urges perfect for stuffing with KONG snacks & easy treats helps clean teeth & control tartar & plaque. Ideal for stuffing with KONG Snacks. Ziggies are made in the U.S.A. with ingredients also sourced in the U.S.A. We like these because all Kong products are so durable, and The KONG Classic red rubber toy helps satisfy dogs' instinctual needs and also provides mental stimulation. 
Features
Crafted with durable natural rubber for chewing

Affordable

The KONG Classic red rubber formula is created for average chewing dogs.

Effective when you freeze the stuffed KONG for 4-6 hours before giving it to your dog.

Crafted for interactive play
Pet Toothpaste
The American Kennel Club (A.K.C.) explains "that you should never use toothpaste intended for humans. Only use veterinarian-approved toothpaste for dogs. Check the ingredient list to ensure there is no xylitol. Xylitol is potentially fatal to dogs."
If you want to give your furbaby the best chance of having healthy gums and teeth, then it is essential that they receive regular tooth and gum care. Toothpaste designed especially for pets is another good option when it comes to the best way to clean your dog's teeth.
Often containing ingredients that will help destroy any bacteria or plaque on their teeth, these pastes are safe for dogs to ingest – they even come in different flavors, so your dog will love them!
It's critical to note that you should only use toothpaste designed specifically for pets, as some brands feature toxic chemicals and other ingredients that are harmful to dogs. So be sure to read the label and check before purchasing!
Bacteria and Plaque
Bacteria and plaque produce acids that can irritate and inflame your dog's gums, leading to bacteria entering his bloodstream from bleeding gums – this can cause heart disease, kidney disease, even liver problems in some cases.
Brushing 
In addition to brushing your pet's teeth with a dog toothpaste and brush, it is essential to know how to clean his teeth correctly. There are several ways in which you can easily remove plaque and tartar from your dog's teeth, so let's take a look at some of them: Here's the takeaway:
Dental Rope Toys
Dental rope toys are an excellent choice when it comes to choosing the best way to clean your dog's teeth. Often made with brightly colored cotton fibers, these fun toys are designed for flossing and brushing your dog's teeth while they chew.
By rubbing the rope back and forth over their teeth, plaque is removed in much the same way as if you were doing so yourself.
This is an excellent way to ensure that your pet has good dental hygiene while at the same time giving them a healthy toy that they can enjoy. Not only are these toys effective in keeping their teeth clean, but they are also perfect for playtime – letting you get involved too!
Dog Treats
Homemade dog treats are a fun and tasty way to treat your pet without compromising their dental hygiene. There are numerous dog treat recipes available online, so you can easily find one suitable for your pup.
Many of the most popular recipes include peanut butter dog cookies, chicken-flavored biscuits, and even greenies (yep – just like for humans).
These recipes are easy to follow and can be made quickly, so you have no excuse not to try making some homemade treats! Not only will your four-legged friend love them, but these will help keep your dog's teeth and gums healthy too.
Greenies Dog Treats
Greenies dog treats are a safe and effective way to remove plaque from your pet's teeth. These fun snacks come in many flavors, so you will have no problem finding one they love! Vets have specially designed them to be much healthier than chewing on a bone and also help to prevent tartar buildup.
Although a little is more expensive than the other options, these tasty treats are a fantastic solution to the problem of how to clean your dog's teeth without brushing them with a toothbrush, paste, or having to purchase numerous rope toys. 
They contain much less fat than other snacks and have added vitamins to promote a healthy immune system.
Hard and Bony Treats
If your dog enjoys chewing on hard and bony treats, these can be an excellent way to not only help clean their teeth but also massage their gums. 
Bones such as beef shanks can provide a lot of chewing time, perfect for dogs who enjoy this kind of thing. In addition, they can help to remove plaque and tartar from your dog's teeth without having to resort to brushing or using a dental treat.
Of course, some dog bones can be damaging if stuck in the throat or swallowed whole, so you need to pay close attention when giving your furbaby a bone. Although a great way to keep your pup's teeth clean, if not used correctly, they can cause damage.
Toothbrushes and Pet Toothpaste
Using a toothbrush and doggy toothpaste is another good option for helping your dog keep his teeth clean. These are especially great for small dogs, but all dogs will benefit from the extra care that comes with a good brushing session.
Dog Chew Toys
As well as bones and toys specifically designed to help clean your dog's teeth, some chew toys can provide the same benefits. Dental toys shaped like bones or that contain ridges and grooves can help scrub your dog's teeth clean while your pup works his way through them.
Chew toys that you can fill with peanut butter, cheese, or other tasty foods are another excellent option if you want to find the best way to clean your dog's teeth. Chewing on these treats will release flavors that will help kill bacteria and plaque, leaving behind a fresh breath and a happy pup!
Rawhide Bones
Although rawhide bones can be a little messy, they are great for cleaning teeth. Just make sure your dog doesn't swallow the rawhide, as it can cause blockages. 
Bones
Bones are a fabulous way of keeping your dog's teeth clean. Of course, the best option for this is to give them rawhide bones or chew toys containing ridges and grooves. The chewing motion required to get at all that delicious marrow inside will have your pup cleaning his teeth all day long!
Electric Toothbrush
An electric toothbrush for dogs is a good option as it can make them easier to use. When you brush your dog's teeth, the motion of the bristles against his teeth provides an excellent massage that stimulates blood flow and helps kill plaque.
Doing this same action but with an electric toothbrush can make it easier for your pet. Just remember that dogs have more of a gag reflex than we do, and ensure that you don't brush harshly as this can hurt your dog's gums. 
Frequently Asked Questions
What is the best plaque remover for dogs?
Many natural plaque removers for dogs have been tested and proven to be effective. The best choice is the one that is designed specifically for your dog's breed, age, or medical needs. 
A good quality enzyme product for dogs contains a mix of enzymes that specifically target plaque, tartar, and stains for dogs.
What are dental wipes?
Some animals, especially those with tender gums, will not tolerate brushing but are more amenable to dental wipes. These products will wipe off plaque deposits from the surface of the tooth and, though they lack the ability to pick food particles out of the gum socket, they are probably the next best thing to brushing and, like brushing, these products are best used daily.
What is the best dog toothpaste?
Many natural kinds of toothpaste have been tested and proven to be effective. The best choice is the one that is designed specifically for your dog's breed, age, or medical needs. 
In general, there are two types of toothpaste, a liquid form made from an oxalic acid that removes tartar from teeth naturally and a dry form made from an enzyme that dissolves plaque from teeth naturally. 
A good quality enzyme product for dogs is one of the enzymes that specifically target plaque, tartar, and stains.
What is the best dog toothbrush to use?
The best choice is one that will effectively clean your dog's teeth and massage his gums. The best option is the one that is designed specifically for your dog's breed, age, or medical needs.
What are the benefits of using a dog mouthwash?
There are many benefits of using a dog mouthwash. One of the best is it can help fight against plaque. Most human mouthwashes are alcohol-based, which should not be used on your pet, whereas a dog mouthwash containing natural enzymes is safe and effective to use. 
A good quality product for dogs includes a mix of enzymes and peroxide; this combination will specifically help fight against plaque. You should never use human mouthwash on dogs.
How often should I brush my dog's teeth?
You can brush your dog's teeth daily but at least three times per week for the best results. Most pet parents brush their dog's teeth every day.
Is it considered necessary to brush my dog's teeth?
Yes, you should be brushing your dog's teeth at least three times per week. Otherwise, your dog can suffer from severe dental problems.
Is brushing my dog's teeth safe?
Yes, brushing your dog's teeth with pet toothpaste is safe for your dog.
Is my dog allowed to swallow toothpaste?
Yes, your dog is allowed to swallow pet toothpaste.
Do I need to take my dog to the Vet if he swallows pet toothpaste?
You don't need to take your dog to the vet unless you brush his teeth with human toothpaste.
How can I get plaque off my dog's teeth?
You can get plaque off your dog's teeth by brushing his teeth with a super soft tooth brush designed for dogs.
How can I clean my dog's teeth naturally?
You can clean your dog's teeth naturally by brushing his teeth with a pet toothpaste containing enzymes. You can also spritz dental dog sprays and give your dental dog toys to gnaw on. Attending regular veterinary professional dental cleaning appointments are also crucial to keeping your dog's teeth healthy.
Can I scrape plaque off my dog's teeth?
No, you can't scrape plaque off a dog's teeth.
Do carrots help clean dogs' teeth?
No, carrots do not help clean a dog's teeth although they are very healthy for pets. The chewing action of eating carrots helps clean your dog's teeth and gums by removing residual food pieces. It also helps clear plaque from tooth surfaces.
What is the brown stuff on my dog's teeth?
Plaque and tartar on your dog's teeth and gums is called calculus and presents as a brown or yellow material on your dog's teeth.
How can I prevent gum disease?
The best way to prevent gum disease is by maintaining your dog's dental health. The simplest way to do this is by brushing his teeth at least three times per week, attending regular veterinary dental cleaning appointments, and feeding your dog a balanced diet.
What foods clean a dog's teeth?
There are several commercial dog treats, dog food formulas and chews available like bones, biscuits, and toys to help clean your dog's teeth.
Is it too late to start brushing dogs' teeth?
No, it's not too late to start brushing your dog's teeth. As long as his teeth are healthy. … Tooth brushing may prevent generalized dental disease, dental abscesses, and other dental emergencies that would require anesthesia for treatment. If your dog suffers from dental pain you should visit your vet for treatment.
Why do dogs need to have their teeth cleaned?
If plaque builds up on your dog's teeth, the tartar which forms can irritate your dog's gums and may eventually lead to gum disease.
What happens if you never brush your dog's teeth?
If you never brush your dog's teeth, plaque and tartar may build up on the gums and cause gum disease. This can result in bad breath, infections, and loss of teeth.
What is plaque?
Plaque is an oral biofilm composed mainly of bacteria. If it is not removed, plaque can turn into tartar and may lead to gum disease.

Claudia Bensimoun is a writer who specializes in dog content and veterinary topics! Aside from writing for We Love Doodles, Claudia also writes for other major dog blogs like Fido Friendly, Animal Wellness Magazine, and the United States Dog Agility Association (USDAA). She has a ghostwritten over 50 different dog e-books. Her passions include animal welfare, veterinary research, and wildlife conservation.
Why Trust We Love Doodles?
At We Love Doodles, we're a team of writers, veterinarians, and puppy trainers that love dogs. Our team of qualified experts researches and provides reliable information on a wide range of dog topics. Our reviews are based on customer feedback, hands-on testing, and in-depth analysis. We are fully transparent and honest to our community of dog owners and future owners.