If you have a small senior pup or a furbaby recovering from surgery, you may want to consider investing in the best luxury dog strollers. This buying guide will help you understand the features to consider when shopping for a luxury dog stroller. 
As a pet parent, you want only the best for your furry best friend. You take them with you everywhere, to work, out shopping or on holiday. Luxury dog strollers are perfect for transporting your pet in style while ensuring they get plenty of mental stimulation and fresh air on outings with you.
Our top 5 picks for the best luxury dog strollers will make your life so much easier! With so many different brands and models on the market, it can be hard to decide which one is right for you. This guide will help walk you through some features that you should consider when shopping around – our top 5 picks of 2022 have been carefully selected because they're perfect in every way!
In a rush? Here are the top picks!
Product
Best Overall
Ibiyaya 2-in-1 Happy Pet Dog Stroller
Runner Up
HPZ Pet Rover Titan-HD Dog Stroller
Budget Pick
Best Pet Folding Metal Portable Dog Stroller
Image
Check it out! This pet stroller is for those who want the best "human" features along with a reasonable price tag considering the add-ons. For example, the Ibiyaya 2-in-1 Pet Dog Stroller and Bike Trailer comes complete with all of the amenities you could ask for, including an adjustable canopy to protect your pup from the elements, one-hand steering, an integrated brake system, and air-filled rubber tires. 
This stroller for dogs comes with two safety tethers, has a durable rear wheel axle, and reflector plates for night walks. We like this particular pet stroller because it's crafted with a heavy-duty steel frame and a high base to keep pets away from dust and heat.
 But it's not all fun and games with this stroller—it also comes with a warranty that protects the frame against defects in workmanship or materials. Of course, along with these high-end features come a hefty price tag: $346.45 on Amazon, but it's well worth it. This is a must-have pet stroller for owners and pets who enjoy and spend a lot of time together outside.
Features
Alloy steel

Bike connecting tube to attach with bike and stroller rain cover included.

Three color options

2-in-1 Happy Pet Trailer pet stroller

Works in all terrains

Shock-absorbing, rubber wheels

Built-in suspension

Sporty look

Designed for safety
The HPZ Pet Rover Titan is one of our top picks for the best pet luxury stroller. This is a large and sturdy pet stroller that can hold up to 100 lbs. This is an expert choice for the larger breeds (up to 100 lbs.) of dogs. The stroller frame is crafted from rust-free aluminum in anodized gold for light-weight, elegant, functional, and reliable travel.
The Pet Rover Titan allows for multiple small and medium pets to share rides comfortably. Additionally, it holds up to 100 lbs. It has a pet ramp that retracts when not used, and the 4x durable, heavy-duty rubber tires maximize stability on all terrain.
The high-quality aluminum frame is rust-resistant and folds easily with one hand. A sturdy storage basket under the hood keeps all your pet's necessities within reach. There are three organizer pockets, a cup holder, and a large under-basket to provide plenty of storage space. This heavy-duty, all-weather pet luxury stroller works in all weather conditions. The swivel locks and front-wheel Suspension enhance stability even on rough terrain.
The breathable mesh window on the side of the stroller allows your pet to get a good view of where you are going. This expert pick is wonderfully designed for every pet parent looking for one of the best pet strollers. This is our top pick for the best luxury pet luxury stroller.
Features
Three stylish colorways

100% polyester

Imported

Black rubber aluminum

Editors' Choice Award Winner of 2021 Dogster Magazines

Imported

Crafted with an integrated access ramp

Flip-down front lid allows senior pets easy access

100-pound capacity

Height adjustable handlebar
Pet Gear no-zip pet stroller features dual entry, which means push-button zipperless access for single or multiple dogs/cats. With this pet stroller, pets can easily walk in/out, and there's no need to lift your pets in and out of the stroller.
This pet stroller that features dual-entry allows you to load your pup in from the front or rear entry of the stroller. This means that he does not have to turn around to exit the stroller, a huge benefit for older or injured pets. There is a spacious protective pet compartment, great for larger or multiple pets. The stroller folds flat in seconds for easy transportation or storage. It also features air ride tires to add extra comfort for your pet and provide an effortless stroll. 
We like this stroller because you can lock the front wheel and the multi-position handle lets you adjust the handle height to your comfort. The many color options are also great.
Pet Gear No-Zip Push Button comes in 11 colors and four sizes. This product has over 1,000 positive reviews and is reasonably priced.
Features
 NO-ZIP, push-button entry. 

11 color options

 Four size options

 Dual-entry

  High-quality materials

Suitable for small pets or one large breed

 Tire type Air Ride with 12 by 12-inch front & back tires

It folds flat in seconds

Measures: 28-inch L x 12.5-inch W x 22.5 inch

A Pet Gear product
If you're looking for an affordable yet comfortable pet stroller, then the Hauck TOGfit Pet Roadster is a great choice. With a mesh front that allows for maximum airflow and a sturdy aluminum frame, the Hauck TOGfit Pet Roadster is perfect for use during any season.
The stroller has a weight capacity of up to 70 pounds, allowing you to accommodate medium-sized canines comfortably. It measures 41.7 x 23.2 x 42.1 inches, so it's an excellent solution for small and medium breeds.
It also comes with a rear brake and front swivel wheels that can be locked when you need more stability during use. The stroller has a unique foldable design that makes it easy to store or transport when you're not using it. We like this stroller because the single 360-degree front wheel makes it easy to maneuver even with one hand. Additionally, the seating area could easily handle two medium-sized dogs.
The Hauck TOGfit Pet Roadster comes with a cover that can be used to protect your pet from the elements. It's also easy to clean, so you won't have trouble keeping it in good condition.
All things considered, if you need an affordable yet comfortable pet stroller, then the Hauck TOGfit Pet Roadster is a great choice. With its sturdy aluminum frame and excellent maneuverability, it's easy to see why this model remains so popular with dog owners all over the world.
Features
Nylon with allow steel frame

Affordable

A padded mattress that's easy to remove & wash 

Height-adjustable ergonomic, comfortable handle

Large front EVA wheel offers both swivel and locking position

2 eyelets for fixing the dog leash

Large storage basket

Easy access

Winner of the 2018 TTPM Pet Product Gear Award
The Schwinn Rascal is one of the most affordable options available in dog bike trailers. There are three color options for this model: white, brown, and pink. All three models come with a universal coupler that allows you to connect it to any bike quickly. 
The pet trailer measures 54.72 x 31.89 x 26.38 inches. This particular model has a weight capacity of up to 100 pounds and comes in two sizes, so it's perfect for accommodating all-sized dogs. It comes with an internal leash that is adjustable and prevents pets from leaping out of the trailer. This holds one pet up to 50 lbs.
The Schwinn Rascal is a perfect bike trailer for dogs. It's compact enough to be used by smaller dog owners while still providing plenty of room for medium-sized canines. Because of its affordable price and excellent safety features, it's easy to see why the Schwinn Rascal remains such a popular option among active pet parents that enjoy spending time with their pets outdoors. This product has over 3,200 positive reviews.
Features
 Affordable

 Allow steel

 Over 3,200 positive reviews

Schwinn Universal Coupler makes it easy to attach the trailer

Two-wheel design featuring 16-inch air-filled tires & molded rims

100 lbs. of cargo

 Included D-rings let you strap down cargo 

2-wheel design limits torque, wide frame is perfect for towing

Designed with a frame, fabric, mat & liner for optimal support

 16 Inches aluminum rims and air-filled tires
The Petique All Terrain Jogger-Blazin' Berry Pet Stroller is a dog stroller with an aluminum alloy frame and all-terrain wheels that can accommodate pets up to 60 lbs. There are multiple position adjustable handles with EVA foam grip for comfort and a one-step dual wheel braking system. Petique also features three adjustable leashes for safety, two large entrances, & 1 step dual wheel brakes. The large bike tires are great for shock absorption and traction.
With the large bike tires equipped with excellent shock absorption and traction, you get a smooth ride. There are also accented reflectors around the pet jogger for optimal night safety. This product has over 1,000 positive reviews. 
Features
Supports pets up to 60 lbs. 

Polyester PVC mesh

Two trendy color options

Front & back entrance

Large bike tires (dual brake) great for shock absorption and traction

Multiple position adjustable handle

Peek-a-boo window to see pets

Over 1,000 positive reviews

Removable fabric for easy wash 

Easy pop-out wheels great for travel and storage
Features of a Luxury Dog Stroller
There are several benefits that you can get from using pet strollers, some of which include allowing your furry friend to enjoy the great outdoors while keeping them safe at all times.
A dog stroller is a perfect accessory to have at home for small dogs and dogs with limited mobility. Dog strollers are also great for dogs that get tired quickly on walks and need a bit of help while you're out exercising or jogging.
Dog strollers can give your furry friend a place to rest and relax, even when you're out exercising. Many of these pet strollers come with features such as cup holders and storage space for keys, treats, and other items that you may need during your walks.
They also offer a sturdy frame with comfortable seating, and some even have extra features like canopy covers to protect your pup from the sun or rain.
It's important to know exactly what your furry friend needs before purchasing a dog stroller. Dog strollers are perfect for small dogs and senior dogs who need extra care while out on walks. 
Some dog strollers come with built-in safety harnesses, making it easier for you to take your furry friend with you without worrying about their safety.
Integrated storage space and cup holders for dog treats, water bottles, or keys are valuable features that you may want to look out for in the best luxury dog strollers.
Benefits Of A Dog Stroller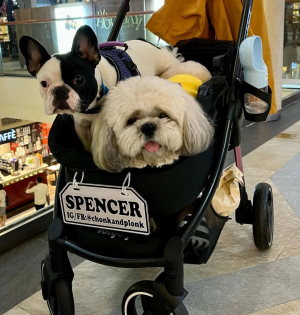 You might be wondering why you would use a stroller for your dog. Let's face it, dogs love to go on walks, and they also love to run around, but sometimes, there are times when taking them out isn't possible. A dog stroller can help make this happen. For example, if you have a senior pet or a dog that's recovering from some surgery, a stroller can make it possible for your pet to get out and still get the mental stimulation and fresh air that he needs.
When we think about dog strollers, we think about smaller dog breeds. Large dog breeds with joint issues or recovering from surgery or illness do well with a large dog stroller until they return to the daily routine of walking with you. Pet strollers are also great for small pets that can't keep up with you while you're out jogging or biking.
You can get several benefits from using a luxury pet stroller, some of which include allowing your furry friend to enjoy the great outdoors on a pet vacay while keeping them mentally stimulated. A luxury dog stroller is a fantastic way to take your dog out for a walk while he's recovering from surgery or undergoing treatment. 
The average size can accommodate smaller dogs, but some models will work for medium or larger breeds depending upon how they're made! Be sure to leave 2 inches of space from each inner dimension to keep your pup comfortable when measuring for size.
When you're shopping for a dog stroller, make sure to consider the size of your pup! Most models have weight limits, and you'll need to allow room onboard for your furbaby to be comfortable. You'll also need to decide whether or not it folds down easily when not in use – this will help with storage options later.
Nothing beats a luxury dog stroller if you want to take your dog out for a walk. These strollers are comfortable and offer additional features to make the entire experience easy, fun, and safe.
Want to learn more about luxury dog strollers? Check out the video below:

Claudia Bensimoun is a writer who specializes in dog content and veterinary topics! Aside from writing for We Love Doodles, Claudia also writes for other major dog blogs like Fido Friendly, Animal Wellness Magazine, and the United States Dog Agility Association (USDAA). She has a ghostwritten over 50 different dog e-books. Her passions include animal welfare, veterinary research, and wildlife conservation.
Why Trust We Love Doodles?
At We Love Doodles, we're a team of writers, veterinarians, and puppy trainers that love dogs. Our team of qualified experts researches and provides reliable information on a wide range of dog topics. Our reviews are based on customer feedback, hands-on testing, and in-depth analysis. We are fully transparent and honest to our community of dog owners and future owners.