Dog bath time is a fun bonding time that you have with your furbaby. However, if your dog dislikes having baths, you may need to find a 4-in-1 shampoo to make things easier. For example, purchasing the right pet shampoo can make bath time more manageable, saving you time and money while giving your pup the best coat ever with no leftover residue. 
We tend to try and opt for shampoos that are as natural as possible and affordable. We're also big on cruelty-free products that are eco-friendly and sustainable. If you're not sure how you can play a part in conserving the environment, minor tweaks like eco-friendly pet products go a long way.
Here's what we found when looking for the best shampoo for the Havanese.
Dog shampoos are not a one-size-fits-all, and that is something to keep in mind when purchasing shampoos for your dog. However, there are a lot of factors you have to consider before making this purchase, including breed, allergies, coat type, age, and anything else that might impact their health as they take baths. This buying guide will discuss some essential things you should know about bathing your Havanese furbaby.
Product Research
We've researched over 30 dog shampoos in this review and used multiple criteria to select the best Havanese dog shampoo. We'll also delve into the Havanese coat type and discuss how dog shampoos' properties and features can help you choose the right one.
In a rush? Here are the top picks!
Product
Best Overall
We Love Doodles Shampoo
Runner Up
Earthbath Dog Shampoo
Best For Havanese Puppies
Begley's Waterless Shampoo
Image
Whether you have just brought a new puppy home or have an adult dog with sensitive skin, We Love Doodles' hypoallergenic dog shampoo is excellent for your Havanese. This gentle and effective shampoo is made with natural ingredients like oatmeal, aloe vera, and chamomile to soothe dry or irritated skin. Plus, it's available at an affordable price, making it the perfect choice for busy pet owners on a budget. 
Additionally, the We Love Doodles dog shampoo was designed specifically for low shedding and hypoallergenic dogs like the Havanese. It is a 4-in-1 shampoo formula that also contains detangler so it will keep your puppy free of mats and tangles. With its certified organic ingredients, it's also easy on your dog's coat.
This dog shampoo is also made and tested by one of the biggest manufacturers in the United States. It comes with a 100% satisfaction guarantee so you can get your money back if you or your dog doesn't like it. We highly suggest that you check it out!
Features
Affordable

Best new 2022 pet shampoo

Lavender chamomile formula

No parabens, sulfates, formaldehyde, alcohol, or synthetic dyes.

4-in 1 We Love Doodles Bichon shampoo

Certified organic with no unsafe ingredients

Vet approved

A USA pet grooming product
Best Shampoo for Itchy Skin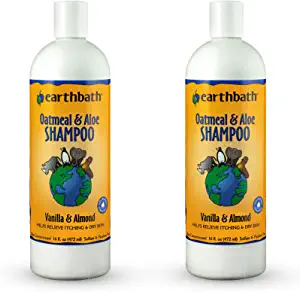 This natural shampoo is hypoallergenic, paraben-free, and soap-free so that it won't irritate your Havanese-sensitive skin. It also contains aloe vera and oatmeal to soothe itchiness and dryness. We like this shampoo to treat itchy skin because it's also very cleansing and won't leave any residue. This product has over 5,500 positive reviews and leaves coats fluffy, shining, and smelling great!
Features
Formulated for itchy skin

Ultra-concentrated formula

Natural and organic ingredients

Crafted with colloidal oatmeal and organic aloe vera help combat skin irritation

Soap-free 

pH-balanced

Cruelty-free
Best Natural Flea And Tick Shampoo
The ingredients in this flea shampoo are all-natural, which means they won't cause any irritation or other skin problems for your dog. It contains essential oils that help kill off fleas and ticks and repel mosquitos that can carry dangerous diseases. 
The shampoo is gentle and won't dry out your dog's skin, leaving pups with a fresh, clean scent. We like this all-natural flea and tick shampoo for the Havanese because it naturally kills fleas and ticks while soothing skin. It does not contain parabens, dye, soap, harsh chemicals, artificial fragrances, or colors. 
This product has over 2,200 positive and is another must-have for the summer months. This product includes natural ingredients like cinnamon, clove, cedar wood, peppermint, and rosemary oils. It also features soothing moisturizers like vitamin E, lanolin, and lecithin. 
Features
Affordable
Flea and tick all-natural shampoo
Crafted with no harsh chemicals
Made with five pure essential oils
100% naturally derived ingredients
Best Dry Shampoo for Dogs
Begley's is an excellent choice for working pet parents who want to keep their furry friends clean and healthy without spending plenty of time bathing them. This high-quality shampoo is made from all-natural, bio based ingredients and is gentle enough for even the most sensitive skin. This dry shampoo features a proprietary enzyme blend that' safe on dogs. 
We like this dry shampoo because it distributes well across the coat without a greasy residue. This is one of our top picks for dry pet shampoo because there are no caustics, dyes, synthetic fragrances, parabens, phthalates, chlorine, formaldehyde, triclosan, or phosphates used in the formula. It's also lightly scented without being overpowering. You can also use this shampoo on puppies and cats. This product has over 3,900 positive reviews.
Features
Waterless pet shampoo
Crafted in 4 different scents
An all-natural plant-based formula that's safe for cats and dogs
Enzyme-based formula
Affordable
USDA certified bio-based at 74%
Safe for the planet
Aesop dog shampoo has a rosemary aroma that is not too strong but leaves your dog smelling strongly of this scent. It also contains several natural ingredients, including chamomile and birch bark extract, which help make your dog's skin look and feel healthier. This shampoo is paraben, cruelty-free and vegan, making it an excellent choice for many dog owners. It should be noted that this shampoo does contain any sodium laureth sulfate, which can strip your dog's coat of necessary oils.
Features
Crafted with lemon Rind, and tea tree leaf
Low-foaming clear gel texture.
Vegan
Leaping Bunny Approved
Mild skin and fur wash
TropiClean shampoo is a calming pet shampoo featuring natural ingredients made in the USA. This shampoo is soap-free, making it ideal for dogs with sensitive skin or those that are prone to allergies. 
It also contains lavender oil, which helps soothe your dog's coat and leave them feeling relaxed and refreshed. Additionally, this shampoo is naturally derived and uses plant-based ingredients, making it safe and effective. This product features over 2,000 positive reviews.
Features
The aromatic scent of cool cucumber and vanilla
Oatmeal enriched
Calming ingredients
Two sizes and numerous fragrances
Crafted with refreshing cucumber, white tea, and fresh vanilla
Affordable
Soap-free
Made in the US
How to Groom a Havanese?
Skin and Coat Health
Skin and coat health are the windows to your Havanese health. It's important to consider other factors like environmental allergies, diet, and health that affect your dog's skin.
Malnutrition, for example, is a common cause of dry and itchy skin. If you think your Havanese might have an underlying health condition, please consult with your veterinarian before using any new shampoo.
Allergies
Allergies are also a significant consideration when choosing the right shampoo for your pup. If your dog has sensitive skin, you'll want to use a hypoallergenic or oatmeal-based shampoo. If your Havanese has allergies to specific ingredients, always check the labels of any new shampoo before using it on your pup.
With so many different pet shampoos, it can be challenging to choose. The most important thing is to choose the one that will best maintain your dog's skin and coat health. If you're unsure which type of shampoo is right for your Havanese, talk to your vet about the best products.
The Havanese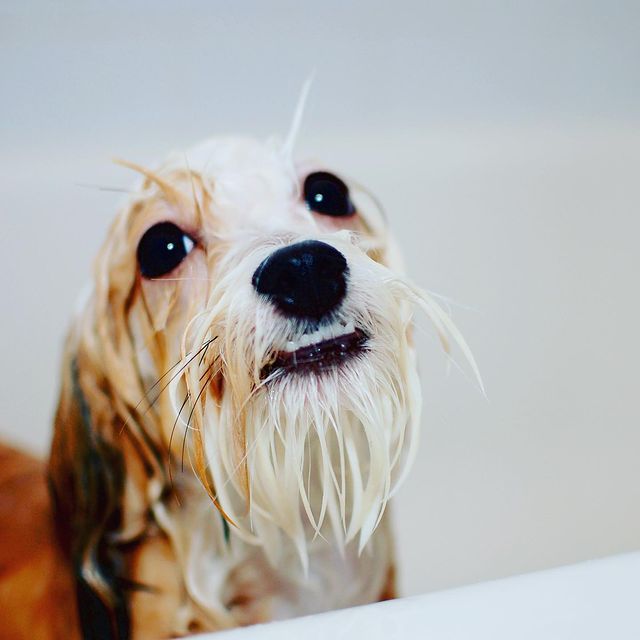 The Havanese is a small, alert and friendly breed. They're mellow, attentive, and intelligent. They are high maintenance in the grooming department and require regular baths and coat care. The AKC adds that the " Havanese, the only dog breed native to Cuba, are cheerful little dogs with a spring in their step and a gleam in their big, brown eyes. These vivacious and sociable companions are becoming especially popular with American city dwellers." 
Coat
The AKC adds that the coat is silky to the touch and is soft and light in texture in both the undercoat and outer coat, with the outer coat being heavier. "The coat is long, abundant, and wavy. It stands off the body slightly but flows with movement. An ideal coat will permit the natural lines of the dog to be seen. Puppy coat may be shorter and have a softer texture than adult coat." The coat can also be corded, in which case it will naturally separate into wavy sections in young dogs and, with time, develop into cords with all coat colors and markings permissible.
When it comes to shampoo, you want to find one specifically designed for Havanese double coat that has a long and soft outer coat that can be brushed out or left to hang long. Keep in mind, though, that the Havanese rarely shed, but most of their loose hair will get caught in their double coat. In this review, we'll show you our top picks for the best Havanese dog shampoo. Here's the takeaway:
Frequently Asked Questions
What is the best shampoo for Havanese dogs?
Many great options are available, but one of the best options is TropiClean SPA Lavish Shampoos for Pets. This shampoo features natural ingredients and is made in the USA, making it a high-quality product ideal for soothing and moisturizing your dog's coat. Additionally, this shampoo is soap-free, making it safe for dogs with sensitive skin or allergies.
How often should I bathe my Havanese dog?
Generally, it is recommended that you bathe your Havanese dog every 4-6 weeks. However, this may vary depending on the individual dog's activity level, skin type, and coat type. If you are unsure how often to bathe your dog, consult with your veterinarian.
What other things should I know about caring for a Havanese dog?
Some other important things to consider when caring for a Havanese dog include regular grooming, brushing and trimming nails, providing plenty of exercise, and maintaining a healthy diet. Additionally, it is essential to get regular check-ups and vaccinations from your veterinarian to ensure your dog stays healthy and happy.
What are some common health problems that Havanese dogs may experience?
Some of the most common health problems that Havanese dogs may experience include dental problems, allergies, and ear infections. If you notice any signs of these or other health issues in your dog, contact your veterinarian as soon as possible for diagnosis and treatment.
How can I help keep my Havanese dog healthy and happy?
You can do many things to help keep your Havanese dog healthy and happy. Some of the most important things include providing regular exercise, ensuring your dog gets plenty of socialization and time outside, feeding a high-quality diet, and keeping up with regular grooming and check-ups. Additionally, it is important to be aware of the signs of common health problems so you can seek treatment early if necessary.
What is the best way to socialize a Havanese puppy?
Socializing a Havanese puppy is important for their development and overall wellbeing. One of the best ways to do this is by introducing your puppy to lots of different people, places, sounds, and situations. This can include taking your puppy for walks in new areas or exposing them to new experiences like car rides or trips to the groomer. 
You can help socialize your puppy by enrolling them in a puppy training class or socialization class, attending puppy playtime at your local dog park, and finding an excellent dog-friendly daycare. Overall, it is important to start socializing your puppy early to help them become happy and well-adjusted adult dogs.
As you can see, there are many things to consider when caring for a Havanese dog. From regular grooming and exercise to socialization and check-ups, you should be aware of many different aspects of your dog's health and wellbeing. By taking the time to learn about Havanese dogs and following best practices for their care, you can help keep your furry friend happy and healthy for many years to come.
Other articles you would like:

Claudia Bensimoun is a writer who specializes in dog content and veterinary topics! Aside from writing for We Love Doodles, Claudia also writes for other major dog blogs like Fido Friendly, Animal Wellness Magazine, and the United States Dog Agility Association (USDAA). She has a ghostwritten over 50 different dog e-books. Her passions include animal welfare, veterinary research, and wildlife conservation.
Why Trust We Love Doodles?
At We Love Doodles, we're a team of writers, veterinarians, and puppy trainers that love dogs. Our team of qualified experts researches and provides reliable information on a wide range of dog topics. Our reviews are based on customer feedback, hands-on testing, and in-depth analysis. We are fully transparent and honest to our community of dog owners and future owners.