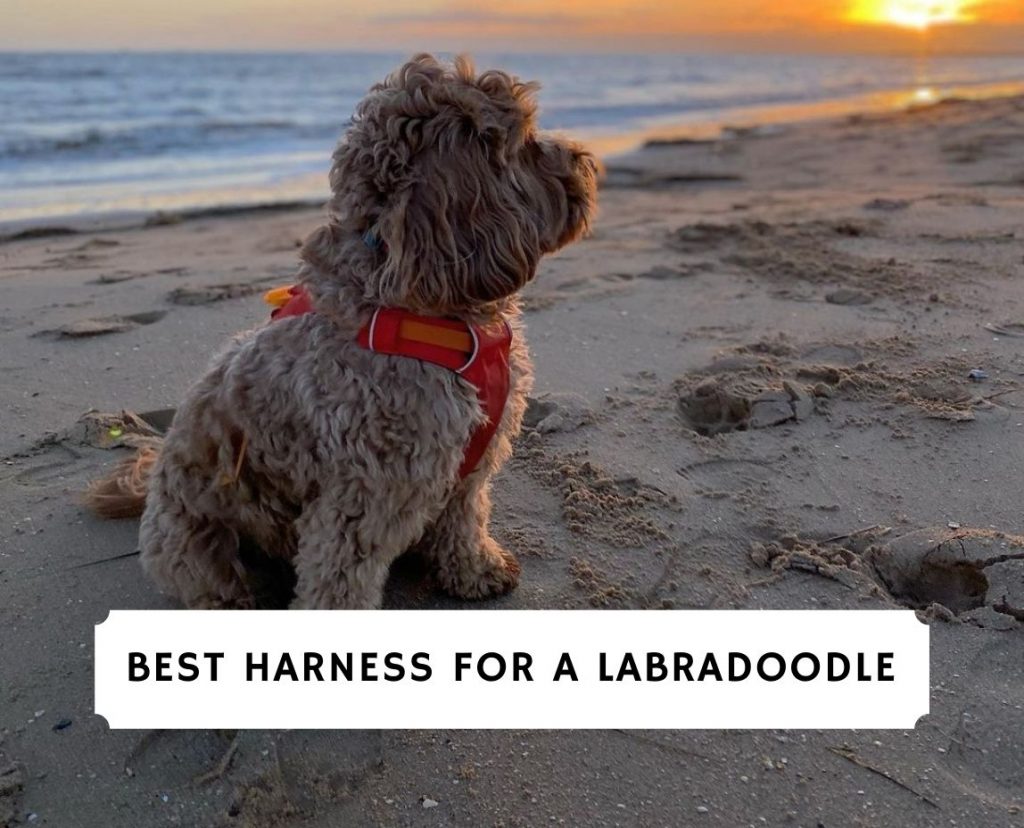 Labradoodles are one of the most popular hybrid dog breeds on the market. These lovable dogs come with some of the best genetics since they are well-tempered, hypoallergenic, and nonshedding. They portray goofy personalities that draw you in and they are intensely loyal to their families and loved ones.
If you are going to get a Labradoodle puppy or perhaps already have a Labradoodle, you need all of the right tools to take care of them properly. Finding them a good harness for a Labradoodle is important. There are so many options out there and the qualities can certainly vary. It's hard to know just what you can or cannot trust.
Don't worry! We've got you covered. We've done all of the sorting, testing, and research so that you don't have to. We were able to dig through and find some truly reliable options that are really great all size Labradoodle puppies. In this guide, we will share with you the best harnesses for a Labradoodle.
In a rush? Here are the top picks!
Product
Best No Pull Harness
PetSafe
Image
The 7 Best Harnesses for a Labradoodle
We have detailed reviews as well as a list of pros and cons for each dog harness so you can pick out the option that is truly best for you. We also have a buyer's guide at the end if you're unsure of which Labradoodle harness to pick.
This first option is a really great harness for a Labradoodle! It's one of the best on the market and it is highly-rated across the board. This harness made to be both safe and comfortable for your Labradoodle and it won't disappoint you. For a standard size Labradoodle, you probably need a large or extra-large but there are other sizes to choose from as well if you have a mini Labradoodle.
There are also a ton of colors to choose from here. There is blue, orange, gray, berry, pink, green, red, purple, and teal. This lets you choose whatever color best suits your Labradoodle's personality and matches their leash.
This harness is made for extended wear. It can be worn all day and not get old or irritate your puppy. It's lightweight, durable, and has padding so it will be comfortable for your dog. The simple buckle closure is designed to easily take on and off as well.
The chest area has reinforced webbing in the design. This helps to reduce pulling and also provides some extra control for training. There is a solid aluminum V-ring attachment on the center of the back. It's easy to adjust and can be adjusted in 4 different areas to get just the right fit for your Labradoodle.
This next harness option comes from Embark. This is an adventure harness and is a budget-friendly option. While this is an affordable option, it is still very well-made and is also highly-rated across the board for quality and comfort. We recommend a small size harness for miniature Labradoodles but there are four sizes to choose from.
This harness is also available in 4 different color options. You can get black, orange, pink, or blue. Each of these colors is an accent color, with other parts of the harness being a solid gray. This harness was designed for active lifestyles and comfort that a Labradoodle will love.
The harness is very easy to adjust and can be adjusted in multiple ways so that you can get the very best fit for your dog. It is also made to be easy to simply slip on and off easily and then you clip the buckles to secure it in place.
The safe and comfortable leash clip is positioned in such a way that pulling won't be an issue. There is a back attachment as well as a chest attachment for the leash. We love that this budget-friendly harness gives you both comfort and style with ease.
This next option is a tactical harness that is perfect for a Labradoodle. It's another training harness and this one comes with all of the tactical benefits that make it a breeze to use. From extra straps to carrying spots for some accessories, you've got a solid vest that provides full coverage.
This Labradoodle harness is available in several sizes whether your dog is mini or standard-sized. You will most likely need a large or extra-large for a standard Labradoodle, but you can measure and choose accordingly for your dog.
There are also several colors. Since this is a tactical vest, they are mostly light and neutral colors but they do have a red camo if you want to add a touch of color.
This dog harness for a Labradoodle is easy to adjust and also easy to take on and off. There are two buckles that work in a quick-release format and the straps are adjustable in 4 different places around the shoulders and chest so that you can get the best fit.
The material is a heavy-duty material that is made to last so it's durable and comfortable. This has the handle on top to give you some extra control when needed. Additionally, there is a ring on the chest and the back for leash attachment. These are great for service dogs of any kind but can also be used for simple training and leisure as well.
This next dog harness for a Labradoodle is simple yet efficient. It comes in all sizes so be sure to look for the size that will properly fit your standard or mini Labradoodle. It also comes in 4 simple color choices including black, blue, gray, or red.
This particular harness has an option that has crash-tested buckles or another option that has simple easy on & off buckles. The harness has chest support and simple straps that go around the shoulders and back area. It's really designed to be used on an as-needed basis when you're walking your Labradoodle outside
This harness is designed to come on and off easily and it can be adjusted quickly. Additionally, the harness offers a no-pull training clip with a D-ring on the chest or on the back. The attachment on the back is perfect for walking and jogging purposes.
The Kurgo dog harness adjusts sizes in 5 different places so you can always adjust to just the right fit for your dog. This allows it to be more versatile to a variety of builds and sizes. Kurgo offers a lifetime warranty on this product. It is made to last for life and is made in the USA.
Go for colorful Labradoodle harness when choosing the Poy Pet No Pull harness. This option is one of the better price points overall and is highly-rated across the board.
You can get this reflective vest harness in whatever size you really need. Be sure to watch measurements and the size chart so that you get the appropriate size for your Labradoodle puppy. There are several color options including green, orange, mint, blue, purple, and red. The colors are fun, bright, and designed to be reflective.
The straps also have reflective material sewn into them so your Labradoodle will always be safe and visible. This harness is a no-pull and no choke harness which is safe and comfortable for everyday use and active use as well. It's ergonomic and relaxed all in one space.
This material is made to be durable. It's got padding added for comfort purposes in addition to quick-dry material that won't get wet. This harness is breathable and has a mesh lining as well.
Why not keep it simple and go with the traditional harness design that doesn't have all of the extra features or extra bells and whistles that you have to workaround. This simple harness is just a 3-point harness that easily wraps around your Labradoodles snout so they can't pull you.
You can get the size that is appropriate for your puppy. They even have petite and in between sizes so you can truly get the right fit for a mini Labradoodle. There are several color options as well including black, green, purple, brown, berry, red, and blue.
This harness is unique and it was made by a veterinarian that worked with dog behavior specifically. It has been reliably on the market for about 15 years and continues to be a highly-rated option because it is simple and effective for training your Labradoodle not to pull.
The ring lies on the dog's chest and is designed so your puppy doesn't pull excessively or choke your dog. It also is cool because it doesn't have all of the extra harness fabric that can easily make your dog hot. It's quick and easy to adjust and fit just the way you need it as well.
This final option is another really great option that is unique in its own way. This is a full sport harness with lots of coverage but also lots of breathability as well. It has a ton of control and support as well as maneuverability and comfort features for your dog. You can choose whatever size is best suited for your Labradoodle.
This sport harness has a lot of colors to choose from, including red, blue, green, orange, purple, and ore. You can also choose bundles from this brand that comes with an accompanying leash that is very nice.
It is made with padding and mesh that is designed for comfort, even when your dog is working or playing hard in the heat. The harness is breathable and soft so your Labradoodle will get plenty of ventilation and can stay comfortable all of the time.
This harness also offers reflective straps for full visibility. The straps are adjustable and the harness is not too challenging to take on and off either. Additionally, it has an extra no-pull handle on the top and offers a D-ring on the chest and top as well.
How to Choose a Harness for a Labradoodle
Now that we've shared some of our favorite options with you, let's talk about what makes these so great. As you look for your ideal Labradoodle dog harness, it's a good idea to keep some of these features and characteristics in mind.
Remember that the best one for you might vary deepening on your needs and uses so watch for things that work for your dog and lifestyle.
Size & Fit
You certainly need to keep the size of your dog and the fit of the harness in mind when you choose a Labradoodle harness. If the harness doesn't fit well, your dog will either be uncomfortable and deal with rubbing or they will be able to slip right out of it and run away.
Be sure to check reviews and comments to know whether the size chart is accurate. Additionally, you should take measurements and size according to the sizing recommendations so you can get the best size possible.
You certainly don't want the harness to rub on your dog and chafe while they run, but you also don't want them to simply be able to slip out of the harness either so pay close attention here.
Training Needs
Some harnesses are better suited for training than others especially when it comes to pulling. If your dog is a puller, you will need to be careful to choose a harness that won't choke or allow them to pull excessively. Several of these harnesses are designed to help train the pulling but it does take time and work to be successful.
Comfort
Finally, keep in mind your Labradoodle's comfort and how long they will be wearing their harness. This comes from the material and how it is made. It also comes from understanding just what you are going to be using the harness for. Make sure your dog will be comfortable no matter the use you will have for your harness.
Looking for a harness with breathability can make a substantial difference. If your dog will be wearing this harness for any extended length of time, look for padding as well as breathability.
Conclusion for Best Harness for a Labradoodle
We hope that you find this guide to be helpful and were able to choose a great harness for your Labradoodle. There are many options to choose from and there is bound to be at least one here that will work for your needs! Always consider the size of a harness before you purchase one! We truly believe that harnesses are a great training tool that works better than a collar – especially since Labradoodles tend to pull.
Other articles you would like:
Garrett loves animals and is a huge advocate for all Doodle dog breeds. He owns his own Goldendoodle named Kona. In addition, he volunteers at the Humane Society of Silicon Valley, where he fosters dogs and helps animals. Garrett enjoys writing about Doodles and believes that dogs can teach humans more about how to live than humans can teach a dog.
Why Trust We Love Doodles?
At We Love Doodles, we're a team of writers, veterinarians, and puppy trainers that love dogs. Our team of qualified experts researches and provides reliable information on a wide range of dog topics. Our reviews are based on customer feedback, hands-on testing, and in-depth analysis. We are fully transparent and honest to our community of dog owners and future owners.