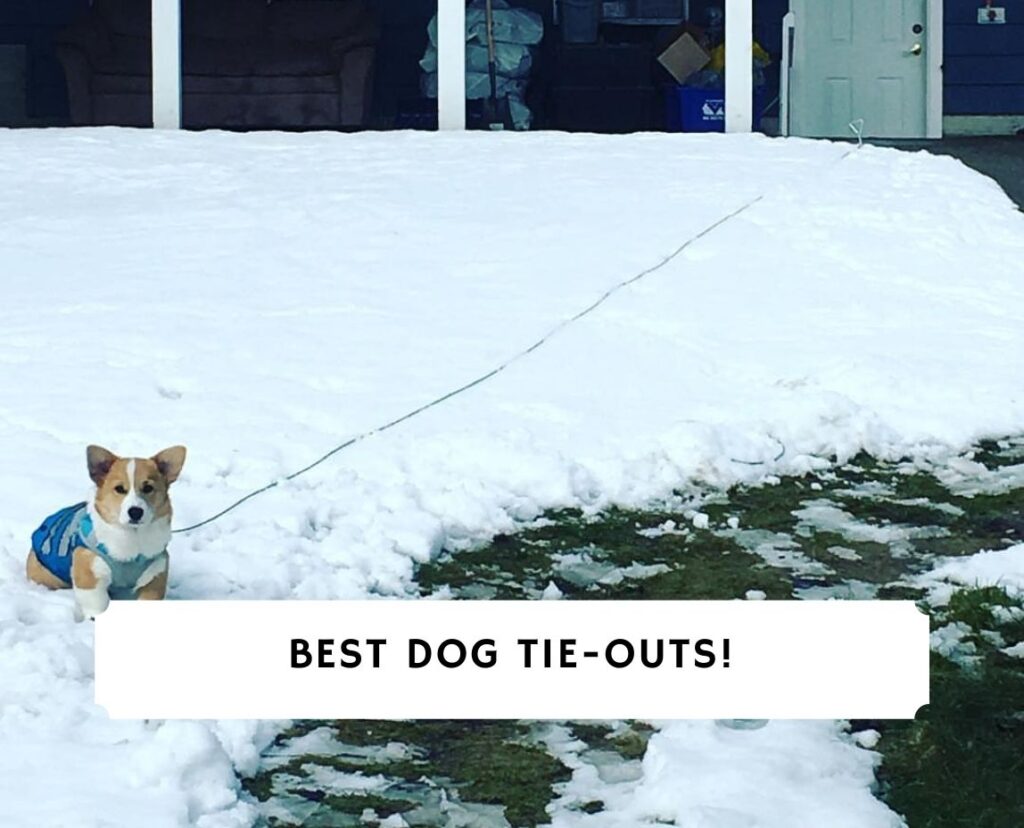 Tie-outs can be beneficial to use in your backyard, when out on an adventure hike, or camping because they give your dog the freedom to roam around and explore. If you don't have a fenced yard and want to keep your dog contained in a certain area, you'll benefit from getting a tie-out.
In this blog, we'll discuss the best dog tie-outs for and what to look out for when choosing a high-quality dog tie-out. While tie-outs are certainly convenient, we will also explain all the safety precautions you need to be aware of.
In a rush? Here are the top picks!
Product
Best Overall
SUREswivel Dog Tie-Out
Budget Pick
Petmate Dog Tie-Out
EXPAWLORER Retractable Dog Leash
Image
Key Tips for Choosing Dog Tie-Outs and Stakes
You can choose from simple dog tie-outs to decked-out pulley systems. You should also consider your dog's weight, weather, and length of cable to ensure that your pup can't hurt himself. Here's the take:
Weight
This is an essential factor when choosing the length of the cable. The cables are tested with a dog's weight in mind. Before purchasing a tie-out for your pup, you should read the packaging to ensure that the cable is the correct length and strong enough for your dog's weight and breed. 
You should opt for a tether or cable that is a good match for the weather in your area to be sure that it lasts. Cold temperatures can make cables less durable, and dog chains can also rust. You will want a durable material that works in your environment.
Tangling
The key to using a tie-out safely when out camping with your dog is to understand that tangling can occur with any tie-out dog product. This could pose a threat to your dog's safety. You should never leave your pup alone when tied out because accidents can happen even if you've purchased the best tie-out product out.
Visibility
This is an important aspect to consider because you'll need to view your dog chain or cable from afar at times. This helps you to pinpoint your dog's location accordingly. Opt for a reflective dog tie-out if possible so that you can see what your dog is up to when using a tie-out.
Temperature
Just like it affects most products, the type of weather in your area will affect your tie-out. Weather impacts materials and the lifetime of outdoor products. Opt for materials that can withstand cold, heat, rain, and humidity so that you get the most out of your tie-out. If you're considering an in-ground stake, you should consider the following:
Before leaving your pup unattended, you should check that your cable is secure and the area is safe for your puppy.

You should not do so for more than a few minutes.

Different gardens and backyards require various tools for added safety

Tie-outs are longer than tie-downs and allow for more free movement.

Tie-outs have a more limited range than a trolley, yet a far more straightforward installation process.
Best Dog Tie-Outs in 2021
This product is not only safe and secure but features a screw-in stake corkscrew style. It also has dual-wedge plate anchors to keep your dog leash stake firmly in place. The dog leash stake features strong steel & the cable leash and is coated with crack-resistant polyvinyl. 
We like this product because it is so cost-effective and you can stock up on these easily. They also feature 360-Degree access. This means that the tie-out cable has a 360-degree swivel ring so dogs can roam around the garden or campsite without getting tangled up.
Features
Rubber wide-grip handle allows for easy installment. Holds up to 100 lbs. Cable 20′

Features weather-proof polyvinyl sheathing

Crafted with a 20-foot high-grade galvanized steel cable

Comes with a heavy-duty 9-mm diameter x 18″ containment stake. 
The BV Pet Tie Out Cable not only features over 11,500 positive ratings but has fantastic color options. This brand features cables for extra small dog breeds up to 2X- yes, a mighty 250-lbs. Rest assured, this is one of the most durable tie-out cables for all dog breeds, regardless of size. We like the BV Pet Tie Out cable because it features a one-year limited product warranty. This is by far the best dog tie-out cable on the market, but it doesn't come with a stake. Here's our take on this product:
Features
It's crafted with a reflective & anti-rusty vinyl cover for additional safety

It features crimp and swivel clip covers for stronger ends and rust protection

All-steel cable and clips

Priced well
The SureSwizel has been tested to hold up to 1000 pounds. This is an excellent tie-out for camping trips because it's tangle-free and features a secure anchoring system. We like this product because it's crafted to swivel a complete 360 degrees and has a dual swivel motion. Here's the take with the SureSwizel dog tie:
Features
Tested to hold 1000 lbs. of pull force

360-degree dual swivel motion

Suitable for camping and hiking trips with your dog

Sure Swizel base is screwed into the ground for optimal safety

Advertised as a tangle-free tie out for dogs for dog camping at RV parks, yard, and decks
We enjoy all SportDog products, and at a decent 30 foot in length, the SportDog tie-out for dogs is lightweight but durable. This works well when training dogs and exercising them. The take with this dog tie-out is that it floats when submerged in water and is super visible, featuring a bright orange color. Here's why we like SportDog tie-outs for adventure and working dogs that are enjoying a fun weekend in the outdoors.
Features
30-foot check cord

Rope designed to coil easily for fast storage

Tie-out floats if submerged in water

The clip is small & durable

Locally based customer care for prompt customer service

Works in all weather conditions like heat, cold, rain, snow, dust, mud, and wind in mind.
The Titan Giant Cable Dog Tie Out is featured in 4 sizes, from small to extra-large, and works with dogs up to 150 pounds. We like this dog tie-out because it's manufactured from galvanized steel aircraft cable for optimal durability. When using this tie-out cable, dogs have the freedom to roam within a 15 feet area. It's one of the best dog tie-out cables because it will not break and is chew-proof. Here's the take with the Titan Giant Dog Tie-Out.
Features
Weather-resistant

Designed to secure extra-large dogs safely

Suitable for use with a Titan Giant Tie Out Stake

Crafted with galvanized steel aircraft cable

Extra strong brass plated snaps

Works well with large breeds
Finding the perfect tie-out for your dog breed may seem an easy task, but with so much at stake, you must consider your dog's strength, activity level, and breed when choosing the best tie-out for your pup. Four Paws Heavy Weight Trolley Exerciser features rust-resistant galvanized steel cable and vinyl coated cable. We like this product because it features over 2,000 positive ratings and is a walk-about overhead trolley and tie-out cable that promotes healthy exercise and freedom of movement. This is the best dog tie-out for large dogs because it has a variety of options and allows your dog to exercise and roam around freely. Here's the take with the Four Paws dog tie-out:
Features
100 feet heavyweight for dogs that are 100 pounds

Rust-resistant metal snaps

Includes installation hardware

Priced well
Safety Precautions When Using a Dog Tie-Out Camping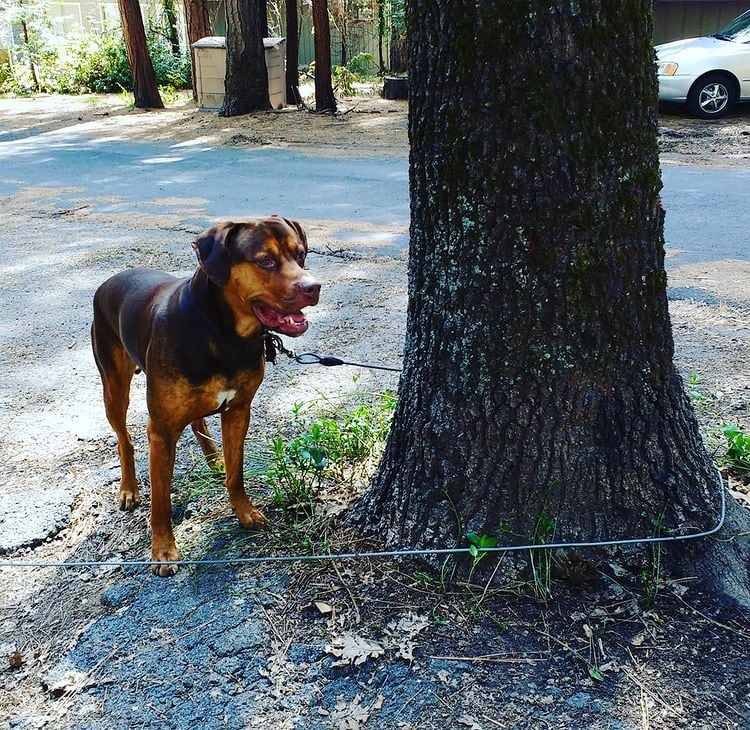 We generally don't like to recommend the use of tie-outs for dogs at home. If you don't have secure fencing, opt for regular dog walks, the dog park, and the dog beach. Tie-outs at home may result in your dog being exposed to extreme temperatures, not enough shade, and could even cause your puppy to become aggressive. 
Keeping your dog safe is key to good pet parenting, so if you're out camping during an adventure hike with your dog and you can't have them off-leash at the campsite, then it may be a good idea to use a tie-out. 
Regardless, it should only be used as a last resort and with plenty of constant supervision. Tie-outs have plenty of dangers that you should be aware of. So, if you're a weekend hiker and enjoy camping out with your puppy, the odds are that you may need to use a tie-out at some stage because all dogs enjoy exploring and romping around. That said, the key to safe hiking and camping trips with your dog is making sure that your pup is well-trained before heading out.
Safety Precautions with Tie-Outs
There are numerous potential dangers with tie-outs, most especially when incorrectly used. Even the highest-quality tie- out could pose a significant risk to your dog when used in the following ways:
Strangulation: Without constant supervision, your pup could be at risk for strangling himself with the tie-out. Your dog may not realize that he's using a tie-out and may try to chase wildlife.
Sunstroke & Overheating: What once was a shady spot may change in a short amount of time to a hot, unshaded spot that's unsafe for your pup. Many dogs are heat sensitive and need to be indoors in extreme heat.
No Access to Food or Water: Your puppy may accidentally push his water and feed bowls past the area of reach or wrap himself around a tree or shrub, depriving access to both water and food.
Dog Tie-Out Equipment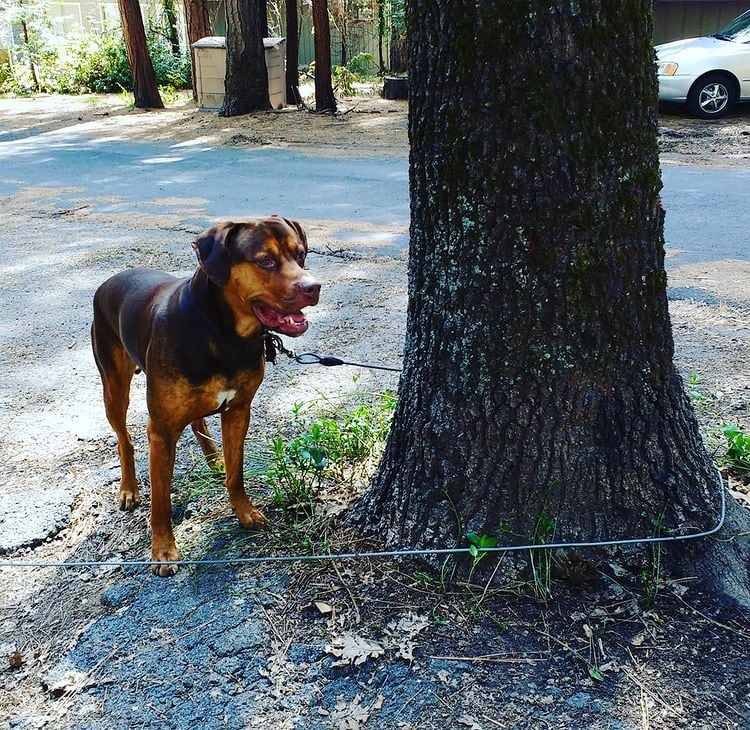 When you tie your pup outdoors, there are a few things to consider. Your dog should only be outside for a short period, for starters, and he should be supervised during this time. You'll need to consider proper shelter and proper fencing before initially bringing your pup home on day one.
Preparing your home for a new furry best friend allows you both to benefit without worrying about all the safety precautions. If your pup is tied-out, it should be no longer than 30 minutes under a shady tree. After that, you should bring him indoors. Always plan tie-outs for cool mornings in areas with plenty of shade, even when out camping. 
As with everything you plan on doing with your dog, you have to ensure that all safety precautions are taken, like thinking about weather, hydration, shade, and proper shelter. Be familiar with the environmental conditions when out camping or hiking in the wilderness. Your pup could be exposed to numerous pests like ticks which are dangerous and can result in Lyme disease and Rocky Mountain spotted fever. 
If you have an adolescent or puppy, you should be highly hesitant before using a tie-out. This is why it's so important to start with early positive training and socialization. If you're a pet parent to a furry best friend that's well-trained, you won't have to use a tie-out. 
You can start with basic obedience training by using positive rewards when teaching your dog. You should figure out what motivates your dog the most during positive dog training and use that to motivate and encourage success.
Conclusion for Best Dog Tie-Outs!

The most important thing to keep in mind when using any dog tie-out, regardless of the brand, is that the security and effectiveness of the dog tie-out will always depend on the material into which the tie-out is embedded. Keep in mind that loose soil, rotting wood on decks may not provide a safe and secure installation. You should also always check your dog's collar for wear and tear and replace worn-out collars. Pet safety in any environment is key to good pet parenting.
Other articles you would like:
Frequently Asked Questions
Can I use a dog tie-out if my dog is a powerful chewer?
Numerous dog breeds can chew through anything they set their mind to. Unfortunately, this includes metal cables. That said, if your pup is a chewer, then you should opt for a chain that holds up to heavy chewing more than a cable.
How can I prevent my dog from getting tangled up in the cable?
You'll find that some dogs end up getting tangled more quickly than others. The best way to prevent this from happening is to employ a trolley system instead of a cable. These systems may reduce how often your pup gets tangled, but you'll still need to supervise constantly. The longer the tie-out, the more chance your pup will have of becoming tangled.
What length should I purchase my dog tie-out?
There is no single best length that works for all dog breeds apart from using a tie-down. That said, you'll need to consider your dog breed and how much length your dog will need to move comfortably around. Here's what you should do before using a tie-out:

See if there are any hazardous materials or objects nearby. If that's the case, you'll need to keep him out of reach and out of harm's way.

Consider how long your pup will be tethered. The longer he'll be tethered for, the longer the tether needs to be.

If your pup is an energetic dog breed, you should exercise him before tethering and ensure that there is no wildlife or anything that could excite him while he's tethered. A dog's tie-out length should be in proportion to his energy level and breed.

You should also consider how large your campsite or backyard is to allow for safe tethering. Define a safe limit and purchase your tie-out according to those limits. Make sure that he always has

food and water

close by.
Want to learn how to install a Dog Tie Out? Check out the video below:

Claudia Bensimoun is a writer who specializes in dog content and veterinary topics! Aside from writing for We Love Doodles, Claudia also writes for other major dog blogs like Fido Friendly, Animal Wellness Magazine, and the United States Dog Agility Association (USDAA). She has a ghostwritten over 50 different dog e-books. Her passions include animal welfare, veterinary research, and wildlife conservation.
Why Trust We Love Doodles?
At We Love Doodles, we're a team of writers, veterinarians, and puppy trainers that love dogs. Our team of qualified experts researches and provides reliable information on a wide range of dog topics. Our reviews are based on customer feedback, hands-on testing, and in-depth analysis. We are fully transparent and honest to our community of dog owners and future owners.