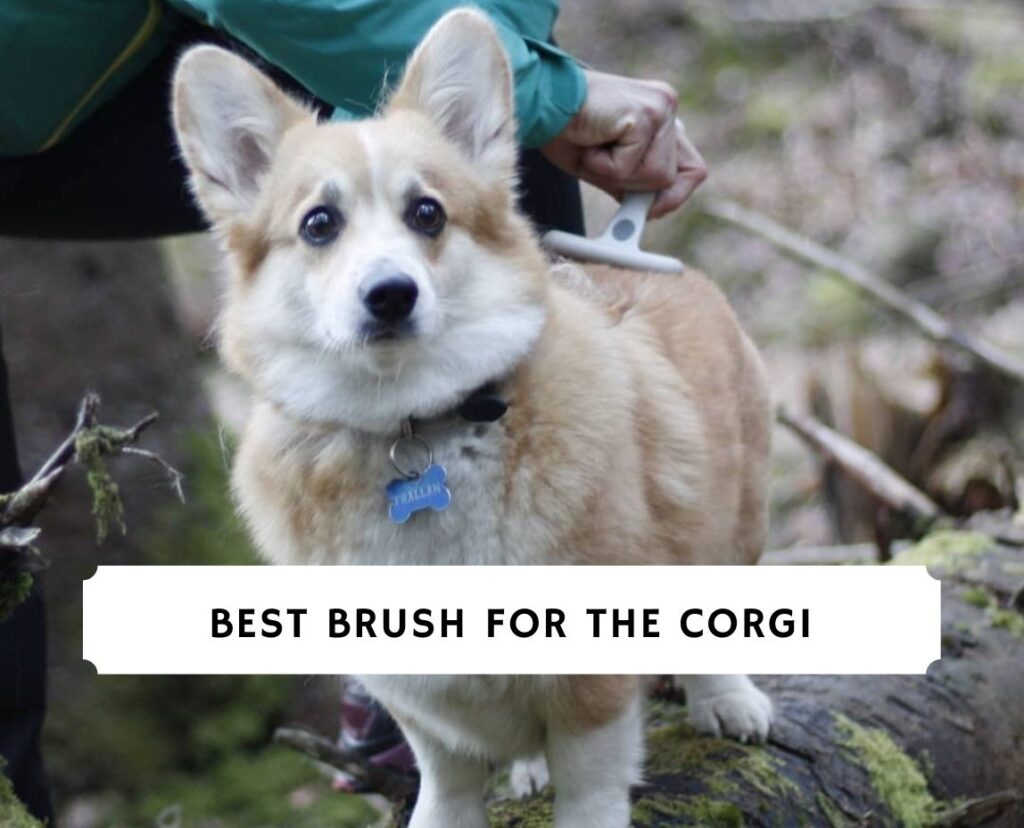 The bold Corgi is a unique dog breed with distinct characteristics. They are brave and kind and never shy or vicious. Corgis are known for their short legs, long bodies, and cute faces. Corgis are also notorious for shedding, meaning that they require special grooming to keep their coats healthy and free of tangles. In this review, we will be discussing the best brush for a Corgi. 
We've reviewed hundreds of different types of brushes and have chosen the following as our top pick. Our buying guide for the Pembroke Corgi covers the features of the top six brushes and their pros and cons.
Product
Best Overall
We Love Doodles Slicker Brush
Runner Up
FURminator Firm Grooming Slicker Brush
Editor's Choice
Chris Christensen Big G Dog Slicker Brush
Image
Top Six Brushes for a Pembroke Welsh Corgi
The newly launched 2022 We Love Doodles slicker brush is our top pick for the best brush for a Corgi. This brush is specifically designed to remove loose hair and undercoat from shedding dogs. Here's the takeaway:
The We Love Doodles slicker brush is our top pick for the best brush for a Corgi because it is specifically designed to remove loose hair and undercoat from shedding dogs. 
The We Love Doodles slicker brush is affordable, making it an excellent option for budget-conscious pet parents. This brush has long bent pins that are gentle on your dog's skin, and it also has a comfortable grip that makes grooming a breeze. 
We like this slicker because it's effective on most dog breeds yet gentle at the same time. There's also a lifetime warranty and not just a 30-day one! This is a pet grooming brush recommended by both professional groomers and veterinarians.
Features
Curved bristles for optimal grooming
Eco-friendly
Affordably priced
Firm rubber backing 
Comfortable grip with a long handle that reaches into the undercoat
Long scratch-free pins that are gentle on the skin and coat
Used by professional groomers in the US
Lifetime warranty
A We Love Doodles pet product
Customer Review
"Long soft pins allow you to brush gently through tangled and matted coat while easily working out the tangles and going to the bottom of the coat without hurting or brush burning the dog. I definitely recommend every groom to get one. The doodle brush is the best brush I own. It's well worth the money. After I used it for the first time I was well satisfied and ordered another one."
The Furminator for Corgis features over 2,000 positive reviews. This slicker brush is a simple, comfortable solution for clean, healthy coats. It removes surface mats and detangles and smooths fur without pulling. We like this slicker for Corgis because it has straight bristles on one side and bent bristles on the other side.
The brush design reduces pressure on the pet's skin, finishing coats and creating a natural shine. Intended for pets with curly, long, or medium coats, the Furminator for Corgis is one of the most popular options on Amazon. This is an excellent option if you're looking for a quality slicker brush for your "fluffy" Corgi.
Features
Ergonomic handle for secure grooming
Affordable
Dual head design
Over 2,000 positive reviews
Ideal for medium, long and curly coats 
Customer Review
"My dogs have always liked a slicker brush, but they really love this one! They will push each other out of the way to brushed with this one. The handle has a little flexible give to it, so as not to brush too hard, it has a nice wide brush itself, one side is the finger claw type, & the other side is a smooth non pulling rake."
The Big G Dog Slicker Brush is the perfect tool to help you groom your dog like a professional. With its large head and firm bristles, this brush is designed to quickly and easily fluff, detangle, and style your dog's coat.
The ergonomic handle ensures a comfortable grip for even the most vigorous brushing, and the coral color is sure to add a pop of personality to your grooming routine. Save time and energy with the Big G Dog Slicker Brush! We like this brush because it's easy to use and removes mats and tangles. This product has over 4,000 positive reviews.
Features
Soft and scratch-free pins 
Designed with larger than standard pins 
Available in 3 sizes
The flexible cushion that allows for contour grooming
Fun coral color
The Biosilk Dog Brush is made with natural boar hair bristles that are gentle on your dog's coat and skin. The ergonomic handle is easy to hold, and the brush is perfect for shedding. The Biosilk Dog Brush is also eco-friendly and comes in a mint green color.
The Biosilk bristle brush has over 4,000 positive reviews and is one of our top picks for the Corgi because it's crafted with natural boar bristles. The bristles are widely spaced and firm but not too hard. They do a great job removing loose hair without damaging the coat or irritating the skin.
The ergonomic handle is easy to grip and won't slip out of your hand, even wet. The Biosilk Dog Brush is also eco-friendly and comes in a mint green color.
Features
Natural boar bristles
Plant-based construction
Cruelty-free pet product
Affordable
Spiral flex technology
Over 4,000 positive reviews
A BioSilk pet grooming product
This dual-sided brush has over 16,000 positive reviews and is crafted with stiff and soft bristles to help you detangle and remove loose hair from your dog's coat. 
One side contains stainless steel tips with a protective coating to remove loose hair and detangle coat; the other side has dense nylon bristles to redistribute natural oils for a healthy, shiny coat brush also has a comfortable ergonomic grip, making grooming time a breeze16,000+ positive for both you and your pup. 
We like this brush because it's one of the most affordable on the market and makes for a suitable first grooming brush or travel brush when you're on a pet vacay.
Features
A large array of grooming tools
Combo brush
Ergonomically designed handle
Over 16,000 positive reviews
Multi-colored with nylon bristles
Most affordable dual-sided grooming brush for all dog breeds.
How to Groom a Corgi?
Below is a good video that will teach you how to groom a Corgi.
The Pembroke Corgi
The Pembroke originated in Pembrokeshire, Wales, and is an all-purpose cattle herding dog that also drove geese. This breed is part of the UKC/AKC Herding Group and is thought to have originated from the spitz-type ancestors that arrived in Wales with Flemish weavers. 
Today the Corgi is hardly ever used as a herding dog, and has become one of the most popular companion dogs. This breed is closely related to the Cardigan Welsh Corgi.
The American Kennel Club (AKC) adds that the Pembroke Welsh Corgi is "Among the most agreeable of all small house dogs, the Pembroke Welsh Corgi is a strong, athletic, and lively little herder who is affectionate and companionable without being needy. They are one of the world's most popular herding breeds."
Coat
The Pembroke Welsh Corgi has a medium-length coat that is short and thick. This breed also has a water-resistant undercoat with a coarser and longer outer coat.
The overall coat will vary in length, with the Corgi having a longer and thicker ruff around the neck, chest, and shoulders. The body coat lies flat, and the hair length will be fuller on the part of the back of the forelegs and underparts.
The Corgi has a shedding coat that needs to be groomed regularly. Fluffies or Corgis with longer coats have extreme feathering on the ears, legs, chest, and feet and the underparts and hindquarters. The AKC adds that the Corgi should be shown without trimming the coat except to tidy the coat or, if needed, trim the whiskers.
Grooming the Corgi
The Pembroke Welsh Corgi is a moderate shedder and will require regular grooming. The AKC suggests brushing the Corgi at least once a week to remove dead hair and distribute natural oils. They also recommend using a slicker brush, a wired pin brush that helps remove tangles and mats.
Grooming your Corgi regularly eliminates mats, burrs, and tangles and helps with blood circulation and distributing the coat oils for a healthier coat.
The fluffy Corgi needs to be brushed daily to prevent matting. Severe matting can be dangerous to your Corgi as it can prevent the skin from doing its job, protecting the skin and regulating body temperature.
The Corgi has two coat types: The Smooth and the "Fluffy". The smooth has a shorter coat that does not have the thick undercoat or the feathering of the Fluffy type. The fluffy type Corgi will require more grooming due to the long coat that can become matted. It is important to start grooming your Corgi at an early age, so they get used to the process.
Why are slicker brushes essential to good grooming?
The slicker can be used on all dog breeds except hairless or smooth coated breeds. It should be the first brush you purchase for your grooming tool kit.
Slickers are available in different sizes and shapes, but all have one thing in common. They feature hundreds of short wires embedded in a firm rubber backing. The slicker needs to be used gently and should be crafted with soft wires that are either bent or straight. The slicker is one of the best brushes to use before bathing to remove mats, tangles, or dirt.
We chose the curved We Love Doodles slicker brush for its curved bristles that are made to pull out the dead undercoat and packed fur from the Corgi. Here's the takeaway:
FAQ's Best Brushes for Corgis
What is the best slicker brush to use before bathing my Corgi?
The We Love Doodles slicker brush is the best slicker brush. This is because it has softer bristles which are less likely to scratch your Corgi's skin.
Where can I find the best product reviews and pet products for my Corgi?
At Welovedoodles.com, we have a wide variety of product reviews for Corgi products, including brushes! You can also find helpful tips and tricks from other dog parents in our forum.
Are Corgis easy to groom?
Yes, Corgis are relatively easy to groom. They do not require a lot of grooming tools or products. A good slicker brush, comb, and shampoo like the We Love Doodles 4-in-1 organic dog shampoo and conditioner will trick!
Are Corgis supposed to get haircuts?
It is unnecessary to get your Corgi a haircut, but many people choose to do so for aesthetic reasons. If you decide to get your Corgi a haircut, take them to a professional groomer who is experienced with grooming Corgis.
What are the Pembroke Welsh Corgi's grooming needs?
Corgis are constant shedders so they will require daily brushing. Although they only shed in small amounts, the continual shedding can be a nuisance. Regular brushing with the correct grooming brushes will help to reduce the amount of hair your Corgi sheds.
Do Corgis need to be bathed often?
No, Corgis do not need to be bathed often. Bathing them too often can strip their coat of natural oils and lead to dry skin. Therefore, we recommend only bathing your Corgi every 4-6 weeks.
What is the best way to bathe a Corgi?
The best way to bathe a Corgi is to use the We Love Doodles 4-in-1 organic dog shampoo. This shampoo is gentle on the skin and coat, and it will leave your Corgi smelling fresh and clean.
Other articles you would like:

Claudia Bensimoun is a writer who specializes in dog content and veterinary topics! Aside from writing for We Love Doodles, Claudia also writes for other major dog blogs like Fido Friendly, Animal Wellness Magazine, and the United States Dog Agility Association (USDAA). She has a ghostwritten over 50 different dog e-books. Her passions include animal welfare, veterinary research, and wildlife conservation.
Why Trust We Love Doodles?
At We Love Doodles, we're a team of writers, veterinarians, and puppy trainers that love dogs. Our team of qualified experts researches and provides reliable information on a wide range of dog topics. Our reviews are based on customer feedback, hands-on testing, and in-depth analysis. We are fully transparent and honest to our community of dog owners and future owners.