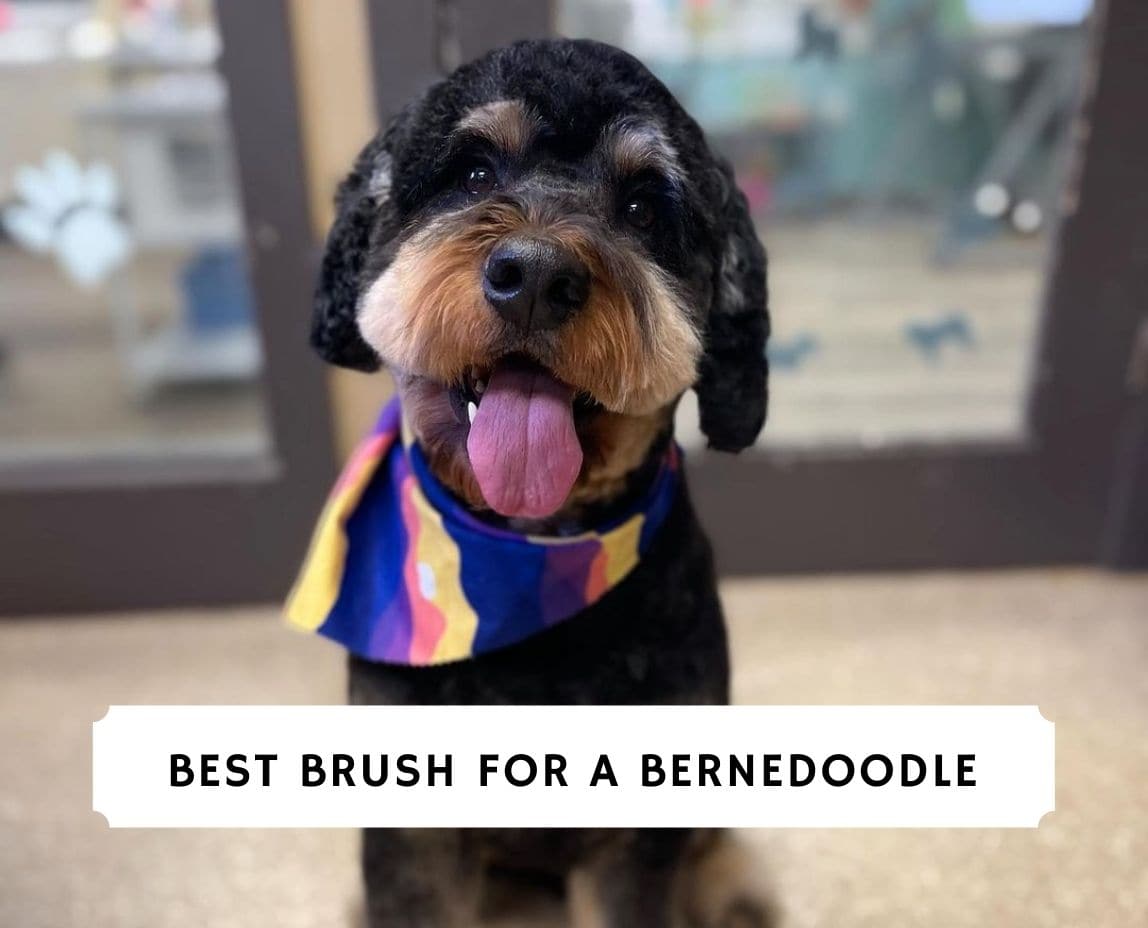 If you have a loveable Bernedoodle at home, you probably want them looking their best. This review will focus on the brushes that will most benefit you and your Bernedoodle. This buying guide will explore pin brushes, slicker brushes, and combs to give you our top 5 picks for an easy at-home grooming session with your Bernedoodle.
The brushes you use at home to groom your Bernedoodle are just as essential as the shampoo and conditioner you select for a good bath. If you're looking for the best brush for the Bernedoodle, you've come to the right place. This review will take an in-depth look at what makes an excellent Bernedoodle brush and some of the best options. Keep in mind that if you use a cheap slicker brush, you'll struggle to get good results.
The best brush for Bernedoodle will have natural bristles that are soft enough to not scratch the coat but firm enough to remove dirt and debris. The brush should also be comfortable to hold and easy to use. Cheap knock-off slicker brushes won't work as well and may damage your Bernedoodle's coat and skin.
Here's the takeaway:
Find a durable brush that works for the Bernedoodle coat
The brush should efficiently and quickly groom your dog's coat.
The brush should also prevent and combat matting and tangles
Product
Best Overall
We Love Doodles Slicker Brush
Runner Up
Chris Christensen Slicker Brush
Best Dematting Tool
Dematting Tool
Best Pin Brush
Pin Brush For Dogs
Image
We Love Doodles, and we know that you do too! The We Love Doodles Slicker Brush is a reasonably priced slicker brush if you're looking for a budget option. The long pin slicker brush is the perfect tool to help remove knots, tangles, and mats from your dog's coat. It's also great for stimulating blood circulation and promoting a healthy coat. We like the We Love Doodles slicker brush because it easily works through dense and long coats without causing breakage. This dog grooming brush was made especially for Doodle breeds.
This brush has soft bristles that are gentle on the skin and coat. We've created the perfect slicker brush for dogs, specifically designed for medium or long-haired dogs. The best part? It's specifically crafted for the Doodle coat.
Features
Each pin is bent at 45% for optimal grooming
50 % longer, denser and softer pins
Affordable
Ergonomic wood handle
Non-scratching Bernedoodle brush
Made of recycled wood 
The Chris Christensen Big G Dog Slicker Brush is a professional-grade grooming tool that can help you save time and energy while detangling and fluffing your dog's coat. 
This brush is made with coral-colored bristles designed to be gentle on your dog's skin and coat. The large size of this brush makes it ideal for dogs with long or thick coats. 
The ergonomic handle of this brush provides a comfortable grip for easy brushing. This coral color dog brush is perfect for all types of coats.
Especially when you are looking for a curly hair dog brush, this is one of the best options. This dog brush can help you to reduce the time you spend on grooming your dog by up to 50%. It is also very easy to clean and maintain. You can use water and soap to clean this brush after every use. The Chris Christensen Big G Dog Slicker Brush is a must-have grooming tool for all dog owners. 
The Show Tech Transgroom slicker brush is a very soft and highly useful brush that effectively removes thick and undesirable coats. Its curved and extra-long pins easily penetrate deeply and fast to thick coats. These are easy to handle.
The special feature of these pins is that they are strong enough to quickly and easily remove massive coats.The brand has guaranteed that these long soft pins cause no damage as these extra soft long pins penetrate deeply and brush out the heavy coats.
Its long or regular pin size is effective in brushing out thick coats. Firm, regular, or soft are the hardness choices for pins. These brushes are ergonomically designed, having a lightweight and angled heads. These features make it able to access hard-to-reach surfaces easily.
Key Features
Curved and extra-long pins penetrate deeply
Pins are strong enough to brush out heavy coats
Ergonomically designed
Lightweight and has a curved head
The brand manufacturers have designed this brush particularly for Labradoodles' grooming and other Poodle-crosses. The specific feature comprises the high flexibility of the head along with the long, angled pins that work through the cost easily and quickly, compared to traditional raincoat brushes that tend to hook and pull.
The two-sided brush has the benefit that you can use the other side at the same side if one side has filled up with hair. When both the sides are fully occupied, just comb it to remove hair. And here you are again, ready to brush.
This brush makes light work of matting and knots/twists. It will help you to maintain a lovely, knots-free coat.
Key Features
Long, angled pins that easily move through matting and tangles
Less snagging as compared to the classical raincoat brushes
Flexible head
Most suitable for Poodle-crosses and Labradoodles
Hertzko's Self-Cleaning Slicker Brush is the ultimate dog brush for shedding hair, fur, and dirt. The unique retractable self-cleaning feature helps to keep the brush clean and free of hair after each use. The slicker bristles are made of stainless steel, which helps to remove knots, mats, and tangles from your dog's coat. 
The sicker brush features an ergonomic design that makes it comfortable to use and helps reduce fatigue during brushing. This brush is perfect for long and short-haired dogs and cats. This product has over 72,800 positive reviews.
Features
Most affordable slicker brush
Anti-slip ergonomic handle
It can be used on all types of fur
Numerous sizes
Superior durability
Over 72,800 positive reviews
This flat slicker brush works well for the Bernedoodle because it has long pins that will not catch the fur. The long pins are great for reaching down into the dense coat and removing any mats or tangles. The slicker brush can also remove shedding hair from the coat. 
It also features a non-slip grip handle with a cute paw design. This brush is especially effective for medium to large dogs with long thick, or double-coated hair. We like this brush because the finished product is velvety-soft fur. It's also easy on your Doodle's coat and skin. This product has over 4,800 positive reviews.
Features
Affordable
Extra-long 1″ hard pins
Works well with double-coated dogs or long-haired dog
Numerous size options for all dog breeds and life stages
Crafted with a non-slip grip
Flat slickers have rounded corners that will not catch the fur.
Over 4,800 positive reviews
When it comes to purchasing a good quality product for your pets, owners never compromise. This brand has brought a wide range of special features containing a brush that is equally suitable for big-sized dogs and cats with heavy coats, as well as small pets having short and comparatively thin hair.
The easy cleanup system effortlessly removes all fur by just pressing the button and all swiped out. It is best for skin sensitive pets. Additionally, the grip of the handle is easy and comfortable and allows good grooming.
The best way to avoid your home getting all furred up is regular grooming of your pet with this particular brush.
Key Features
Suitable for large and medium-sized pets with or without heavy coat having either long or short hair
Easy removal of all loose fur by just pressing the button
Soft to your pet's skin as it has flexible blisters
Available in two sizes
Highly recommended product by vets and other professional pet groomers
This double-sided dog brush is perfect for both short and long-haired dogs. The slicker side of the brush can be used to remove tangles and mats, while the bristle side can be used for general grooming. 
The ergonomic design makes it comfortable to hold, and the non-slip grip ensures that you'll have complete control over the brush. For example, the Hartz Groomer's Best Combo Dog Brush is a must-have for any pet owner! This product has over 16,000 positive reviews.
Features
Affordable
Ergonomic handle
Features two brushes and grooming actions in one
Nylon bristles remove loose hair.
Crafted with safety tips for gentle grooming
This Chris Christensen dog brush is perfect for grooming your Bernedoodle like a professional. The stainless steel pins are set in a lightweight beechwood body, and the tips are ground and polished for a smooth finish. The 27 mm oval pin brush is also great for all coat types. 
We like this pin brush for the Bernedoodle because there are 30% more pins than traditional pin brushes make for a finer brush stroke. This allows for the brush to glide through thick coats. There's no brush like the Chris Christensen, and it's worth investing in numerous a few Chris Christensen dog brushes to have at home. They last a lifetime and allow for professional grooming.
Features
30% more pins than traditional pin brushes.
Professional Bernedoodle grooming brush
27mm oval pin brush
A Chris Christensen dog grooming product
Wood
This professional slicker brush for cats and dogs helps brush out all the unnecessary shed fur and hair. This item gently removes tough twists and tangles and excessive trapped dirt particles. Hence, it is a highly recommended product for any hair type and also the size of dogs. It is beneficial in many aspects; it helpsyour pet's mental state and improves its attitude. Moreover, it is also vital for health.
This slicker brush maintains the perfect professional look. It shows your pet's natural coat. The comb's dense pins help eliminate loose fur, unnecessary hair, and clean up mats that can stick to the coat of your pet. Moreover, it is effective in time-saving. Only five minutes of brushing will provide you the best results.
When you finished cleaning, just press the button for easy removal of all fur. The easily retracted pins allow protected storage. The fine and soft bristles penetrate deep through the coat and are skin-friendly to your pet without irritating it. The handle has a comfortable grip because of the silicone gel material. It works deeply without damaging the top layer shine of your pet.
Key Features
Easy retracting pins allow protected storage
Fine and soft bristles for deep effect
Silicone gel handle that provides comfortable holding
Can be equally suitable with double coats
Highly reliable and comfortable to use
The Andis Pet Steel Comb is the ideal tool for grooming your Bernedoodle. The comb removes tangles, mats, loose hair, and dirt, stimulating the skin and hair follicles. The lightweight design makes it easy to use and helps to prevent fatigue during grooming. The comb is also great for finishing and fluffing the coat. The Andis Pet Steel Comb is the perfect tool for keeping your Bernedoodle looking his best.
Features
Ideal for cats and all dog breeds
Andis 7 1/2-inch steel pet grooming comb
Affordable
Stainless steel
Does not rust
Bernedoodle Coat Type (A short Review)
One should select the brush, keeping in mind the coat of their doodle. There are three types of inherited coats of a Bernedoodle. They may be curly or have straight hair. These may have another coat type that is fleece or wavy. They all have different requirements for grooming. Mostly, doodles have a woolen or curly coat with less shedding. You should consider the Big G Slicker Brush with good detangling property for this breed.
The Bernese Mountain Dog has short straight hair with a high rate of shedding. The prime concern is to prevent de-shedding. There are not many risks of the formation of clumps and knots in this breed. The Slicker Brush, with its anti-shedding property, is best for this. The wavy-haired type is the most effortless type that has easy maintenance. It doesn't shed hair frequently, and also knot formation rate is low.
Here is a short explanation for this coat. Basically, the type of coat determines the shedding rate of hair and how many times it requires brushing.
Straight Coat
If the Bernedoodle possesses this type of straight hair coat, it means that they have a relatively higher tendency to shed than the other breed types. Moreover, this type is a little bit wavy, like a Bernese coat.So, they don't need extra brushing, but to get rid of shed hair all around, you should be grooming your Bernese periodically.
Wavy Coat
The wavy coats are the best among the other two. These can be easily managed and are also simpler to brush. This is not really a suitable coat for those who have more chances of developing dander allergies as compared to curly coats. But yes, these are ideal for other allergy victims.
Curly Coat
This coat is closely related to a poodle's coat. This coat is the most suitable for those who have great chances of developing dander allergies. Nonetheless, curly coats have a high matting rate. Hence, this type of coat demands the most brushing out of the other two types of Bernedoodles.
Types of Fur
As a Bernedoodle is a cross between a poodle and a Bernese mountain dog, and it has mostly poodle traits, it possesses hair rather than fur. One thing that has made them famous due to this specialty is that they are allergy-friendly. They need perfect and periodic grooming because of the different types of coats. You should bathe them once or twice a week. Regular grooming helps to maintain their coats and free off from matting.
Curly coats have got an issue with matting and get uncomfortable as the hair gets tangled; it may lead to sore formation that is painful.
Above all, the length of the hair also matters. No doubt, the coat decides how many times you need to brush it, but the coat's length also plays a crucial role in determining whether it needs brushing or not and how frequently that may be.
How To Brush Bernedoodle
When it comes to brushing your pets' heavy coats, you should consider the guidelines for a good result. The precautions help you acquire a good bond with your pet. The question mostly comes to the pet owner if he is grooming it daily, does it still scratch its coat? These questions are worth asking.
The perfect brushing may require a detangling spray if your pet has a heavy coat. It makes the brushing process bit easier. It is another debate on which detangling product serves this purpose. These products are cheaper.
The other effective tool is the shampoo of high quality. There are lots of brands related to this product. Moreover, one should consider that you shouldn't wash the dog too frequently. The detangling spray is more effective than shampoo.
Mats and twists are always the prime concern of the owner. To eliminate these problems, it is preferred to purchase a high-quality brush that facilitates maintaining the topline coat and is skin-friendly to your pet. These four points should be considered while brushing or purchasing it:
Have a budget-friendly and reliable brush for your dog
The steel combs serve the purpose well
Use shampoo or a detangling spray for comfortable grooming
Do F1 Bernedoodles shed?
A first-generation F1 Bernedoodle is a cross between the Bernese Mountain Dog and a Poodle. The amount of coat traits the puppy inherits from the Poodle will determine the level of shedding. 
Shedding is dependent on what type of generation your Bernedoodle is. F1 and F2 Bernedoodles will shed more than F1B or F2B Bernedoodle because F1 Bernedoodles have fewer Poodle genes. That said, Bernedoodles will shed less than a Bernese Mountain Dog. 
Although all Bernedoodles shed some, shedding can be minimized with regular grooming. A good brushing routine will help to remove any loose hair and keep your Bernedoodle coat healthy and vibrant.
Bernedoodle Grooming – Summer Cut
The Bernedoodle Coat
The fluffy Bernedoodle is a cross between the Bernese Mountain Dog and the Poodle. The Bernedoodle is a hypoallergenic, low-shedding hybrid dog. This breed is a hypoallergenic, low-shedding hybrid dog. They are intelligent, friendly, make great family pets, and can come in various colors and coat types. 
Most Bernedoodle puppies have a long wavy coat, but you can also get straight and curly-coated puppies. The coat is hypoallergenic and doesn't shed much, making the Bernedoodle a good choice for people with allergies. 
Grooming requirements depend on the type of coat your puppy has. Wavy and curly-coated Bernedoodles will need to be brushed and combed regularly to prevent mats and tangles. 
Straight-coated Bernedoodles will need less grooming but will still benefit from regular brushing to prevent shedding. Depending on your Bernedoodle coat type, he may shed, but either way, the Bernedoodle requires regular grooming – this is not a low-maintenance breed for their coat!
The Bernedoodle coat can come in various colors: black, brown, white, cream, and tri-color (black, white, and brown). Some Bernedoodles may have markings on their faces that resemble a Bernese Mountain Dog's markings.
If you're in a rush and don't have time to read the entire review, here are our top picks. We asked the experts, breeders, and actual owners to find the easiest at-home grooming and brushing regime for the Bernedoodle.
Frequently Asked Questions
How much do Bernedoodles shed?
Bernedoodles are low to non-shedding and are considered hypoallergenic. However, like all animals, they will shed some hair. Shedding depends on the individual dog but is usually minimal.
How big do Bernedoodles get?
The Tiny Bernedoodle stands at 12 to 17 inches tall at the shoulder and weighs about 10 to 24 pounds. The Miniature Bernedoodle stands at 18 to 22 inches tall and weighs 25 to 49 pounds. The Standard Bernedoodle stands at 23 to 29 inches and weigh 70 to 90 pounds.
Do Bernedoodles make good family pets?
Absolutely! Bernedoodles are intelligent, loving, and gentle dogs that make great companions for families with kids of all ages. They are also very patient, making them ideal playmates for younger children.
How long do Bernedoodles live?
On average, Bernedoodles live 10-12 years old; however, some individual dogs have been known to live much longer, into their early 20s.
How much exercise do Bernedoodles need?
Bernedoodles are relatively active dogs and will need moderate exercise to stay healthy and happy. A daily walk or play session should be sufficient for most Bernedoodles. However, some individual dogs may require more exercise, depending on their energy level.
What is the best food for Bernedoodles?
There is no one-size-fits-all answer to this question, as every dog has different dietary needs. However, most Bernedoodles do well on high-quality dry food formulated for large breeds. Therefore, you should always consult with your veterinarian to determine the best diet for your dog.
Can you explain the different generations of doodles? What does F1 mean versus F1b, F2, and more?
Many people say that the most hypoallergenic option is the F1b doodle, which will be much curlier. Yet the F1 have more softness and consistency in the coats and is probably the most hypoallergenic option. Here's the takeaway with Bernedoodle generations:
F1 Bernedoodle: Bernese Mountain Dog + Poodle
F1b Bernedoodle: F1 Bernedoodle + Poodle
F1bb Bernedoodle: F1b Bernedoodle + Poodle
F2 Bernedoodle: F1 Bernedoodle + F1 Bernedoodle
F2b Bernedoodle: F1 Bernedoodle + F1b Bernedoodle
Multigenerational Bernedoodle: F1b or later + F1b or later
Where can I find the best Bernedoodle grooming products?
At We Love Doodles, we offer Bernedoodle grooming products to keep your dog looking and feeling their best. We have everything you need to keep your Bernedoodle looking great, from shampoos and conditioners to brushes and combs. Check out our website today to find the best doodle products for your furbaby!

Claudia Bensimoun is a writer who specializes in dog content and veterinary topics! Aside from writing for We Love Doodles, Claudia also writes for other major dog blogs like Fido Friendly, Animal Wellness Magazine, and the United States Dog Agility Association (USDAA). She has a ghostwritten over 50 different dog e-books. Her passions include animal welfare, veterinary research, and wildlife conservation.
Why Trust We Love Doodles?
At We Love Doodles, we're a team of writers, veterinarians, and puppy trainers that love dogs. Our team of qualified experts researches and provides reliable information on a wide range of dog topics. Our reviews are based on customer feedback, hands-on testing, and in-depth analysis. We are fully transparent and honest to our community of dog owners and future owners.