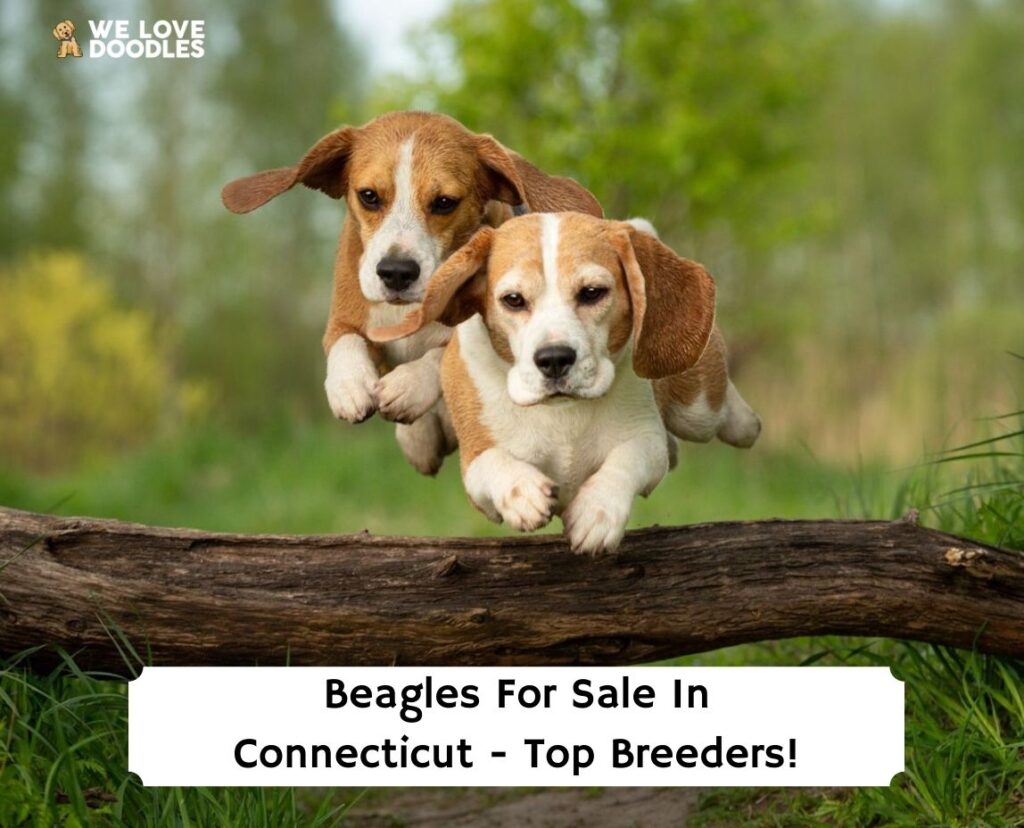 Our team at We Love Doodles put together a list of top breeders with Beagle puppies in Connecticut for sale. Beagles have been the favorite pet choice of many for several reasons. These dogs are adorable and very playful. What people find even more charming about these dogs is their floppy, big ears. The cuteness and adorability of this breed are why many pet enthusiasts want to know where to find them.
Before you scroll down this list of breeders with Beagle puppies in Connecticut for sale, you check out these other recommendations from our team at We Love Doodles: Sheltie Puppies in Connecticut For Sale and Australian Shepherd Puppies in Connecticut.
Beagle Breeders In Connecticut
This dog breed is prevalent, so it is not difficult to find a breeder. Nevertheless, one needs to be careful when looking for the best beagles for sale in Connecticut (CT), as not all breeders are trustworthy and reliable. To help you avoid choosing the wrong breeder, we have created a list of ethical and well-established Beagle breeders in CT.
Check out for more: Best Beagle Breeders in Wisconsin and Best Beagle Breeders in California.
1. PuppySpot's Beagles For Connecticut
PuppySpot Details
2. Everwind Beagles
Everwind Beagles is a small kennel in Eastern Connecticut and North Western PA. This breeder prides itself in producing super healthy and active beagles. They produce Beagles for both the show ring and the home. Hence, if you are looking for the perfect show Beagle, you can rely on this breeder. Their puppies also make great pets at home, as they are well-trained, behaved, and socialized. They expose the puppies to different conditions in and around the house, making them suitable for almost every home. The puppies are good with kids, adults, dogs, and other animals. Joan (the founder) has been breeding, raising, training, and showing dogs for 60 years. She started breeding Beagles in 2004 and has produced many healthy, happy, and champion dogs since then. Jane has successfully trained pups in obedience, conformation, and agility. This breeder is recognized for conforming to the breed standard, and her puppies are known all over the US for correctness and quality. Joan partnered with Jordan (a professional horse trainer and competitor) to care for her dogs. Interestingly, Jordan also has a degree in Vet Technology, which is handy in caring for his horses and the dogs. Joan provides the best care possible for the puppies under her care. In addition to being stunningly beautiful, the pups from this breeder are intelligent and kind. Everwind Beagles has won AKC Breeder of Merit for producing superior health and genetics pups. Previous customers also expressed their gratitude towards this breeder. They were happy with the puppies they bought, praising their excellent health, personality, and beauty. Joan dedicates a lot of time to these puppies, ensuring they get the love, training, and support they need to get started with life. She runs a complete health exam on the sires and dams before breeding. The puppies also get appropriate and updated immunizations before entering their new homes. Furthermore, all pups have a one-year health guarantee, a trademark of only reputable and confident breeders.
Everwind Beagles Details
3. Ramos and Sons Kennels
Ramos and Sons Kennels is a famous Beagle breeder in Connecticut. If you are looking for AKC Registered Beagle puppies in CT, this is one of the best options to consider. They produce quality and healthy puppies for both hunting and home pet purposes. This breeder has many healthy and beautiful sires and dams, which is why they produce puppies with superior health all year round. The vast number of sires they have enables them to produce litter regularly. You can contact them any time of the year you want a Beagle puppy. Ramos and Sons Kennels has almost three decades of experience in this industry. They have been producing, raising, and training Beagles for 25 years. The kennel is owned and operated by a father and son. The father/son team works all year round to produce Beagle lovers with genetically sound and healthy puppies. This breeder trains not only dogs but also conditions them. They also go hunting with their dogs. The dogs are trained to have good stamina, hunting skills, nose, and brains. They are very active and can run with great speed. This breeder's goal is to continue this bloodline and provide better breeds. Ramos and Sons Kennels does more than just breed and train these dogs; they also cater to their overall health and wellbeing. They provide the best medical care and attention for these puppies. All their sires and dams are tested for genetic diseases, ensuring no hereditary health condition is passed to the offspring. They also run vet health exams on the puppies, and you can see the complete health report of the pup you want to buy. This breeder does not hide any vital information about its puppies. You can contact and ask them a few questions about this breed even before purchasing. They are always available and willing to assist Beagle lovers. This breeder provides lifetime support for its customers, ensuring their Beagles are always safe, healthy, and happy.
Ramos and Sons Kennels Details
4. CT Breeder
CT Breeder has been a reliable pet store for many pet lovers. This pet store has been helpful for many people looking for this dog breed in Connecticut. CT Breeder is a pet store; they do not breed their dogs directly. However, they are not like regular pet stores. CT has separated itself from other pet stores because of its quality services. They have got you covered if you are looking for super healthy and happy puppies. They work with the best puppy breeders in the state and beyond. This store has a wide variety of dog breeds, including designer dogs. Beagles are a friendly and lively dog breed, and CT Breeder helps cultivate those traits in the pups. They do not just leave the pups in the store as other pet stores do. They have well-trained staff members that cater to the needs of these dogs. In addition to spending quality time with them, they provide these pups with the basic training they need. They also help to build the socialization skills of these dogs. Furthermore, these puppies receive basic obedience and potty training, but you must continue the training after adopting them. CT Breeder also provides lifetime support for all its puppies. They also offer a free lifetime dog-training program to all their customers. This dog breed requires early obedience training, and CT Breeder offers the right program. In addition to selling quality and well-trained Beagle puppies, CT Breeder provides other pet services. They provide pet grooming services, sell pet foods and products, and provide vet services. Hence, you can rely on them for your pet's food, toys, wearables, and grooming.
CT Breeder Details
5. Sportsman's Kennels
***Update 9/13/2022*** We no longer recommend this kennel. Please see this news article here. 
Sportsman's Kennels has been breeding puppies since 1962. This kennel is in New York, but it made it to our list because of its closeness to Connecticut and the quality of puppies they produce. They have many AKC puppies for sale, so that you can rely on them for any dog breed. You can also purchase designer dog breeds from this kennel. One of the major reasons we chose this kennel is the quality of service they render. They have the best breeding, training, and boarding facility. This kennel produces healthy, beautiful, and happy puppies. They have a six-acre facility with enough space for the puppies to play and run freely. Sportsman's kennel is well-grounded in the breeding industry with over 50 years of experience. They have quality and genetically fit breeding dogs. All their breeding dogs are tested for different health conditions before breeding. This kennel also provides boarding and training services. Besides the basic training they give their puppies, they offer professional dog-training services. Hence, you can hire them to give your new fur friend the training they need. They also provide professional grooming services to keep your pup neat and presentable.
Sportsman's Kennels Details
Conclusion For "Beagle Puppies In Connecticut For Sale"
Beagles are friendly, playful, and curious dogs. They make great family companions and show dogs. Finding a well-rounded and healthy Beagle puppy is essential whether you want to have them as family pets or show dogs. When looking for the best beagles for sale in Connecticut, ensure you find a trustworthy, licensed, and regulated breeder. This article carefully selected the Beagle breeder to meet your preferences and needs. You can rely on them for your new canine companion or show dog.
For more guides similar to this list of Beagle puppies in Connecticut for sale, you can check out:
If you enjoyed our list of breeders with Beagle puppies in Connecticut, we think you'll enjoy learning about Beagles more from "10 Things You Need to Know Before Getting a Beagle" down below:
Garrett loves animals and is a huge advocate for all Doodle dog breeds. He owns his own Goldendoodle named Kona. In addition, he volunteers at the Humane Society of Silicon Valley, where he fosters dogs and helps animals. Garrett enjoys writing about Doodles and believes that dogs can teach humans more about how to live than humans can teach a dog.
Why Trust We Love Doodles?
At We Love Doodles, we're a team of writers, veterinarians, and puppy trainers that love dogs. Our team of qualified experts researches and provides reliable information on a wide range of dog topics. Our reviews are based on customer feedback, hands-on testing, and in-depth analysis. We are fully transparent and honest to our community of dog owners and future owners.