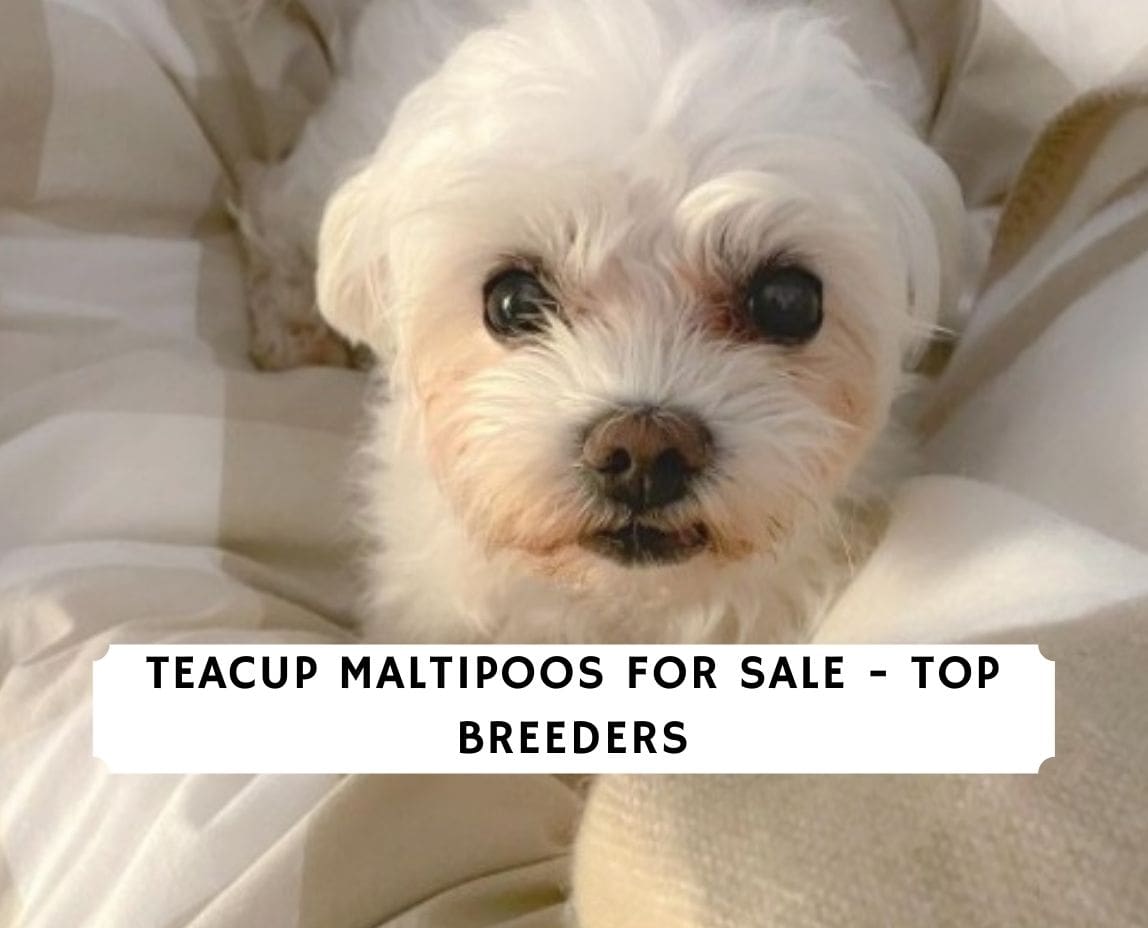 If you're searching for Teacup Maltipoos for sale, then this list should help you. First, here's a little something you should know about the Teacup
Maltipoo
. The Teacup Maltipoos is an adorable designer breed with Maltese and a Teacup Poodle parents. Both of these parent breeds have incredibly loveable personalities and look adorable on their own, but you get a dog that looks like a living stuffed animal when combined. Both parent breeds also have known genetic problems that can get passed to puppies.
Before scrolling down this list of Teacup Maltipoos for sale, you might be interested in these other breeds: Best Toy Poodle Breeders in the United States and Best Mini Goldendoodle Breeders in the United States.
Teacup Maltipoo Breeders in the United States
Getting the perfect teacup Maltipoo for your home and family means finding a fantastic breeder. We know how difficult it can be to find a good breeder, so we went ahead and did the work for you. Here is a list of the 8 top breeders in the United States.
Get started in advance with our dog product recommendations for your Teacup Maltipoo: Best Dog Food For a Maltipoo and Best Training Collar For Small Dogs.
PuppySpot has some of the best teacup Maltipoos with virtually no wait time since they are a network of breeders. They also only list their puppies when they are born, so there is no long waitlist to get your dog. You can sort Maltipoos by their gender, age, color, and size. All you have to do to find the teacup size is click on a Maltipoo that you're interested in. You will then be able to see the size of the parent dogs which will give the size of the puppy. Generally speaking, the size of the Maltipoo will be between the mother dog and the father dog. Additionally, male Maltipoos are going to be larger than female Maltipoos. We highly recommend PuppySpot because we also go our Goldendoodle from them and it was a seamless experience. We didn't have to worry about getting our deposit stolen from a scammer, and we knew exactly when our puppy would arrive. This is because PuppySpot has its own airline to transport puppies all around the United States. Additionally, they have a 10-year puppy health warranty which is significantly longer than any individual breeder.
Since we got one of our puppies from PuppySpot, they are giving our readers an exclusive $100 discount when you use code "WLD100" at checkout.
PuppySpot Maltipoo Breeder Details
The promise to deliver a premier experience in adopting a puppy is the cornerstone of the Premier Pups philosophy. They emphasize the health of their Maltipoos and the happiness of both the dogs and the adopters. Only USDA-licensed Maltipoo breeders are registered with them and able to sell puppies through their network. Plus, this Maltipoo breeder gives hands-on coaching to potential owners. Ensuring quality on both ends guarantees good mental and physical health of the puppies. The resident staff is always around to play with the dogs while the on-site vet attends to their health. Even if the new owner resides outside Ohio, where Premier Pups is located, it's not a barrier. There's a safe transportation system in place that sees to it that the teacup Maltipoo puppy reaches its new home comfortably. With financing options and a wide range of puppies of various breeds available, Premier Pups makes it easier than ever to own a furry pal. We highly recommend that you check them out if you're looking for a small dog breed like the Maltipoo. They only focus on small breed dogs and offer a 10-year health warranty which is the longest from any breeder.
Premier Pups Details
3. Petite Maltipoos of Westbury in New York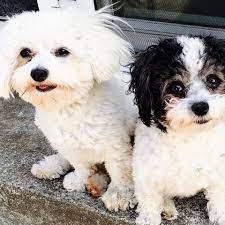 Third on the Teacup Maltipoos for sale list is "
Petite Maltipoos of Westbury in New York
." Often topping the best Maltipoo breeders in New York State, Petite Maltipoos of Westbury in New York. They specialize in this particular breed, so they have a wealth of knowledge about raising a puppy and ensuring a healthy dog is unrivaled in the region. The family breeds and raises those puppies in the home, giving them a similar environment to your home. The breeders work to ensure that the puppies are both well socialized from the early days – so they will love strangers and other dogs – and trained in how to handle things like stairs. To ensure that your puppy doesn't show symptoms of genetic issues, puppies come with a one-year health guarantee. The health risks are very low because the parents undergo all required health testing and are certified to have a clean bill of health. This means the risk of genetic conditions is significantly reduced.
Petite Maltipoos of Westbury in New York Details
Maltipoo Breeders Nearby: Best Maltipoo Breeders in New York.
4. Canine Corral New York
Founded in 1963 in Long Island, New York, the kennel is a great place to find a terrific little Maltipoo. While they do have other fantastic dogs, they are known for their fantastic Maltipoo puppies. The company strives to find you the perfect puppy for your specific situation. They offer expert advice on how to best take care of your new family member, especially since puppies take a lot of patience and time. Instrumental to keeping your puppy out of trouble as much as possible, they know the best brands of chewing toys, optimal food for each stage of your dog's life, and the best training treats to get your dog to learn to listen. The staff is available to answer your questions before the adoption, during the process, and after you get your puppy home. There are a lot of considerations that need to be made about adopting a breed. One of the great things about Canine Coral is that they will help you determine if a Maltipoo is a good fit for your unique situation, and if not, they will be honest about it. This can help you feel much more comfortable knowing that a particular breed is actually a good fit for your family.
Canine Corral New York Details
5. AA Ridgewood Kennels LLC
This is a set of breeders that breed a wide range of dogs, including the adorable Maltipoo. With almost 50 years of experience breeding healthy, happy dogs, they have a wealth of knowledge of ensuring that their puppies are amazing dogs. They focus on small dog breeds, so they know all of the challenges and potential issues that could arise from this particularly adorable breed. Their emphasis on ensuring that their puppies are healthy and personable, something that can be difficult with some of the smaller breeds. This is a set of dog breeders who want to ensure the health of their puppies even after they go home with a new family. They do reject some applications if they don't think they will be a good fit for a particular breed of dog. With such dedication to their puppies, you can feel sure that you are getting a dog that can add a lot to your family.
AA Ridgewood Kennels LLC Details
Maltipoo Breeders Nearby: Maltipoo Puppies For Sale in Pennsylvania.
6. Sherrys Poos
Specializing in a set of small breed Poodle mixes (
including Maltipoos, Yorkiepoos, and Cockapoos
), Sherrys Poos are proud of their happy, healthy, friendly puppies. Part of their services includes training and socializing the puppies before they leave the breeders' home. In turn, it is much easier for you to train and socialize your puppy since you don't have to start from scratch. If you're looking for advice or want to make sure you have everything before getting your puppy, they will gladly answer your questions. They even have a virtual tour for you to check out to see what life is like for the puppies and parents on site. As a fantastic dog breeder in the southeastern US, you can expect to be put on a waitlist to get your adorable teacup Maltipoo puppy.
Sherrys Poos Details
Maltipoo Breeders Nearby: Maltipoo Puppies For Sale in Georgia.
7. Vicky's Toy Puppies
If you're looking for a shed-free place, this is one of the best places to start. Vicky's Toy Puppies specialize in small dog breed puppies. Like many the breeders on this list, one of the reasons they are known as one of the best is how they begin to train and socialize puppies as soon as they can. What makes them stand out is that they can start training if you or someone in your family needs a companion dog. They will help you with any questions you have and let you know what you need for your new pup. From the earliest days, the puppies are kept in comfortable crates designed to keep them safe and comfortable and be much easier to clean. Since the breeder has had the parents for so long, it is easier to know exactly what kind of puppies. By ensuring all puppies are socialized by the breeder and her family – including grandchildren – the puppies are much more comfortable in nearly any other home. You can get many tips and information about what to expect once you get one of the adorable puppies home.
Vicky's Toy Puppies Details
Maltipoo Breeders Nearby: Best Maltipoo Breeders in Texas.
8. Taylor's Puppy Tails
Taylor's Puppy Tails specialize in Maltipoo and Malshi puppies. Though they are among the newest breeders on the list (
they've been operating since 2012
), they only deal with the two breeds, so they really know what both of these adorable little breeds need to thrive. They are entirely dedicated to taking care of the parents, especially when the puppies are born, to make sure everything goes right. That means that puppies start to get used to people as soon as they are born. The breeders also use cat balls so that dogs get used to the idea of playing with cats and balls. The balls squeak, too, so the puppies get used to sounds, colors, and smells, so they become more curious and interested in the world around them. The breeders like to prepare people for what traits they are likely to see. If the pup takes after the Maltese, you will probably have a lover who wants attention and will follow you around your home. If the puppy takes after the Poodle, odds are you will have a bit of a loving troublemaker. Either way, you'll have a dog who will adore you, making your lap a preferred place to sit.
Taylor's Puppy Tails Details
9. Maltipoo Red
This breeder takes great pride in their
red Maltipoos
, and the attention they put into ensuring that the dogs are healthy and happy goes well beyond expectations. From ensuring they have an incredibly healthy, homemade diet to regular health checks, no other breeder on this list does so much to ensure incredibly healthy dogs. Their pride in the care that goes into the puppies and parents is well earned. Their puppies are treated like members of the family, making them easy to integrate into other families. However, it also means that you will be required to meet a number of requirements once you take a puppy home, including meeting with a vet within 48 hours of your new puppy arriving at your home. They want to ensure that every puppy continues to have a healthy, happy life, so they expect the same care and dedication from the new puppy parents.
Maltipoo Red Details
Maltipoo Breeders Nearby: Best Maltipoo Breeders in California.
10. Mystic Creek Maltipoo Puppies
Last on the list of Teacup Maltipoos for sale is "
Mystic Creek Maltipoo Puppies
." This is a Maltese and Maltipoo breeders network who send puppies to anywhere in the United States and Canada. They've even had some they sent further abroad. They want to share their love for these two breeds, far and wide. They do have a site in California and are considered one of the best breeders in the state. Most of the puppies are first-generation, but they do have some second-generation Maltipoos (the parents were both Maltipoos, not a Poodle and a Maltese). With their wealth of knowledge about the breed, they can help you understand what to expect and what makes them a great pup for nearly any home.
Mystic Creek Maltipoo Puppies Details
Frequently Asked Questions
What is the rarest Maltipoo color?
We Love Doodles
 adds that the rarest Maltipoo colors are the following:
They also add that "The rarest Maltipoo colors are going to be from multiple generations of Maltipoos bred together where their recessive coat color traits are present rather than dominant genes like a white Maltipoo or cream Maltipoo." 
Maltipoos
 with rare colors cost at least three times more than those with standard colors.
What colors do Maltipoos come in?
Maltipoos come in various colors, with the peach one of the most popular coat colors. With their popularity soaring, this breed is in high demand due to their hypoallergenic, non-shedding, and fun temperaments. The most popular coat Maltipoo colors are the following:
Brown Maltipoo
Peach Maltipoo
White Maltipoo
Cream Maltipoo
Black Maltipoo
Apricot Maltipoo
Red Maltipoo
Grey Maltipoo
Brown Maltipoo
Are black Maltipoos rare?
The black Maltipoo is a rare coat color because, with the Maltipoo, there's a Poodle parent and a Maltese parent. While finding a black Poodle is not difficult, finding a black Maltese is.
The American Kennel Club
(AKC) explains, "The Maltese is a toy dog covered from head to foot with a mantle of long, silky, white hair."
What is the best color for a Maltipoo?
The most popular coat colors of the Maltipoo are peach, cream, and apricot. You can find white Maltipoos and cream Maltipoos that may have lighter or darker patches of coloring. We Love Doodles explains that with the advancement of DNA testing, Maltipoo breeders can virtually create any coat color.
Are white Maltipoos rare?
Pure white Maltipoos are the most common and popular coat colors for the Maltipoo. Maltipoos feature an abundance of gorgeous coat colors, and some Maltipoos will become darker with age due to having the 
Progressive Greying gene
. Maltipoos can change color more than once in a lifetime. They may have one color at birth, then change coat color by the time they're purchased, and then have another coat color change when they reach adulthood. By age 2, they will have the coat color that will remain with them throughout adulthood. If your Maltipoo does not change coat color, this is known as " holding" his color.
How much is a black Maltipoo worth?
This will vary depending on your breeder and location. For example, black 
Maltipoo prices
 can range from two thousand dollars to much more depending on the bloodline.
Conclusion For The "Best Teacup Maltipoo For Sale"
Finding the right Teacup Maltipoo puppy for your home can take time, but it is well worth the effort. By finding a great breeder, you will have a puppy that is more likely to be both healthier and happier because great breeders take the necessary precautions.
For more articles with mentions of the Maltipoo Doodle breed, you can check out:
You can learn more about this adorable Doodle breed by watching "Maltipoo Dog Breed Guide" from Smart Dog Lover down below: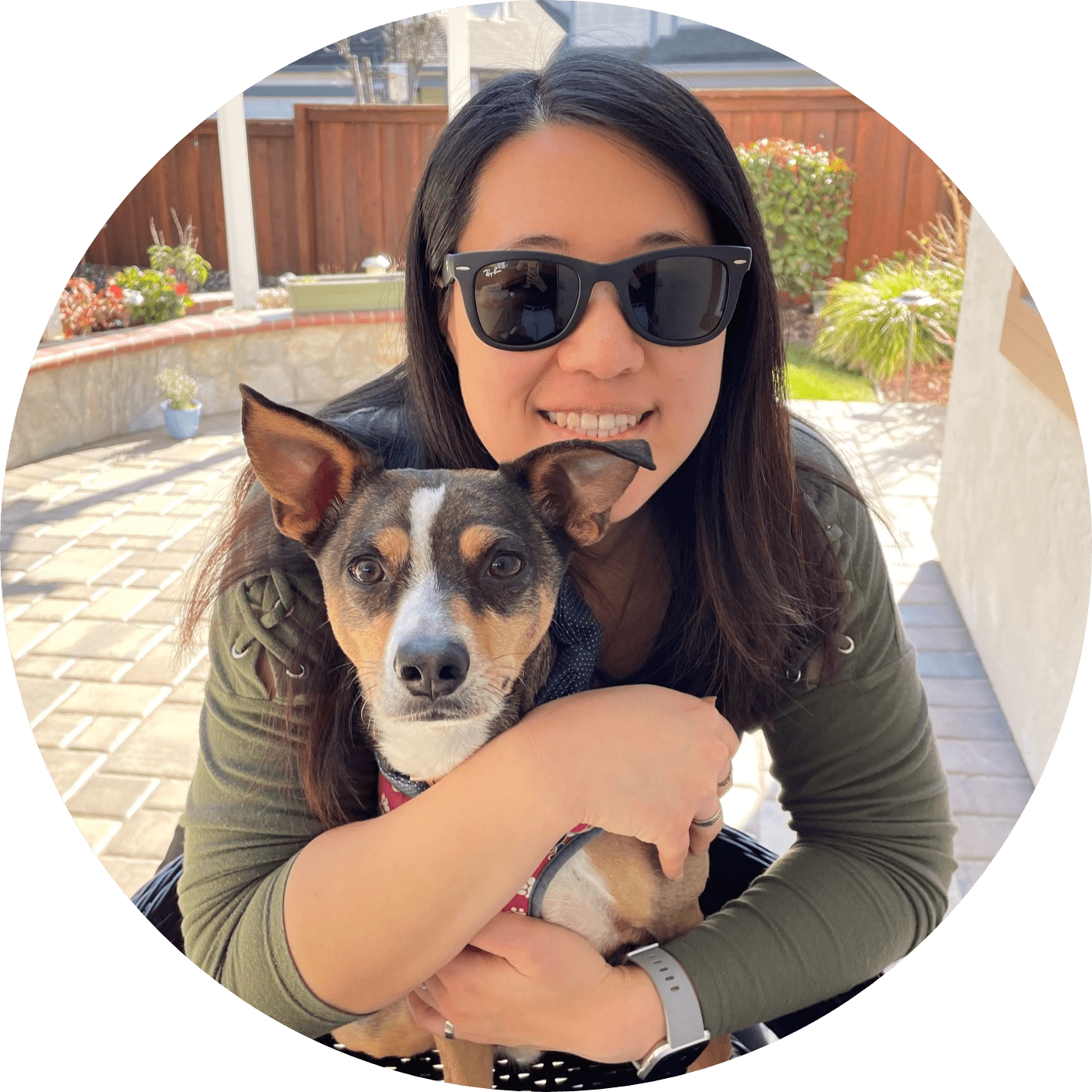 Dr. Sabrina Kong graduated from the Royal Veterinary College in England in 2016 and has been working at a small animal clinic in Northern California since then. She grew up in the Bay Area and got her bachelor's degree from Cal Poly San Luis Obispo. She also became a Certified Canine Rehabilitation Practitioner through a program at the University of Tennessee.
When she isn't in the clinic taking care of her four-legged patients, she enjoys traveling and trying new foods with her friends and her three-legged dog, Apollo. She adopted Apollo from her clinic when he was a puppy with numerous health issues. Dr. Kong truly cares about taking care of animals.