When it comes to finding the best breeders with Dalmatian puppies in Utah, there are a few things you'll want to keep in mind. The first ensures you'll want to ensure that the breeder you choose is reputable and has a good reputation with other dog owners.
Before scrolling down this list of breeders with Dalmatian puppies in Utah for sale, you can check out these other recommendations from our team at We Love Doodles: English Bulldog Puppies in Utah and Labrador Puppies in Utah For Sale.
Dalmatian Breeders In Utah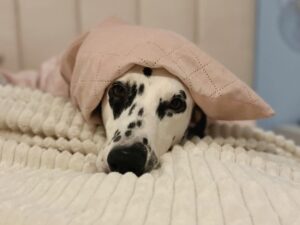 Find a breeder close to you so you can easily visit them and see the puppies. You'll want to ensure that the price you're paying for your Dalmatian puppy is fair. With things in mind, let's look at some of the top Dalmatian breeders in Utah.
Dalmatian Product Recommendations: Best Air Dried Dog Food and Best Dog Football Toys.
1. Honeycomb Dalmatians
Mikayla Bastian is a Dalmatian dog breeder located in Ogden, UT. She is the owner and operator of Honeycomb Dalmatians. Mikayla and her team are huge animal lovers and have a special place in their hearts for their dogs. They want to provide top-quality beloved companions.
They commit themselves to preparing each one of their puppies to thrive in their new homes, and they enjoy working with their new families so that they can raise their beloved companions with confidence! Mikayla is passionate about Dalmatians and has been breeding them for over 10 years.
She loves helping people find the perfect Dalmatian puppy for their family! If you're interested in purchasing one of her Mikayla Bastian puppies from Honeycomb Dalmatians, you'll need to fill out an application first.
This will help her to get an idea of what you're looking for. Mikayla will ask questions about yourself and what you're looking for in a puppy so she can help you find the perfect match. Once she reviews your application and you are approved, she'll be in touch with you to discuss pricing, availability, and the next steps of further a puppy and taking them home.
Honeycomb Dalmatians Details
2. Hapi Dal Dalmatians
Kristy Wilson is the breeder Hapi-Dal Dalmatians in Lakewood, CO. They breed high-quality Dalmatians. Their breeding dogs are health-tested and are outstanding representations of the standard. They are dedicated to continuing their phenomenal lines to provide Dalmatian families with loving, healthy, and happy puppies. Kristy grew up with Dalmatians going to dog shows.
Her family has bred them limitedly for 50 years providing excellent pets to many families and receiving many awards on many champions. Priorities in health and temperament breeding only for the betterment of the breed and our line.
Hapi-Dal Dalmatians dogs are stable, happy, healthy, and well-tempered family members. Kristy's family has been breeding Dalmatians for 50 years, placing many Dalmatian puppies with excellent families.
Hapi-Dal Dalmatians breed for health and temperament first and foremost because they want their Dalmatians to be happy and well-adjusted family members. They've received many awards over the years for the quality of their dogs and are very proud of that.
Their puppies leave for their new homes with a solid foundation of training and socialization, and they strive for quality and excellence with everything they do. Breeding Dalmatian puppies are their passion, and they firmly believe every dog deserves a loving home.
Hapi Dal Dalmatians Details
3. Country Nightz Ranch
Jessica owns Country Nightz Ranch and is a Dalmatian breeder in Laramie, Wyoming. She started breeding Dalmatians in 2017 after falling in love with the breed and was determined to provide ethically bred Dalmatians to her home state, where Dalmatians weren't common at the time.
She is proud to say that she has educated herself on Dalmatian breeding and strives to provide healthy puppies to all her clients. All the Dalmatians are raised in a family environment and extremely friendly. Country Nightz Ranch offers a variety of colors, including long-haired Dalmatians.
Plus, all of their Dalmatians are genetic health tested for 150 different genetic diseases. The Dalmatian puppies at Country Nightz Ranch are raised with love and care and introduced to new obstacles and challenges to ensure they're confident. Jessica spends daily with her Dalmatian puppies to ensure they're well-rounded and ready to go to their forever homes.
Part of what makes their puppies so special is the care and attention they give them from the very beginning. They believe every puppy deserves a loving home and will do everything they can to help you find the perfect match.
Country Nightz Ranch Details
4. Fairytail Dalmatians
Tiffany Wootonis is the breeder behind Fairytail Dalmatians in Sierra Vista, AZ. Tiffany has been breeding Dalmatians for over 10 years and is passionate about it. Tiffany breeds her dogs with health and temperament in mind. They are a part of her family, first and foremost. Her current dogs have great minds and have a competitive streak in them.
So whether you are looking for a pet or a dog to compete in the ring, Tiffany can help you find the perfect companion. Tiffany is a CHIC Certified, A.K.C. Breeder with H.E.A.R.T., Professional Groomer, and Puppy Culture Breeder. She is also known for being gentle, loving, and patient with Dalmatians.
Fairytail Dalmatians' breeding program is special because of their commitment to Puppy Culture. They believe that by handling and working with the puppies daily, they are setting them up for success in life.
They also don't believe in assigning homes to puppies until after they have had their B.A.E.R. hearing test and been evaluated. This helps them to select the best possible puppy for your lifestyle. In addition, they offer breeder support, so you never have to go through the Dalmatian breeding process alone. They are always available to answer any questions or concerns you may have.
Fairytail Dalmatians Details
5. Monumental Dalmatians
Tana Rugg is the breeder behind Monumental Dalmatians, located in El Paso County, CO. They breed and show top-quality Dalmatians. Monumental Dalmatians are heavily involved in the show world and speak to the standards by which they breed their dogs.
Monumental's dogs excel in and out of the ring and are proud to continue their line. They breed for themselves and occasionally have puppies they will place in responsible, loving, carefully vetted homes.
From day one, all the Dalmatian puppies are raised in their home with love and attention. They are well-socialized and used to all the sights and sounds of a busy household. Dalmatian puppies are some of the cutest, with their usual spots and enthusiastic personalities.
If you're considering adopting a Dalmatian puppy, you may be wondering when they can go home with you. The answer varies depending on the individual puppy, but Dalmatian puppies should generally stay with their mother and littermates for at least 10 weeks.
This time is essential for the puppies to nurse and grow and develop their social skills. They learn a lot from their mother and littermates during this time, and it's important for their development. So, if you're patient, you'll be able to take your Dalmatian puppy home at around 10 weeks old.
Monumental Dalmatians Details
6. Dal's Alley Dalmatians
Carey Moreschini is the breeder behind Dal's Alley Dalmatians, located in Pueblo West, CO. Carey has had Dalmatians for as long as she can remember, and she couldn't imagine her life without one! Carey is a preservation breeder to preserve the Dalmatian breed as intended.
Carey prioritizes structure, health, and socialization, and she strives to raise confident puppies. Carey's Dalmatian puppies are raised in her home and are well socialized before they go to their forever homes. Carey offers a 2-year health guarantee on all of her Dalmatian puppies.
Carey has always loved Dalmatians and has spent a lot of time with rescue Dalmatians. Eventually, she showed Dalmatians in A.K.C. Conformation, A.K.C. Scent Work, Rally, Fast Cat, and Lure Coursing. Carey loves nothing more than spending time with her dogs.
When breeding, she works hard to produce healthy, well-rounded puppies that can make other families as happy as her dogs have made her! Carey's puppies are some of the most loved and well-cared-for Dalmatian puppies out there!
Carey is a Dalmatian expert who cares about finding the best homes for her puppies. She will provide extensive knowledge and guidance for any family looking to bring home one of these wonderful dogs. Each puppy is cherished from birth and given the best start possible. If you're ready to add a Dalmatian puppy to your family, Carey is the person to talk to!
Dal's Alley Dalmatians Details
Conclusion For "Dalmatian Breeders In Utah For Sale"
Dalmatian puppies are a great addition to any family. If you're looking for the perfect dog breeders in Utah, look no further than these top-rated businesses. They have years of experience breeding and caring for Dalmatians and can provide you with everything you need to bring one of these furry friends into your home. They'll ensure your new puppy is healthy and happy, from vet care to training. So, if you're ready to add a Dalmatian puppy to your clan, check out these reputable breeders.
For more guides similar to this list of breeders with Dalmatian puppies in Utah for sale, you can check out:
Before bringing home Dalmatian puppies in Utah, you can learn more about this dog breed by watching "Dogs 101″- Dalmatian" down below:
Garrett loves animals and is a huge advocate for all Doodle dog breeds. He owns his own Goldendoodle named Kona. In addition, he volunteers at the Humane Society of Silicon Valley, where he fosters dogs and helps animals. Garrett enjoys writing about Doodles and believes that dogs can teach humans more about how to live than humans can teach a dog.
Why Trust We Love Doodles?
At We Love Doodles, we're a team of writers, veterinarians, and puppy trainers that love dogs. Our team of qualified experts researches and provides reliable information on a wide range of dog topics. Our reviews are based on customer feedback, hands-on testing, and in-depth analysis. We are fully transparent and honest to our community of dog owners and future owners.