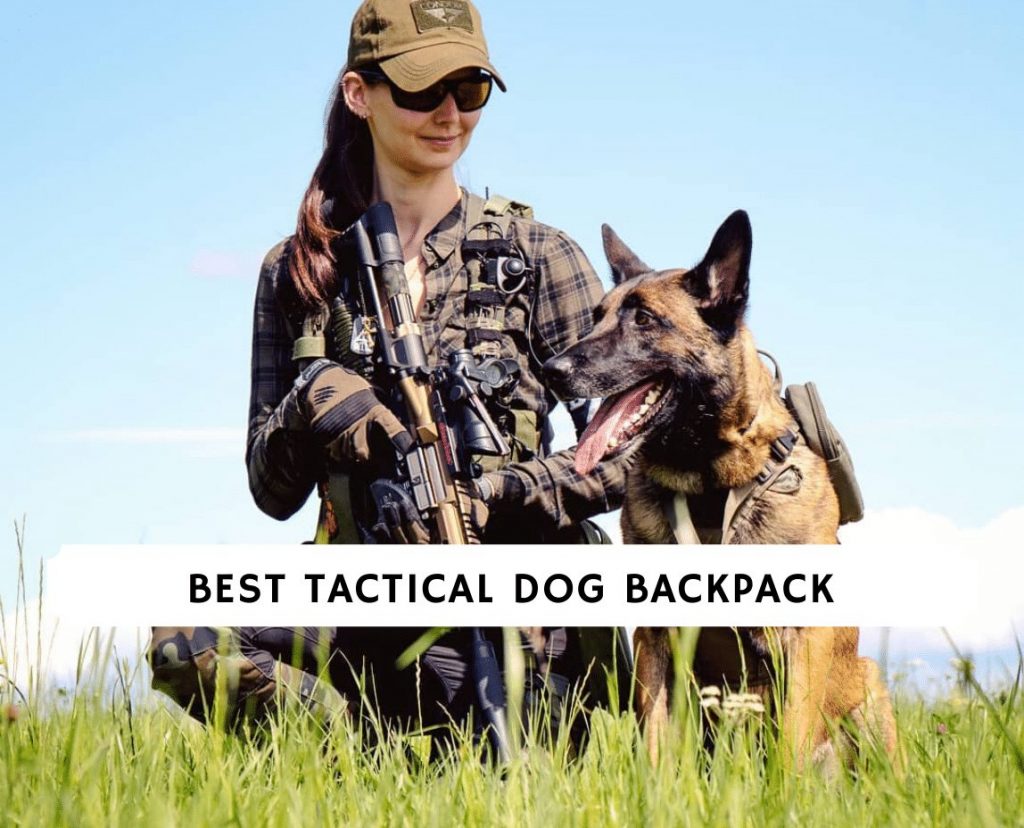 Some dogs make their way into the service industry. We see dogs used for military, police, and other service areas on a routine basis. These dogs undergo specific training practices and are often trained to utilize tactical backpacks during service.
Any dog can use a tactical backpack. These are not restricted to just service dogs and you may find that there are a lot of benefits to using a tactical backpack for hiking, hunting, backpacking, or everyday use. There also many benefits to using a tactical dog backpack including:
They are great for carrying items
A backpack gives your dog an extra workout and builds muscle
It gives your dog a job
There are a lot of tactical backpack options out there on the market. You want something that will be comfortable for your dog while also serving its purpose. We've sorted out the options and selected 5 of the best tactical dog backpacks for you.
These backpacks were chosen very carefully, based on specific criteria to make the best available! Stick with us to learn everything you need to know about the best tactical dog backpacks on the market today.
Product
Best Overall Backpack
Chai's Choice
Best Tactical Harness
Icefang
Image
The 5 Best Tactical Dog Backpacks Reviewed
As we progress through these reviews, we will provide you with a detailed description of each of our top choices of backpacks. We will share with you everything that you need to know and also include a list of pros and cons of things to be aware of about the backpack.
We have a lot of ground to cover so let's get started.
The  Chai's Choice tactical dog backpack is a premium option on the market that is great for service dogs or dogs training to become a service dog. It is made for heavy-duty materials and performs well in all types of conditions. You can get this backpack in medium, large, or x-large and it also comes in 3 different color choices as well.
The full name is this backpack is the Chai's Choice Rover Scout Tactical Military Backpack which is quite the mouthful. In simple terms, it is a waterproof backpack with extremely well-designed side pockets that is comfortable for your dog. The waterproof fabric is a nice addition and upgrade to keep all your items dry and no weigh down the vest if it rains or your dog goes in the water. This is an easy to use dog backpack that your dog steps into and then you clasp on the sides.
This backpack is labeled as industrial strength and military-grade. Chai's Choice tactical backpack for dogs is very durable and works well in extreme conditions and weather. You can also register the pack in case you were separated from your dog. This backpack also works as a tactical dog harness and you'll attach the leash to the D-ring on the back on the harness strap.
The Chai's Choice backpack pouches are detachable and this pack is designed for extreme visibility so your dog is easily seen. You can attach badges on the side of this military backpack to indicate that your dog is a service dog, therapy dog, military dog, or any other type of dog. This pack was designed by a Navy veteran and is highly recommended. It's the best tactical dog backpack that reviewed in terms of versatility, usefulness, and durability.
The OneTigris tactical dog backpack is the most popular dog backpack on Amazon. This backpack is lightweight and equipped with saddlebags for storage means. The bags are small,  well-made, and can be great for camping, hiking, and other outdoor activities.
The OneTigris dog backpack comes in either brown or black colors. It is tailor-made for either medium or large dogs with adjustable straps. In addition, the OneTigris backpack is designed to look high-tech and vintage but is actually constructed with high-quality cotton canvas material for comfort and lighter weight. The top has a handle so you can easily pick up your dog and there is also a D-ring for attaching a leash comfortably. This acts as a tactical dog harness and backpack to carry items.
To get the appropriate sizes, you will need to measure both neck and chest girth for your dog. You want there to be 2 inches between the pack and your dog's tail when it is placed. These packs are gentle, durable, and the straps are fully adjustable and this backpack is quite well-made overall.
The ICEFANG tactical backpack is a simple harness-type covering. It is lightweight and does not have large pouches or pockets like the other tactical backpacks on our list. It is a great option for service dogs, military dogs, or police dogs as well. You can get the harness in sizes from small to extra-large.
The ICEFANG tactical harness comes in a coyote brown color, which is common for these types of harnesses. There are also other colors available if preferred. This is designed to be used as a durable harness with adjustable straps. It has a handle and it has sturdy rings for leash attachment.
This is designed not to rub on your dogs skin, but to fit your dog comfortably. It is adjustable, but be sure to choose the size that fits your dog based on chest and length measurements. This backpack is not designed for storage or for carrying equipment, but rather to be used as a harness for pulling.
Here is another heavy-duty dog backpack option from OneTigris. When you think of a tactical backpack, this is probably about the resemblance you see in your head. This is a heavy-duty tactical backpack that is made with durable nylon as well as mesh lining for your dog's comfort.
The OneTigris pack rests on the dogs back and hooks around the belly and around the chest. Both straps are heavy-duty but thick enough to provide comfort for your dog skin. The sides have good-sized pouches for storage as well.
This tactical pack is designed with duraflex material to allow you to clip on a leash as needed. The bag also contains webbing that you can easily stuff lights, poop bags, and other accessories you want to be able to grab easily. It acts as both a tactical dog harness as well as a backpack for storing items.
OneTigris creates some of the best tactical dog backpacks on the market that are designed for maximum use and comfort for your dog.
The Excellant Elite Spanker is another tactical dog backpack that has a lot of storage space for gear. This is designed much like saddlebags with spacious side pockets as well as straps and loops for additional and easy storage needs.
This is a simple option, and you know exactly what you are purchasing. It is well-made and straps on just under your dog's belly. There is a neck strap that slides over the neck and is adjustable to size. You can get this dog backpack in black or gray. It is made with heavy-duty nylon material that won't break under most conditions.
This pack is durable and comfortable for your dog. It's designed not to rub or chafe their skin even if they are walking long distances. The buckles are easy to manage and take on / off your dog. This pack can hold quite a bit of storage, which makes it a good option for camping, hiking, and travel of all kinds. You also get a handle and leash clips for this backpack as well.
This company offers a quality warranty for your satisfaction. You have 90 days to either love the bag or get a full refund or replacement. Excellant Elite Spanker stands behind their products and they believe you will love their backpack.
A Buyer's Guide to How to Choose a Tactical Backpack
Not all tactical backpacks are made the same. Some are sturdy and high-quality while others are designed to be a lightweight harness. Not every tactical harness has backpack storage because sometimes you just don't need the storage. There are certain things you should understand and be aware of when choosing a backpack. You should also be mindful of training your dog to handle the pack.
When you are reviewing backpack options consider these things.
Size of your dog
Uses for the backpack
Fit and comfort
Size of Dog
You will need to be selective in choosing a tactical backpack. Your dog is going to use this to carry gear and supplies most likely so it is important that you choose an option that is going to comfortably fit your dog.
When attached, the backpack should leave at least 2 inches between the pack and your dog's tail. This is for appropriate safety and load bearing measurements. If the tactical dog backpack bears the load incorrectly, it could hurt your dog.
Additionally, be sure to carefully measure your dog and use those measurements to compare the measurements provided for the pack. Select your options carefully and read reviews and sizing notes to be sure you are getting a good fit.
Uses for the Backpack
Consider what your goals are with the backpack. Will you just be carrying some basic gear like dog bags, treats, and maybe some water for the dog, or is there another purpose? Do you plan to hike, backpack, camp, or travel?
If you have lots of gear to store, you will want to be sure that the materials are suitable for the uses. For example, the backpack for your dog should be waterproof if you're going on long adventures with the chance or rain. You will also want to be sure that you choose a pack that will hold the necessary gear comfortably.
Choose a tactical backpack that is appropriate for the needs of what you intend to use it for. If your dog has not been trained on a backpack, you may need to start small and work your way up.
Fit and Comfort
Finally, the last thing you want to do is make your dog comfortable. We've covered making sure the backpack fits your dog properly, but let's also touch base on the dog's comfort.
You want something with comfortable materials. You want to ensure that the backpack is not going to rub on your dog and cause irritation or rawness. You may want some light padding or even mesh materials for comfort and breathability.
There is not necessarily a right or wrong material but if your dog is uncomfortable or the pack is rubbing, you could find yourself facing additional issues. Make your dog as comfortable as possible for the task of carrying the pack.
Additional Qualities to Consider in a Tactical Dog Backpack
Now that you've got a sense of what to look for, there are some additional qualities that you may want to keep in mind. Here they are.
Cleaning
That pack is going to get dirty and stinky. Your dog is going to wear it in the dirt and probably get all sorts of gunk and debris on it. Not to mention, your dog will be working in it on a regular basis. It seems natural that eventually the backpack will need to be cleaned.
One thing you may want to consider is how easy it is to clean the pack. Most of the time you can throw it in the wash, but you'll want to make sure it's made of durable enough materials or it will break.
Durability
Another important concept is the durability of the pack. Particularly if it could sustain extensive or heavy-duty use. It would be awful to invest in a pack only to have it fail when you're out camping or on active duty in some cases. In most cases, this is acting as not only a tactical harness, but also a tactical backpack. You do not want this item to break out in the field.
Be sure that the pack is made with quality materials that are durable and are not going to fall apart at the first sign of pressure. Get your money's worth out of the pack.
Training a Dog to Wear a Tactical Backpack
You might be surprised at how proud your dog is when they are wearing a tactical backpack after a significant amount of training. It does take some training and working with them to get them accommodated to carrying loads and to the feel of the backpack.
Don't expect to just purchase a tactical backpack and load it up right away with absolutely no training period for your dog. Your dog will proudly wear that backpack once they are trained. They will serve a purpose and they are smart enough to grasp that concept.
It is important to work with your dog before you load them with heavy and weighty gear. Start by letting your dog get used to the pack by sniffing it and touching it. Once they feel comfortable with the backpack, you can try putting it on them with no weight. Chances are they will try to get the backpack off of them, but you will constantly need to provide positive reinforcement with lots of treats. They will eventually get used to the backpack on them.
Gradually increase the weight of the pack and the time of wearing the pack to get them used to bearing a weighted load. Most dogs will grow accustomed to carrying a pack quite easily. At the same time, you want your dog to be comfortable with the pack.
Conclusion for Best Tactical Dog Backpack
Choosing a tactical backpack does not have to be complicated or overwhelming. Only you know the needs that you will need to get out of the pack. Choose a pack that meets your needs and will also be comfortable for your dog.
The easier the backpack to work with the better your experience will be, but watch our for materials because you don't want this tactical dog backpack to break in the field. We've chosen the best tactical dog backpacks in the market today, and we hope you made a great choice!
Other articles you might like:
Garrett loves animals and is a huge advocate for all Doodle dog breeds. He owns his own Goldendoodle named Kona. In addition, he volunteers at the Humane Society of Silicon Valley, where he fosters dogs and helps animals. Garrett enjoys writing about Doodles and believes that dogs can teach humans more about how to live than humans can teach a dog.
Why Trust We Love Doodles?
At We Love Doodles, we're a team of writers, veterinarians, and puppy trainers that love dogs. Our team of qualified experts researches and provides reliable information on a wide range of dog topics. Our reviews are based on customer feedback, hands-on testing, and in-depth analysis. We are fully transparent and honest to our community of dog owners and future owners.