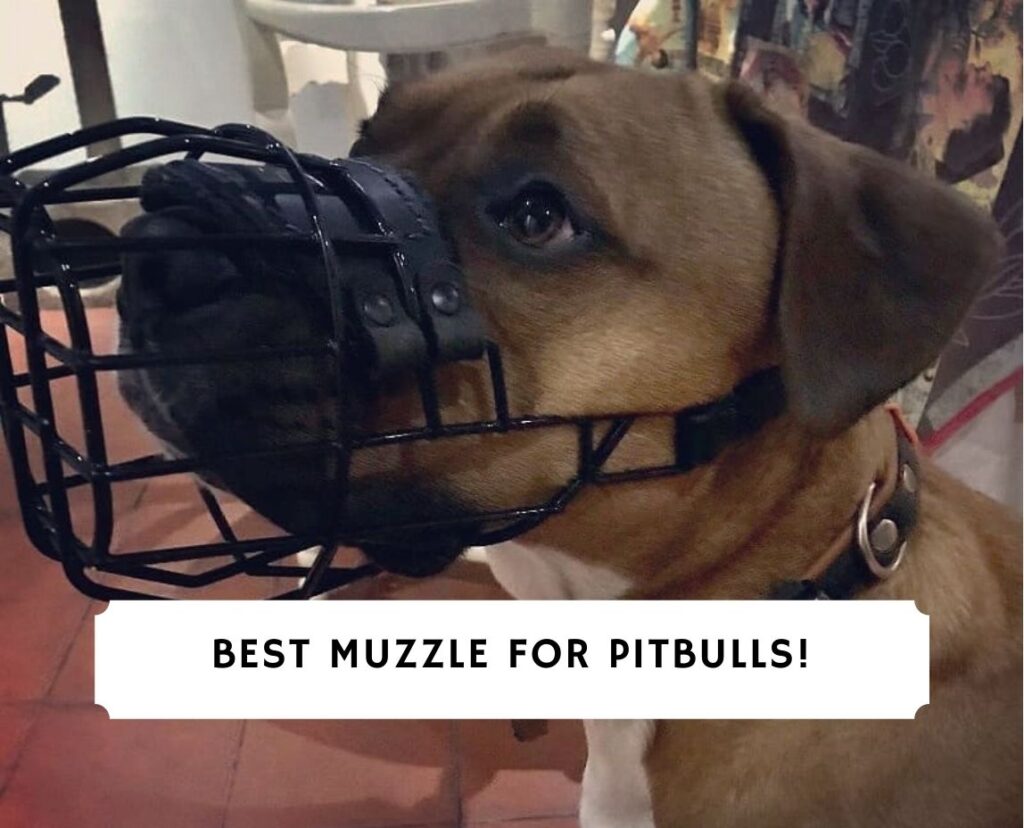 A muzzle is a device that is fitted on the snout of a Pitbull to prevent them from opening their mouth to bite someone or chew on something. Muzzles are a great training tool that allows your dog to breathe and don't hurt your puppy.
You'll find all types of Pitbull muzzles that are mainly made of leather, wire, plastics, or nylon. There are different shapes of muzzles that mainly prevent biting. Today we will review the best muzzles for Pitbulls.
Why Should Your Pitbull Wear A Muzzle?
When we hear or see a dog wearing a muzzle, we automatically get an image of a snarling and lunging aggressive dog. This is an unfair stigma that the dog must be harmful or dangerous.
Muzzles show the responsibility of the Pitbull owner for keeping their dog and the public safe. There are a lot of reasons that a dog may be wearing a muzzle. First, your Pitbull may be recovering from an accidental injury, so a muzzle can be used to keep their jaw in place and prevent pain. 
Additionally, in some areas, there are Breed Specific Legislation (BSL) laws requiring Pitbulls to wear a muzzle irrespective of their history of attacking or biting people. Muzzles for Pitbulls can also be a helpful tool for training them.
In a rush? Here are the top picks!
Product
Best Overall
CollarDirect Muzzle
Runner-up
BronzeDog Pitbull Muzzle
Budget Pick
Barkless Leather Muzzle
Image
The Best Pitbull Muzzles Reviewed
Let's look at some of the most viewed and purchased muzzles. This will give you a better understanding of what to look for when you go to purchase one. We've tested several of these muzzles to determine which ones fit the best and are most comfortable for your dog.
The CollarDirect leather muzzle is one of the most popular muzzles for Pitbulls and highly reviewed. It is very strong and made of genuine leather which will be virtually impossible for your Pitbull to be able to chew through this muzzle. Additionally, this muzzle makes your dog look ferocious and strong. Some owners like the look of this muzzle while others might not.
This muzzle is handmade from genuine leather and is not only tough-looking, but it is also durable and lasts a very long time. Pitbulls generally don't like putting muzzles on or taking them off. We like this muzzle because it comes with two adjustable straps to make sure it is a secure fit. It's specifically designed for snouts 14 inches in length and 3 inches in width. Despite having a slightly higher price point, this is by far the best muzzle for your Pitbull.
If you want a basket muzzle for your Pitbull that will not prevent them from drinking and eating, the Baskerville Ultra Pitbull muzzle is a great choice. It is the best value for your money, but it often sold out online. While the previous muzzle had a somewhat threatening look to it, this one has a very less threatening look that is made of rubber. It is also very affordable with the price about half the cost of the CollarDirect model.
The best feature about this muzzle is that it can be shaped by heat to fit the snout of your Pitbull. It is a great feature that is unique to the Baskerville muzzle as every Pitbull has a different facial structure, even if it is the same breed.
This is also one of the most comfortable muzzles for a Pitbull because of the soft rubber and ability to reshape it. Why is this muzzle second on the list? It came below the CollarDirect model on the list because it tends to rub on the snout of the dog if not shaped correctly. This is the only flaw and is still one of the best Pitbull muzzles on the market.
The Pitbull muzzles listed up until now have been made of softer materials. If your Pitbull is an aggressive chewer, you will need a harder muzzle so they cannot bite through it. The BronzeDog muzzle is made up of durable stainless steel, so it is impossible to bite through. From our list, this is the best metal muzzle for a Pitbull.
On the other hand, this muzzle is still comfortable for your Pitbull. It has a nicely padded nose bridge and has plenty of space for your Pitbull to pant and lick its nose. It is also great for breathing.
These metal muzzles are specifically designed for Pitbulls, so fitting is not a problem. The Pitbull's girth of your dog's snout should be around 10 1/2 inches and 3 1/2 inches wide. This is one of the most expensive muzzles listed here, but the great sense of protection and comfort makes it worthwhile. 
The Barkless Pitbull Dog Muzzle is one of the lightest muzzles on the list because it's made of pure leather. The material is soft and bendable but still very durable. This muzzle is one of the most comfortable ones for your Pitbull, and it allows them to drink and pant without any difficulty.
Due to this muzzle's soft and foldable nature, it may not be the best to prevent biting but will certainly prevent barking. If your primary goal is to prevent biting, you may need to use one of the other three muzzles mentioned in the list. Additionally, one of the most difficult features of this muzzle is to put this on your Pitbull's snout because of the presence of a buckle on the muzzle.
We recommend that you not use this muzzle if you leave your Pitbull unattended for a significant amount of time. Over a long period of time, your Pitbull may be able to use their paws to slide the muzzle off if they are left unattended. The Barkless Muzzle for Pitbulls also has a great aesthetic look for a very fair price. It's an excellent basket muzzle for a Pitbull.
Like the one we put at the top of our list, the Didog leather dog muzzle is made of real leather material, which also makes it quite expensive. Due to its enclosed construction and the leather covering your dog's whole mouth, it is close to impossible for the dog to moisten his nose with his tongue, drink water, or comfortably pant. For breathing purposes, the nose is a little bit exposed and the little air holes are present in the front of this muzzle.
This muzzle is the most comfortable for your dog, so most Pitbulls will resent wearing this muzzle all the time. Made of genuine leather, its price is significantly higher than that of non-leather muzzles.
If you are concerned about your dog's biting behavior or you want to decrease his aggressiveness, this is the right product. However, if aggressive behavior isn't a large concern, you should choose a muzzle that is better in terms of quality and lets your dog stay comfortable while keeping it safe around others. You can use the Baskerville Ultra Pitbull muzzle if you want a similar product at a significantly lower cost.
We have seen muzzles made up of leather, stainless steel wires, and silicone. Now, the muzzle which is listed here last uses nylon as material for its construction.
It is a uniquely styled muzzle created by Niteangel that looks much less intimidating than the traditionally designed ones listed above. Unlike the previous designs we have seen that use a cage-like structure on the dog's snout, this muzzle is just a loop that is responsible for holding their mouth closed. It is very easy for your dog to breathe while the muzzle is attached and it contains extra padding for the Pitbull's comfort. So, in terms of comfort for your Pitbull, this might be the best choice amongst all the others.
When it comes to using the muzzle, it prevents them from completely opening their mouth and biting, which keeps everybody around your dog safe. However, the Pitbull wearing this muzzle is still able to take small bites no matter how you adjust the muzzle.
Also, the stitching for the nylon is a little weak and seems to come undone if you leave your Pitbull unattended. Eventually, the whole muzzle may lose its stitching, rendering the muzzle no longer usable. This is the main reason why it is the cheapest muzzle on our list.
Also, it is very easy for the Pitbull to remove the muzzle from his mouth in a matter of minutes. This muzzle is great if you're just taking your Pitbull for a walk.
How To Choose The Right Muzzle For Your Pitbull
Now that we have seen the comparison of dog muzzles, it is time to discuss what traits have been used to determine their rankings. These features will help you choose the best muzzle for a Pitbull.
Protection
This is the most common and obvious reason for choosing a muzzle. A muzzle can protect your Pitbull from hurting itself or biting other things that can harm them. This is not only for the protection of dogs but also for the protection of humans.
As many people are often afraid of dogs because of the uncertainty of when they will bite or attack, the presence of a muzzle helps them feel secure because they know the dog cannot harm them. If your dog is aggressive and bites whenever it feels unsafe or it simply is unpredictable, a muzzle will definitely help.
We saw the difference between the nylon muzzle and the better-quality leather muzzles. The leather muzzle was very good for protection, while the nylon muzzle was cheaper but less durable. There are also basket muzzles for Pitbulls made of metal or rubber.
Comfort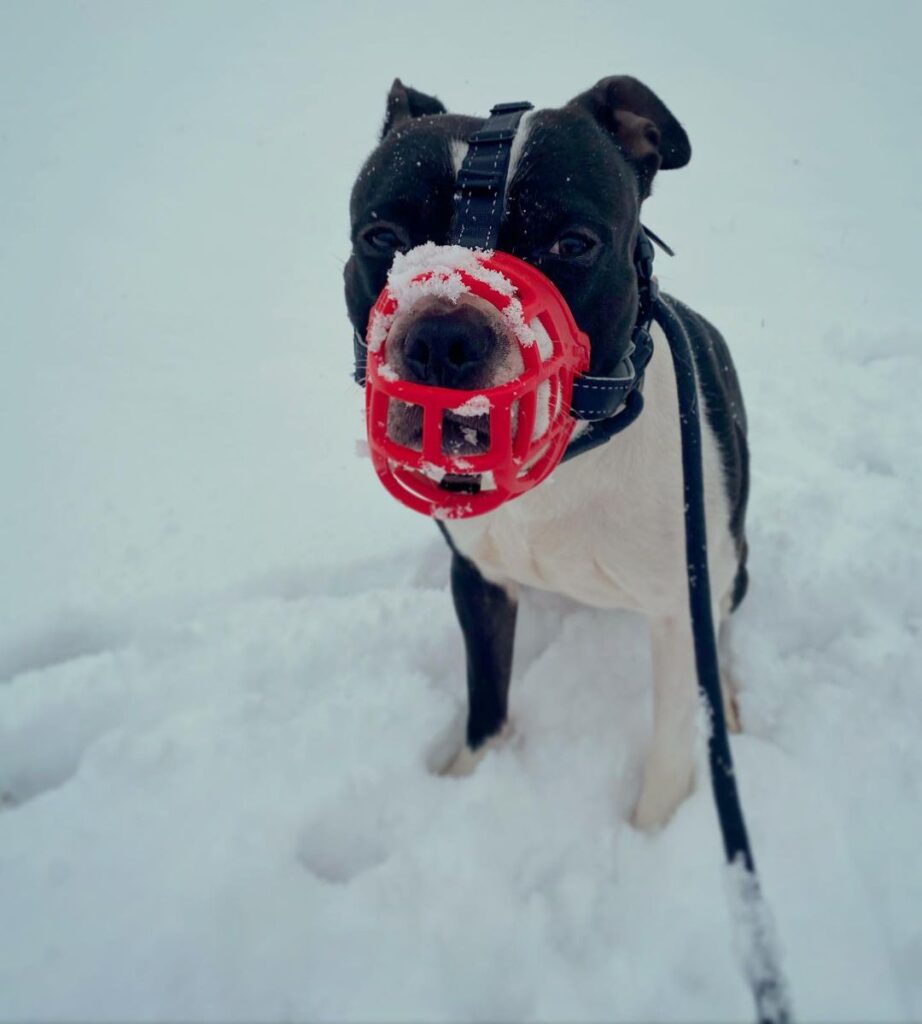 Protection cannot be the only factor for a Pitbull muzzle. We also have to take into consideration the dog's comfort too. Some skull muzzles for Pitbull seem to be very uncomfortable and can rub against their snout. Dogs can react very aggressively to such muzzles, which completely defeats their purpose.
Some comfort features are common to look for when you shop for a muzzle. For example, it should have enough padding for the bridge of their snout where it rests. If this is not the case, then it could rub a raw spot over time, making your Pitbull very uncomfortable. Overall, you want to look for soft muzzles for Pitbulls.
The breathability of the muzzle is also a major quality to look for so the dog doesn't get short of air. We have seen the Didog Leather muzzle, which ranked 5 in the aforementioned list due to low breathability.
Also, some other qualities to take into consideration are that it has to have enough room for panting and even licking its nose to keep it moist, which aids in a better sense of smell.
Looks
Since we are living in a society that is driven a lot by fashion these days, muzzles have become a fashion statement of dog owners. In fact, many Pitbull owners show off their intimidating and beautiful dog muzzles on social media websites or other applications.
Certain muzzles have very good aesthetic qualities in them, which attracts a lot of attention on these platforms. While most muzzles look normal, as they are designed for serving the purpose of simply protecting and comforting the dog, some have been designed to have a mesmerizing effect on people who see them. If you are looking for aesthetic properties in a muzzle, it is better to choose the leather ones, as they come in a wide variety of colors and designs.
Adjustability
Since muzzles are made mainly to take care of the biting habit of the Pitbull, if it is very easy for the dog to remove the muzzle then the sole purpose of the muzzle is defeated. While some Pitbulls are experts in escaping muzzles, most of them will not be able to remove a muzzle.
If the muzzles are easy to get out of then, it certainly is not a good trait. If you know that the dog likes to escape, make sure to purchase a muzzle that is not easy to get out of. Look for a muzzle that has multiple cinch points to make sure the dog is unable to take it off. Also, seek adjustable muzzles so that you can easily increase or decrease the size of the muzzle when required. Adjustability will help the muzzle to stay on the dog's snout.
When Is It Appropriate To Use Muzzles For A Pitbull?
Muzzles are used for all sorts of situations. Below are the most common scenarios when you would use a muzzle for a Pitbull.
During An Emergency
An injured or frightened dog is much more likely to bite somebody who seems unfamiliar. Similarly to when they're injured, the dog is in a state of panic and possesses uncharacteristic and uncanny behavior. Particularly when we need to move or treat a dog in some way, using a muzzle is a great idea to prevent yourself or other people from being hurt or being bitten during this panic.
History Or Risk Of Biting
If your dog is aggressive or has bitten another dog or person in the past, a muzzle can be used as a precautionary measure. Even if there is no history of biting and you think there is a risk of biting, a muzzle can help in achieving your own peace of mind.
However, a muzzle doesn't solve the whole problem. It can ensure the safety of everybody around the dog, but a dog that bites needs to be behaviorally trained by professionals. Muzzles act as a temporary solution for the main problem.
During Training Or Grooming Sessions
When a muzzle is properly introduced with handling exercises (it helps to start in puppyhood), most dogs will tolerate or even enjoy grooming procedures like bathing or nail trimming. However, if you're still training your dog to get used to grooming, a muzzle may be helpful, especially when the dog is not familiar with the groomer or trainer.
Conclusion for Best Muzzles for Pitbulls
Although we saw various muzzles serving the same purpose, they have a variation in degrees of effectiveness. We have compared the reviews of six of the best muzzles for Pitbulls on the market today. 
Between the scary look and phenomenal insurance it offers, the CollarDirect muzzle is our top pick. Carefully assembled from certified calfskin, it's great for your dog and protects them and every other person they come into contact with.
We think the Baskerville Ultra Muzzle is the best muzzle out of the pack for the price. Your Pitbull can eat, drink, or pant, and it's a non-compromising muzzle. It can also be heat-shaped to accomplish an ideal fit.
Our pick from Bronzedog is developed from treated steel for definitive insurance. Your dog won't nibble through this muzzle regardless of the circumstances. It additionally doesn't limit breathing, and it's cushioned for your Pitbull's comfort.
Other articles you will like:
For more information, learn how to train your Pitbull with a muzzle through this video:
Garrett loves animals and is a huge advocate for all Doodle dog breeds. He owns his own Goldendoodle named Kona. In addition, he volunteers at the Humane Society of Silicon Valley, where he fosters dogs and helps animals. Garrett enjoys writing about Doodles and believes that dogs can teach humans more about how to live than humans can teach a dog.
Why Trust We Love Doodles?
At We Love Doodles, we're a team of writers, veterinarians, and puppy trainers that love dogs. Our team of qualified experts researches and provides reliable information on a wide range of dog topics. Our reviews are based on customer feedback, hands-on testing, and in-depth analysis. We are fully transparent and honest to our community of dog owners and future owners.