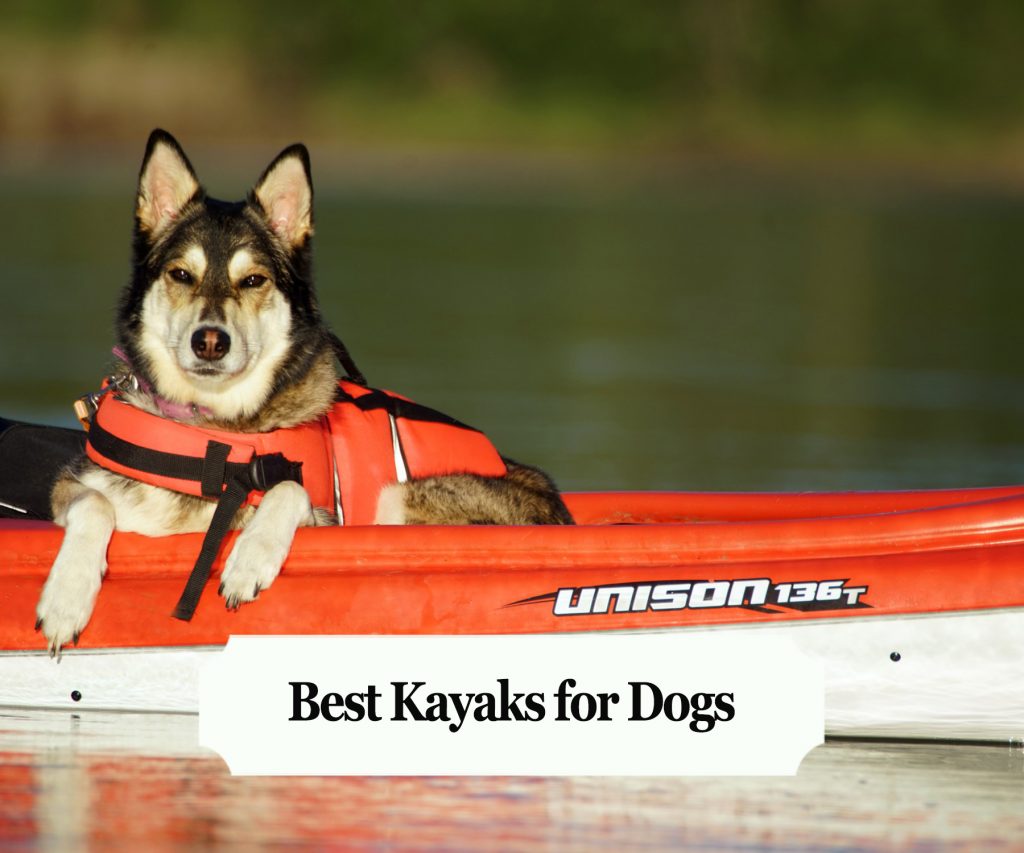 Kayaking can be a really fun sport for all the family, including your furry friend as well!
There is no longer a need for them to sit on the sidelines and watch you having fun in the water – they can come along for the ride too!
As long as you stick to some basic rules, your dog will be perfectly safe out on the water with you.
Dogs love kayaking because they're surrounded by water to play with and they don't mind getting their fur wet.
It's also a great bonding experience between you and your dog. Having said that, there are some rules that you need to follow before hopping into your kayak with your dog.
You want to stay safe and avoid a dangerous incident, like tipping over, so make sure that you do your research beforehand.
One of the most important points is that you need a kayak that is safe to use with a dog. Luckily, the majority of dogs can sit comfortably in a kayak as long as they have enough space and the weight limit isn't exceeded.
We'll be talking about the safety precautions a little later in our article, but for now, let's get into the best kayaks for dogs on the market!
In a hurry? Here are the top picks!
Product
Best Overall
Intex Explorer K2 Kayak
Runner Up
Pelican Sit-on-Top Kayak
Budget Pick
Intex Challenger Kayak Series
Intex Excursion Pro Kayak
Sea Eagle 370 Pro 3 Person Inflatable Portable Sport Kayak
Sevylor Coleman Colorado 2-Person Fishing Kayak
Image
Best Overall
Image
Product
Sea Eagle 370 Pro 3 Person Inflatable Portable Sport Kayak
Image
Product
Sevylor Coleman Colorado 2-Person Fishing Kayak
Image
Taking your dog out on the water with you is an adventure unlike anything else, and we bet that your dog will love spending time with you doing something a little different!
We highly recommend that you keep reading our article to learn more about the safety precautions when it comes to keeping a dog in a kayak, but if you're in a hurry we have you covered.
Our favorite kayak for dogs on the market is the Intex Explorer K2 Kayak.
The Intex dog kayak is a name that you will be hearing a lot throughout our article because their models are amazing for canines!
Here are a few more reasons why we chose this kayak to take the number one spot on our list:
The vinyl material is extra strong and durable to dog claws and teeth. The kayak won't pop with your dog sitting inside of it.
It comes with an impressive weight capacity of 400 pounds. That's perfect for all small to large-sized dogs.
It's an inflatable kayak so it is simple to transport and store while not in use.
The two seated design allows your dog their own space.
The Intex Explorer K2 is our favorite kayak for dogs on the market at the moment.
It is a tandem design which means that there is plenty of space for both you and your dog – you even get your own seats! You can paddle leisurely at the back of the vessel while your dog captains the kayak at the front.
While this kayak is inflatable, don't be worried about accidental punctures from canine teeth or claws. The vinyl material is incredibly strong and durable which won't puncture even if your dog's claws are extremely sharp.
It is best used in smaller bodies of water such as lakes and rivers, so it's not suitable if you want to take your dog out to sea with you.
This sit-on dog kayak comes with two paddles and an air pump so that you don't need to buy anything else for your trip.
However, we would recommend life jackets for both you and your dog just in case you tip over. The maximum weight is 400 pounds, more than enough for you and your puppy!
You get two inflatable seats with the kayak, although they can be removed so you can make more room for your dog if they're a larger breed. The kayak measures in at 10.3 x 3 x 1.8 feet, but it can be deflated and stored away at a much smaller size.
Honestly, inflate kayaks for dogs are very convenient because they are easily transportable even if you don't have a large vehicle.
Some dog owners find that an inflatable kayak works better for their dogs as they can be kept in the house and therefore smell more familiar to nervous dogs. This might help them acclimate to the kayak and enjoy the adventure more.
The Intex Challenger series comes in two styles: K1 and K2.
These simply concern how many seats there are inside of the inflatable kayak. If you were wanting to take your dog out on the water with you we think the K2 style would be the best so that you and your dog could have a seat to yourselves.
You'll definitely want that extra seat if you have a medium or large-sized dog.
This kayak is streamlined and therefore easy to control; however, it is still wide enough to remain stable throughout your adventure.
We think that the stability of your kayak is one of the most important factors when you're going to take your dog out, so this is a great benefit. Dogs will sometimes move around or try to jump off your kayak, so the more stable the kayak the better.
In addition, should anything go wrong in the water, the bright green color allows you to see it within the water easily. Make sure to get your dog to safety first before going back to retrieve your kayak though!
Along with this kayak, you'll receive a pump, two high-quality paddles, and a patch repair kit should you get any punctures.
That being said, the premium vinyl used to create the vessel is incredibly durable and rugged. Punctures are more common from rocks or scratching the bottom of your kayak against a sharp object. It is also resistant to UV rays so you can feel free to use your kayak in any weather.
With a maximum weight capacity is 400 pounds, which means the K2 kayak is more than strong enough to hold you, your dog, and your essentials without any hassle. The base of the kayak is made from inflatable beams which are incredibly rigid.
This is a great kayak for nervous dogs that might not enjoy sliding around the kayak for the duration of your excursion.
Pelican offers its Sit-on-Top Kayak in either a recreational style or for fishing.
Both kayak styles are suitable for taking your dog out on the water, but the latter will include helpful features that will enhance your fishing trip if you enjoy angling. This kayak is only a one-seater, but there is plenty of room for your dog as long as you don't mind sharing your legroom.
As your dog will need to sit either between your legs or on your lap, you need to make sure that your dog is comfortable with being that close to you for a long period of time.
However, the hull of the kayak is flat bottomed which offers you excellent stability during your trip with your dog. Your dog will definitely appreciate this feature as your kayak won't be rocking all over the place!
Unlike the previous kayaks on our list, the Pelican Sit-on kayak is not inflatable but rather made from Ram-X materials. It is more durable than an inflatable kayak and can be used in rougher waters. In addition, this kayak won't ever from your dog's claws and you won't have to worry about it deflating.
If you don't work your dog to take up your legroom in this kayak, you could also sit them in the removable storage compartment space. They would be positioned behind you, but you both might have a little more space to move.
The Pelican dog kayak holds up to 275 pounds, so we would assume that this kayak would be best for smaller dog breeds rather than larger dogs that are over 100 pounds.
However, if you have a large dog and your combined weight with all the accessories is underneath this maximum number, feel free to choose this Pelican kayak!
The final Intex kayak on our list is the Excursion Pro, a model that is made from high-quality PVC with a core made of polyester.
The exterior is laminated, making it incredibly durable and resistant to UV rays, impact, and sharp objects (including your dog's claws and teeth!).
Another fishing kayak, this model comes with different features to make an angler's dreams come true. However, if you're not an avid fisherman and only want a kayak to take out on the water with your dog, you can still use this one without any problems. All of the angler features can be removed.
The tandem kayak design allows plenty of room for both you and your dog. You can remove the front seat and offer your dog free reign of the front of the vessel. If your dog is nervous or has never been on a kayak before, this might be best as they can scoot closer to you if they're scared.
The maximum weight for this kayak capacity is 400 pounds, which can be very helpful when you have a large dog breed and a lot of gear to take with you. If you were taking your kayak out for a fishing trip, you'd most likely be able to fit all of your equipment into this vessel as well as your puppy!
The stable flooring is another plus for dog owners. Along with the kayak, you'll receive a high-quality pump, two paddles, a pressure gauge, and a carry bag.
You can also adjust the front seat on the kayak so your dog has more room to lay down or sit.
Sea Eagle offers a unique experience with its 3-person kayak.
The maximum weight capacity is 650 pounds, which is the largest on our list and incredibly impressive. There are only two seats available on the kayak; however, so we assume that the manufacturer created it with the idea of two adults and one child or dog.
The kayak is large and roomy which perfect for a family day out on a river or lake. Your dog can easily sit in one of the seats or in the footrest of the person sitting at the front. Despite being an inflatable kayak model, the vessel is incredibly durable and sturdy.
Sea Eagle vows that you can get your kayak up and running in less than ten minutes, so you won't be waiting around next to the water for hours at a time. Despite the name suggesting that the kayak is designed for sporting events, it can also be used for leisurely paddles in lakes and harbors.
Easily deflate the kayak once you're finished for the day and pack it back into the carry bag. Transport it back home without any hassle thanks to the fact that it weighs a mere 32 pounds! The I-beam flooring is very stable and rigid to keep you and your dog comfortable inside of the kayak.
The Sea Eagle 370 comes with everything you need to get started on your kayaking journey, including paddles, an air pump, and a carry bag. The five valves allow you to fix any issues that you have with air retention without the entire kayak deflating before your eyes.
It's honestly one of the best kayaks for dogs because it has the heaviest weight limits. You may even be able to fit two dogs in the front of this kayak.
Last but not least is a fishing kayak from Sevylor which a well-known and highly regarded kayak manufacturer.
This tandem kayak offers plenty of space for both you and your dog to stretch your legs out and enjoy a nice lounge on the water. You can also remove the front seat to give you more room and allow your dog to sit closer to you if they need reassurance.
The kayak is made from 18-gauge PVC and therefore is impressively rugged and durable. Having said that, it is inflatable and therefore not the best for use in the sea or strong water conditions. You can safely use this kayak in lakes, rivers, or harbors with your dog.
There is more than one air chamber inflated with the Sevylor kayak which allows you to quickly repair one valve if you spot a puncture.
Instead of the entire vessel deflating, only the affected chamber will be losing air so that you can quickly patch it back up and continue the fun. This is extremely convenient and basically ensures that you won't side while out on the water.
However, you most likely won't get much use out of this feature thanks to the airtight system in place. Sevylor would even go as far as to say that this system is guaranteed not to leak air, so your kayak will remain firm and full throughout the day.
As this is a fishing kayak, there are a number of features that can be used for this purpose. However, if you don't need them you can remove them.
There are mesh storage pockets for essentials, snacks, and dog treats. The maximum weight limit is 470 pounds which will definitely fit you, your dog, and any equipment.
Best Kayaks for Dogs Buying Guide
As promised, we'll now be looking into the safety precautions to ensure that you and your dog have some much-needed bonding time without any stressful incidents occurring.
We'll also go through some things that you should consider before purchasing your new kayak to ensure that your adventures are as enjoyable and safe as possible.
Keep these below factors in mind when comparing different kayaks for dogs. We're not just mentioning them to ensure that you purchase the best kayak for you, but ignoring the factors could also put you and your dog in danger.
Type of Dog Kayak
Some types of kayaks are better suited to dogs than others. It is commonly known that you will sit in the back of the kayak and your dog will sit in the front, observing where you're going while you steer. You can take your kayak out on multiple bodies of water, such as the ocean, lakes, and rivers.
The type of kayak that you opt for will depend on what you want to use it for and your personal preference. However, there are some kayaks that you should outright say no to if you're thinking about taking your dog out on the water, such as a white water kayak.
Determining where you're going to be kayaking the most will also help you to know which kayak is the best for you. Here are some of the best types of kayak that accommodate dogs well, as well as some to steer clear of.
YES: Sit-On Dog Kayaks
Sit-on dog kayaks have a large crevice carved out of the body for you and your dog to sit in.
These are very easy for your dog to get in and out of, and they also offer more room for you both to move around should you become uncomfortable.
Sit-on kayaks for dogs do fill with water easily as there is no cover. Thus, you'll want to make sure that your dog doesn't have a problem with getting wet if you're going to opt for one of these kayaks.
NO: White Water Kayaks for Dogs
White water kayaks are commonly used in choppy and fast-moving water that can be difficult to navigate through.
This sport can be quite dangerous and you shouldn't be subjecting your dog to the conditions as it's unsafe for them. There's also likely not going to be enough room for your dog to fit in the kayak.
You also need to steer with your entire body with a white water kayak, which can be difficult to do with a dog. White water kayaks also offer little additional space for you, let alone a dog!
Finally, white water kayaks are sensitive to any movement which is less than ideal when you have an excitable dog on board. You will likely end up flipping this kayak if you put your dog in it.
YES: Tandem Dog Kayaks
Arguably the best kind of kayak to use with a dog, tandem dog kayaks offer your puppy their own seat and personal space.
This is the best situation for many dogs who want to enjoy their time on the water rather than being crammed into a tight area.
Tandem kayaks for dogs are more expensive than other types of kayaks; however, and this might not be the best option for you.
Having said this, if you wanted to get the most comfortable kayak for you and your dog, we would recommend a tandem kayak.
No: Sit-In Dog Kayak
Sit-in dog kayaks are not the worst kind of kayak for your dog, but we would still choose an alternative.
Sit-in kayaks don't offer much room for your dog to move around and they might find it difficult to get in and out of such a small space.
If your dog is inexperienced with small spaces they might get anxious in a sit-in kayak which would be less than ideal for both you and your dog.
However, if you think that your dog can handle it, a sit-in kayak would ensure that they remain dry throughout the experience.
YES: Recreational Kayaks for Dogs
You can use a recreational kayak if your dog likes to sit on your lap or is small enough to fit into smaller spaces.
They're also good for dogs that like to jump into the water from time to time and go for a swim. If you think that your dog is going to spend more time in the water than on the kayak, then why not save money and opt for a recreational kayak?
It's also relatively easy to pull your dog back on a recreational kayak if they are wearing a dog life vest.
NO: Sea Kayaks for Dogs
Sea kayaks are very slim and therefore won't leave much room for your legs if you choose to carry a dog with you.
Having said that, you can get tandem sea kayaks that offer your dog their own seat if you were set on getting a sea kayak. In general, since kayaks in the open ocean tend to have waves and lots of motion, we suggest that you don't take your dog.
Your dog will be happier in calmer water like lakes or harbors.
YES: Inflatable Dog Kayaks
Inflatable dog kayaks are inexpensive, easy to transport, and store.
If you have a particularly anxious dog, an inflatable kayak that smells of your home might be the best option for them. Don't worry about the word "inflatable" when it comes to claws and teeth – they are usually very durable.
However, inflatable kayaks for dogs are not the best option for taking out on the ocean as they're not great in strong winds or choppy water.
So, we would recommend only opting for an inflatable kayak if you're sticking to lakes and small rivers.
Size of Your Dog
The size of your dog is the next aspect to consider when choosing a kayak to enjoy with them.
A smaller dog breed, such as a Chihuahua or a Terrier, will be able to fit in smaller positions such as storage cubbies and between your legs.
You can probably make do with a smaller one per kayak if you do have a smaller dog. Often, dogs can sit where the storage space of the kaya is.
Larger breeds, on the other hand, such as Collies and Labradors might find it difficult to fit into these smaller spaces.
If you have a large dog that needs a lot of space, you might find it best to opt for a tandem kayak so that they have their own seat.
You could opt for a single kayak if your large dog doesn't mind sitting on your lap for long periods of time.
This would save you money in the long run, but you won't have room for much gear. Your dog would also be able to jump in and out of the water freely if they fancied a swim.
Kayak Durability
Your dog kayak must be made from durable materials so that your dog's claws or teeth don't accidentally puncture or break it.
We all know that dogs mean well, but sometimes they can do more harm than good with their kindness.
To avoid this from happening and you wasting a lot of money, make sure that your kayak is durable enough to withstand a playful dog.
If your dog likes to dig or chew, make sure that your kayak can withstand it for long enough for you to stop them.
Otherwise, your kayaking expedition might last for less time than it took for you to get your dog into the kayak itself!
Kayak Stability
With a low-quality kayak comes the almost certainty that you're going to be capsized at least once during your session.
While you might not care about going overboard now and again, we bet that it can be a very scary time for a dog. Imagine that you were put into a vessel with no idea that you could be plunged into the water at any second.
Small dogs can sometimes sit in the storage space and enjoy the movements of the kayak in there.
However, if you turn and the kayak is suddenly upside down, they could become trapped in the quickly-filling vessel. This can be very scary and even potentially dangerous for a dog.
If a dog finds themselves capsized and alone in the water, they can become traumatized.
These scenarios are definitely not what anyone wants to happen.
To avoid this from happening, you should opt for the most stable kayak that you can find. If you're unsure of how stable a kayak is before buying it, look for wider vessels with sturdy hulls.
You can also check customer reviews to see whether the kayak you're looking at is stable or not.
Maximum Weight Capacity
The maximum weight capacity of the kayak you choose must be enough to cater to you, your dog, and all of your equipment.
Some kayaks are only meant for one person and therefore offer relatively low weight capacities such as 300 pounds. While this is more than enough for one person and their backpack, it is not enough for one person, their backpack, and their large dog.
To ensure that your kayak is going to be able to hold your dog and all of your necessities, you'll need an up to date measurement of their weight, your weight, and the weight of your backpack. If you don't have time to book an appointment with a veterinary practice to get your puppy weighed, we have a solution for you.
Step on the scales and get your weight measurement first. Then pick up your dog and stand back onto the scales.
Take the weight of both you and your dog and subtract your weight. Voila – the weight of your dog!
You can also do this with your backpack and add all of the weight measurements together to get an estimate of the maximum weight capacity you'll need to look for.
Additional Kayak Features
Depending on what type of kayak you opt for, some come with additional features such as removable seats to make more room.
If you want to take a seat for your dog to enjoy on their own, you might want to look for any additional features that you can remove from the kayak.
Some models also allow you to open up certain areas of the kayak to create more storage space. While this is not designed to be used by dogs, you can certainly take advantage of the extra space for your bonding adventure.
Just make sure, before you go out on the water to remove any extra pieces that are definitely allowed to be removed and will allow the kayak to work just as effectively without it.
The last thing you want is to accidentally remove a vital component of the vessel, rendering it useless and void of any warranty that it might have.
Kayak Warranty
Speaking of warranty, everyone likes to know that their investment is protected, right?
For this reason, you should check to see if the kayaks you're looking at come with an impressive warranty. Due to the amount of money that you'll be spending on a model, you should look for a warranty that lasts at least five years, although we would prefer one that stretched out to around 10 years.
Inflatable kayaks and models that are less expensive might come with less impressive warranties that last around one year. This is because they are of lower quality and therefore aren't expected to last as long as the premium alternatives.
If you are relying on the warranty; however, make sure that your dog is on their best behavior while in the kayak.
It's unlikely that the warranty will cover bite or claw marks, and if the manufacturer sees them when assessing the fault they could refuse to grant you the warranty.
So, try your best to avoid any dog-related damages within the warranty time frame.
Kayak Portability
Kayaks can be difficult to store and transport due to their size and weight.
You might have become so caught up in the possibility of getting your dog into your kayak that you have forgotten a vital factor – you need to be able to move your kayak from the water back home.
Moreover, you also need to have a place to keep the kayak safe when you're not using it.
Inflatable kayaks are amazing for portability and storage purposes. They can be inflated and deflated right at the edge of the water so that you're not having to lug a large vessel around with you.
If you were to opt for a plastic kayak you will need to find a way to attach it securely to your vehicle to avoid damaging it.
Portable kayaks are lightweight and come with carrying bags or handles to help the process. Beginners are more likely to want a portable kayak as they don't have all of the equipment necessary to keep a rigid alternative.
If you wanted a rigid kayak you should look for mounting gear for both transport and storage purposes.
Conclusion
Kayaking with your dog can be a memorable experience as long as you are safe about it.
Getting a sit-on kayak or tandem kayak will allow you to have enough space for you and your dog.
Remember to always check the weight capacity and consider getting a life vest for your dog just in case anything were to happen.
We hope that you found the best kayak for your dog from our list!
Other articles you might like:
Frequently Asked Questions
Are dogs allowed on kayaks?
There are no rules against taking your dog on a kayak, and plenty of people have done so in the past, so yes, dogs are allowed on kayaks.
If you're happy for your dog to be out on the water with you, then you can certainly try taking them out with you.
You will know your dog much better than anyone else, so don't listen to others if they say that kayaking with a dog is not a good idea. As long as your pup is happy and willing to get into the kayak with you, then why not?
If you're unsure whether your dog would want to get into a kayak with you, you should observe them around the water first. Are they eager to swim into the water or would they prefer to wait on the sidelines? If the former is true, it's likely that they'll work well in a kayak.
Having said that, if your dog is trepidatious of getting into the water alone – all hope is not lost. Keep the kayak close to the edge of the water and get in it. Signal for your dog to get into the kayak, whether it be on your lap or their own seat.
If they do so happily you can begin slowing kayaking to see how they react. Make sure to listen to them to prevent any unnecessary stress from occurring. If they look nervous and like they want to be back on solid ground you should obey their wishes.
Some dogs don't like kayaking and others love being on the water. So, the short answer is yes dogs are allowed on kayaks, but they might not want to. Make sure that you don't force your dog to do anything that they don't want to do.
How do I get my dog into a kayak?
Enticing dogs into your kayak can help the process of getting them into the vessel. kayaks, but the longer answer is that they might not want to.
Once you're ready to get your dog into your kayak, you can hide treats around their seat for them to smell out and find. If they get into the kayak to eat the treats, pet them and show them lots of love!
This positive reinforcement will show them that they are supposed to be in the vessel and welcome whenever they want.
Now that they're happy to get into the kayak, you can train them to listen to your commands such as 'Get in!' and 'Sit down'. You can also train them to get in or out of the water if they enjoy swimming.
Where you're kayaking will depend on how you get your pooch into the kayak. If it's a smaller body of water such as a lake or harbor you should place the kayak into the water and hold it still while you tell your dog to get into their position.
If you're entering the sea from the beach; however, push the kayak half into the water and tell them to get into the kayak before going any further. Once your dog is in the vessel you can get in yourself.
Are kayaks safe for dogs?
Yes, kayaks are safe for dogs provided that you are careful and aware of your surroundings. You'll need a stable kayak that doesn't offer much threat of tipping over easily, and you might consider a life jacket as well. There are also life jackets that you can get your dog.
Only kayak when the water conditions permit it. This means that you shouldn't head into choppy waters or stormy weather if you don't want to be thrust underneath the waves. Be safe and your kayaking adventure will follow suit.
What do you do if you tip your kayak over with a dog on board?
Despite being as safe as possible, accidents can happen and you might find your kayak tipping into the water – you and your dog along with it.
Don't panic, the first thing you need to do is find your dog. Once you've found them, pull them close and reassure them that you're both okay.
Take your dog back towards the kayak while reassuring them that a turned vessel is perfectly normal. Use a light sounding voice that they'll interpret into a calming sound.
Tip the kayak back over and get your dog to get into the kayak again. Keep smiling and reassuring them while you get yourself back into the vessel as well.
Now that you're both back in the kayak, you can either resume as if nothing happened or head back to shore.
Make sure that you follow your dog's cues here – you don't want them to become too stressed about the possibility of the kayak capsizing again.
Garrett loves animals and is a huge advocate for all Doodle dog breeds. He owns his own Goldendoodle named Kona. In addition, he volunteers at the Humane Society of Silicon Valley, where he fosters dogs and helps animals. Garrett enjoys writing about Doodles and believes that dogs can teach humans more about how to live than humans can teach a dog.
Why Trust We Love Doodles?
At We Love Doodles, we're a team of writers, veterinarians, and puppy trainers that love dogs. Our team of qualified experts researches and provides reliable information on a wide range of dog topics. Our reviews are based on customer feedback, hands-on testing, and in-depth analysis. We are fully transparent and honest to our community of dog owners and future owners.