Sleeping on the floor or a hard surface can be uncomfortable and even damaging to your dog's health. Dog beds are a place where your dog can get comfortable and rest. It is also a place where they can retreat when they need time to themselves.
Additionally, if you don't give them their place to sleep, they will cozy up in bed with you and might bring dirt, scratch your nice furniture, or that dog smell on your comforter. A comfortable bed will keep your dog from bothering you while you sleep.
If you have more than one dog at home, you want to give them the most comfortable bed out there. If you don't have enough space to spare for two beds, dog bunk beds can be an option. Pet bed bunks are perfect for a household with multiple dogs who constantly like to be close to each other. You can house two dogs in one bed without sacrificing their comfort while you save some space too.
In a rush? Here are the top picks!
Product
Best Overall
ECOFLEX® Dog Bunk Bed
Runner Up
Penn Pax Bunk Bed
Runner Up
Giantex Dog Bed Bunk
Image
Best Dog Bunk Beds Reviewed
We took on the job to find the best dog bed bunks available in the market to make your search easier. We have an in-depth review of their pros and cons to help in your research.
This small pet bed bunk is a good choice for two small dogs weighing around 15 to 30 pounds. The top of this bed is covered on all sides by a tall wooden fence to prevent your dog from slipping and falling out of the bed. The side ladder has three wide steps. The first compartment also has a single step because the bed stands a bit high from the ground.
The wood of this dog bunk bed is plain and unstained. Hence, you can paint it with your favorite color or stain the wood to make it more decorative. This dog bunk bed for small dogs is very easy to assemble with pre-drilled holes. Additionally, the wood of this bed is cedar which has anti-rot abilities and is long-lasting. In addition, cedar is very durable, so it will not split during transportation. The dimensions of this product are 18 x 24 x 34 inches.
This remarkable dog bed bunk is made of fir wood and treated with natural color stains. This dog house will surely provide your dog with a long-lasting and comfortable place where it can rest. The wood is weather-resistant, and the water-based paint is appropriate for outdoor use if you choose to put it outside.
This durable dog house also has a raised roof for comfortably accommodating your pet. Meanwhile, the bed is moist-proof and breathable. There are three sturdy wooden stairs with a small fence on the side. A railing also encloses the top compartment. Hence, your dog can relax, sleep, or sunbathe outdoors on the top bed area.
This beautiful dog house is ideal for small dogs. It doesn't come with dog beds or mats, so you'll have to buy those yourself. The bottom of the bed is raised and will keep it from getting wet, dirty, and keep other critters out.
The assembly of the bed is fairly easy and the bunk bed comes with all the required accessories. You can also detach the top compartment from the bed for easy cleaning. The dimensions of this pet bunk bed are 29 x 21 x 26 inches and it's meant for small dogs.
The Penn-Plax is an innovative dog bed bunk that allows your dogs to sleep next to you. This buddy bed is designed to fit next to your bed so your dogs have someplace to sleep. The steps are made of carpet which gives your dog grips to climb up to the bed. They are also spaced out enough to allow older dogs or smaller dogs to easily climb up and down. 
This dog bunk bed has one of the most modern designs of all the beds on our list. It comes with a cream-colored cushion and espresso stained wood which matches most interior decor. You can easily put a dog bed on the bottom bunk for a second dog or use it for storage.
This highly functional bunk bed may have mundane looks, but it is arguably the most versatile option on this list. Many beds in this list are ideal for small dogs, but this bed can house dogs of at least 55 pounds.
High-quality metal is part of its construction, covered with foam and polyester fabric. There is no questioning this bed's durability and functionality. It also comes with a removable pillow and mattress.
This large but lightweight bed is also very portable. Hence, you can easily move it around if you want to. This large dog bunk bed will provide your pet with a comfortable resting place and guarantee your peace of mind. The dimensions of this bed are 34 x 20 x 25 inches.
If you want style, comfort, and functionality combined in your double-decker bed for dogs, you cannot ignore this product. It comes in two cute designs, including a zebra pattern and a lion's den. You can easily fold this bed flat and set it up again whenever you need it. Hence, it is a good choice if you travel with your pets.
It may look fragile at first, but it is strong enough to support up to 100 pounds of weight. It has boards for weight support of your pet and safety from accidents. Hence, the support panels are very sturdy. The first compartment has zippered doors on three sides of the bed, which have mesh covers and are very breathable. It also comes with covers for the PP boards and the mattress.
The top cover of the bed and all other covers are removable and machine washable. You can tumble dry them at low heat. Assembly is also very easy. This two-level dog bed also comes with a tote bag so that you can easily carry it wherever you go. The dimensions of this bed are 33.5 x 22.5 x 29 inches.
Some of you may have more than one large dog and might be looking for a bunk bed for large dogs that also saves space. Toss your clumsy doggy beds away and reclaim some space with this sturdy wooden bed bunk for large dogs. This bed is good-looking, functional, and high-quality.
This box also comes with a wooden chest for your pets' toys. You can put the box next to the bed and use it as a jump box.
The double level bed is handcrafted from beautifully stained wood planks. It is a finely crafted piece of furniture that is meant to last. The two foam beds that come with this bed are ultra-comfortable and high-density. As if that wasn't enough, the foam is covered with soft and inviting fleece on one side and soothing micro-suede on the other side.
Since it is very sturdy, this bed is also quite heavy at around 65 pounds. Additionally, the box comes fully assembled. Customer reviews say that their dogs are naturally drawn to this bed.
If you are looking for a dog bed bunk with a decent feminine design, you've stumbled upon the right product. This bed has a design that makes it look like a castle with light and soothing colors. It undeniably has the same basic design and layout as the famous Merry Pet Wood Pet House.
This irresistible pet bunk bed is adorable, and you may not find it with ease due to the high demand for it. It features a house in the first compartment and a bed on top enclosed by wooden railings. There are also three step-stairs on the side to reach the top bunk.
The quality and craftsmanship of this bed is top quality. It is made of top-grade fir lumber wood. This piece of furniture would make its surroundings look nice and would also be a cozy resting place for your dogs.
The assembly of this bunk bed with stairs is very easy and only requires a few screwdrivers. This cute, canine castle is suitable for small dogs. The dimensions of this bed are 21.5 x 28.25 x 25.5 inches.
If you are bored with the rustic wooden design of other dog bunk beds, this unique two-level dog bed might be what you're looking for. It is a combination of high-quality wood and steel, which makes it sturdy and also gives it a modern look. There are four step-stairs on the side to reach the upper bed. Furthermore, the stairs are wooden and have a textured surface for a better grip.
Both compartments can withstand 30 pounds of weight easily. Hence, this bed is suitable for your small to medium-sized fur buddies. The bottom of this bed also has a coating that prevents scuffing.
It comes with comfortable cushions with microfiber fabric covering and is very soft and machine-washable. The fabrics are available in black, gray, and a zebra pattern. Moreover, the wood has a red lacquer glossy finish, which contrasts well with the silver color of the steel accents in the dog bunk bed. Additionally, the finish is non-toxic, so you don't have to worry about your dog licking it.
What we like a lot is that the assembly is very easy and doesn't require much time. You will find all the parts and materials you need for assembly in the package. The dimensions (L x W x H) of this bed bunk are 35 x 17.75 x 22.25 inches. If you want a bed that looks and feels like a premium product, this is surely for you.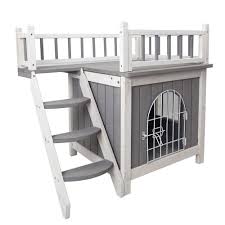 How to Choose a Dog Bed Bunk
There are many options out there, so it can be confusing and frustrating to narrow down the list. You could easily get sidetracked and buy a product that doesn't match your needs. Below are a few things you need to consider if you want to make a good buying decision when you choose a bunk bed for dogs.
Price
There is a wide variety of prices for various dog bunk beds. However, this doesn't mean that you can't find a good bed bunk at a low price. One benefit of countless available products in the market is that you can find value if you know what to look for. You can easily find a good product within your budget. Most owners go for bed bunks because they want to save space and money. A good quality bed bunk that meets your price range would be the best choice.
Size
Be sure that you check the size of the bed bunk you are buying. Your dogs may be small, but they still need enough space to move around while they are resting. Your dogs shouldn't be denied their much-needed room, freedom, and comfort. Measure your dogs and add a few inches to the final number. Keep this number in your mind when you shop for a dog bed bunk.
Comfort
The reason you're buying the bunk bed is for your dogs to be comfortable. Comfort should be your top priority when you are shopping for a bed. If the bed is old and frail with thin foam, your dog will not like it. You need a comfortable bed with no mobility issues so your furry friend can easily step in and out of it.
Material
The bed you choose must be made of high-quality material. Therefore, weather-resistant, anti-rot ability, high-quality wood, steel, and high-density foam are some of the features of durable bed bunks.
Weight Capacity
One of the first things you should do before even deciding to buy a bed bunk is to weigh your dog. A bed bunk that can't withstand the weight of your dog would be useless. A dog bunk bed that can withstand more weight than the weight of both of your dogs would be best.
Style
Bunk beds come in different styles. Some come in bright colors; others have light and dull colors. Some beds feature a fence for the top compartment, while others don't. There are beds that are completely made of wood and don't come with a mattress, while others have fabric covers. There are also foldable beds for ease of transportation. You should deeply consider what you want and make a decision accordingly.
Conclusion for Best Dog Bed Bunk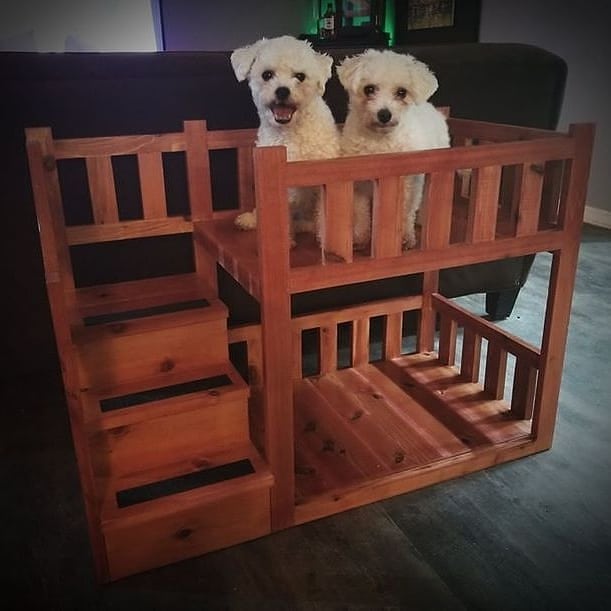 There are several different types of dog bed bunks. Make sure that you choose a style and design that will fit both of your dogs. We've listed out 7 of the best dog bunks that we could find to help you make an easy choice.
Other articles you would like:
Frequently Asked Questions (FAQs)
Why should I get my dog a bed?
Besides disturbing your sleep and making your bed dirty and smelly, dogs can also spread fleas. Fleas are a common problem with dogs. When your dog sleeps in your bed or even near the foot of your bed, fleas can jump from them to your bed. They can bite and irritate you. By getting dogs their own bunk bed, you will reduce the chances of fleas infesting your bed.
How do I choose the right bed size?
To choose the right bed size, you need to know a few stats, such as your dogs' weight and size. You should also know their sleeping position. Weighing is easy unless you own a large dog. Measure them when they are lying comfortably on their side, stretched out. Neither side of your dog should be hanging out of the bed. Just like humans, dogs also have a favorite sleeping position. Do they like to stretch out or curl up in the form of a ball? Some even sleep on their backs with feet in the air. Knowing their sleeping position will help you choose the right style of bed.
Should I get my dogs a bed with raised sides?
If your dogs like to lean against something when they are asleep or prop their head on the arms of the couch, then they might enjoy resting on a bed with raised sides. If your dog likes to lay flat, a mattress-style bed would be better.
What type of bed should I get for my dog with allergies?
If your dog is allergic to common home allergens like dust, look for a hypoallergenic bed. Go for beds with fabrics that don't attract dust. It is also helpful to buy beds that are easy to clean.
Are waterproof liners necessary for dog beds?
Most beds meant for adult dogs won't need liners. If you have a senior dog or a puppy that suffers from incontinence, a waterproof liner would be a good idea.
Still not convinced? Try a DIY Dog Bed Bunk!
Garrett loves animals and is a huge advocate for all Doodle dog breeds. He owns his own Goldendoodle named Kona. In addition, he volunteers at the Humane Society of Silicon Valley, where he fosters dogs and helps animals. Garrett enjoys writing about Doodles and believes that dogs can teach humans more about how to live than humans can teach a dog.
Why Trust We Love Doodles?
At We Love Doodles, we're a team of writers, veterinarians, and puppy trainers that love dogs. Our team of qualified experts researches and provides reliable information on a wide range of dog topics. Our reviews are based on customer feedback, hands-on testing, and in-depth analysis. We are fully transparent and honest to our community of dog owners and future owners.