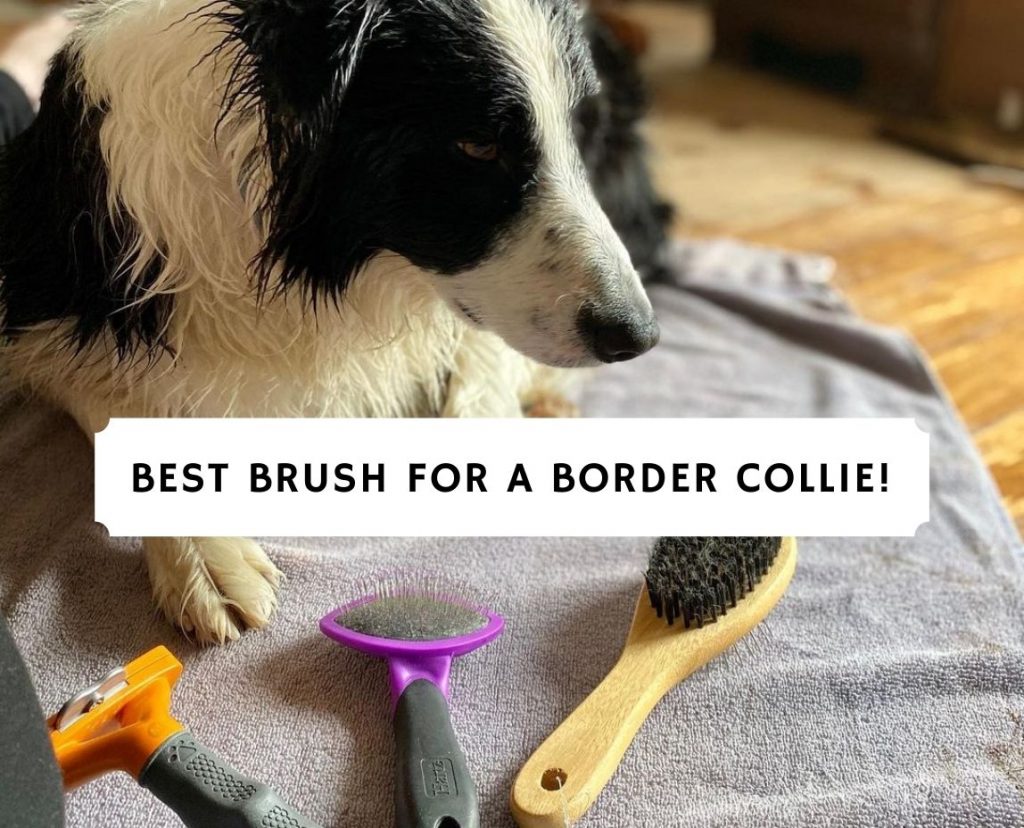 All dogs shed, and if we are specifically talking about the Border Collie, there will be some serious hair lying all-around your house. Borders Collies are one of the smartest dog breeds that have big bright eyes like balls and are incredibly playful. The downside is that they will run around your home, leaving fur everywhere. That's why it's important to have the best brush for a Border Collie.
You are likely to see hair on the couch, on the bed, and all around the living room if you don't actively brush your dog to prevent shedding. Shedding is a natural process in Border Collies, but there are definitely ways that you can manage it.
Useful de-shedding brushes are excellent tools to control shedding preemptively because they remove the loose hair from your Border Collie's undercoat. There are also brushes are grooming tools for your dog's upper coat as well. In this list, we have picked some of the best brushes for your Border Collie from reputed brands that are effective in de-shedding and grooming.
These tools are multi-purpose and can be used for various purposes like untangling knots, removing mats, and grooming the topcoat. We also made sure that the products we pick don't burn a hole in your pocket, so we chose only brushes that give you the best value for your money. We have purchased every brush and tested them in this post!
In a rush? Here are the top picks!
Product
Best Slicker Brush
We Love Doodles Slicker Brush
Best Deshedding Tool
Pet Neat
Runner Up
Furminator Undercoat
Chris Christensen Slicker Brush
Image
Slicker brushes have become extremely popular because they not only remove shedding hair, but they also remove tangles, mats, and knots that your Border Collie may have. If you use a slicker brush in combination with a deshedding tool, your dog will be tangle-free and not shed as much fur on the floor.
The We Love Doodles slicker brush is one of the best slicker brushes on the market at an affordable price point. It has extremely long 1-inch pins that are angled so it won't scratch your dog's skin. Additionally, the long pins make it easy to get into the undercoat of your Border Collie.
Additionally, the handle is made of solid wood and designed to be ergonomic and easy to hold. Compared to other slicker brushes, it has 50% more pins means that it will save you time when you groom your dog. There's a 100% satisfaction guarantee so if you or your Border Collie doesn't like you can get your money back.
With its de-shedding capabilities, the Conair Pro removes almost all the loose hair your Border Collie will have, which means you don't have to worry about hair flying all-around your house. The bristles are long enough to penetrate their deep double coat and work their way through the base to remove the dog hair.
The Conair Pro is also highly effective for grooming the upper coat because it has two sides to the brush. Overall, this is your all in one grooming tool that gives you an excellent price to performance ratio.
As the brush is made for dense dog coats, the brush pins are firm, so you might want only to use it on your dog if they have long and dense fur. Border Collie with extremely sensitive skin will need to look for other types of brushes. Apart from that, the long bristles also prove to be very useful in dealing with hairs in places like paws and legs. Overall, this is a useful dog brush for a shedding Border Collie.
This Border Collie brush is a 2-sided grooming tool that effectively reduces shedding and is highly useful in removing tangles and mats. So say goodbye to those nasty mats behind your Border Collie ears and in their armpits. One side of this brush accommodates 22 teeth to remove mats and knots, and the other side has 87 teeth for de-shedding and thinning the hair to give it a smooth and shiny look. This is one of the best types of brushes for a Border Collie.
With an easily usable brush handle, you can remove all the dead hair from the undercoat. This brush also helps to reduce shedding by up to ninety-five percent. Using this brush for your Border Collie is safe because the teeth are soft and don't scratch skin. In fact, the tips of the brush gently massage the skin and improve blood flow.
The teeth on the other side of the brush are sharp and can easily cut through all the mats and knots your puppy may have. The large version is useful for detangling larger breeds and the rounded pins help groom the undercoat. With its memory gel handle, this brush provides an adequate grip to ensure that your hand doesn't get tired of all the stroking. Overall, this is a high-quality grooming tool for a Border Collie that also acts as a de-shedder that removes all mats.
With Furminator's professional grooming tools for the undercoat, you don't need to deal with de-shedding anymore. Furminator keeps you worry-free by effectively reducing the loose hair from the undercoat of your dog. If you're looking for the brush for Border Collie puppy that reduces shedding, this should be your top pick.
The Furmintator reduces shedding up to ninety percent. This brush safely runs through the upper coat to groom it nicely while working through the undercoat to remove loose hair. The bristles are very soft, so it doesn't even scratch your puppy's skin. We especially liked the handle because it is ergonomic. It also comes with the FURejector button, which lets you release all the hair to easily clean the tool.
The tips gently massage the skin and promote healthy blood flow that keeps your Border Collie active and happy. The tool also distributes the natural oils to give them healthy-looking skin and a healthy hair coat. If you want a shiny coat, the FURminator tool is the best you can have. Overall, the Furminator is a professional dog grooming tool that is easy on the skin and works well for puppies.
The Chris Christensen is known as a slicker brush. These types of brushes are used to make your Border Collie look cute while removing mats and excessive hair. It is highly efficient in removing unwanted hair in the dense undercoat as well as brushing out mats.
If you like to keep your Border Collie's hair long and dense, we highly recommend trying out a slicker brush. This is by far the best slicker brush on the market and has dense pins that remove loose hair, dirt, and mats from your Border Collie. Overall, this tool is best for grooming fluffy and dense coats that Border Collies have. It can be used as a de-shedder and a grooming tool at the same time.
FURminator brushes the most popular on the market and ensure your dog won't shed as much. You'll be spending tons of time grooming your Border Collie puppy, and the right FURmintor brush helps expedite the process.
This brush has an ergonomic handle, which allows a comfortable grip, and you can easily brush your Border Collie without tiring yourself out. The bristles of this rake brush are good enough to make your dog's coat shine like a smooth velvety carpet in no time.
The brush is an effective de-shedder and high-quality skin massager. The soft bristles work their way to the skin and promote blood flow, which is excellent for your Border Collie's hair follicles. It ensures that your pet has healthy hair growth and sheds less hair. Additionally, the metal teeth on this brush quickly remove the undercoat hair and untangles the knots while removing the mats. It is best used for dense fur-type coats. Overall, this is a high-quality skin massaging brush with de-shedding capabilities that removes mats and nourishes the skin by improving blood flow!
This slicker dog brush is a multi-purpose brush used for short hair and long hair dogs. It is one of the best brushes that acts as a grooming tool and a de-shedder for Border Collies. If you are looking for something that will take care of all your dog grooming needs, this is a great brush. Considering that the price of this brush, we think it is the best value for your money.
With this brush, you can quickly untangle your Border coat and give it a shiny look. Additionally, it is just the right softness that gives a gentle massage to your dog's skin. You don't even have to put in much effort because the handle is highly ergonomic. Overall, this is a high-quality brush for a Border Collie's coat with stiff bristles that can penetrate deep undercoats in seconds!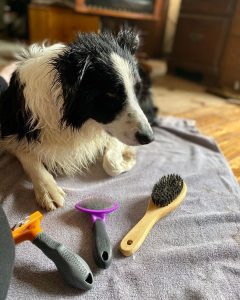 How to brush Border Collie?
Brushing your Border Collie is a useful skill to have because you will be doing it several times per week if you want to limit the amount of hair and fur around your house. Here are some tips to effectively brush your Border Collie.
Run your hands to see if there are any mats in their fur. Try to loosen mats with your fingers first.
Use a slicker brush and work your way through their dense topcoat. You'll want to then use a de-shedding tool to get rid of the excessive fur in their undercoat.
Remove all the mats with a rake.
Finally, comb the coat with a grooming rake or a fine-tooth comb to smooth out your Border Collie's fur.
How to Choose a Brush for a Border Collie?
Here are some tips for choosing the best type of brush for a Border Collie. You don't want to just buy any brush on the market. Having the right dog brush will save you tons of time as you will frequently be brushing your Border Collie.
Bristles
To prevent damage to your dog's skin try to use round and soft bristles on a brush. A slicker brush is the most used brush by Border owners and is characterized by well-defined wires with bristles that are L-shaped. They have a slightly curved base for good handling and protective tips to prevent skin damage. We recommend not using a brush that can scratch the skin and damage your Border Collie's skin. Otherwise, they will not like grooming in the future.
Undercoat Raking
Undercoat raking capabilities allow a brush to smoothen the undercoat of Border Collie's who shed their hair in clumps. With a rake, it is straightforward to remove loose hairs with ease.
Typically, a rake brush has teeth that are wide and effectively cover all the upper coat while passing through the undercoat to remove all the dead hair just in seconds. It is essential to get rid of dead hair as it prevents shedding and enhances your Border Collie's appearance. The big teeth also massage the hair which promotes increased blood flow.
Dual Sided Brushes
A dual-sided brush gives you the option to remove tangles and mats while at the same time will give Border Collie a smooth coat. Typically, on one side of the brush, metal pins effectively remove mats while the other side has bristles to help de-shed your puppy. These brushes are great to use on medium to long fur dogs because the bristle side works best on long smooth hair.
Brush Grip
Brush grip makes a huge difference, especially if it ergonomic. Mats are already tricky enough and give you a hard time brushing your Border Collie's fur. After several minutes of brushing your dog, you're going to watch a comfortable grip. Apart from being comfortable, your brush grip needs to have an anti-slip handle.
Hard Bristles
Stiff bristles do the best job removing hair and mats from your dog. They work just as good on smooth fur as they do on thick and deep fur. Additionally, hard brush bristles are suitable for spreading natural oils to promote healthy skin and a shinier coat. If you have a Border Collie with short hair, this will be your one tool to remove the hair and groom them as well.
Hard bristle brushes come in a variety of types. They can have a few big teeth or many small teeth. We recommend that you go with the longer bristles if you tend to leave your Border Collie's hair grow out long.
Mat Removal
Check if your brush can remove mats. Such brushes can break the mats and remove debris from the fur of your Border Collie. Brushes that remove mats come with sharp blades that can cut through dog skin. They must also be handled very carefully as they can easily cut through the skin of your dog if misused. Border Collie typically get mats behind their ears and in their armpits.
De-shedding
It is essential that you own at least one brush that can de-shed the coat of your Border Collie. De-shedding tools are used for removing excess hair from dogs that are shedding much hair. These brushes can remove tons of hair at once with just a few strokes. FURminator is a brand that makes quality de-shedding tools for Border Collies.
Conclusion for the Best Brush for a Border Collie
Now you know the best types of brushes for Border Collie, it's time to buy a couple. We have made sure to give you a concise list of products that perform whether you want to de-shed, remove mats, or smooth our your puppy's coat. We also ensured that there is something for everyone, so we chose products from different price points and qualities that will fit your budget.
Our quality team tests the products on this list, and we have finalized the products only after careful testing. By comparing the quality and price, you can choose the one that best suits your needs. Just make sure to groom your Border Collie's undercoat at least twice in one week and if you can, groom their upper coat every other day. This will limit the amount of shedding your Border Collie does!
Other articles you would like:
Garrett loves animals and is a huge advocate for all Doodle dog breeds. He owns his own Goldendoodle named Kona. In addition, he volunteers at the Humane Society of Silicon Valley, where he fosters dogs and helps animals. Garrett enjoys writing about Doodles and believes that dogs can teach humans more about how to live than humans can teach a dog.
Why Trust We Love Doodles?
At We Love Doodles, we're a team of writers, veterinarians, and puppy trainers that love dogs. Our team of qualified experts researches and provides reliable information on a wide range of dog topics. Our reviews are based on customer feedback, hands-on testing, and in-depth analysis. We are fully transparent and honest to our community of dog owners and future owners.