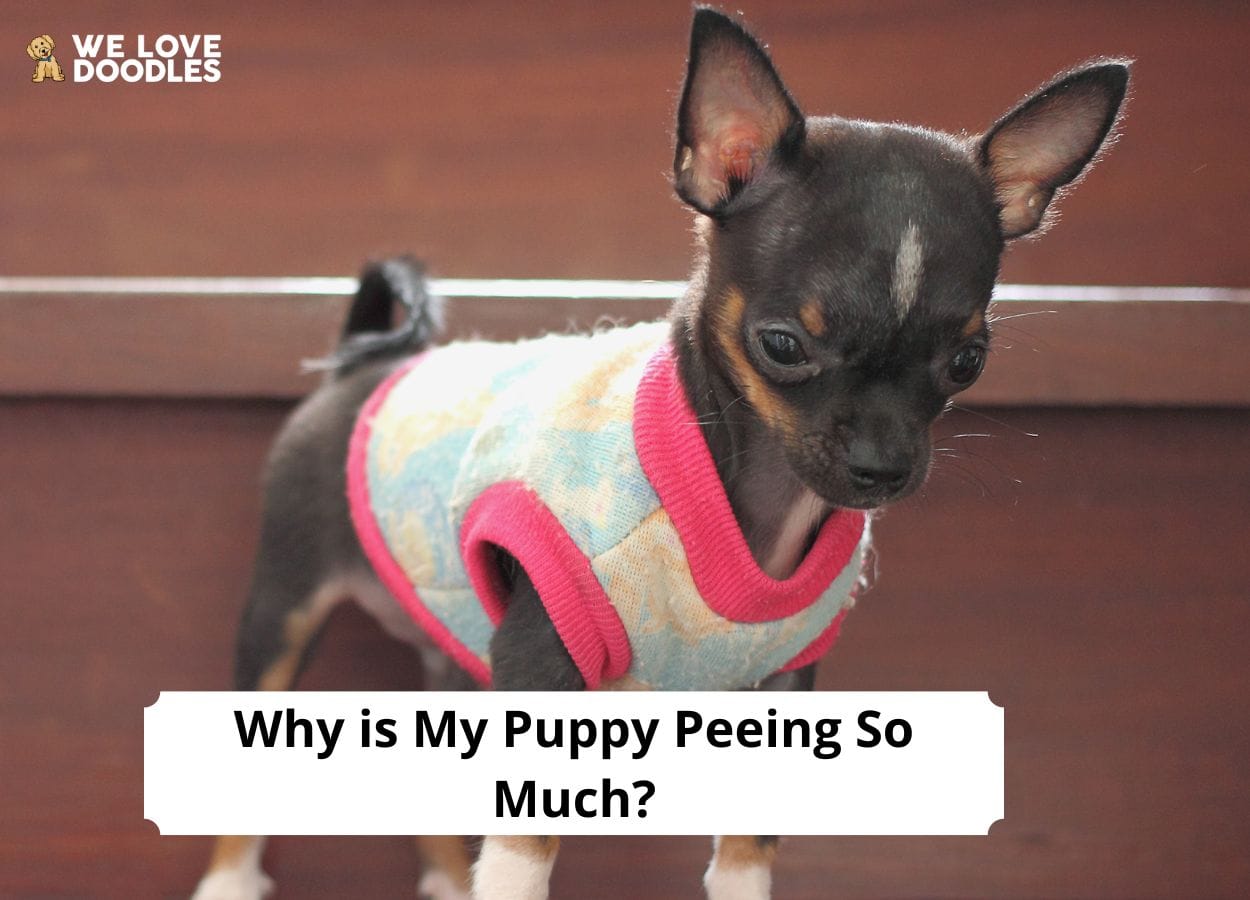 "Why is my puppy peeing so much," is probably something you're asking yourself after noticing that your companion constantly pees. Here's what you should know. It's a beautiful feeling when you bring a puppy home.
Their adorable little self can turn any frown upside down. Plus, they inject something amazing into your home. Keep holding on to that enthusiasm since it's a known fact that puppies pee. A lot. Puppies are tiny with equally small bladders, so they tend to pee much.
As they age, their bladder control improves, and you can do some potty training. However, you must also note if the pee is excessive since it can signify an underlying condition. Stick around, and let's learn more about why puppies pee a lot and when it's a sign to visit a vet.
Before you scroll further down for a more in-depth answer to this guide, "Why is My Puppy Peeing So Much," you can check out these other dog-related questions answered by our team at We Love Doodles: Why Does My Dog Sleep by the Door and Why Does My Dog Kick His Back Legs Randomly?
Why is My 8-Week-Old Puppy Peeing a lot?
Is your 8-week-old puppy peeing a lot, and you just about had enough of wiping pee? You might have to keep doing that until you have them trained to pee at a specific spot. It's normal for your adorable puppy to pee a lot since they have small bladders. At this stage, they haven't developed the self-control they need to hold it in.
It's the same even for babies, so you might often change diapers. You must keep taking them outside or wiping pee until your puppy is about 16 weeks old. The best way to prevent peeing all over the house is to train them to go outside. Puppies can learn with time to scratch the door or use the cat trap for dashing outside and relieving themselves.
Frankly, adequate trips outside provide them with relief and keep your home urine free. Having more than one puppy pee in the house can lead to poor indoor air quality. Therefore, watch out for any signs that your puppy wants to head out for a bathroom break.
Young puppies will sniff, move in a circle, and hunch back. If you see that, know they're about to burst, and it's time to go. You can develop a reward system such that they get a treat every time they indicate they want to go outside. That trains your puppy quite fast that peeing and pooping is outside.
Related: Best Pee Pad Holders For Dogs.
Is It Normal for My Puppy Peeing Every 30 Minutes?
If an older dog starts peeing every 30 or fewer minutes, you have to take them to the vet. Excessive peeing in mature dogs indicates issues like urinary tract infections (UTI), liver disease, kidney disease, or diabetes.
However, a puppy peeing every 30 minutes or less is normal for your puppy. As mentioned above, puppies have small bladders. Plus, it's hard for them to hold pee at a young age. When the puppies get older, you can observe better control and signs that they have to go.
Related: What Does it Mean When My Dog's Urine Has a Strong Odor?
Should I Wake Up My Puppy to Pee at Night?
Puppies younger than six months can't control their bladders, so they need frequent bathroom breaks. At night, it's better to wake your puppy up for a bathroom break to prevent any accidents in the house. Pretty small puppies have to pee every hour. You can lengthen the duration by an hour each month they get older.
It might seem like a huge commitment, but it's necessary if you want to avoid any bathroom accidents. Some people go as far as having their puppies wear diapers at night. Diapers can help you sleep well without worrying about pee breaks each night.
So, think of getting some puppy diapers once you start potty training them. One way to avoid waking up often to pee at night is to give food and drink early enough. It's best to feed your puppy early, then remove the drinking dish an hour or two before bed. They can pee early enough and not need to do it so often at night.
Related: Best Ground Cover For Dog Potty Area.
What If My Puppy is Peeing More than Usual? Should I Be Worried?
While frequent peeing is normal for puppies, it's also important to always observe them. At times excessive peeing can be a sign that something is wrong. You might need to call your vet to find out the best action. If your puppy is peeing more than usual, it might have a health concern.
Puppies may get sick with bladder infections, kidney disease, liver disease, or diabetes. Some of these conditions are treatable, returning your puppy to its normal peeing routine. Others might require long-term care.
Mind where your puppy spends most of its time. When it's too hot, and your dog is always outside, puppies are normal to get overheated. When hot, they drink more water, resulting in frequent peeing. Observation is crucial as it will let you notice a sudden change in peeing behavior.
Related: Best Indoor Dog Potty System.
How Do I Tell If My Puppy Has a UTI?
Can a puppy get a UTI? Yes, even puppies get UTIs, and it's crucial to notice the health condition as soon as possible. Like adults, even dogs and puppies don't find UTIs comfortable. The health condition makes it painful for puppies to pee which can be heartbreaking. UTIs result from bacteria entering the urethra, which causes an infection.
UTIs can cause kidney and bladder issues for your puppy if left untreated. One way to prevent UTIs on your puppy is by neutering. The procedure stops them from having babies and protects your puppy from UTIs. No dog breed is immune to UTIs, and it affects both genders.
When your puppy has a UTI, you notice signs like straining to pee, blood in urine, and frequent drinking. If you notice these symptoms, move fast and head to the vet to prevent further complications. Watch out for bathroom accidents if your puppy is potty trained, which is another sign of a UTI.
Related: Best Goldendoodle Potty Training Tips.
Are There Behavioral Issues That Can Cause My Puppy to Pee So Much?
Is your puppy peeing a lot? If you rule out any health issues, this might be behavior-related. It can explain why they have to go so much.
Stress and Anxiety: Stress and anxiety affect each living thing, including puppies. When your puppy feels this way, it can start peeing a lot and have way more accidents all over the place. Puppy training regression means there's a reason why they feel so anxious and stressed out. For example, if you bring home a potty-trained puppy, it can pee frequently. Remember, this is a new environment, so it will take time to feel home.
Submissive Urination: Young puppies still need to learn their pecking order. They can pee themselves when scared or excessively happy. Most puppies pee a little when owners appear after some separation. On the other hand, excessive peeing can be a way to submit to an older dog. It is their way of recognizing a dominant presence in the house. As they get older, they stop this behavior.
Attention: As you establish a routine, your puppy will learn they can spend time with you when you take them out. A puppy can start the behavior of peeing in the house to get your attention. The best way to prevent this is to spend time with them and play frequently.
Related: How to Potty Train a Labradoodle Puppy.
How Long Will It Take Potty Train My Puppy?
Start potty training early to prevent frequent peeing in different parts of the house. But, patience is necessary since it can take up to six months to potty train a puppy. Start with a regular schedule from when the puppy is young. A typical schedule dictates the time to eat, play and head outside to relieve themselves.
As your puppy ages, its bladder control improves, especially with training. But, if they're young, you must keep an eye on them for when they must go. It's better to start with every hour and then increase the duration they hold the older they get.
Also, take them outside when they wake up, eat and drink. Another vital part of the plan has a specific spot to pee. Such a spot works both indoors and outside. Nowadays, there are peeing pads that collect the pee so you can place them at a specific spot in the house.
They come in handy when you can't go outside to pee all the time. The puppy will get used to peeing in the exact spot and nowhere else the older they get. When they do their business there as expected, reward them for good behavior. Rewarding reinforces that peeing there is a good thing, and they should do it more often.
Related: Best Dog Litter Box.
Conclusion For "Why is My Puppy Peeing So Much"
Puppies pee a lot, so don't worry when you see them do so every 30 minutes. Since they have small bladders, they can't hold it in like the big dogs. As they grow, you can start potty training them to ensure your house doesn't smell dog pee all the time. Usually, frequent peeing is normal. However, it might sometimes indicate a health or behavioral issue. Always keep an eye on your puppy to ensure good health.
If you find this guide, "Why is My Puppy Peeing So Much," helpful and informative, you can check out these other dog questions answered by our team:
In case you suspect that your dog has a bladder problem, you can learn more about it by watching "5 Signs That Your Dog Has a Urinary Problem: How to Spot Urinary Problems in Your Dog" down below: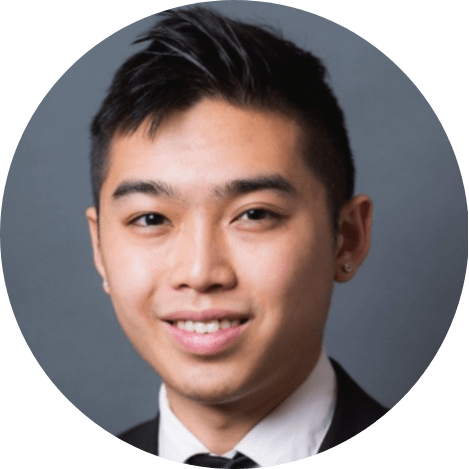 Andy is a full-time animal rescuer and owner of a toy doodle. When he's not saving dogs, Andy is one of our core writers and editors. He has been writing about dogs for over a decade. Andy joined our team because he believes that words are powerful tools that can change a dog's life for the better.
Why Trust We Love Doodles?
At We Love Doodles, we're a team of writers, veterinarians, and puppy trainers that love dogs. Our team of qualified experts researches and provides reliable information on a wide range of dog topics. Our reviews are based on customer feedback, hands-on testing, and in-depth analysis. We are fully transparent and honest to our community of dog owners and future owners.