Dogs that recently had surgery tend to display some melancholy when they get home, so don't panic if you're wondering why your dog is sad after spaying. This is due to a variety of factors.
Physical discomfort, hormonal changes, adverse drug reactions, stress, or even just having to wear the surgical cone can be to blame. Fortunately, there are techniques you can use to soothe your dog during this trying period.
Additionally, we'll provide you with some advice on how to revive your dog's spirit post-spaying.
Before scrolling down to the answer of this guide "Why is My Dog Sad After Spaying," check out these topics: Why Is My Dog Breathing Heavy At Night? (2023) and Why Does My Dog Scratch My Bed Sheets?.
Why is My Dog Sad After Spaying?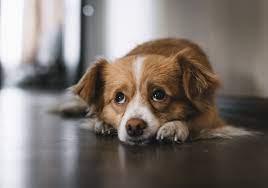 Although the precise causes of dogs' post-operative sadness are unclear, they are likely caused by a mix of the following:
Bodily Discomfort
Dogs commonly experience some kind of discomfort after their spay surgery. Some puppies may experience minor sadness as a result of this alone. If you believe your dog is in pain, talk to your veterinarian right away. Your doctor may be able to administer drugs to make your dog more relaxed while they recover.
Hormonal Changes
Your dog's mental condition is heavily influenced by hormones, so when surgical operations alter your puppy's hormone levels, melancholy is only natural. Due to the loss of their reproductive organs, dogs that have had spaying or neutering are more susceptible than other dogs to experiencing sadness brought on by hormones.
Medication Reactions
Your dog may experience sadness as a result of the drugs taken during and following surgery. This applies to both the general anesthesia used during the surgery and also the drugs you take back home with you.
The Experience's Stress
Depression may be brought on by stress alone, and your pet may suffer high levels of stress after surgery. A dog may feel overwhelmed and experience a melancholic episode as a result of having to visit the veterinarian, endure staff prodding and poking, and then be forced to rest in a lonely cage before mom or dad returns.
The Cone of Shame
Sometimes an E-cone or E-collar is required to keep dogs from touching the surgical site. Dogs frequently detest donning these cones, and when made to do so, they may experience minor depression.
How Long Does Post-Operative Sadness Last?
Different dogs may feel sadness for different periods of time, but for the majority of dogs, things return to normal within a few days or even weeks. The type of operation, your dog's mental condition prior to surgery, and their age are just a few of the variables that will affect how long the melancholy lasts.
There is really nothing to worry about as long as your dog's sadness seems to be improving over time and isn't worsening. Call your veterinarian, describe the symptoms you're seeing, and follow their recommendations.
Advice for Lifting Up Your Puppy
You may do a number of things to lift your pet's spirits and make them feel normal again. Among the most popular are:
Taking Part in Your Dog's Favorite Activities
The easiest cure for canine sadness is as follows: engage in activities they normally enjoy.
Does your dog enjoy removing treats from a ball? Do they enjoy road trips in the car? What about spending time together on the back patio? Get to work and restore some swing to your dog's tail.
Prior to indulging in any strenuous activities, make sure to get your veterinarian's approval because certain surgical procedures call for you to keep your dog relaxed and calm during recovery.
Unless otherwise instructed by your veterinarian, refrain from letting your dog sprint, leap, swim, or engage in any other strenuous activity until the sutures are removed or disappear by themselves (usually about 10 to 14 days).
You may still show your dog some affection and care, but you'll need to maintain a calm atmosphere
Participate in Social Activities
Depressed dogs can frequently be helped to recover by spending more time with other canines. Since some dogs don't appear to enjoy hanging out with other animals as much as others, this definitely isn't universal advice. However, sociable dogs will frequently enjoy a visit to the neighborhood dog park.
Just make sure to keep them on a leash so they can't run or get too rough. Use a little extra caution as well, since some dogs may be a little angrier than usual after surgery. Therefore, keep a watch on your dog and make sure they get along well with other dogs.
Spend More Time Together
Some dogs just require additional care from their parents after surgery. If you spend a great deal of time in certain spots, you might wish to move your dog's bed there, or you might need to schedule additional playtime. If your position allows it, it may even be a wise idea to work from home for a few weeks.
Have a dog walker? You might wish to plan for longer or more frequent visits. Since dogs and walkers sometimes form close bonds, this can also cheer them up.
Stimulate Your Dog's Skin, Coat, or Muscles
Simple physical stimulation and pleasure are fantastic approaches to cheer up your dog. So think of giving them a gentle, calming brushing or simply a very lengthy, really fantastic scritching session. If your dog appreciates this type of attention, you may even provide them with a massage.
But whichever form of stimulation you use, be sure that:
The dog appreciates it — don't brush them if they despise grooming sessions.
You operate considerably more delicately than normal when performing these tasks.
You do so while maintaining your dog's composure.
The final one is crucial since you don't want them to become agitated and pop any sutures. However, if you gently scratch their ears for half an hour while you watch TV, they could feel significantly better.
Take Them to the Vet
Although the majority of dogs that get post-operative surgery recover rather quickly, some might experience a protracted depressive episode. In such circumstances, think about asking your vet for advice on any drugs that could make your four-legged buddy feel better.
Your veterinarian may recommend a popular antidepressant or antianxiety drug used for humans but well tolerated by dogs, such as Paxil, Prozac, or Zoloft. Even though it may take a few weeks for the effects to start showing, these drugs are usually highly successful.
On the other hand, certain post-operative drugs can in fact aggravate your dog's melancholy. However, in certain situations, your veterinarian might be able to lower the dosage or change the prescription to make your pet feel better.
Frequently Asked Questions
Why do dogs act weird after being spayed?
Due to anesthesia and post-spay pain medications, you can expect your dog to feel groggy after the procedure. Additionally, your dog won't be as hungry for the next 24 hours.
Do dogs lose their personality after being spayed?
Any behavioral changes after a spay or neuter — like lowered aggression — tend to be positive. Your dog's personality and playfulness should not change, although there will be a recovery period.
How long does it take a dog to recover from being spayed?
After the first day or two, your dog will feel a lot better. That said, the full recovery takes 10 to 14 days. Follow up with your veterinarian as needed, especially if anything seems off.
Conclusion for "Why is My Dog Sad After Spaying"
In the end, postoperative melancholy is not all that different from sadness brought on by other factors. Simply do your best to console your dog and change things up a little in your schedule to attempt to cheer them up. Hopefully, it won't take them long to return to their previous state.
If you find this guide, "Why is My Dog Sad After Spaying," helpful, check out these other questions:
You can learn more about other complications after spaying your dog by watching "5 Possible Complications After Spaying Your Dog" down below:
Garrett loves animals and is a huge advocate for all Doodle dog breeds. He owns his own Goldendoodle named Kona. In addition, he volunteers at the Humane Society of Silicon Valley, where he fosters dogs and helps animals. Garrett enjoys writing about Doodles and believes that dogs can teach humans more about how to live than humans can teach a dog.
Why Trust We Love Doodles?
At We Love Doodles, we're a team of writers, veterinarians, and puppy trainers that love dogs. Our team of qualified experts researches and provides reliable information on a wide range of dog topics. Our reviews are based on customer feedback, hands-on testing, and in-depth analysis. We are fully transparent and honest to our community of dog owners and future owners.