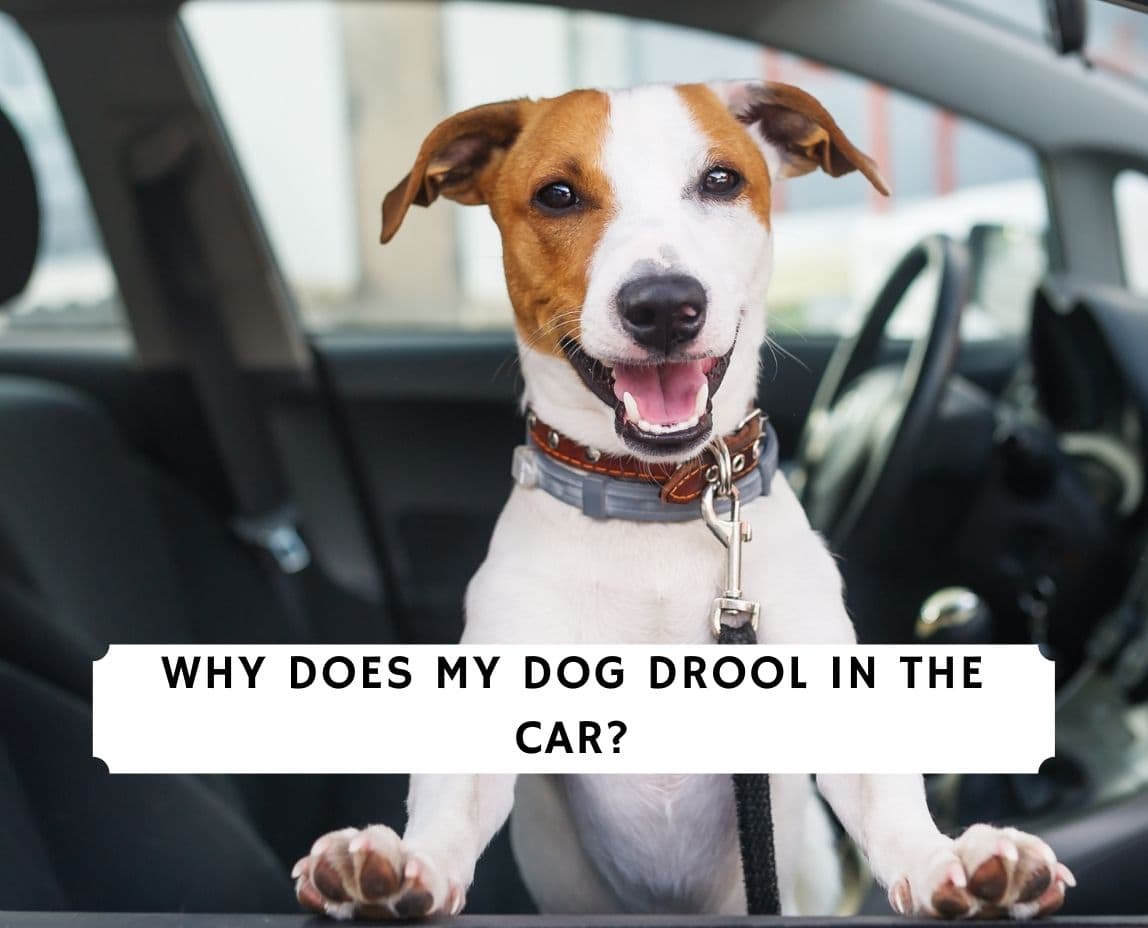 You enjoy driving your companion around. However, you notice the constant drooling from your dog. Now you're asking yourself: "Why does my dog drool in the car?" From playing a friendly game of fetch to eating your homework, there is no better friend than a dog who has stood by like a loyal companion to us humans for decades now. As a dog lover, you are probably used to being bombarded with doggy licks and kisses drenching your face. A dog drooling can be considered normal and in response to the dog's emotions or the environment. Have you ever noticed your dog drool during a car ride?
Before scrolling down this article "Why Does My Dog Drool in the Car," here are other questions that could help you: Why Does My Dog Stare Into Space and Why Does My Dog Groan When I Pet It?
What Causes Your Dog To Drool?
Drooling, salivating, or sometimes to the extent of drenching the seat wet is something dog owners find annoying. When you choose to go out for a nice happy long drive with your puppy, you don't want to have to worry about cleaning the seats the next day. However, you must consider that being in a moving vehicle is still a pretty strange and unfamiliar experience for most young puppies.
If you're driving, there isn't anything you can do about this until you arrive at your destination. Not all dog breeds have the same characteristics, and naturally, their drooling patterns may also differ. Big dogs such as Newfoundland, Bloodhounds, Bulldog, etc., tend to salivate a lot, so they drool. In such cases, it's best to be ready with a towel to avoid a mess. If it is constantly drooling in the car, then there has to be a reason for it. We have put together a list of reasons why you would find a dog drooling in vehicles.
More Dog Question: Why Does My Dog Sleep On Me?
Reasons Why Dogs Drool in Cars
There are many reasons why your dog companion is drooling during its car ride. Our team at WeLoveDoodles listed below several of those reasons.
1. Car Sickness
Just like us humans, some dogs also experience car and motion sickness. However, this isn't the case with all dogs or all dog breeds. For some, the problem could sudden turn or bumpy roads as well. If drooling in the car is often followed by throwing up, you should notify your veterinarian about your pet's motion sickness.
More Dog Question: What Should I Do If My Old Dog Stopped Eating?
2. Enthusiasm
Just like how humans and dogs salivate at the sight of food, some studies also state that the mere idea of having fun could cause your dog to start drooling. Being in the car is a fun event for dogs. It is full of fascinating and thrilling sights, smells, and sounds, which could be like an adventure for them. Your dog anticipates the joy of going out someplace new or just to the park to play fetch with you, and that can cause drooling. The good news is, this is harmless. It is a good thing. You'll be able to tell if your dog is excited just by its behavior.
More Dog Question: Why Does My Dog Lick My Eyes?
3. Temperature
If you're out for a ride on a scorching day, then your puppy's drooling might not be related to motion sickness at all if you might have set the car heater to a hot setting in the wintertime. If it's either of these, then your dog might be drooling because they're seriously uncomfortable with the temperature. If they're experiencing hyperthermia, i.e., the condition of having a body temperature significantly above average, take your dog out of the car and get vet attention immediately.
More Dog Question: Why Does My Dog Jump on Me?
4. Anxiety
If your dog is not used to car rides, it could make them anxious. Many dogs drool when they experience overwhelming emotions such as nervousness, fear, or frustration. Since they can't see the road, it would only add to their uneasiness and fear. If your dog is naturally anxious, car rides probably won't be a fun time for them. If you notice symptoms like increased blood pressure and panting, there are quite a few tips you could try to cure the problem.
Recommendations For Dog Anxiety: Best Dog Bed For Separation Anxiety and Best Dog Toys For Separation Anxiety.
5. Heatstroke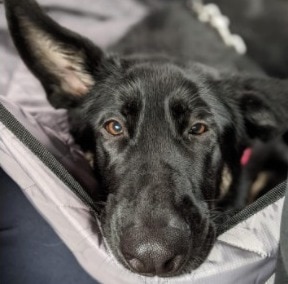 Heatstroke is a type of hyperthermia, which could cause drooling. However, if the drooling happens every time your dog is in a car, you need not worry about heatstroke. Heatstroke is accelerated by heat stress or heat exhaustion. More extended periods of heat exposure or high humidity could be some of the factors. However, the effects that precede a heatstroke are not exactly fun, so if you feel that your dog could be having a heat stroke, call a vet immediately.
6. Other Conditions
Your puppy's drooling isn't always something related to car rides. Different conditions such as the teething process are one major cause of salvation in puppies. Other medical conditions such as dogs with gum disease, gastrointestinal ailments, or tummy troubles can be some of the reasons. However, if this constant drooling looks like a symptom of an underlying medical problem, you need to consult the vet urgently. Fortunately for you, we have some tips and solutions to prevent your dog from drooling.
Dog Disease Guides: Rare Dog Diseases Every Owner Should Know
How To Prevent Your Dog From Drooling
Like humans, dogs also grasp more information at a younger age. If you introduce your dog to the idea of traveling in a car from when it's still a puppy, chances are it will get used to it and stop drooling all over your car seats. If you think that motion sickness is the reason for your puppy's drooling issues, then ensure that it sits facing forward. Most puppies will outgrow motion sickness. However, if that's not the case, we have a few tips and tricks that may solve your dog's drooling problems for good.
1. Car Seat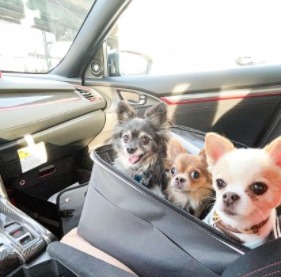 You may want to consider investing in a car seat for your dog. It could help bring them some comfort while traveling. Use a carrier or dog safety harness. Anxious dogs cannot control their actions. They could hurt themselves and even cause accidents. A carrier could be its haven in an otherwise not-so-fun car. Add a t-shirt or blanket with your scent to your dog's carrier. It will help keep your companion calm and composed. In addition to smelling like home, it is also cozy, ensuring that it will stay snuggled up for the entire drive.
Dog Product Recommendations: Best Dog Car Hammock and Best Seat Covers For Dog Hair.
2. Food and Water
It is a common idea to make your dog travel on an empty stomach to avoid throwing up on the way. While this may work for some dogs, some must be fed beforehand to keep themselves satiated throughout the journey. Ensure that you have water on the ready, in case your dog feels thirsty on the way. Keep the dog hydrated, so your companion feels relaxed and at ease during the ride. You could also try to keep the windows down, so your dog doesn't feel locked in and has a steady ventilation course.
Related Dog Guide: Can Dogs Drink Distilled Water?
3. Offer Special Toys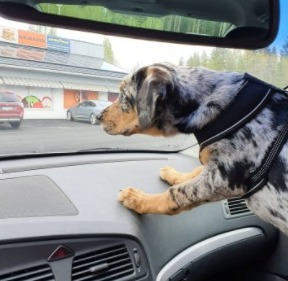 You could try to distract your puppy from the anxiety it may be feeling when in a car by offering it some new toys to play with.
Dog Toy Recommendations: Best Dog Toys To Keep Them Busy.
4. Try Shorter Trips
Nobody enjoys sitting in a car for hours at a stretch, especially not dogs. At first, you can sit in the car with your dog and start the engine and continue to stay in one place without moving. Gradually increase it to just a short drive around the block to a 20-minute ride down the road. This is to help your dog get over its anxiety by slowly exposing it to the idea of traveling in a car. When you take long rides, remember to make a pitstop at regular intervals so your dog can move around a little. Remember to appreciate your dog and reward it each time for good behavior to encourage its liking for car rides and ease its anxiety.
5. Medication
If you've tried everything and nothing helped, the vet might be able to prescribe medicines. Low doses of motion sickness medicines can help effectively. While it is true that anti-nausea medicine could be a quick fix, it isn't a permanent one. However, resort to the use of medication only in extreme situations and only after consulting a vet. Always follow instructions from your veterinarian carefully. Your dog could go from feeling troubled to enjoying the ride. The key is to give your companion medicine before you hit the road.
Dog Medicine Guides: How To Trick Your Dog Into Taking Liquid Medicine and Putting a Dog to Sleep with Benadryl.
Conclusion For "Why Does My Dog Drool in the Car"
The next time you ask, "why does my dog drool in the car," you'll know what to do. Never make a car ride punishment. Do not scold your dog to get into the car or get irritated if they start to howl or whine. Maintain a calm and relaxed attitude and pamper them with toys. If you create a fun environment, they'll stay happy, and happiness reduces stress, eliminating the drool problem. Cooldown the car before they get in. Your dog doesn't want to bake in the heat. Keep an eye out for cooling mats for dogs; they can be extremely comforting. Never leave your dog alone in the car in humid weather. Drive your dog around the block every morning or night for them to get used to the experience.
Once they are, you'll both be set. Make sure your dog has enough room in the car. Declutter the space. Ensure that your dog can move from window to window. Don't forget to carry essential cleaning items. Drooling can be annoying. However, understanding the reason behind your dog's slobbering can help you make the ride fun and tidy. A dog free from stress and anxiety is a happy dog, and a happy dog means a happy dog owner as well. It takes time and patience to desensitize your dog's fears in the car; however, it will help you a long way through the drool problem. One of the delights of dog ownership is visiting new and exciting places for your fur friend to explore.
For more helpful dog guides and info, you can check out:
If you enjoyed reading "Why Does My Dog Drool in the Car," you can watch "Why Does My Dog Drool So Much?" down below to learn more: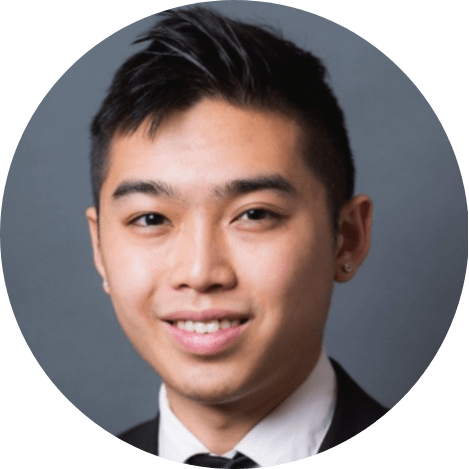 Andy is a full-time animal rescuer and owner of a toy doodle. When he's not saving dogs, Andy is one of our core writers and editors. He has been writing about dogs for over a decade. Andy joined our team because he believes that words are powerful tools that can change a dog's life for the better.
Why Trust We Love Doodles?
At We Love Doodles, we're a team of writers, veterinarians, and puppy trainers that love dogs. Our team of qualified experts researches and provides reliable information on a wide range of dog topics. Our reviews are based on customer feedback, hands-on testing, and in-depth analysis. We are fully transparent and honest to our community of dog owners and future owners.