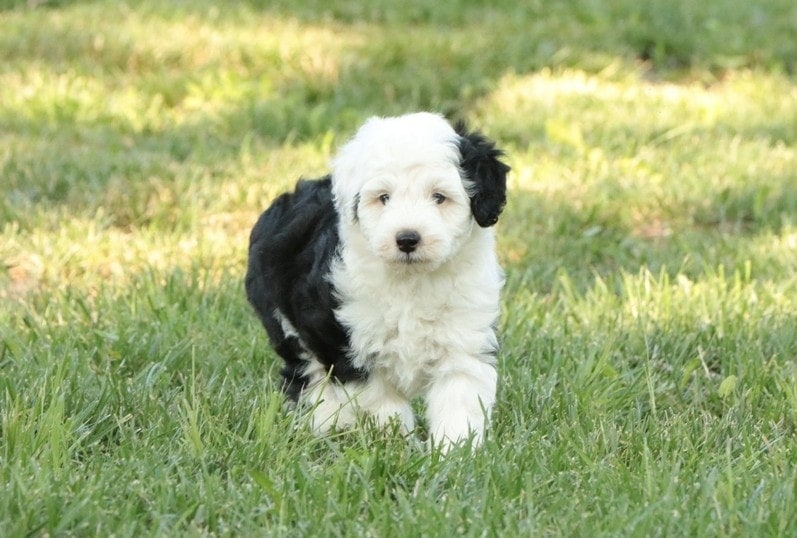 We've been getting a lot of questions recently about the Sheepadoodle. With so many Doodle choices out there these days, why should you choose a Sheepadoodle?
Sheepadoodles are a crossbreed mix between an Old English Sheepdog and a Poodle. They are very family-friendly pets due to their social nature, fun personalities, and have a calm temperament. They are also very intelligent and enjoy spending time with their owners.  
Long Life Expectancy
Sheepadoodles life expectancy ranges from 12 to 15 years. Sheepadoodles are 80% hypoallergenic and require little grooming which keeps their hair much healthier and helps with less shedding. They usually range in size from 65 – 85 lbs and can grow to a height of 18 – 27in. 
Easygoing Temperament
Sheepadoodles love to play fetch with kids and will need daily walks. They are also very emotional dogs that develop a deep connection with their owner, which in some cases they can be used as an emotional support dog. Overall, Sheepadoodles are a great choice for a first-time pet owner or a large family with young kids. 
As with most doodles, Sheepadoodles are great family dogs. If you are looking for a doodle with a goofy side and great personalities, a Sheepadoodle may be for you.
Conclusion for Why Choose a Sheepadoodle for Your Next Pet?
Sheepadoodles are an up and coming dog breed. If you're looking for a Sheepadoodle Breeder in Missouri we highly recommend that you check out Valley View Sheepadoodles. Their dogs are raised on a large farm and come with full AKC certification papers.