Where do Goldendoodles come from? We're here to help guide you and teach you everything you need to know about Goldendoodles. If you walk down a street or have been on the internet in the last 20 years, you probably know about the adorable Goldendoodle. These sweet puppies are some of the most popular designer dogs.
Besides being cute, Goldendoodles are also known for their lovely personalities and love of humans. However, where do Goldendoodles come from, and what is their history? Read on to learn the history of the Goldendoodle and what you need to know about their breeding.
Before you scroll further down this guide, "Where Do Goldendoodles Come From," you can check out these other Goldendoodle questions answered by our team at We Love Doodles: Are Goldendoodles Hypoallergenic and What Makes an Ugly Goldendoodle?
What Breeds Make a Goldendoodle?
The Goldendoodle is a cross between a Poodle and a Golden Retriever. Poodles are known for their intelligence, hypoallergenic coats, and alertness. Golden Retrievers are known for being affectionate, playful, and good with animals and children. This breed takes on qualities from both parent breeds.
They can range in size because the parent Poodle breed can be miniature, medium, or standard. As a result, these puppies can range from 13 to 26 inches tall. They can weigh anywhere between 15 and 100 pounds. Goldendoodles can display a range of characteristics from both parent breeds. Their coats can be in many colors and textures, and it can be hard to know what puppies will look like before they are born.
Coats can be gold, cream, light brown, red, gray, or multiple colors. The texture can be anywhere from curly to straight. Like many dog crossbreeds, the American Kennel Club does not recognize the Goldendoodle as a breed. These puppies can complete agility and ability events despite their lack of breed designation.
More Goldendoodle Guides: Goldendoodle Litter Size Information and How Much Does a Goldendoodle Cost?
What Are The Features of Poodles and Golden Retrievers?
Poodles and Golden Retrievers have a few key differences and similarities to be aware of. The crossbreed that results from the combination of that breed can have a mixture of traits from both parents.
Golden Retrievers
Golden Retrievers can measure between 21 and 24 inches tall and weigh between 55 and 75 pounds. This breed does not have much color variance, with a coat that ranges from light golden to dark golden. Whatever color, that coat is usually long and lustrous.
These dogs are known for their playful attitude and great energy levels. They are easy to train and great when it comes to retrieving. Golden Retrievers are fairly easy to care for. This breed sheds a fair amount. So, they need plenty of brushing and occasional baths.
Goldens need plenty of exercise and mental stimulation. Originally, these puppies were Scottish gundogs. First records of this breed exist from the early 1800s. They are now one of the most popular breeds.
Related: Best Golden Retriever Breeders in the United States.
Poodles
The adorable Poodle can range greatly in size, depending on the variety. Toy Poodles are around 10 inches tall and between 14 and 18 pounds. Miniature Poodles are between 11 and 14 inches tall and around 28 pounds. Medium Poodles are around 14 to 18 inches tall and between 33 and 43 pounds.
Standard Poodles are between 44 and 71 pounds and 18 to 24 inches tall. Poodles have a bit more color variety than Golden Retrievers. They can be colors including white, black, blue, red, cream, gray, and brown. Their coats need regular brushing to prevent mats.
For the healthiest coat, Poodles need grooming every four to six weeks. This breed has a reputation as a fussy and fancy puppy. However, the Poodle is an affectionate and intelligent dog that makes a great companion.
While they can be elegant, they are not afraid to run around and have fun. The exact origin of the Poodle is unknown. However, it likely originated in France or Germany. Larger versions of the dog were common retrievers for hunters. Smaller varieties were often companion dogs.
Related: Best Poodle Rescues For Adoption in the United States.
Who Bred the First Goldendoodle?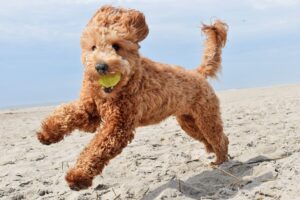 The first Goldendoodles originated in the 1960s. However, the breed did not rise in prominence until the 1990s. Goldendoodles breeding in the 1960s happened informally. So, there are not many records of the exact first Goldendoodle.
Some information suggests Monica Dickens, Charles Dickens's great-granddaughter, bred the first Goldendoodle in 1969. Wally Conron bred the first Goldendoodle on record from the Royal Guide Dog Association of Australia.
Their breeding partially came into play from a need for larger guide dogs. Before the Goldendoodle's advent, the Labradoodle arrived on the scene. That smaller breed originated in 1989 in Australia. The Goldendoodle gained popularity in the United States throughout the 1990s.
More Goldendoodle Guides: Goldendoodle Separation Anxiety and How Much Should a Goldendoodle Puppy Eat?
How Did They Make a Goldendoodle?
Originally, Goldendoodles were created by crossbreeding a Golden Retriever and Poodle. The result of that pairing is known as an F1 Goldendoodle. Since the Goldendoodle first came on the scene, generations of puppies can also result from breeding a Poodle with an F1 Goldendoodle, an F1 Goldendoodle with a Golden Retriever, and a Goldendoodle with a Goldendoodle.
The result of that last pairing is an F2 Goldendoodle, while the Poodle or Golden Retriever paired with a Goldendoodle is an F1B Labradoodle. If you want the most allergy-safe Goldendoodle, your best bet is an F1B from a Poodle and Goldendoodle. F2 Goldendoodles are rare.
More Goldendoodle Guides: What is a Mini Australian Goldendoodle and Goldendoodle Energy Level Information and Facts.
Are Goldendoodles Rare?
While Goldendoodles used to be rare, they increased significantly in popularity between 2000 and 2020. The trend does not seem like it is slowing any time soon. They are popular in the United States and Australia. With their origins as guide dogs, it is not shocking that they are still very popular as guide dogs, therapy dogs, and emotional support dogs.
More Goldendoodle Guides: Sheepadoodle vs. Goldendoodle Dog Breed Comparison and Goldendoodle vs. Mini Goldendoodle.
What Are the Benefits of Owning a Goldendoodle?
Goldendoodles have a host of benefits for the owner that may not come to mind immediately:
Goldendoodles usually shed less than other dogs. Remember, Doodle mixes can have a range of coats, and those coats have a range of allergy levels.
This breed is intelligent, and they accept training very easily. However, these dogs can be smart enough to manipulate humans. So, stay consistent with their training.
Goldendoodles are very social and easygoing with new people and animals.
Since both the Goldendoodle's parent breeds are retrievers, this breed is very good at playing fetch and learning how to retrieve items.
If you need a service dog or emotional support dog, Goldendoodles are a great choice. They are very emotionally intelligent and good at learning specialized actions.
Due to the trainability of the Goldendoodle, it can learn how to detect nuts, which can be helpful for those with nut allergies.
Since this dog has the genetic material of multiple purebred dogs, it has greater genetic diversity. As a result, it has a lower possibility of inheriting genetic diseases.
More Goldendoodle Guides: How Often Should You Groom a Goldendoodle and How to Train a Goldendoodle.
What Care Requirements Do Goldendoodles Have?
Goldendoodles are low-maintenance dogs. The most vital step is to be consistent with care such as fur-brushing, tooth-brushing, ear-cleaning, and baths as needed. Correct nutrition and regular exercise are also a priority for your doodle's care. This dog often has soy, wheat, corn, and dairy allergies.
Their digestive systems can be sensitive. Goldendoodles are healthy dogs as long as they are bred responsibly. Getting your puppy screened regularly by a trusted veterinarian for general health issues is vital. Your vet should also check them for hip dysplasia and eye and ear issues.
More Goldendoodle Guides: Best Types of Goldendoodle Haircuts and Are Goldendoodles Protective Dogs?
What Health Problems Are Common in Goldendoodles?
Goldendoodles are often healthier than their parent generations or purebred breeds. However, there are still a few health concerns you should be aware of when it comes to a Goldendoodle.
It would help if you looked for:
ACL injuries and damage
Hip dysplasia
Cataracts
Glaucoma
Dental issues
Subvalvular aortic stenosis
Sebaceous adenitis
Only pick your puppy from reputable breeders to minimize the risk of health issues in your dog. They should provide you with information about the health history of a dog's parents. Sometimes, you can learn about your dog's family's history.
Related: Common Goldendoodle Health Issues.
What Dogs Are Similar to Goldendoodles?
There are a few dogs that have a similar history or similar traits to the Goldendoodle. There are dozens of dogs that are intentional crossbreeds between various purebred dogs. Over ten of these dogs have a Poodle lineage. These puppies include Cavapoos, Cockapoos, Labradoodles, Peekapoo, Schnoodle, Sheepadoodle, Shih-poo, Westiepoo, and Yorkiepoo.
Besides the Goldendoodle, Golden Retrievers are also parent breeds for Goldadors. In terms of personality, a few dogs are similar to a Goldendoodle. The closest dog in that respect is the Labradoodle. Cockapoos, Irish Setters, Beagles, Newfoundlands, and Collies can also be similar to Goldendoodles in personality.
If you want a somewhat allergy-friendly puppy, look for Poodles, Basenjis, Havanese, Bichon Frise, Portuguese Water Dogs, and Maltese. Keep in mind that no dog is fully hypoallergenic. To have the most allergy-friendly dog experience, keep up with grooming and clean your home regularly.
Related: Chocolate Goldendoodle Information, Facts, and Images.
Conclusion For "Where Do Goldendoodles Come From"
Now that you know the answer to the mystery of where Goldendoodles come from, are you ready to get your fuzzy friend? These puppies may be a recent addition to the dog world, but they make quite an impression. Goldendoodles are friendly and fun. They love their people and get along well with other dogs.
If you find this guide, "Where Do Goldendoodles Come From," helpful and informative, you can check out these other Goldendoodle articles from our team at We Love Doodles:
You can learn more about the Goldendoodle breed and its origin by watching the "Goldendoodle Dog Breed Guide" down below: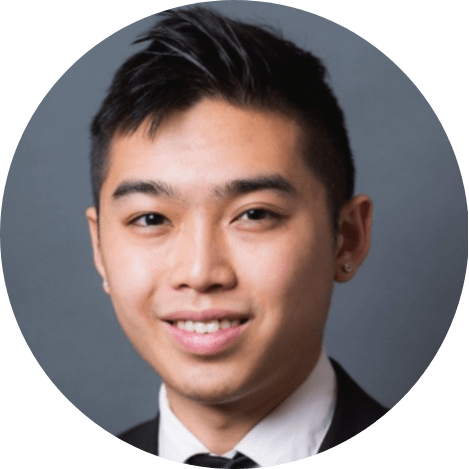 Andy is a full-time animal rescuer and owner of a toy doodle. When he's not saving dogs, Andy is one of our core writers and editors. He has been writing about dogs for over a decade. Andy joined our team because he believes that words are powerful tools that can change a dog's life for the better.
Why Trust We Love Doodles?
At We Love Doodles, we're a team of writers, veterinarians, and puppy trainers that love dogs. Our team of qualified experts researches and provides reliable information on a wide range of dog topics. Our reviews are based on customer feedback, hands-on testing, and in-depth analysis. We are fully transparent and honest to our community of dog owners and future owners.