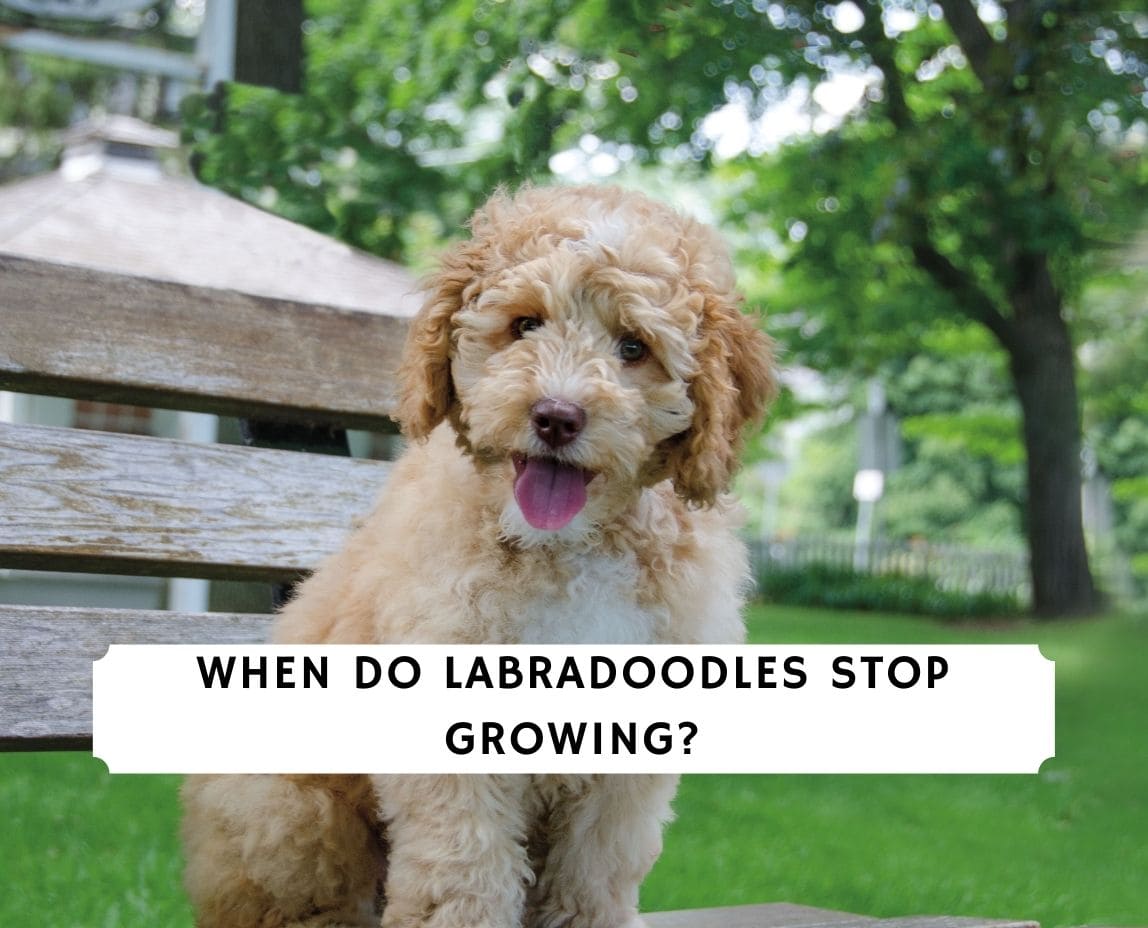 If you're raising a puppy, you're probably wondering when do Labradoodles stop growing. The Labradoodle dog breed grows extremely fast the first 10 months of their life and it may seem like they will never stop growing. A good rule of thumb is that Labradoodles are 97% of their total body weight by the time they are 12 months old.
If you want the full metrics, we did a study on "When is a Labradoodle Full Grown?" At the 18 week mark, you should be able to double your Labradoodles total weight and that's when they will stop growing. However, their weight and when they stop growing depends on a variety of factors.
When will my Labradoodle Stop Growing?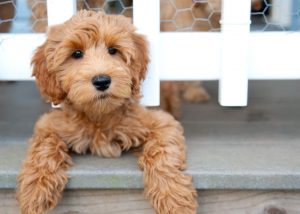 Based on the recommendations of the Australian Labradoodle Association, the cross-breeding to produce Labradoodles should be for three sizes which follow the Poodle sizes:
Miniature Labradoodle
Medium Labradoodles
Standard Labradoodle
Determining the age at which your Labradoodle will stop growing can be quite tricky as this subject to the genes inherited from either the Labrador Retriever or Poodle. However, on a general basis, Labradoodles are considered to be adults after 52 weeks old. The reason for this is hinged on the fact that at 52 weeks, the Labradoodle would have grown 97% percent of its body features. However, nutrition and diet also play a big role in how much your dog will potentially weigh.
Therefore, it is important that you always engage in activities that will help your Labradoodle stay fit and healthy to avoid obesity in its adulthood. You should also note that Labradoodles grow according to their sizes (Mini, Medium, and Standard). By the time your Labradoodle has hit 2 years of age, you can expect it to stop growing fully irrespective of which parent's genes and characteristics are dominant.
Related: What Labradoodle Size is Best?
What Does a Fully Grown Labradoodle Look Like?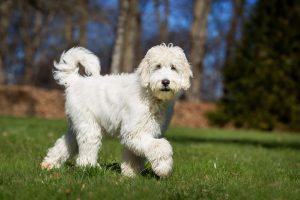 As we highlighted earlier, there are 3 different sizes of Labradoodles based on the parents' genes during crossbreeding. Contingent on what the size the Poodle is, you can expect your Labradoodle when fully grown to look like this:
Miniature Labradoodle: A result of the mixture of a Lab Retriever and a Moyan / Mini Poodle. Usually is around 14 – 17 inches tall. They can weigh between 17 – 30 pounds when fully grown.
Medium Labradoodles: The result of a crossbreeding between a Medium sized Poodle and a Lab. Usually, 17 – 22 inches tall and can weigh up to 45 pounds when fully grown.
Standard Labradoodle: When you crossbreed the standard Poodle and a Labrador Retriever, you get a fully grown Labradoodle with most of the characteristics of both parents including size. They can weigh between 50 – 90 pounds when fully grown and can grow taller than 25 – 28 inches. Note that there might be variations in sizes and height between both the male and female standard labradoodle.
Another way by which you can determine the weight of your Labradoodle (especially the mini and medium sizes of LDs) before they fully become an adult is by multiplying its weight at 18 – 19 weeks by 2 i.e.
Adult weight of Mini/Medium Labradoodle = Weight at 18 – 20 weeks x 2
On the other hand, to determine the weight of your adult standard Labradoodle, you simply multiply the weight at 23 – 25 weeks by 2 i.e.
Adult weight of Standard Labradoodle = Weight at 23 – 25 weeks x 2
Please note that these methods are effective but might not be fool-proof.
Quick Labradoodle Facts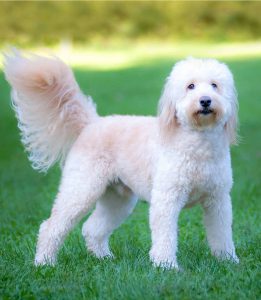 They are very active: If you have been looking for a partner to go on your evening run with you, a labradoodle is your best bet. Their mixed gene pool bestowed on them the need to be actively engaged. Lack of activity makes them act rash and destructive.
Their life span is an average of 12 years but they often live up to 16 years.
Not all Labradoodles are hypoallergenic. Yes! You heard that right. Due to the variations in coat texture, some Labradoodles might not be good for persons who are allergic. As an allergic person, avoid Labradoodles with a straight coat while those with wavy or curly coats are the hypoallergenic ones.
Before buying a labradoodle, consider the size of your home as standard Labradoodles do not do well in small spaces except you want your pet to destroy things. If your home is small, consider getting either the mini or medium labradoodle rather than the standard labradoodle.
Related: How Much Does a Labradoodle Cost?
Conclusion For When Do Labradoodles Stop Growing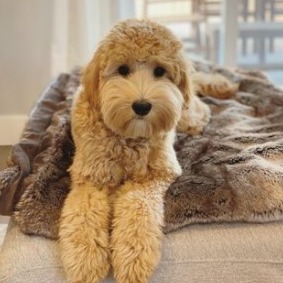 No matter what size of Labradoodle you choose, you are guaranteed a good companion. Although, they are not yet recognized by the American Kennel Club (AKC) because they are a hybrid dog, the size of a Labradoodle is subject to the genes that are dominant during the crossbreeding. In general, Labradoodles will be 97% of their body weight after 1 year old and be fully grown by 2 years old.
For more questions about the Labradoodle, check out:
If you love the Labradoodle dog breed, we think you'll love watching "Tarzan the Labradoodle Growing Up" from Viklund K. down below:
Garrett loves animals and is a huge advocate for all Doodle dog breeds. He owns his own Goldendoodle named Kona. In addition, he volunteers at the Humane Society of Silicon Valley, where he fosters dogs and helps animals. Garrett enjoys writing about Doodles and believes that dogs can teach humans more about how to live than humans can teach a dog.
Why Trust We Love Doodles?
At We Love Doodles, we're a team of writers, veterinarians, and puppy trainers that love dogs. Our team of qualified experts researches and provides reliable information on a wide range of dog topics. Our reviews are based on customer feedback, hands-on testing, and in-depth analysis. We are fully transparent and honest to our community of dog owners and future owners.