Labradoodles are popular around the world for their general appearance, intelligence, and friendly demeanor. A companion dog for many who seek a loyal and gentle breed. When a Labradoodle owner walks their beloved pet, they know that they do not have to worry about aggression around strangers, children, or other dogs. These incredibly affectionate pets are also known for their beautiful coats that come in numerous coat colors, lengths, and variances in coat texture and waviness.
The brown Labradoodle, also sometimes known as the chocolate Labradoodle, has become a favorite and well-sought coat color. Their gorgeous coats are dark, mahogany shades of brown. Brown Labradoodles are not as common as their counterparts. This has left many wondering how do breeders achieve the brown coat in a Labradoodle and why is this coat color difficult? In general, it all comes down to genetics.
Before scrolling down, you should also check out: Blonde Labradoodle Coat Color Guide! 
History of the Labradoodle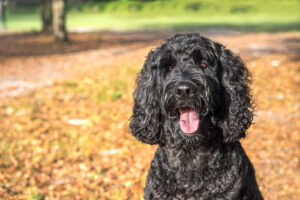 The Labradoodle is a hybrid breed achieving through the breeding of the Labrador and Poodle. Labradoodles were first bred by the Royal Guide Dogs Association of Australia to be a hypoallergenic guide dogs. Breeders sought to create a breed that was intelligent, sociable, and gentle in general temperament. They also sought the low shedding coat of poodle in the offspring. This breed is still working out the kinks in the consistency of coat that results and achieving a breed standard. However, this breed has quickly soared in popularity amongst dog lovers across the world for their intelligence, affectionate demeanor, and beautiful coats.
How Do Breeders Achieve the Brown Labradoodle Coat Color?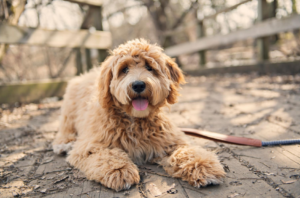 It is no easy feat for breeders to achieve a brown coat in a Labradoodle puppy. The issue lies in the possible color combinations created when you breed a Labrador with a Poodle. According to the American Kennel Club (AKC), Labradors only come in three standard colors: black, yellow, or chocolate. However, Poodles can come in ten coat colors recognized by the AKC, including apricot, silver, gray, cream, blue, etc.
The genetic combination in a brown labradoodle is often easy to see, as many dogs have multiple shades of brown throughout their coats. This is due to some areas where recessive genes have gained dominance throughout their bodies.
In order to achieve brown coats, breeders have to combine dominant and recessive genes in a way that results in brown puppies. The puppy must have a recessive gene to achieve the brown coat, which is why darker brown colored Labradoodles are rarer. This means that by using two parent dogs with a genetic makeup of BbEE, or BbEe, brown Labradoodle puppies could be a result. Despite the efforts made by Labradoodle breeders, there is never a guarantee for there to be brown Labradoodles puppies in a litter.
Dog's Pigment is an Early Indication
The coat color of a puppy will change as the dog enters adulthood. One way the breeders are able to identify and hypothesize the coat colors of the puppies is by evaluating the dog's pigment. The pigment is the color found on the dog's paws, lips, around the eyes, and most noticeably, the color of the dog's nose. The brown Labradoodles recessive genes will cause their pigment to be liver-colored, a lighter tan-like shade. In contrast, Labradoodles with a black nose will have dark brown eyes and a black coat.
What Types of Coats Do Brown Labradoodles Have?
A brown Labradoodle, like all dogs in this breed, can possess a variety of coats. The length and curliness of the coat are determined by the genes inherited in the pups. The Labrador Retriever has a long coat, while the poodle has a curly coat. Therefore, depending on the dog's genetic makeup, it can have any degree of Poodle-like or Labrador-like hair. A brown Labradoodles hair could be wavy, straight, or curly. A reputable breeder should be able to tell you how the pup's hair will grow as he develops.
The texture of your brown Labradoodles hair also varies. Their coats can be coarse, fleece-like, or resemble wool-like hair. Regardless of the length and type of hair your brown Labradoodle has, it will require regular brushing. One positive note is that Labradoodles usually do not shed much.
Contact a Reputable Brown Labradoodle Breeders
You should so always first check with your local Labradoodle rescues and animal welfare organizations for a dog to adopt before you seek a breeder since many Labradoodles that need homes. This is due to numerous factors, such as owners being forced to rehome for not realizing how large their dog could become.
For a healthy brown Labradoodle, it's important to find a reputable breeder. Below are resources for breeders who specialize particularly in brown Labradoodles.
Barksdale Labradoodles, Tennessee
Barksdale Labradoodles is owned and operated by the Gordy's family of Tennessee. They dedicate 24 hours a day to the hygiene, handling, and care of the pups. The family loves Labradoodles so much that they have six personal Labradoodles of their own. These are serious breeders who care and provide the best care for their Labradoodle litters. They have an onsite nursery and whelping facility. The dogs also have a half-acre of space to run about outdoors.
Good Day Doodles, North Carolina
Good Day Doodles specializes in the breeding of brown Labradoodle puppies. They are well-known and praised throughout the United States for their extensive care and protocol with their litters. They are socialized young and use various techniques for stimulating the Labradoodle pups' senses throughout their development. This breeder even familiarizes the puppy with car rides at a young age.
There is a process required to obtain a brown Labradoodle from these breeders due to the level of love and care they put into their pups. Visit the websites to learn more about the application process required to get your own brown Labradoodle.
Brown Labradoodles are Worth the Wait
The brown Labradoodle possesses a gorgeous coat due to the combination of dominant and recessive genes. This may require patience on your part with the breeder and litters of pups available. Even with effort, this beautiful brown coat is not always evident in every litter of Labradoodles but well worth the wait. It is important that you choose a reputable breeder. This means that there should be a waitlist, application, and other requirements before getting your pup.
You should also check out:
Garrett loves animals and is a huge advocate for all Doodle dog breeds. He owns his own Goldendoodle named Kona. In addition, he volunteers at the Humane Society of Silicon Valley, where he fosters dogs and helps animals. Garrett enjoys writing about Doodles and believes that dogs can teach humans more about how to live than humans can teach a dog.
Why Trust We Love Doodles?
At We Love Doodles, we're a team of writers, veterinarians, and puppy trainers that love dogs. Our team of qualified experts researches and provides reliable information on a wide range of dog topics. Our reviews are based on customer feedback, hands-on testing, and in-depth analysis. We are fully transparent and honest to our community of dog owners and future owners.