Hyperactivity is a major problem for dog owners trying to settle their furry friends. Dogs can become distressed over a variety of different things. Excitement, anxiety, separation, or plain old curiosity can cause them to become unsettled. With this in mind, you may ask yourself, "What can I give my dog to settle him down?"
To settle your dog down, try giving it a natural supplement like melatonin or chamomile. Your veterinarian may also prescribe certain antidepressants or anti-anxiety medications to help calm your dog. Exercise can also help to settle a dog that is hyperactive.
In this guide, we'll look at the different ways to calm a hyper dog, covering everything from medications to natural remedies. Read on to find out how you can help settle your dog down.
Check out for more: My Dog is Panting and Shaking and Clingy. What should I do? and Why Does My Dog Scratch the Carpet?
Why Won't My Dog Settle Down?
Your dog may be having problems settling down for a wide variety of different reasons. First and foremost, if your dog is a puppy or under the age of 6, hyperactivity is fairly typical. If the over-excitement only occurs a few times a day, this is all part of a young pup's excess energy.
Loud noises, commotion, strangers coming over, or general curiosity can also cause your dog to become alert and excited. It's also normal if everyday activities such as coming home after work or running errands cause excitement in your pup. Don't be surprised if they're extra peppy for several minutes after you arrive home.
Still, sometimes your dog's excitement or distress may appear abnormal. If that's the case, your pup may need a remedy beyond love and affection.
Let's take a look at some of the things that can cause problematic levels of excitement in your dog.
Separation Anxiety
Separation anxiety is a psychological condition in dogs that develops from fears of abandonment or detachment from their owners.
It's not fully known why this condition develops, and many theories point to separation anxiety being more prevalent in re-homed and frequently sheltered or kenneled dogs. But it can also develop during the puppy stage if dog owners do not properly train their dogs to cope with being alone.
The symptoms of separation anxiety in dogs include:
Excessive whining, barking, and howling up to 1 to 2 hours after the owner leaves the home
Destructive behaviors such as scratching doors, tearing up clothes, fabrics, and household items, or even chewing doors to escape
Urinating and defecating in the home
Excessive pacing, panting, and inability to calm down after the owner returns home
If your dog has separation anxiety, you may notice it takes a long time for him to settle down once you return home. Furthermore, your dog will become anxious and restless once he notices you are preparing to leave.
Fear or External Distress
Every dog is different, and some have a harder time calming down than others. This can most commonly be seen in moments of fear when their guards are raised.
If you have been around a dog during Independence Day or New Year's Eve, you likely already know the extreme distress that fireworks cause dogs. The sound is magnified to a painful, unbearable intensity during the explosions, and dogs, both small and large, can become distressed for hours.
Other moments when dogs become scared can linger longer than expected. In these situations, it's important to do what you can to calm your dog down.
When your dog becomes alarmed by something, It can also lead to overexcitement or prolonged stress. Perhaps neighbors are moving around outside, or there are other outside noises that you cannot hear. Dogs are always on alert in these situations and can remain that way until the perceived threat goes away.
Now that we have discussed some possible reasons why dogs cannot settle down, let's take a look at remedies to help them remain calm.
Remedies to Help Settle a Dog Down
When your dog is stressed, the first thing you can do is try to reassure your dog that everything will be fine. Simply petting your dog, stroking their fur, and allowing them to lick you may be the solution. But not always, especially if your dog is experiencing extreme stress.
Try these options if you cannot get your dog to settle down with love and affection.
Natural Remedies
One of the most popular natural remedies to promote calmness is melatonin, and this applies to dogs as well.
Melatonin has calming ingredients that settle the brain and help promote sleep. This is perfect if your dog is often disturbed by fireworks or other loud noises outside. A liquid formula is best; you can add one to two drops on your dog's tongue.
Chamomile has also been proven to help dogs relax. Again, a liquid formula is probably best for dogs since it is the easiest to administer.
Medication for Settling Dogs
Veterinarians can diagnose behavior issues in dogs and prescribe safe and appropriate medications that can help correct the issue. Low-dose anti-depressants and anti-anxiety drugs are the typical medications used to help settle hyperactive and distressed dogs.
For dogs, it is not always mandatory that such medications are taken consistently. More often than not, you can give your dog a prescribed dose when and only if you cannot get them to settle down.
For example, some veterinarians prescribe dogs a low-dose antidepressant during celebrations like the 4th of July. When a dog takes this medicine, it becomes very mellow and sleeps through the fireworks.
Behavior Modification
If you do not want to resort to supplements or medication to calm a hyper dog, you can also try to modify your dog's behavior. This is most beneficial for hyperactive dogs that show signs of separation anxiety.
Training your hyperactive dog to save its energy for playtime can help a great deal. In a stern but even voice, tell your dog to lie down. Use treats as a reward mechanism for following your commands. Like all training, it takes time and persistence before you see results.
If your dog has separation anxiety, you can slowly train it to anticipate your departure. Avoid showing your dog any attention when you leave, and stay away for at least five minutes before returning home. Once again, do not acknowledge your dog until a few minutes after you return home.
You can increase the time you are away each day until you reach the typical amount of time you will regularly be gone. Your dog will learn to anticipate your return home and settle in until you come back.
Health Risks For Hyper Dogs
Ensuring your dog doesn't become too excited or overstressed is crucial to its health and well-being. Let's take a look at some possible health risks for dogs that cannot settle down.
High Blood Pressure
Constant exertion or stress can raise a dog's blood pressure. Exercise is essential for dogs, but too much can be detrimental to your puppy's health.
Respiratory Distress
Constant panting can cause issues, especially if you cannot get your dog to calm down. If the weather is hot outside, this can exacerbate the conditions further.
Bloat
For dogs that cannot calm down, eating can potentially turn into a deadly activity. Bloat in dogs is a serious life-threatening condition that causes a dog's stomach and intestines to flip upside down–it is almost always fatal.
This is commonly seen in dogs that overeat or eat quickly, but stress and hyperactivity while eating can also bring it on.
Frequently Asked Questions
Can I give my dog Benadryl to calm him down?
While Benadryl certainly has calming effects, it's not as effective in dogs as it is in humans. Therefore, it won't do great at calming a dog with anxiety issues.
What kind of melatonin can I give my dog?
Liquid melatonin will be the easiest to give to your dog. Always consult with a veterinarian before beginning any new treatment.
What are the first signs of stress in a dog?
Stress can look different depending on the dog. Common signs of stress in dogs include large eyes, a tail tucked between their legs, panting, tucked ears, and avoiding eye contact.
What Can I Give My Dog To Settle Him Down?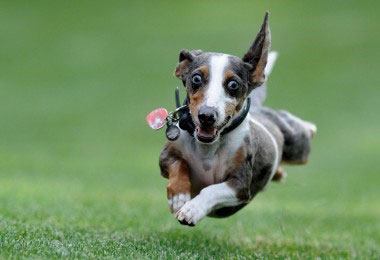 There are many options for helping your dog to settle down. If behavior modification or natural remedies do not work, you can always consult with your veterinarian about medication options for moments of high stress.
Dogs are naturally curious animals, but this can sometimes be to their detriment. If your dog is constantly hyperactive or cannot calm down from stress, try any or all of these remedies to correct the issue. Above all else, have patience with your dog's issues.
For more articles related to "What Can I Give My Dog To Settle Him Down," check out:
Check out this video to learn more! "What To Do About Your Dog's Separation Anxiety"
Garrett loves animals and is a huge advocate for all Doodle dog breeds. He owns his own Goldendoodle named Kona. In addition, he volunteers at the Humane Society of Silicon Valley, where he fosters dogs and helps animals. Garrett enjoys writing about Doodles and believes that dogs can teach humans more about how to live than humans can teach a dog.
Why Trust We Love Doodles?
At We Love Doodles, we're a team of writers, veterinarians, and puppy trainers that love dogs. Our team of qualified experts researches and provides reliable information on a wide range of dog topics. Our reviews are based on customer feedback, hands-on testing, and in-depth analysis. We are fully transparent and honest to our community of dog owners and future owners.