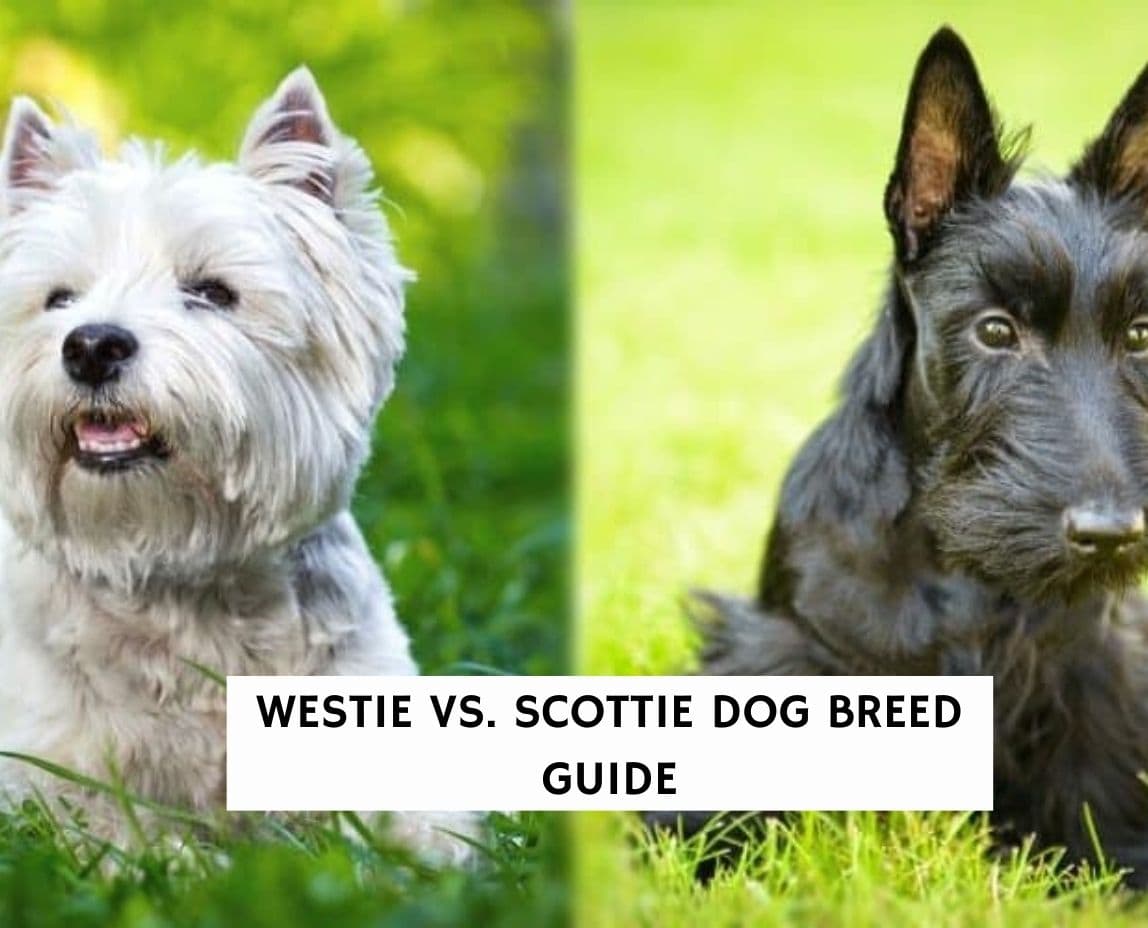 This guide will compare the differences between a Westie vs. Scottie dog breed. There are many differences between these two breeds that you should know.
Our team at We Love Doodles compared the differences between a Westie and Scottie dog breed, so you'll be ready to distinguish the two by the end of this article.
Before scrolling down this dog breed comparison guide, "Westie vs. Scottie," check out these other popular comparisons: Yorkie vs. Yorkie Poo and Bernedoodle vs. Aussiedoodle.
Origin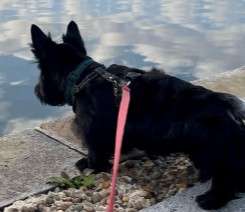 To understand these dogs better, we need to look at their origins. Both Westies and Scotties are earth dogs originating in Scotland.
These dogs are incredibly similar in many ways as they are said to be related. However, despite their similar origins, these dogs are very different in other areas, making them unique.
Westie's Origin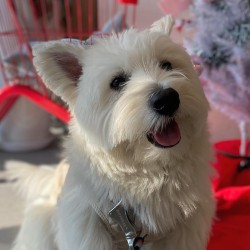 As their name suggests, West Highland White Terriers were first bred over 300 years ago in the Scottish Highlands. These dogs were initially bred to hunt rats and other rodents.
Therefore, despite their small size and cute demeanor, these puppies are brave, hard-working, and tough. This hunting experience can be seen in the behavior of modern Westies as they are game to track and chase anything that moves.
Scottie's Origin
Similar to Westies, Scotties or Scottish Terriers were bred in Scotland. These tiny terriers also got their start as hunting dogs. Specifically, Scotties were used for hunting small animals that were harmful to farm crops. These small dogs are known for their lively personality and distinctive looks.
Size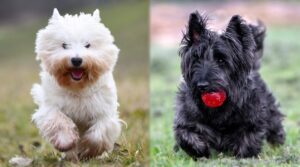 The size difference between Westies and Scotties is relatively unnoticeable to the untrained eye. However, these dogs differ slightly, with Scotties weighing slightly more than Westies.
However, their heights are highly similar, with male Westies only slightly taller than the average Scottie. Overall, however, the size of these dogs is very similar, making them easily confusable.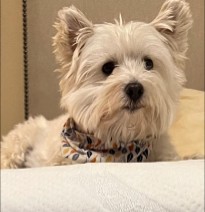 Westie (West Highland White Terrier) Size
Height: 11 inches (male), 10 inches (female)
Weight: 15 to 20 lbs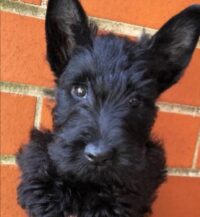 Scottie (Scottish Terrier) Size
Height: 10 inches
Weight: 19 to 22 lbs (male), 18 to 21 lbs (female)
Appearance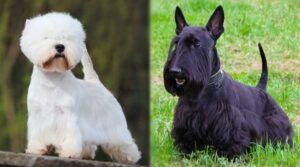 Knowing the distinct features of West Highland White Terriers and Scottish Terriers can help you distinguish between the two different breeds easily.
Yes, these dogs are similar in appearance, but they also have key differences that will come in handy when determining which type of dog you are looking at.
Westie Appearance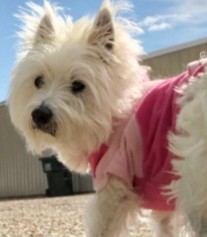 Westies are known for their snow-white coat color. It is said that these dogs were initially bred in different colors. However, Westies are now exclusively bred in white after one of these dogs was mistaken for a fox and subsequently killed.
Westies are also known to have dark, deep-set, almond-shaped eyes that stand in stark contrast to their white coat. Because of this contrast, Westies can appear very expressive, as their eyes are easy to see.
Together with their black noses, these eyes contribute to their unique appearance. West Highland White Terriers can also be identified by their small, pointed ears. These ears are smaller than the ears you will find on a Scottie, making them an easy distinguishing factor.
Additionally, Westies have rounder faces with shorter snouts compared to Scotties. However, their heads are slightly larger than expected compared to their tiny bodies.
These dogs have straight, medium-length, double coats. Double coats consist of a soft and insulating undercoat with a wiry topcoat. This coat kept these dogs warm during the cold Scottish winters.
Westies have straight tails that are 5-6 inches in length. These tails stick out from the body and are sometimes called "carrot-like" because of their shape.
Scottie Appearance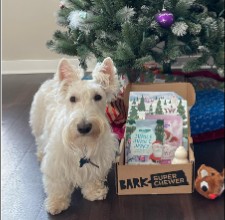 When it comes to Scottish Terriers, their coats can come in various colors. Scotties can be black, wheaten, and brindle in color. However, black is the most common. These different colors make these dogs very different from Westies.
Even though wheaten-colored Scotties may appear white, closer inspection will reveal that these dogs are not the same white as Westies. Scottie's are often seen as more serious-looking dogs.
This is mainly due to their distinguished eyebrows and beards. In addition to these areas, Scotties typically have longer hair around their legs and on their stomachs. Similar to Westies, Scottie's ears are pointed.
However, Scottie's ears are larger when compared to Westie's ears. These larger ears are easily distinguishable, especially when paired with the length of their snout. Scotties have longer and more angular snouts because of the size and shape of their skull.
This face shape is one of the easiest ways to tell the difference between Scotties and Westies. When it comes to the type and texture of their coats, Scotties are very similar to Westies. Both dogs have double coats with a soft undercoat and a wiry topcoat.
The body of a Scottish Terrier is significantly larger in length than in height. This makes these dogs different from Westies, who have more proportionate bodies. However, similar to Westies, Scotties also have straight, carrot-like tails.
Temperament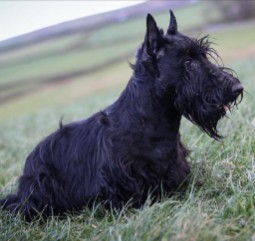 Temperament is one of the significant distinguishing factors between these two dog breeds. Knowing these common personality traits can help you decide which dog is best for you.
However, it is essential to remember that, like with any dog breed, early training and environment also play a prominent role in your dog's behavior and personality.
Westie Temperament
West Highland White Terriers are friendly, active, and courageous. These dogs are also loyal and affectionate towards their loved ones. Westies are known to be extremely friendly with children and even strangers.
These dogs do, however, tend to bark. But, this barking is because they are excited, not because they are protective. Additionally, West Highland White Terriers are active dogs who are always up for a game.
This active lifestyle can be credited to their origins as hunters. Overall, Westies are more warm, playful, and affectionate than Scotties. However, Scotties have their own merits.
Scottie Temperament
On the other hand, Scottish Terriers are slightly aloof and even grumpy at times. That being said, Scotties are extremely loyal puppies who become easily attached to their family.
This devotion means your Scottie will be fiercely protective, making it suspicious and aloof around strangers. Scotties are also known for being fiercely independent and confident. So, even though your Scottie is devoted to you, it may be stubborn at times.
This independence makes these dogs more challenging to train than Westies. Therefore, Scotties are not recommended for households with small children. One similarity between a Scottie's temperaments and a Westie's temperaments is their energy level.
Because both dogs were bred to be hunters since they love being in an active environment, however, unlike Westies, who are always willing to play, Scotties prefer to play on their own terms. So, if your Scottie is not in the mood for a game, it will ignore you until it is ready.
Dog Toy Recommendations: Best Dog Water Toys and Best Dog Toys For Separation Anxiety.
Training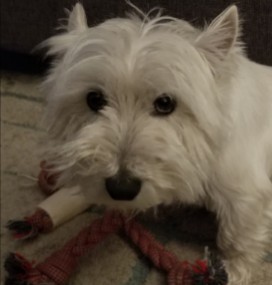 As you can see, although Westies and Scotties are similar in some ways, their temperaments are very different. Because of these differences, training is unique to each breed.
The easiest way to train your dog, regardless of the breed, is by starting at a young age. However, if you have adopted an older dog, the key to successful training is patience and persistence.
Westie Training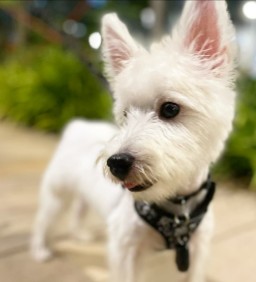 Westies are generally easier dogs to train and are recommended for first-time dog owners. These dogs are brilliant and eager to please. These traits make training a Westie easy.
Their origins as lone hunters do sometimes lead to stubbornness in Westies. However, these dogs respond extremely well to positive reinforcement. So, awarding your Westie with treats and praise can go a long way when training.
Scottie Training
On the other hand, Scotties are notoriously hard to train. This is because these dogs are independent and stubborn. However, Scotties are also intelligent dogs. So, it is not that these dogs cannot learn quickly, but instead, they like to learn on their own terms.
Therefore, Scotties need an assertive trainer who will provide clear and consistent commands. Many people struggle with training their Scottie, so hiring a professional trainer for this breed is highly recommended.
Related: How to Use an E-Collar to Train Your Dog and Negative Reinforcement Dog Training Guide.
Health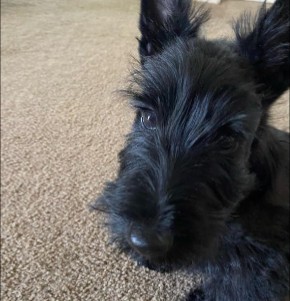 West Highland White Terriers and Scottish Terriers are considered relatively healthy dog breeds. Because of their history as hunters, both Westies and Scotties are high-energy dogs.
Luckily, these dogs are small, so their exercise needs are easily managed. Ample amounts of exercise and a healthy diet will help maintain your dog's overall health.
Westie Health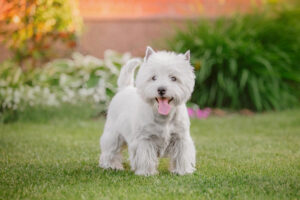 West Highland White Terriers are generally healthy dogs. These dogs have a long lifespan of 13-15 years. Your Westie will have a long and healthy life with proper exercise and nutrition.
Westies are high-energy dogs who need lots of exercises. These dogs love to run and chase things, so fetch is one of their favorite games. However, because they tend to track moving objects, these dogs are a flight risk, so it is recommended that you keep your Westie in a fenced-in yard.
These dogs also love going for walks and participating in agility sports. However, Westies require high-quality dog food that provides lots of nutrients when it comes to diet.
This food will give your dog the energy it needs to maintain its active lifestyle. Unfortunately, Westies are prone to obesity so. Therefore, you should be careful not to overfeed them.
Scottie Health
Scottish Terriers have a typical lifespan of 12 years. These dogs thrive on consistent exercise to maintain manageable energy levels. Scottish Terriers who are not given ample exercise may begin to act out.
This exercise, paired with a healthy diet, will ensure your Scottish Terrier is in good health and good spirits. Scottish Terriers love being active. Like Westies, a Scottie loves to play fetch because it gives them something to chase.
Additionally, tug-of-war is sure to engage your Scottie as these dogs are stubborn and want to win. You must be careful when choosing the proper food for your Scottie.
Unfortunately, these dogs are prone to skin irritation which can be worsened by certain foods. If you notice your Scottie is developing skin problems, it might be a sign to change its food. In this case, you should consult a veterinarian to help determine the best food for your dog.
Grooming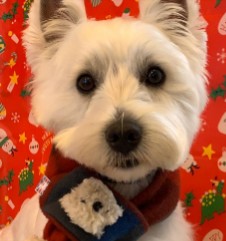 West Highland White Terriers and Scottish Terriers have double coats that require regular maintenance. In addition, proper grooming ensures your dog looks and feels its best.
Westie Grooming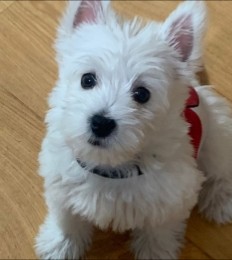 Westies have double coats that need to be groomed at least once a month. This is a process where you will remove dead hair from your dog with your hands. However, this process is time-consuming, so some people opt to have their Westie clipped instead.
This typically requires the expertise of a professional groomer to get that iconic Westie appearance. If you opt for this shorter look, you should aim to get your Westie groomed every 4-6 weeks.
Scottie Grooming
Like Westies, Scotties have double coats that need to be hand stripped regularly. If you do not want to provide hand stripping, you may choose to get your Scottie clipped every 6-8 weeks. However, unlike Westies, clipping your Scottie can change the texture and appearance of your Scottie's coat over time.
Dog Grooming Product Recommendations: Best Slicker Brushes For Dogs and Best Dog Grooming Kit.
Conclusion For "Westie vs. Scottie – Dog Breed Comparison"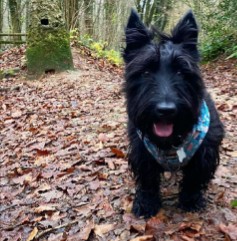 There are many similarities between Westies and Scotties. However, there are also many differences. These dogs have unique needs based on their breed. It's essential to keep these needs in mind when choosing the right dog for you.
If you're ready to adopt a Westie or a Scottie, check out our breeder recommendations:
You can learn more about different Terrier breeds by watching "Top 10 Popular Terrier Dogs" down below: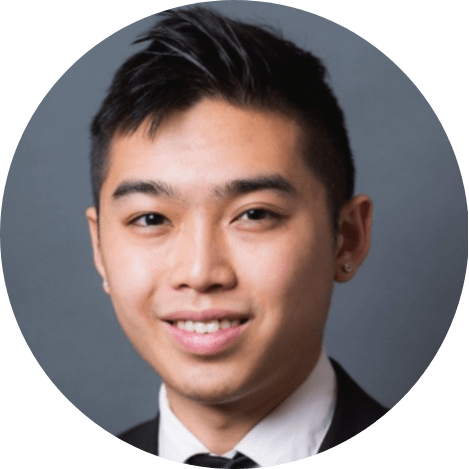 Andy is a full-time animal rescuer and owner of a toy doodle. When he's not saving dogs, Andy is one of our core writers and editors. He has been writing about dogs for over a decade. Andy joined our team because he believes that words are powerful tools that can change a dog's life for the better.
Why Trust We Love Doodles?
At We Love Doodles, we're a team of writers, veterinarians, and puppy trainers that love dogs. Our team of qualified experts researches and provides reliable information on a wide range of dog topics. Our reviews are based on customer feedback, hands-on testing, and in-depth analysis. We are fully transparent and honest to our community of dog owners and future owners.