The Valley Bulldog dog breed is an interesting mixed breed that you need to know about before adopting. When adopting a dog, it is crucial to do your part of the research on its breed before you make the final decision. This is the case for both pure-bred and mixed-breed dogs.
The Valley Bulldog dog breed originated in the Annapolis Valley. They are a mix of the Boxer and English Bulldog. The best thing about these dogs is that they're incredibly low-maintenance, both in terms of grooming and living requirements.
Keep reading below as we talk in more detail about this loving dog breed.
Before scrolling down this list of interesting facts about Valley Bulldog, check out: Bolonoodle Dog Breed Guide and Cavapoochon Dog Breed Guide.
13 Facts About the Valley Bulldog Dog Breed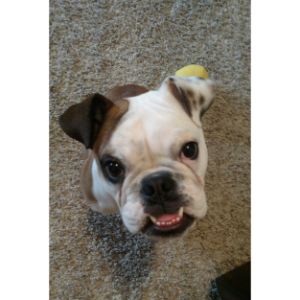 Following are some facts you must know about the Valley Dog.
1. History
The name "Valley Bulldogs" originates from the Annapolis Valley, which is located in Nova Scotia, Canada. The breed of dog in question got its start in this breathtaking part of the world, where its primary function was to herd cattle and keep an eye on the livestock that was kept on farms.
In the middle of the twentieth century, scientists uncovered evidence of the existence of these canines. The Valley Bulldog dog breed is still popular in this region because of its usefulness as a companion and worker.
The Boxer and the English Bulldog were used as the foundation for the breeding of these dogs, with the intention of producing a canine with a calm disposition, an athletic build similar to that of a Boxer, and the bravery and determination of an English Bulldog.
Crossing these two breeds also makes the Valley Bulldog a healthy dog by eliminating many of the hereditary health issues that are common in Bulldogs.
Originally a hybrid, purebred Valley Bulldogs are now produced by breeding members of the same breed. An estimated 15 generations have passed since the first purebred Valley Bulldog, also known as the Bull-Boxer, was born.
2. Valley Bulldog Maintenance
Although these dogs are very low-maintenance, special care must be given to the skin folds around their face, body, and tail. The health of your Valley Bulldog depends on your constant attention to these spots, which should be kept dry and clean to prevent infection. This should not take too much time, but it must be done every day.
These dogs have short fur that is incredibly low-maintenance. Due to their modest shedding, this breed needs only occasional brushing and bathing.
Brushing the dog's teeth is another requirement for the Valley Bulldog, and while this should ideally be done once per day, doing it three times per week is acceptable.
It is recommended to trim their nails as needed, which is often twice a month but might vary from dog to dog based on activity level. Cleaning your dog's ears on a weekly basis can help prevent ear infections.
If you want to raise a well-mannered and respectable dog, you should start with basic obedience training when the puppy is young.
3. Valley Dog Temperament
The Valley Bulldog dog breed has an exceptionally pleasant personality. Once taught and socialized, these dogs may be wonderful friends for people of all ages, in addition to other dogs and pets. However, they thrive most with people who are capable of taking on the position of pack leader.
The amazing temperament of the Valley Bulldog will make everyone in the family happy. This dog can switch from being quiet and kind to being lively and goofy in an instant. These pets are extremely devoted to their families and thrive in the company of those they adore.
They have a high drive to please, making them simple to train. In addition, the Valley Bulldog is an excellent guard dog because it will bark at strangers and report anything unusual. These lovable dogs require a strong master who can teach them proper manners and set boundaries.
4. Valley Dog Breed Activity Needs
These canines are prone to weight gain and require consistent physical activity and careful dietary management. The Boxer ancestry of the Valley Bulldog means that it will need regular exercise and may perhaps turn out to be fairly athletic. However, like its English Bulldog ancestor, this breed is prone to occasional clumsiness.
They need access to a secure, enclosed location because they will enjoy running around in an open area. They enjoy playing with toys, but their powerful jaws can gnaw through practically anything. To accommodate your Valley Bulldog's lively nature, invest in some tough chew toys.
They don't need a mansion because they're not a huge breed of dog. The breed usually does OK in a medium-to small-sized home if it has access to outdoor space and is able to get sufficient exercise.
The Valley Bulldog is sensitive to both hot and cold temperatures, so it's not wise to leave it outside or subject it to strenuous exercise in harsh conditions.
5. Valley Bulldog Grooming & Coat Color
The coats and colors of Valley Bulldogs represent a combination of those of their Boxer and English Bulldog parents. The most common colors for Valley Bulldogs are fawn, white, brindle, and tan. Their coats are never one solid color, but rather a combination of several, and usually include white markings.
They are not considered hypoallergenic because of their short coats. Thankfully, their coats don't take much effort to maintain. A once-weekly, thorough brushing should keep dirt at bay. They have the capability of self-grooming and are generally considered to be quite a clean breed of dog.
Valley Bulldogs are not well-suited to cold climates due to their short coats. In the colder months, your dog will need a sweater, and in the warmer months, you may want to protect its ears, nose, and other sensitive places that aren't as well covered by fur by applying sunscreen.
While grooming, keep a lookout for any redness, pain, or irritation on the skin, ears, nose, mouth, eyes, and feet that could indicate an infection. The odor of the ear canal should be normal, with no excessive wax or debris, and the eyes should be free of inflammation and discharge.
Your thorough weekly checkups will aid in the early detection of any health issues.
6. Is the Valley Bulldog Dog Breed Good With Children And Other Pets?
The Valley Bulldog is a fun companion for active kids of any age. But their boisterous play style may be too much for younger children, and they risk knocking them over.
Dogs and small children should never be left unsupervised; consequently, it's important to teach kids how to properly deal with dogs so that no one gets bitten or has their ears or tails pulled.
Don't let your kid near a dog while it's eating or sleeping, and make sure they know not to steal its food. Never leave a dog unattended with a child. When socialized at a young age, boxers typically get along well with other pets, even felines.
7. Feeding a Valley Bulldog
Valley Bulldogs are medium-sized, energetic dogs, so a diet designed for them should reflect that. Overfeeding them can cause them to gain weight, so it's important to keep to a set feeding schedule and remove access to food at other times. Restrict their access to goodies as well.
The nutritional requirements of a Valley Bulldog vary from puppyhood through adulthood and into old age, as is the case for all dogs. Since there is so much diversity among each dog in terms of weight, energy level, and health, you should consult your veterinarian for advice before making any changes to your Valley Bulldog's food.
8. Valley Bulldog Dog Breed Health
The Valley Bulldog shares a susceptibility to the same diseases as the Boxer and English Bulldog. Even if most are perfectly healthy, others may have predispositions to specific health problems, which is why it's crucial to purchase puppies from a reputable breeder and provide excellent care with routine veterinary examinations.
Among the most frequent ailments experienced by Valley Bulls are:
Skin Issues
Problems Breathing
9. Valley Bulldog Size
Being a relatively new hybrid breed, the Valley Bulldog has no established size norms. Nonetheless, as a result of their Boxer and English Bulldog ancestry, Valley Bulldogs tend to be larger.
Most average between 50 and 125 pounds and 12 and 25 inches in height. Due to the novelty of the breed, however, certain individual dogs may be significantly smaller or larger than average.
Ask the dog breeder about the size of the parent dogs, and ask them about the size they estimate the puppies will be.
10. Valley Dog Living Requirements
As a small dog, the Valley Bulldog doesn't require sizable living quarters. It'll thrive in a small space like a condo or flat. But there are moments when it is quite active inside. At times, it gets very worked up and goes on a brief rampage, racing wildly about the house. It doesn't make a difference how big or small your home is; it is still going to happen.
The wild behavior will only last a short time, so stay out of its path and give your dog some exercise. This is a hilarious thing to watch.
These canines should never be exposed to extreme temperatures or weather conditions. They need a safe place to sleep inside.
11. Training
The Valley Bulldog dog breed is moderately bright and, as such, is typically very responsive to training. They learn quickly because they are eager to please and motivated by food. They will perform as you command simply because you have ordered them to, and they respond rapidly to food rewards.
Puppy lessons along with other obedience training should begin as soon as possible. They are more likely to become unruly if not trained, with their greater stature and hyperactive attitude.
Taking advantage of these courses is the most convenient way to do it. It also provides them with an important opportunity to interact with dogs of different breeds.
Although these canines respond well to training, they might become distracted easily. When guests arrive, these dogs are often too enthusiastic to pay attention to you. Attention training is absolutely necessary.
12. Male vs Female Valley Bulldogs
Males Valley Dogs tend to be larger than females. However, as a result of their hybrid status, their sizes can vary widely. But often speaking, male Valley Bulldogs will be larger than females.
This is the only distinguishing feature between the sexes. They share a lot of personality traits, and it's hard to tell which one is more aggressive.
13. Valley Bulldog Cost
The Valley Bulldog is a hybrid dog. Consequently, the price is lower than that of a purebred animal. Typically, the price of a puppy from this hybrid breed ranges from $600 to $1200. The average annual budget for food, health care, and other necessities should be around $1,200.
Finding Valley Bulldog-specific breeders is difficult because the breed is an uncommon cross. You'll need to perform your own investigation into breeders and their reputation because they aren't certified with breed standards.
Read books, surf the web, and sign up for breed organizations. Talk to the owners of any nearby dogs to find out what they think of the breeders. Never buy a dog from an unknown breeder without first meeting them in person. Make sure you get to meet the mother of the puppy you want to adopt as well.
FAQs
What breeds make a Valley Bulldog?
Valley Bulldogs are a mix between a Boxer and an English Bulldog. This designer breed was created in Annapolis Valley in Canada to be working dogs that herd cattle and manage livestock. The result is a dog that is sturdy, energetic, has fewer health issues than either purebred parent breed, and is a smart, loyal companion.
Are Valley Bulldogs good with kids?
Valley Bulldogs are great with kids. They do best when they're socialized young, but enjoy being around kids. They are energetic and love playing with older kids, but are too large for toddlers and young children because they knock them down.
Are Valley Bulldogs rare?
Valley Bulldogs aren't exactly rare, but they're not a very common designer breed. If you're looking for a Valley Bulldog, you might need to travel to pick up your puppy or have them shipped. Be sure to find a reputable breeder that is knowledgeable about their dogs, the parent breeds, and who is willing to let you visit the breeding facility to ensure it is a clean place and not a puppy mill.
Conclusion For "Valley Bulldog Dog Breed Guide: Interesting Facts"
The Valley Bulldog dog breed is an adorable and well-liked dog in the United States. And now that you have read and understood all of this information about Valley Dogs, it's safe to say that there won't be any surprises when you bring this dog home.
Valley Dogs are an active designer breed that is easy to train. They have a low-maintenance coat but are sensitive to harsh weather. They also love their families who need to be careful around children because of their size and are friendly dogs when socialized early. These dogs are prone to the same health conditions as either parent breed but are generally healthier than a purebred dog because of their mixed genetics.
If you find this list of interesting facts about the Valley Bulldog dog breed, you can check out these other guides from our team at We Love Doodles:
If you find the Valley Bulldog an interesting dog breed, you can learn more about this dog breed by watching "Valley Bulldog: All About Boxer and English Bull Dog Mix" down below:
Garrett loves animals and is a huge advocate for all Doodle dog breeds. He owns his own Goldendoodle named Kona. In addition, he volunteers at the Humane Society of Silicon Valley, where he fosters dogs and helps animals. Garrett enjoys writing about Doodles and believes that dogs can teach humans more about how to live than humans can teach a dog.
Why Trust We Love Doodles?
At We Love Doodles, we're a team of writers, veterinarians, and puppy trainers that love dogs. Our team of qualified experts researches and provides reliable information on a wide range of dog topics. Our reviews are based on customer feedback, hands-on testing, and in-depth analysis. We are fully transparent and honest to our community of dog owners and future owners.