For countless people, life without their furry friends isn't complete. We put a lot of time, energy, and money into their care and have concerns about their well-being. GPS collars are another method of caring for our furry friends. One of the most popular GPS collars right now is from Tractive, whose reviews are mostly positive.
The Tractive reviews show why this incredibly low-priced GPS collar hits the mark. It is easy to set up, intuitive to use, and has many functions to keep track of your pet's location. The Tractive collar also offers additional capabilities to keep your pet active and healthy.
This Tractive GPS pet tracker review will help you understand all there is to know about these incredible devices. We'll cover how the Tractive collar works, then jump into how to use the Tractive GPS and finish up with some of the essential features and an overall Tractive review.
Before you scroll down this review, "Tractive Reviews – Does This GPS Collar Work," you can check out these other reviews from our team at We Love Doodles: Halo Dog Collar Review and Dewel Flea and Tick Collar Review.
How Does Tractive Work?
Tractive GPS dog and cat collars are wonderful devices that keep your furry friends safe. These GPS-enabled collars use cellular technology to provide detailed geographic data about your dog or cat, even when they are far away.
From your end, you can manage all features of the collar through the free Tractive GPS app. This is the primary way for you to keep tabs on your pet. Within the app or monitoring website, you can set parameters, receive alerts, and keep an eye on the location of your pets. You can also check their location history, activity levels, and sleep patterns.
The collar itself works similarly to cell phone tracking. The Tractive GPS collar has a SIM card that connects to nearby cellular networks. The SIM regularly and automatically sends its GPS location through the cellular network, which you can see from the Tractive app or website.
The service is functional wherever cell phone service exists. To make sure this happens no matter where you are, Tractive has partnered with several cellular providers in over 150 countries to give you coverage nearly everywhere. In the United States, the collar uses AT&T, Viaero, T-Mobile, and Verizon networks to send information.
Thanks to its ease of use, Tractive reviews voice a lot of support for this device. You don't have to be a tech wizard to keep track of your pet!
How To Use Tractive GPS
No one wants to fumble through a complicated process to use a safety device. Thankfully, using Tractive GPS is quick and painless. Once you follow these basic steps, you can comfortably keep an eye on your dog or cat from anywhere. Even halfway across the globe!
Tractive has made using their GPS collar as straightforward as possible. It's simply a matter of charging the device, enabling the SIM card, and attaching the Tractive GPS tracker to your pet's collar. Then you're ready to view your pet's immediate location through the Tractive app or website.
You'll also find plenty of other information and functions on the app to help you ensure the safety of your dog or cat.
Step 1: Charge It Up
When you first receive your device, it will come in the box with the GPS tracker, a charging cable, and a rubber clip.
Like almost every electronic device in the world, the first step is charging your Tractive device. Without battery power in the collar, it will not be able to detect GPS locations or send information to cellular networks.
If it's not already charged, begin by plugging the device into an outlet. Once it's fully charged, the Tractive GPS collar is ready to go.
Enable the SIM Card Connection
The next step is to enable the SIM card, which is a crucial part of using Tractive GPS. Without activating the SIM card, the collar cannot send any information over cellular networks. Once again, this is a fairly quick and painless process.
Each Tractive GPS collar includes a built-in SIM card. This makes it easy to activate through the Tractive app or website. Then, it will instantly connect to the GPS and cellular networks it needs to communicate.
Since the Tractive GPS collar relies on a cellular network, you have to activate the Tractive GPS subscription plan. Thankfully, just like Tractive's initial purchase price, the cost of the cellular subscription service is quite reasonable.
You can get the lowest price by agreeing to a two-year commitment. If you do that, the price is around $5 per month. Sticking with a one-year commitment increases the price to a reasonable $7 per month approximately. If you prefer to take things one month at a time with no commitment, the price is about $12 per month.
Attach To Collar and Begin Tracking
Once charged and activated, attach the GPS tracker to your pet's collar using the rubber clip. The clip securely fits any collar or harness up to 1 inch wide, allowing you to keep your pet's favorite collar or harness in place.
And that's it!
Now, your Tractive GPS collar is ready to go. Open the Tractive GPS app or go to the website through a browser to see your dog's or cat's current location, location history, activity monitoring, and more.
Tractive GPS App Functions
Other things people love in Tractive reviews, besides the low price, are the collar's several capabilities and functions.
Most importantly, it provides the current location of your pet. This is the most significant feature because it helps you find your dog or cat, even if they escape or get lost. But the app has many other functions as well!
Virtual Fence: Safe Zones and No-Go Zones
Our favorite function is the Virtual Fence, which allows you to specify 'Safe Zones'. This often includes your house and yard but can include up to five different areas. If your pet escapes from a Safe Zone, you'll receive an alert.
This features ensures your pet is safe at your home, at your friends' houses, at doggy daycare, or wherever your pet might spend significant time. As soon as they leave the area, you'll know.
Use the app or website to set up each Safe Zone. It's a simple process with an intuitive interface. You can select many shapes and change the size to fit the safe zone. The best part is that once you set it up, you can easily copy the Safe Zones to other Tractive collars if you have more than one pet.
It can also do the reverse function. Instead of setting up Safe Zones, you can identify specific areas as 'No-Go Zones'. If your dog or cat enters these areas, you'll immediately receive an alert so you can get them out. This is especially useful for dangerous areas, such as places with wild animals, tall cliffs, or deep bodies of water.
Live Tracking and Location History
While the Virtual Fences are incredible, the live tracking feature is perhaps the most crucial component of the Tractive collar. This is what allows you to see exactly where your pet is at any moment.
The live tracking is updated every two to three seconds, so you can follow your pet even if they've escaped.
On top of that, the location history information shows where your pet has recently been. You can finally see how your dog or cat spends the day! Are they popping over to the neighbors to say hello? Or are they lounging on the couch all day?
Monitor Exercise, Sleep, and Fitness Goals
Smartwatches have been booming in popularity. They help humans ensure sufficient exercise, monitor sleeping patterns, and achieve fitness goals. Now with the Tractive GPS dog and cat collar, you can do the same for your pet!
The Tractive Activity Monitoring allows you to review their activity levels, check their sleep patterns to ensure quality rest, and set goals to keep your pet in shape.
This is a massive step forward in pet care. Many pet owners have concerns about how much exercise their pets are getting. Now you can have accurate information to verify they receive enough. It can be an excellent way to help an overweight dog or cat shed additional pounds.
Tractive GPS Pet Tracker Review
The Tractive GPS pet tracker is an excellent device to help you keep tabs on your beloved pet. By using GPS and cellular technology, you ensure your dog or cat is in a safe location. And even if the worst arises and they escape, you can track them down and get them back home safely.
The Pros
The GPS collar can fit nearly any collar, plus it is small and lightweight, weighing only 1.2oz (35g). While it is perfect for most dogs and cats, Tractive recommends it for pets above 8.8 pounds (4 kg).
Another aspect we liked while testing for this Tractive GPS review is the battery life. It can last up to 7 days without recharging, giving you peace of mind that you can monitor for long periods away from home.
However, the battery life depends on usage. If you use the live tracking function, the battery will deplete the quickest. But by setting up a Power Saving Zone at home, you can maximize battery life.
Water is no problem for the Tractive GPS collar. It is IPX7 waterproof and shock resistant. This means that it can be fully submerged in 3.3 ft (1m) deep water for up to 30 minutes and still work properly after that. Your pup will have no problem swimming with this collar!
Another thing we love is the improved connectivity. GPS and cellular networks are always subject to congestion and network problems. But thanks to Tractive's constant push for improved technology, it provides some of the best and most accurate tracking available.
On top of all that, the Tractive GPS collar has a built-in light, sound, and battery charge display. With one quick look at the collar, you can quickly figure out how much battery life is left and take action if needed.
The Cons
One downside we noticed was that the alarm would frighten our dog. It would play its high-pitched melody that our pup ended up hating.
Another downside is that the collar requires the use of a cellular network. While this allows for more accurate tracking, it becomes useless in areas without reliable cellular coverage.
GPS is also subject to some limitations, especially around tall buildings, cliffs, or mountains. This is not unique to the Tractive collar, though. It is a fundamental element of how all GPS systems function.
Frequently Asked Questions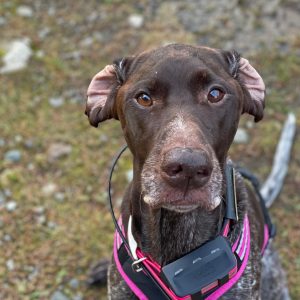 Is Tractive safe for dogs?
Tractive is perfectly safe for dogs. In fact, it will improve your dog's safety by giving you live updates on your pup's location!
Does Tractive GPS work without cell service?
Unfortunately, the Tractive GPS does not work without cell service, as it relies on cellular networks to provide detailed location information.
What cellular network does Tractive use?
In the United States, the Tractive GPS Collar uses T-Mobile, AT&T, and Viaero Wireless cellular networks.
Summary of Tractive Reviews: A Solid Bang for Your Budget
The Tractive GPS pet collar is an excellent way to add a level of safety and security for your dog or cat. By using a GPS-enabled collar connected to cellular networks, you can monitor your pet's live location, location history, and other important activities.
The reasonable prices of the collar and cellular subscription plans make Tractive GPS collars an attractive option. Adding in their easy-to-use interface with tons of incredible functions, the Tractive GPS pet collar provides incredible value for priceless peace of mind.
If you find this review, "Tractive Reviews – Does This GPS Collar Work," helpful, you can check out these other review guides from our team at We Love Doodles:
You can learn more about Tractive dog collar by watching "The COMPLETE Review Of The NEW Tractive GPS LTE" down below:
Garrett loves animals and is a huge advocate for all Doodle dog breeds. He owns his own Goldendoodle named Kona. In addition, he volunteers at the Humane Society of Silicon Valley, where he fosters dogs and helps animals. Garrett enjoys writing about Doodles and believes that dogs can teach humans more about how to live than humans can teach a dog.
Why Trust We Love Doodles?
At We Love Doodles, we're a team of writers, veterinarians, and puppy trainers that love dogs. Our team of qualified experts researches and provides reliable information on a wide range of dog topics. Our reviews are based on customer feedback, hands-on testing, and in-depth analysis. We are fully transparent and honest to our community of dog owners and future owners.