This guide will help you find the best summer cuts for Golden Retrievers. Golden Retrievers are famous for their long, beautiful feathering coats. However, having a dog in the house with long hair, especially during the summer months, can make you wonder if there are summer cuts for Golden Retrievers.
No matter what dog you own, they will need grooming. Golden Retrievers often come up as a topic for grooming in the warmer months because their long coats appear to be heavy and hot and are usually shed more during the summer.
Before you scroll down this list of summer cuts for Golden Retrievers, you can check out these other similar guides from our team at We Love Doodles: Best Types of Aussiedoodle Haircuts With Pictures and Best Types of Cavapoo Haircuts.
The Golden Retriever Coat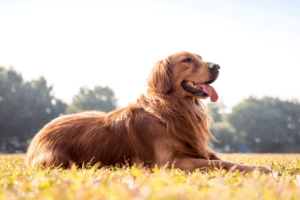 Golden Retrievers have a double coat, similar to other dogs, including the Shepherd, Husky, Border Collies, etc. Many breeds with a double coat have been bred for a purpose, with the Golden Retriever being ideal for a hunting companion.
Their undercoat is soft and short as it protects their skin, keeping them warm in the colder months and cooler in the summertime. Their outer coat is longer and will flow into a feathering style of thinner hair. Golden Retriever's hair has excellent water resistance, and this coat can help keep them warm in cold water and protected while out in the sun.
These dogs require regular brushing to remove any mats and help distribute their natural oils throughout their body for healthy skin and coat. So, does this mean you can never cut your Golden Retriever's hair? Of course not. When done correctly, many summer cuts will work for your pet.
More Golden Retriever Guides: Best Shampoos For Golden Retrievers and Best Golden Retriever Breeders in the United States.
Be Careful When Shaving a Golden Retriever
Because of this breed's double coat, shaving their hair can be harmful to them in more ways than one. Without a proper undercoat, your pet's skin is vulnerable to sunburn, insect bites, and other skin irritations. In addition, they cannot regulate their body temperature without it and can become overheated or too cold.
When you shave both coats, a Golden Retriever's hair will grow back differently than it should. The undercoat may grow faster than the outercoat of guard hairs, making their hair change color and texture and appear patchy.
They may also suffer from follicle damage due to improper hair growth after shaving. One of the best ways to minimize dog hair in your home when you own a Golden Retriever is to perform regular brushing.
Try to give them a thorough brushing at least once per week to help remove any shedding undercoat as their bodies adjust to the warmer temperatures. Combining regular brushing with a summer cut can minimize those hairs you find around your house.
Article Recommendations: Best Types of Bernedoodle Haircuts.
List of Summer Cuts For Golden Retrievers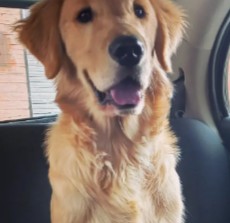 If you are a new owner looking for information on grooming a Golden Retriever for summer, there are several ways to achieve a stylish cut and ensure your pet is comfortable. Here are the top summer cut choices for your four-legged friend.
Puppy Cut
Show Cut
Simple Trim
Summer Cut
Teddy Cut
1. Puppy Cut
The Puppy Cut is a terrific summer cut for Golden Retriever dogs that can look adorable and keep their coat intact. This style is a simple way to keep your dog looking great, minimize the hair in your home, and ensure you do not improperly cut their double coat.
With this style, the dog's hair will be trimmed back to approximately ½-inch throughout their body. Although it is substantially shorter, it will still be long enough to keep your pet protected from the sun and other elements and keep their grooming needs simple.
2. Show Cut
The Show Cut is a style that will show off your pet's beautiful coat even through the summer. Although this option is mainly for dogs who attend competitions, anyone can opt for a Show Cut. However, it is longer than the other choices on this list, so many owners prefer an alternative.
This choice trims back any long hairs while focusing on maintaining the shape and flow of their coat. In addition, show Cuts will help amplify the feathering and keep their face, paws, ears, and sanitary areas trimmed back.
3. Simple Trim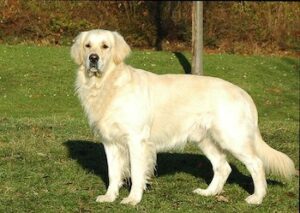 Ths Simple Trim is precisely what sounds like a viable option for your dog in the summertime. This grooming style will trim up any longer hairs, thin out the fur around the chest and neck areas, and include feathering for aesthetic purposes.
As a result, Golden Retrievers with a Simple Trim will look neater and less shaggy or unkempt. This style will keep your puppy comfortable during those hot days while still protecting them. Additionally, Simple Trims will not damage the undercoat, so you don't have to worry about regrowth being patchy or looking unattractive.
4. Summer Cut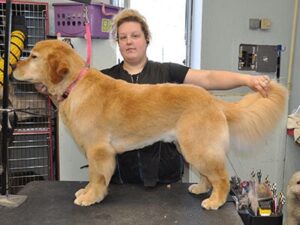 Naturally, there is a perfect choice for your Golden Retriever in the warmer seasons. The Summer Cut helps you lighten the volume of hair your dog has while still maintaining a stylish look. Using this cut on your dog can also reduce the amount of hair you will find in your home on these hot days.
The Summer Cut is similar to the Puppy Cut as it can be as short as ½-inch to 1-inch in length, but this choice focuses on maintaining your dog's coat shape and feathering. However, it requires careful attention to their feet, ears, neck, chest, and personal areas.
5. Teddy Cut
Another popular cut for your Golden Retriever is the Teddy Cut. This specialized style is ideal for dogs with double coats since it helps them maintain a proper body temperature, even during hot summer months. It does not affect their undercoat either, so owners do not have to worry about uneven hair regrowth.
The Teddy cut clips the body hair quite short, similar to a Puppy Cut. However, the tail and legs maintain their shape and flow, although trimmed back slightly. The hair on the paws will also have a natural form, making your lovable dog look like a fluffy teddy bear.
Cutting Your Golden Retriever's Coat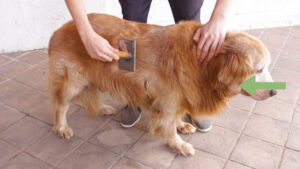 After exploring these five popular cuts perfect for your Golden Retriever, have you picked out your favorite? If this is the first time you want to groom your dog, it may be best to choose a longer style and see if you prefer it before going shorter.
Examining the method and cost of a summer cut for your Golden Retriever are more elements that owners should consider. Finding a groomer specializing in double-coated dogs will be best, so you are sure their undercoat will not sustain damage during a summer trim.
Additionally, some styles will cost more than others, making choosing easier if you follow a budget. Alternatively, owners may opt to trim their dogs at home to save time and money. While this process is a solution for many homes, owners should know how short to cut their Golden Retriever to avoid causing damage.
If this is the first time you trim your puppy, they may be nervous and move around or shy away from you. Home trims will likely require two people until your pet becomes accustomed to you grooming them regularly.
Conclusion For "Summer Cuts For Golden Retrievers"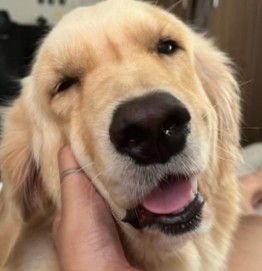 Grooming your Golden Retriever is an essential task. These dogs will need regular brushing and bathing to maintain a healthy coat. Alternatively, they can have a stylish summer cut without compromising their gorgeous hair, which helps keep down the volume of shedding you find in your house. Choose one of the five popular summer styles for your Golden Retriever, and they will keep looking great while remaining cool during the hot months.
For more guides similar to this list of summer cuts for Golden Retrievers, you can check out:
You can learn more about grooming a Golden Retriever by watching "Groom Your Golden Retriever At Home Like a Boss" down below:
Garrett loves animals and is a huge advocate for all Doodle dog breeds. He owns his own Goldendoodle named Kona. In addition, he volunteers at the Humane Society of Silicon Valley, where he fosters dogs and helps animals. Garrett enjoys writing about Doodles and believes that dogs can teach humans more about how to live than humans can teach a dog.
Why Trust We Love Doodles?
At We Love Doodles, we're a team of writers, veterinarians, and puppy trainers that love dogs. Our team of qualified experts researches and provides reliable information on a wide range of dog topics. Our reviews are based on customer feedback, hands-on testing, and in-depth analysis. We are fully transparent and honest to our community of dog owners and future owners.