If you mix the charming goofiness of a Poodle with the steadfast friendliness of a Bernese Mountain Dog, what do you get? You get a Bernedoodle!
As a breed, Bernedoodles were created in 2003 when Sherry Rupke, a Canadian dog breeder, decided it would be a great idea to cross a Standard Poodle and a Bernese Mountain Dog. She was right! There is something captivating about these fluffy, family-friendly teddy bear dogs.
Based on the Poodle used for breeding, Bernedoodles are available in three different sizes. The standard Bernedoodle is the largest size puppy that stands 15 to 29 inches tall and weighs 50 pounds or more. This is pretty close to the size of a Bernese Mountain Dog. However, the upside is that standard Bernedoodle puppies won't shed and are considered mostly hypoallergenic when compared to Bernese Mountain Dogs.
Below are a few of the best Standard Bernedoodle breeders in the United States, as well as some helpful tips and advice about this fun-loving dog.
Other articles you would like: Best Bernedoodle Dog Names and Bernedoodle Health Issues.
1. HC Bernedoodles
HC Bernedoodles is one of the top breeders of Bernedoodles in the country. Bernedoodles and Bernedoodle breeding are their passion, as well as Bernedoodle puppies. Their favorite thing to do is make families happy with their new Bernedoodle. The breeders at HC Bernedoodles breed for outstanding temperaments and fantastic family dogs.
Jason and Shayna have bred Bernese Mountain Dogs and Bernedoodles for about 16 years. Shayna's mother has been producing Bernese (and now Bernedoodles) for many years. She taught them all there is to know about breeding the best Bernedoodle puppies.
At HC Bernedoodles, they chose not to adhere to the standard procedure of having a waitlist, followed by most standard Bernedoodle breeders. In the end, they decided that it was just not ethical to guarantee puppy adoption in advance.
The process at HC Bernedoodles that they have established makes sense for them. They believe it is the most convenient and fair process for potential puppy owners to wait until the litter is approximately 5-6 weeks old. At this point, the Bernedoodle litter is posted, and you can individually reserve each puppy on a first-come, first-served basis.
HC Bernedoodles Puppy Information:
HC Bernedoodles Breeder Details:
2. Highfalutin Furry Babies
Highfalutin Furry Babies likes to think they're different from the rest. They do not do this because they thrive on matching the perfect puppy to the ideal family or because they ensure that every puppy they take home comes from parents who have been tested for genetic diseases. Instead, their intense love for this breed sets them apart from typical breeders.
Your Bernedoodle puppy is pampered weekly with a full oatmeal bath and blowout for 8-9 weeks while they are with them. In addition to nail trimming, the eyes and ears are cleaned. The dogs are also taught basic commands. The term "let's go potty" is also introduced. When starting crate training, they use a puppy pad near the back door to familiarize themselves with that area and associate it with going potty.
The "furry babies" leave them no problem walking on a leash and harness. You can be assured that your puppy will receive a lot of socialization. In addition to weekly car rides, they have exposure to farm animals and constant contact with pets, such as cats and dogs, as well as many kids.
Highfalutin Furry Babies Breeder Details:
3. Willow Brooke Standard Bernedoodles
Ron Kuepfer is the proud owner of Willow Brooke Bernedoodles. He lives on a 25-acre property with his family and their four-legged friends. A brook meanders through their property, bordered by willow trees. The kennel is named Willow Brooke for this reason.
In 2013, he became acquainted with a new breed, the incredibly beautiful standard Bernedoodle. His eyes were captivated by their gorgeous colors, happy faces, and friendly nature. They were also great with their babies – definitely a plus.
Their new dog kennel now meets and exceeds the township's regulations. Their dogs are not only able to call a comfortable building their home, but they also have a fenced pasture on half an acre where they can spend every day. In addition, during hot summer afternoons, the willow trees by the brook and the new shelter provide them with shade.
It's their mission to raise healthy standard Bernedoodle puppies for sale that grow up in a loving environment and given the best start in life possible.
Willow Brooke Bernedoodles Breeder Details:
4. Central Illinois Doodles
They are passionate about providing families with friendly, healthy, and non-shedding dogs at Central Illinois Doodles. Many doodles have hypoallergenic coats and are the perfect size for any yard.
Their goal is to raise puppies free from genetic conditions and provide exceptional care for all their dogs. Adult dogs are health tested and temperament screened.
Their number one goal is to place their dogs in forever homes that are right for them. Because of this, they breed only dogs that they would trust around their only family. It is the best way to ensure that they will never have to rehome your pet due to its personality.
Central Illinois Doodles Breeder Details:
Standard Bernedoodle Puppies
The standard Bernedoodle is a combination of two breeds, so it is common to see traits from both sides. You will definitely see both the intelligence and ease of training from the Standard Poodle side and the affectionate, loving behavior of the Bernese Mountain Dog. Bernedoodles, like Bernese Mountain Dogs, can be wary of strangers, so they should be socialized from an early age. They need a lot of attention and cannot be left alone for very long periods of time.
Training for Standard Bernedoodles
You should start training your standard Bernedoodle puppy while it is still young. Like the Bernese Mountain dog, a Bernedoodle can be a bit headstrong. However, a well-trained Bernedoodle puppy needs consistency, patience, and a gentle hand.
Health
As a mixed breed, Bernedoodles are very healthy. Because hybrid mix breeds have a much larger gene pool than purebreds, they are less likely to develop congenital health defects. However, it is not to say that a Bernedoodle cannot develop a health problem. All breeds have the potential to do so. For example, Bernedoodles can suffer from hip dysplasia, elbow dysplasia, eye problems, skin problems, Von Willebrand's disease, and degenerative myelopathy.
How to Choose a Standard Bernedoodle breeder?
Standard Bernedoodle breeders who have focused their efforts on one or a select few breeds are considered responsible breeders. Breeding, historical research, ongoing study, mentoring relationships, as well as showing, raising, and training these breeds have equipped them with knowledge about heritable defects, temperament, and behavior.
Ensure the breeder meets rigorous standards
Make sure you carefully read the health guarantee, especially if the animal hasn't been given diagnostic tests beyond a sickness exam. It is not uncommon for breeders to claim that an animal was sold with a perfect health certificate even if it becomes ill within a few days of purchase.
You should not trust breeder certifications and purebred registration papers. Always verify the information independently.
USDA-licensed breeders include responsible breeders and puppy mills. By leveraging this certification, puppy mills can make buyers feel comfortable without visiting their facilities.
Often, puppy mills sell puppies with papers from prestigious kennel clubs. An individual puppy's registration papers do not guarantee that it is healthy, free of genetic defects, or that its parents were raised in a humane environment.
Related Articles: Are Bernedoodles Hypoallergenic?
Where do you find a Standard Bernedoodle breeder?
Making an informed decision requires understanding what distinguishes a good breeder from a bad one. Knowing where to look is also important. Ask your veterinarian for names of trusted breeders she is familiar with and recommends. Also, your friends and family may be able to recommend breeders based on their previous experiences.
It is crucial to assess the breeder's qualifications before proceeding with a transaction, regardless of where you find your breeder.
Conclusion for Standard Bernedoodle Breeders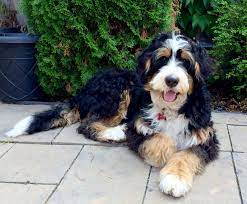 It is easy to fall in love with Bernedoodles; they are playful, affectionate, and loyal, but they require a lot of attention. If you're interested in getting a Bernedoodle as part of your family, do your research, reach out to a breeder and take the necessary steps.
Having a Bernedoodle as a pet is a beautiful experience. Nevertheless, it would help if you did your homework before buying a puppy from a standard Bernedoodle breeder. Best wishes on your exciting journey to become a Bernedoodle parent!
Other articles you would like:
Garrett loves animals and is a huge advocate for all Doodle dog breeds. He owns his own Goldendoodle named Kona. In addition, he volunteers at the Humane Society of Silicon Valley, where he fosters dogs and helps animals. Garrett enjoys writing about Doodles and believes that dogs can teach humans more about how to live than humans can teach a dog.
Why Trust We Love Doodles?
At We Love Doodles, we're a team of writers, veterinarians, and puppy trainers that love dogs. Our team of qualified experts researches and provides reliable information on a wide range of dog topics. Our reviews are based on customer feedback, hands-on testing, and in-depth analysis. We are fully transparent and honest to our community of dog owners and future owners.