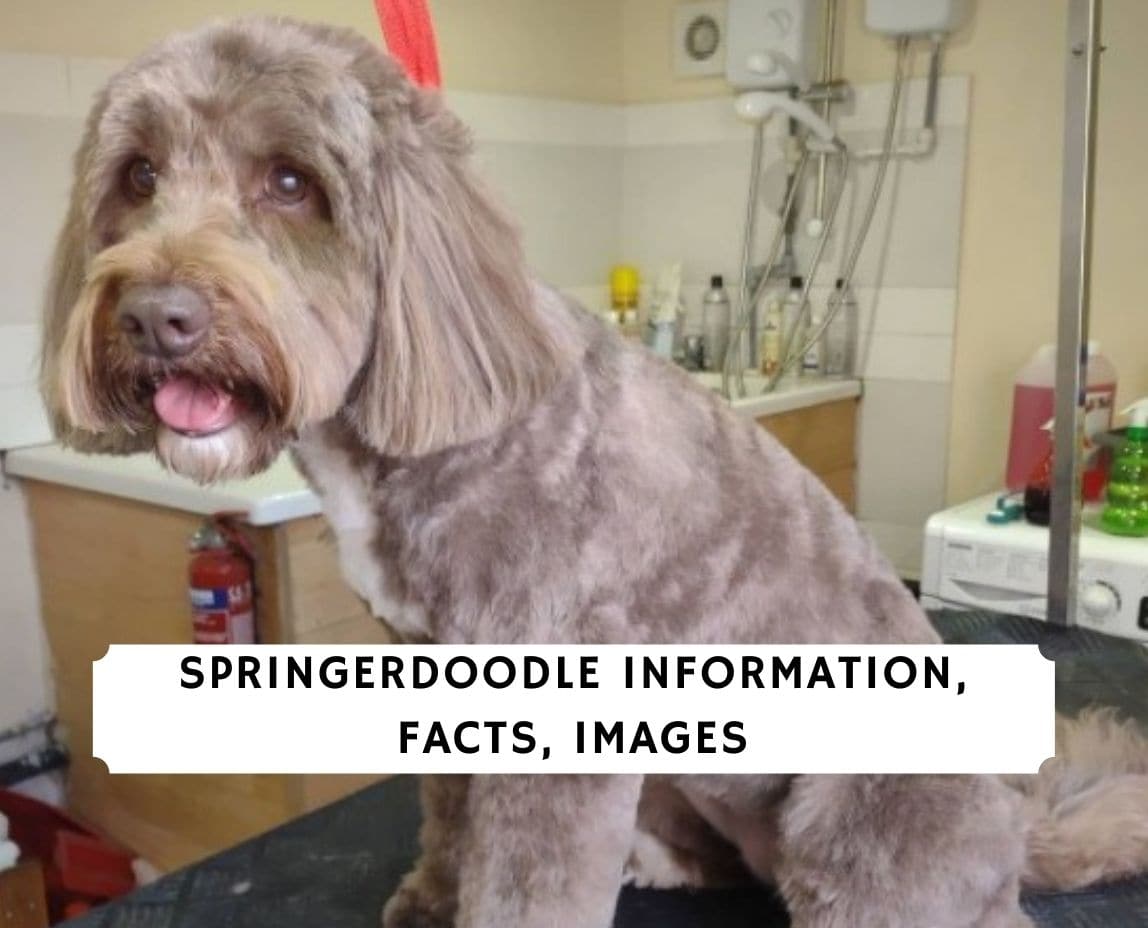 Have you ever wondered what combining an English Springer Spaniel and a Poodle would be like? Well, Springerdoodles are just that. These dogs have the beautiful low-shedding coats and intelligence of Poodles while also inheriting the playful and active personality of a Springer Spaniel. Essentially, these dogs get all the best characteristics of both parent breeds. Below, you will find everything you need to know about Springerdoodles. Who knows? Maybe you will even want to welcome one of these beautiful dogs into your family.
Before scrolling down this Springerdoodle guide, check out these similar breeds we covered: Golden Mountain Doodle Dog Breed Guide and Bernedoodle Dog Breed Guide.
What is a Springerdoodle?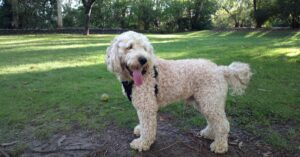 As the name suggests, a Springerdoodle is a designer dog breed combining an English Springer Spaniel and a Poodle. You may also know this unique breed as a Sproodle or a Springerpoo. Regardless of what you call them, these dogs are a special and lovable breed. Because of their parent dogs, Springerdoodles make great companions and love partaking in physical activities and sports. If you are looking for a dog who enjoys quality time with family and loves playing outside, this is the perfect breed for you.
Related: What is the Best Doodle Breed?
Physical Characteristics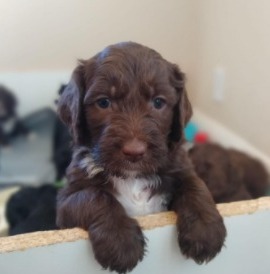 The physical characteristics of Springerdoodles greatly depend on the physical attributes of parent dogs. Poodles come in all colors and sizes, meaning they can pass on many different appearances to their puppies. On the other hand, English Springer Spaniels have a relatively uniform look. However, combining the two breeds can result in combining all these different physical traits, making uniquely beautiful dogs.
Size
When it comes to Springerdoodles, there are two different factors to consider when determining size: type and gender. There are two types of Springerdoodles that you can choose from. Springerdoodles can either be Standard or Miniature. Gender then plays a role in determining whether the dog is on the smaller or larger end of the size scale for its type. For example, a Standard Springerdoodle has a Standard Poodle parent. Standard Poodles are the largest Poodle.
Therefore, a Standard Springerdoodle is the larger of the two Springerdoodle sizes. Standard Springerdoodles are typically 14 to 24 inches tall and 28 to 60 lbs in weight. Males tend to be on the larger end of this range, and females tend to be smaller. However, it is essential to note that these dogs can be larger or smaller than the given measurements; these are average sizes for the breed.
On the other hand, Miniature Springerdoodles are small in size due to their smaller Poodle parent. Instead of mixing a Standard Poodle with an English Springer Spaniel, sometimes Miniature Poodles are used for breeding Springerdoodles, and that's how we get Miniature Springerdoodles. This type of Springerdoodle stands 10 to 15 inches tall and only weighs 5 to 25 lbs. Similar to the Standard Springerdoodles, females tend to be smaller than males.
Springerdoodle Product Recommendations: Best Inflatable Dog Bed.
Standard Springerdoodle
Male
Height: 16-24 inches
Weight: 30-60 lbs
Female
Height: 14-22 inches
Weight: 28-58 lbs
Miniature Springerdoodle
Male
Height: 10-15 inches
Weight: 15-25 lb
Female
Height: 5-13 inches
Weight: 5-15 lbs
It's important to note that most people classify any dog between 20 to 60 lbs and 8 to 27 inches as medium-sized. Therefore, Springerdoodles are generally considered medium-sized dogs. Even if you adopt a Miniature Springerdoodle with the hope of getting a small dog, you are likely to get a medium-sized dog. The only Springerdoodles that fall into the small dog category are typically only Miniature females. If you are looking for a small-sized dog, this limits your options.
Springerdoodle Product Recommendations: Best Dog House For Hot Weather.
Color
Springerdoodles come in a wide variety of colors because of their parentage. Poodles come in all colors, regardless of their size, so if your Springerdoodle takes after its Poodle parent more, it can be in various colors. On the other hand, English Springer Spaniels have specific colors and uniform patterns across the breed. Poodles can be white, black, grey, cream, apricot, red, brown, or any combination of these colors. So if a Springerdoodle takes after its Poodle parent more, there is a possibility of it being any of these colors.
Poodle coats can also come in different patterns such as parti, sable, brindle, and more. Therefore, these dogs can be a combination of these different colors with great possibilities for coat patterns. On the other hand, English Springer Spaniels have particular colors and patterns. These dogs are never solid in color. Typically they are a combination of two or three colors, generally black, white, or liver. In addition, these dogs usually have specific color markings around their ears, eyebrows, cheeks, and under their tails. Some Springerdoodles take after their Spaniel parent more and will have these same patterns and markings.
Other Doodle Breed Colors: Types of Sheepadoodle Coat Colors and Types of Cavapoo Colors.
Coat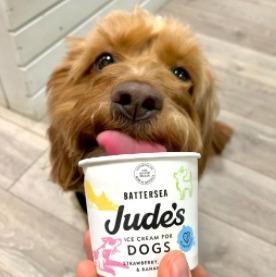 Many Springerdoodles take after their Spaniel parent to coat texture as they inherit their double coats. Double coats work in a way that is akin to the layering of clothing. The undercoat of a Springerdoodle regulates temperature while the topcoat assists with insulation. This double coat is very thick and dense and can be medium or long. Some Springerdoodles have curlier hair than others because of their Poodle genetics. Generally speaking, most Springerdoodles have wavy hair.
This hair is a perfect in-between of the long, feathery hair typically found among English Springer Spaniels and the curly hair of a Poodle. Poodles are non-shedding dogs, while English Springer Spaniels are moderate shedders. Springerdoodles typically inherit an in-between coat that is low to moderate shedding. This may vary between dogs, with some Springerdoodle puppies shedding less than others. However, Springerdoodles are considered moderate shedders year-round.
Other Distinct Features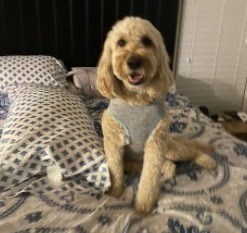 Springerdoodles sometimes have other distinct features that they inherit from their Spaniel parent. For example, Springer Spaniels are known for their large soulful eyes. These eyes can be found on some Springerdoodle puppies. Additionally, the long, floppy ears of an English Springer Spaniel can sometimes find their way over to Springerdoodle puppies. These ears are a distinct feature of the Springer Spaniel breed and differentiate Springerdoodles from other Doodle puppies.
Grooming
Regardless of the length of a Springerdoodle's hair, it will need regular grooming. These dogs require frequent brushing and ear inspection to maintain health and beauty. Springerdoodles need brushing 2 to 3 times a week to prevent matting. Because of their thick, dense hair, Springerdoodle coats quickly develop knots. The guaranteed way to minimize knots is by brushing your Springerdoodle often. This also helps with shedding as it gathers stray hairs into one concentrated area.
Due to their ears' long and floppy nature, Springerdoodles need daily ear inspections and cleanings to prevent debris from being caught. Inspecting in and around the ears for dirt means you can concentrate on cleaning this critical area. If you find that your Springerdoodle is suffering from ear infections, ask your veterinarian about a pet-safe ear cleanser that you can use to clean the ears to prevent buildups and ear infections.
On the other hand, the rest of a Springerdoodle's body does not require as frequent cleaning. Therefore, these dogs do not require regular bathing. Try to limit baths to when your Springerdoodle is dirty because of being outdoors. Bathing your Springerdoodle too frequently can disturb the natural oils of the skin and create irritation. Lastly, because of their thick double-coat, Springerdoodles can become extremely warm during the summer months.
Therefore, getting your Springerdoodle trimmed every 6 to 8 weeks is a great idea when the weather is warm. However, it is essential to be careful when trimming a double-coated dog. If you cut the undercoat too short, it can negatively affect growth and temperature regulation during the winter months. Suppose you are not familiar with the proper techniques of grooming a double coat. In that case, you can take your Springerdoodle to a groomer who will ensure your dog has the perfect haircut for coolness and comfort.
Helpful Dog Guides: How Long Does Dog Grooming Take and Best Dog Grooming Shears.
Temperament
Springerdoodles are bred mainly for their great temperaments. These dogs are affectionate, intelligent, and energetic, making them a great addition to any family. However, if you are looking for a guard dog to alert you to strangers, this may not be the dog for you. They are incredibly loyal to their loved ones, but they have a low tendency to bark. Although they may be suspicious of new people, they will usually remain quiet. The affectionate nature of these dogs is inherited from both parent breeds. They are gentle and sweet-natured, making them an ideal dog for any family of any size.
They are happiest when spending time with their loved ones, doing activities. Springerdoodles are also known for their extremely high intelligence. This intelligence also contributes to their ability to learn quickly. Therefore, training a Springerdoodle is relatively effortless, making them an excellent choice for first-time dog owners. Their energetic nature is another well-known trait of Springerdoodles. These dogs have extremely high energy levels because both Poodles and English Springer Spaniels are active dogs. Therefore, if you are thinking of adopting a Springerdoodle, you must ensure you have enough time and energy to give the dog the exercise it needs.
These dogs are happily playing a game with their family or simply going for a walk. It's essential to keep in mind that Springerdoodles need at least 60 minutes of physical activity each day. Without proper exercise, these dogs may become restless and naughty. In addition to this physical exercise, Springerdoodles also need mental stimulation. They get bored quickly, which may lead to inappropriate chewing and other naughty behaviors. You should provide your Springerdoodle with a mental activity such as a food puzzle to avoid these negative behaviors.
Dog Questions: Why is My Dog So Clingy and Why Does My Dog Stare Into Space?
Health
Like many designer dog breeds, Springerdoodles can inherit health problems that are commonly found among both parent breeds. However, Springerdoodles are considered robust and healthy dogs with a long life expectancy of 10 to 15 years. One of the most significant factors of a long and healthy life for Springerdoodles is good breeding. Reputable breeders conduct health tests to reduce the likelihood of heritable illnesses from being passed down to puppies.
Therefore, the more reputable the breeder, the more likely your Springerdoodle puppy will remain ailment-free. That being said, some illnesses cannot be prevented regardless of genetic testing. Springerdoodles are prone to some of the most common diseases found among Poodles and English Springer Spaniels. Below you will find the most common illnesses for Springerdoodles. Some of these come from Poodle genetics, some from Springer Spaniel genetics, and others are both.
This does not mean your dog will have health problems; it means that it could have:
Hip Dysplasia
Hypothyroidism
Eye Problems
Ear Problems
Addison's Disease
Helpful Guides For Dog Health: Best Dog Foods For Joint Health and Rare Dog Diseases Every Owner Should Know.
Cost
If you want to adopt a Springerdoodle, you will have to be prepared for the price. This breed is a relatively new phenomenon, so it is hard to find them in rescues and shelters. Therefore, your choices for adopting a Springerdoodle puppy are limited to breeders and pet stores. Adopting a Springerdoodle from a breeder can cost anywhere from $1,000 to $3,000 depending on size, color, gender, and availability. This may seem pricey, but reputable breeders ensure you are receiving a healthy and happy puppy. On the other hand, if you decide to adopt a Springerdoodle puppy from a pet store, you could be paying anywhere from $500 to $2,500.
If you are thinking of adopting from a pet store, make sure you do your research beforehand. When choosing a pet store, you should always ask where the puppies are coming from. Reputable pet stores will be able to provide customers with health test results and other breeding information. Therefore, it's essential always to know exactly where your puppy is coming from. Unfortunately, there are a lot of puppy mills in the business that try to sell unhealthy puppies. Therefore, checking the source for your puppy helps ensure you receive the healthiest and happiest puppy possible.
Conclusion For "Springerdoodle Information, Facts, Images"
As you can see, Springerdoodles are a beautiful breed that makes a great addition to families of all sizes. These dogs are loving, loyal, and affectionate, so they are so happy to spend time with their loved ones. Just remember, Springerdoodles need physical and mental exercise; otherwise, they can become bored. So, if you have the time and energy for one of these dogs, contact a reputable breeder today and get started on welcoming a beautiful Springerdoodle into your life.
If this Springerdoodle guide helped you, check out these guides from WeLoveDoodles:
To learn more about this mixed breed, watch "Introduction to the Sproodle (Springerdoodle)" from Big Doodle Dreams down below: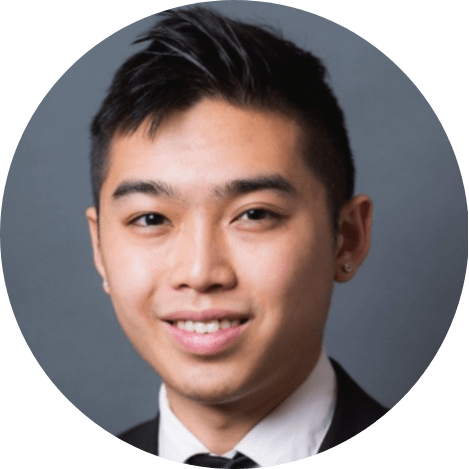 Andy is a full-time animal rescuer and owner of a toy doodle. When he's not saving dogs, Andy is one of our core writers and editors. He has been writing about dogs for over a decade. Andy joined our team because he believes that words are powerful tools that can change a dog's life for the better.
Why Trust We Love Doodles?
At We Love Doodles, we're a team of writers, veterinarians, and puppy trainers that love dogs. Our team of qualified experts researches and provides reliable information on a wide range of dog topics. Our reviews are based on customer feedback, hands-on testing, and in-depth analysis. We are fully transparent and honest to our community of dog owners and future owners.