Here's what you need to know about this Poodle mix before further exploring the reverse F1B Bernedoodle. Bernedoodles are quickly becoming a popular hybrid dog breed that many dog lovers want for their homes, and that's truly a wonderful thing.
This type of dog is the result of crossing two separate species, the Poodle and the Bernese Mountain Dog, to create a hybrid offspring. Some new terminology that can come with these hybrids is the reverse F1B Bernedoodle. Breeding hybrid dogs is not an exact science, unfortunately.
Creating desirable litters of puppies is not as precise as it can be with purebred dog breeds because of the variances between both parents. However, there are ways to alter which characteristics and traits breeders prefer in offspring by carefully selecting parents and specific generations.
Before scrolling down to a more in-depth answer to this question, "What is an F1B Bernedoodle," you can learn more about this Poodle mix with these guides from our team at We Love Doodles: Best Bernedoodle Generations and What is a Teddy Bear Bernedoodle?
H
ybrid Dog Breed Terminology
To understand how the hybrid dog breeds work, knowing the terminology and what the generations signify can help dog owners choose the pet that is right for them. Any time crossbreeding occurs, breeders will keep track of the parent's lineage.
This way, they have a better chance of predicting the outcome of coat color, texture, disposition, and size of future litters. Although it may not be as exact as having puppies from two purebreds of the same breed, careful selection can help create hybrid Bernedoodles that carry more traits of one parent than the other.
When exploring hybrid or designer dogs, the common terminology you will see can include:
F1
F1B
F1BB
F2
F2B
F2BB
Multigen
Each term refers to a specific generation of breeding parents for the resulting offspring. For example, the F1 will signify first-generation puppies, while F2 dogs are second-generation offspring. Once a breeder begins to back breed hybrids with purebred parents, the B is added to the generation identification to keep track of the lineage.
Related: Bernedoodle Size Guide.
Distinguishing the Various Generational Traits of a Bernedoodle
The generational breeding of Bernedoodles can be complex when breeders aim to enhance specific traits of the Poodle or Bernese Mountain Dog in future litters.
The distinguishing F stands for filial or the generation place holder with the number following. When a breeder includes a B to the lineage, this indicates there is back breeding to enhance specific characteristics.
Learn About The F1 Bernedoodle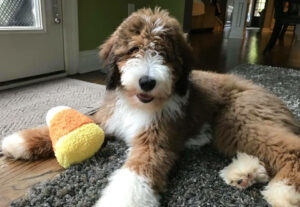 F1 Bernedoodles are the first generation of this hybrid breed. To create an F1 dog, breeders will cross a purebred Poodle with a purebred Bernese Mountain Dog. The resulting puppies will contain 50% genetic makeup from each parent. However, it is hard to determine how F1 puppies will look as there can be a significant variance in hair color, texture, body size, and disposition.
Learn About The F1B Bernedoodle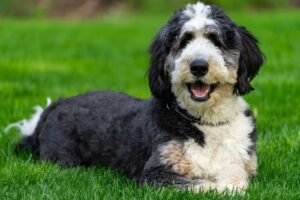 An F1B Bernedoodle is backcrossed breeding method to intensify specific traits of one purebred parent. For example, to have a litter of F1B puppies, breeders will take an F1 Bernedoodle and cross it with a purebred Poodle mate.
The resulting puppies will contain 75% Poodle characteristics and 25% Bernese Mountain Dog traits. These dogs are ideal for people who like the unique look of a Bernese Mountain Dog but want one that is low shedding to minimize pet allergy symptoms.
This generation will typically sport a curly coat of hair and may come in many different colors, depending on the Poodle parent lineage. In addition, they will have a slimmer build than other generations and will typically be smaller in size.
Related: Best F1B Bernedoodle Breeders in the United States.
Learn About The Reverse F1B Bernedoodle
A reverse F1B Bernedoodle is similar to F1B, except that the crossbreeding methods are opposite. To create a reverse F1B Bernedoodle, breeders will take an F1 Bernedoodle parent and cross it with a purebred Bernese Mountain Dog.
This alternative will create puppies with 75% Bernese Mountain Dog traits with only 25% of Poodle qualities. Although an F1B reverse Bernedoodle will contain genetics from both parents, they are not ideal for people with allergies to pet dander or hair.
These dogs will have a broader structure and build similar to Bernese Mountain Dogs. In addition, they will typically grow larger than standard F1 Bernedoodles.
The possibility of a tri-color coat is more likely than in other Berenedoodle generations because of its more dominant traits, although it is still not guaranteed.
The coat on a reverse F1B Bernedoodle will typically be medium length and wavy. They will shed more than standard F1 dogs but not as much as purebred Bernese Mountain Dogs.
Related: 10 Facts About Adult Bernedoodles.
Learn About The F1BB Reverse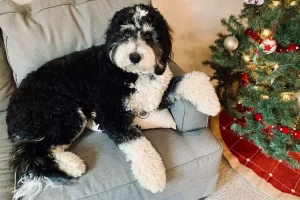 Another alternative to the reverse Bernedoodle is the F1BB generation. Breeders will take an F1B Bernedoodle and mate it with a purebred Bernese Mountain Dog. The resulting puppies will have 62.5% Bernese Mountain Dog traits and 37.5% Poodle characteristics. Although hybrid breeding is not an exact science, once breeders dive into the back breeding methods, they can amplify traits more easily with the resulting puppies.
Learn About The F2, F2B, and Multigen Bernedoodle
An F2 Bernedoodle will result from crossing two F1 Bernedoodle parents together. This generation of puppies will still contain 50% of traits from both breeds. However, as further breeding continues with later generations, the resulting puppies can be easier to predict based on parental characteristics.
Second generations that use backcrossed breeding will result in one parent being an F1 while the other is an F1B Bernedoodle. Here, reverse breeding can also help to amplify traits such as coat color or disposition that dog owners prefer.
Anytime a Bernedoodle uses F2 generational parents or further, they fall under the Multigen classification. Some hybrids will also introduce other breeds into the genetic lines, like Labradoodles, to create Multigen Bernedoodles.
Reasons Why People Choose a Reverse F1B Bernedoodle
Choosing a Bernedoodle for your home is a major decision. There are so many options with generational lineage that can help you decide which puppy will be best for you and your lifestyle. The coat and size are some considerations when exploring a reverse F1B Bernedoodle.
Coat
If you favor a tri-color Bernedoodle, selecting a reverse F1B generation dog is your best bet. Although resulting litters can include some tri-color even in other generations, the possibilities are less due to the diversity of Poodle colors available.
The coat texture and length can also help some dog lovers decide. Not everyone will prefer a dog with tight curly hair from a Poodle parent. Back breeding with Bernese Mountain Dogs helps to minimize these characteristics and provides a medium-length coat that is wavy rather than curly.
Size
Back breeding Bernedoodles can create puppies with more specific traits desirable to potential pet owners. One positive element of owning a Poodle is the wide variety of sizes available. However, Bernese Mountain Dogs do not have such a wide range of sizes. This size restriction may contribute to dog lovers considering a reverse Bernedoodle.
Where other generations of Bernedoodles can include higher Poodle traits to alter the total size of puppies, back breeding with Bernese Mountain Dogs will introduce more dominant traits of the larger breed. Therefore, if pet owners want a small hybrid dog, selecting a reverse F1B Bernedoodle may not be the best choice.
Related: Bernedoodle Pros and Cons and When is a Bernedoodle Full Grown?
Conclusion For "What is a Reverse F1B Bernedoodle"
Hybrid dog breeds like the Bernedoodle are a well-loved choice for many homes. These dogs are loyal, fun-loving, and have moderate to high energy, making them terrific companions to take along on adventures. Reverse F1B Bernedoodle dogs will contain more qualities than the Bernese Mountain Dog.
This breeding method ensures that puppies will be larger and look more similar to the dominant breed while incorporating some Poodle traits, like low shedding or adding waves to the coat. If you are interested in a reverse F1B Bernedoodle, talk to the breeder and find out if their puppies are the right fit for you and your home.
For more Bernedoodle guides from our team at We Love Doodles, you can check out:
If you find this reverse F1B Bernedoodle guide informative, you can learn more about this Poodle mix by watching "Top 10 Pros and Cons of Owning a Bernedoodle" down below: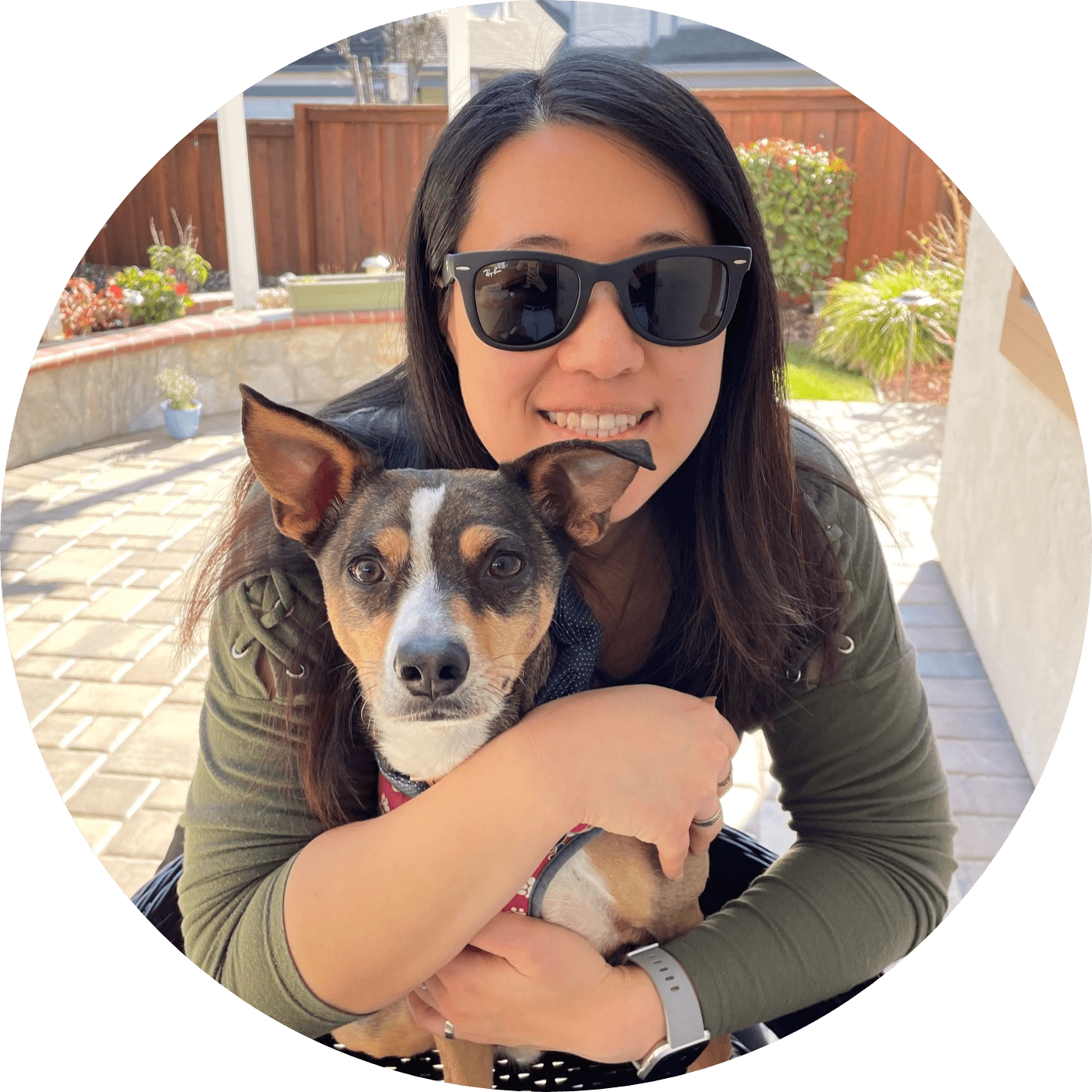 Dr. Sabrina Kong graduated from the Royal Veterinary College in England in 2016 and has been working at a small animal clinic in Northern California since then. She grew up in the Bay Area and got her bachelor's degree from Cal Poly San Luis Obispo. She also became a Certified Canine Rehabilitation Practitioner through a program at the University of Tennessee.
When she isn't in the clinic taking care of her four-legged patients, she enjoys traveling and trying new foods with her friends and her three-legged dog, Apollo. She adopted Apollo from her clinic when he was a puppy with numerous health issues. Dr. Kong truly cares about taking care of animals.