There are many reasons your Maltipoo won't eat, but it's especially concerning when they're usually a voracious little eater. So, what are the reasons that your Maltipoo won't eat?
Several reasons could be causing your dog's decreased appetite, which includes lack of hunger, toxin ingestion, disliking the food, mouth pain, vaccines, stress, etc. There are some things you can do to help your Maltipoo but it is best to consider contacting the vet.
Read on to learn more if your Maltipoo suddenly loses their appetite and becomes lethargic, barely touching their food all day.
Before reading this guide "Reasons Your Maltipoo Won't Eat," check out: Do Maltipoos Bark a Lot? and Which Maltipoo Size?.
Reasons Why Your Maltipoo Won't Eat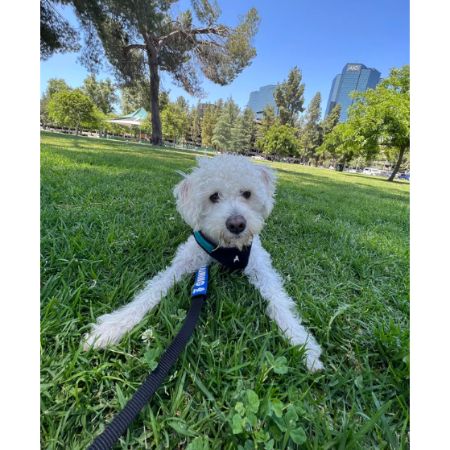 When your Maltipoo shows a lack of appetite and refuses to eat, there are several potential causes to consider. Let's explore some of the most common reasons why your Maltipoo might be avoiding food.
Not Feeling Hungry
One of the reasons your Maltipoo won't eat could be that the temperature might be too hot for your Maltipoo to feel hungry as usual. Heat causes a lack of appetite in many animals and is normal.
If you typically leave dog food out all day for your Maltipoo, you may likely have lost track of his eating schedule, and he may have already eaten. Similarly, it's possible that a family member fed your dog, and you were unaware of it.
In other situations, your dog may have found something else to eat. For instance, leftover food on the counter or your dog could sneak into the neighbor's cat's food bowl.
Something Toxic
If your dog has accessed something unusual and shows no interest in food, it's essential to consider the possibility that the item could be toxic to him.
While dogs are intelligent, they cannot distinguish between their favorite treats and potentially harmful things like a chocolate cupcake. They may be tempted to consume it if it smells appealing to them.
To ensure your dog's safety, thoroughly inspect your home and yard for any signs of mischief. Watch for symptoms of poisoning, such as vomiting, diarrhea, seizures, and excessive drooling. If you notice these symptoms, call your vet.
It is best to remember that foods aren't the only thing that can be toxic to dogs. Some garden plants, insects, and other naturally occurring substances can also cause sickness in your dog. Ingesting these toxins might be a possible reason your Maltipoo refuses to eat.
If this is the reason your Maltipoo won't eat, it's because they feel ill and need treatment. Be vigilant and take appropriate measures to keep hazardous items out of your pet's reach. If you suspect any poisoning or health concerns, consult your veterinarian immediately.
Disliking Their Food
One of the reasons why your Maltipoo won't eat is might be because he has grown disinterested in his current food. It's possible that offering the same food day after day has led to boredom with his options. Another possibility is that the food has gone rancid or stale.
Consider diversifying your dog's meals by switching up his kibble or introducing some variety from your kitchen, such as eggs, rice, plain chicken, turkey, or lamb. Dogs can also enjoy carrots and apples as treats, and a dab of peanut butter on apples can make for an enticing snack.
If, despite these changes, your Maltipoo still refuses to eat, there could be an underlying problem that needs attention. By introducing new and appealing options, you can encourage him to enjoy his meals again.
Mouth Pain
Dental issues are widespread in senior dogs but can occur at any age, leading to discomfort while eating. Look for signs like discoloration, bleeding around your dog's lips, gums, and tooth decay.
Like humans, dogs can suffer dental aches, pains, and disorders if their teeth are not regularly brushed. If you suspect your dog is in discomfort due to dental problems, it's essential to take him to the vet.
The vet can provide appropriate treatment, including options like deep cleaning or tooth extraction to alleviate your dog's pain and improve his oral health.
Vaccines Or Sickness
Like vaccines in humans, vaccines in dogs can also have side effects. It's common for your dog to feel lethargic and have a slight fever in a day or two following rabies, distemper, or other vaccinations.
It should not cause undue concern, as it is a normal reason why your Maltipoo won't eat. During the veterinary appointment, discussing any problems with your vet is advisable.
Once you return home, ensure your dog has access to plenty of water and food to graze on at his own pace as he recovers. If your dog experiences persistent symptoms and side effects for more than a few days, it would be wise to contact your vet for further guidance.
While extremely rare, some dogs may have adverse reactions to vaccinations, necessitating medical attention. Monitoring your dog's wellbeing after vaccination and seeking professional advice ensures his health and safety.
Likewise, your Maltipoo might be refusing to eat because he's feeling unwell, especially if he hasn't received vaccinations. Just like humans can lose their appetite when sick, your dog may be unable to eat when he's not feeling well.
Stress Or Anxiety
Various forms of anxiety, including separation anxiety, fear, excitement, and even sadness, are common in dogs and could be the reason behind your Maltipoo's refusal to eat.
Events such as moving to a new household, a death in the family, introducing a new pet or child, family dynamic changes, an injury, or alterations in your work schedule can affect your dog and his appetite. These are just a few life changes that may impact your pet's eating habits.
If you notice any concerning changes in your dog's behavior or eating patterns, consider consulting a vet or a trainer for advice on helping your Maltipoo return to its usual cheerful self.
For those with separation anxiety, enrolling your dog in doggy daycare for socialization during your absence or hiring a local dog lover to play with or walk your dog several times a day could be beneficial.
You can also change their environment to add a comfortable dog bed, toys for mental stimulation, or soft music while you're away. These measures can help alleviate anxiety and encourage your Maltipoo to eat regularly again.
When Should You Worry?
A healthy dog with fresh water can go without food for about five days, but this is far from ideal. It's normal for your dog to miss a day of eating if he's unwell, recently vaccinated, or has ingested a toxin. However, if the lack of appetite persists, you must start reaching out to your vet.
Your dog's appetite will usually return within a few days. However, if it doesn't, it could indicate an underlying issue, such as dental problems, an illness, or something else. In such cases, seeking the help of a veterinarian becomes crucial to identify and address the root cause of the problem.
How Much Should Your Maltipoo Eat?
Sometimes, what may seem like a loss of appetite is normal eating behavior for a Maltipoo. However, if your Maltipoo isn't eating, you must check the dog food packaging to determine the correct serving size for your dog.
In most cases, providing high-quality food with real meat, grain, and fats will typically require feeding a cup or a cup and a half to your Maltipoo. However, if your dog is highly active, this amount might need to be adjusted accordingly.
Remember that senior dogs and puppies will need slightly less food than adult Maltipoos, and they require a different formula to meet their specific needs. If you have any inquiries regarding the appropriate food brand for your dog, don't hesitate to consult your veterinarian for guidance.
FAQs About Eating Habits Of a Maltipoo
Is it normal for Maltipoos to not eat?
It is not normal for any dog, including Maltipoos, to refuse to eat for an extended period. Dogs are generally known for their love of food, and a sudden loss of appetite can cause concern.

Several factors can contribute to a Maltipoo or any dog not eating, including:

Illness or health issues

Dogs may go off their food when feeling unwell or in pain. Dental problems, digestive issues, infections, or other health conditions could be the cause.

Stress or anxiety

Changes in the environment, routine, or any stressful situation can decrease a dog's appetite.

Change in diet

Another reason your Maltipoo won't eat is from switching to a new type or brand of food. This can sometimes cause reluctance to eat.

Recent vaccinations or medication
Some dogs may experience a temporary loss of appetite after receiving vaccinations or taking certain medications.

Age

Older dogs may eat less due to decreased activity.

Picky eating habits

If dogs are accustomed to getting human food or excessive treats, they may become choosy about their regular dog food.

While a temporary loss of appetite can be expected for dogs under certain circumstances (e.g., hot weather or minor stressors), if your Maltipoo consistently refuses to eat for more than a day or shows other concerning symptoms like vomiting, diarrhea, lethargy, or any behavioral changes, it's essential to consult a veterinarian.

A veterinarian can help identify the underlying cause and provide appropriate treatment.
Do Maltipoos have digestive issues?
Like all dog breeds, Maltipoos can be prone to specific health issues, including digestive problems. However, it's important to remember that not all Maltipoos will experience these issues, and proper care and a balanced diet can often help prevent or manage digestive problems.

Some common digestive issues that Maltipoos and other small dog breeds may face include:

Food Allergies or sensitivities

Maltipoos, like other dogs, can develop allergies or sensitivities to certain ingredients in their food, leading to digestive upset, such as diarrhea or vomiting.

Gastrointestinal upset

Maltipoos can experience occasional upset stomachs due to eating something they shouldn't have, such as table scraps, toxic foods, or non-food items.

Pancreatitis

This condition involves pancreas inflammation, which high-fat diets or fatty foods can trigger.

Gastrointestinal parasites

Dogs, including Maltipoos, can contract gastrointestinal parasites like worms, which can cause digestive issues.

Bloating and gastric dilatation-volvulus (GDV)

Although more common in deep-chested breeds, GDV, or "bloat", can also affect smaller species like Maltipoos. It's a severe and life-threatening condition that requires immediate veterinary attention.

Irritable bowel syndrome

This condition can lead to chronic digestive problems in dogs, including diarrhea, vomiting, and abdominal discomfort.
How do I get my stubborn dog to eat?
Getting a stubborn dog to eat can be a challenging task, but there are several strategies you can try to encourage your dog to eat and make mealtime more enjoyable for them:

Check for health issues

Before trying anything else, rule out potential health issues by taking your dog to the veterinarian. A loss of appetite can be a sign of an underlying health problem that needs to be addressed.

Ensure a quiet and calm environment

Some dogs may be easily distracted or stressed during mealtime, especially in a noisy or busy environment. Create a peaceful and calm setting for your dog's meals.

Stick to a regular feeding schedule

Establish a consistent feeding routine with set meal times. That helps your dog develop a regular eating pattern, making them more receptive to food.

Limit treats and table scraps

Avoid giving your dog too many treats or table scraps between meals, as this can decrease their appetite for regular food.

Offer fresh food

Ensure your dog food is fresh and not spoiled. Dogs have a keen sense of smell, and bad food might turn them away from their bowl.

Try different food types

Experiment with different types of dog food, including various flavors or textures. Some dogs might be picky about their food, and finding a variety they prefer can make a difference.

Warm the food

Slightly warming your dog's food can release more aromas and make it more appealing to them.

Add tasty toppings

Sprinkle a small amount of low-sodium chicken broth, plain yogurt, or a little bit of cooked meat (without seasonings) on top of the food to enhance its flavor.

Use interactive feeders or puzzle toys

Some dogs enjoy the challenge of interactive feeders or puzzle toys, which can make mealtime engaging and fun.

Offer food by hand

Hand-feeding your dog or offering food can entice them to eat.

Limit access to food

If your dog is grazing throughout the day, consider limiting their access to food by offering meals at specific times and removing the food bowl in between.

Avoid power struggles

Don't force or punish your dog to eat. That can create a negative association with mealtime and make the situation worse.

Remember, patience is critical when dealing with a stubborn eater. No matter the reason your Maltipoo won't eat, it may take some time to determine what works best for your dog. If your dog's refusal to eat persists or is accompanied by other concerning symptoms, consult with a veterinarian to rule out any medical issues and get professional advice tailored to your dog's specific needs.
Conclusion For "

Reasons Your Maltipoo Won't Eat"
A Maltipoo's sudden loss of appetite and lethargy can be distressing for any dog owner. While some temporary changes in appetite are regular, persistent refusal to eat should prompt you to seek veterinary assistance.
By identifying the reasons your Multipoo won't eat and implementing appropriate solutions, such as offering a variety of foods or addressing dental issues, you can help your Maltipoo return to a healthy and regular eating pattern.
Remember to maintain a consistent feeding schedule, create a calm environment, and consult a vet if needed to ensure your dog's well-being and happiness.
If you find this guide, "Reasons Your Maltipoo Won't Eat," helpful, check out:
Learn more by watching "10 Things Only Maltipoo Dog Owners Understand" down below:
Garrett loves animals and is a huge advocate for all Doodle dog breeds. He owns his own Goldendoodle named Kona. In addition, he volunteers at the Humane Society of Silicon Valley, where he fosters dogs and helps animals. Garrett enjoys writing about Doodles and believes that dogs can teach humans more about how to live than humans can teach a dog.
Why Trust We Love Doodles?
At We Love Doodles, we're a team of writers, veterinarians, and puppy trainers that love dogs. Our team of qualified experts researches and provides reliable information on a wide range of dog topics. Our reviews are based on customer feedback, hands-on testing, and in-depth analysis. We are fully transparent and honest to our community of dog owners and future owners.