If you aren't familiar with the Pyredoodle dog breed, you may wonder how big they can get and what Pyredoodle sizes are available. Some breeders also refer to this mix as Pyrepoos, Pyreneespoos, and Pyreneesdoodles.
Dogs can come in all sizes, especially when creating a hybrid from two distinct types. Is there more than one Pyredoodle size? How big does this crossbreed get?
You will get Pyredoodles by mixing the Great Pyrenees with a Poodle. This guide will cover all the size details regarding this popular dog breed, so you know what to expect if you are considering bringing a Pyredoodle home.
Before reading this guide, "Pyredoodle Sizes: Toy, Miniature, & Standard," check out: When Is a Pyredoodle Fully Grown? + Growth Chart! (2023) and 6 Best Pyredoodle Breeders in the United States! (2023).
How Big Will a Pyredoodle Puppy Get?
Do you love having a big dog around the house, or prefer a small-to-medium breed? While some dog lovers like a certain size, others select a pet based on its other attributes, like exercise and grooming requirements.
Pyredoodles are a newer hybrid breed, so their adult sizes can vary due to several components and are not always readily known.
If you are a new dog owner or have no experience in gauging the size of a dog, some contributing factors that may alter a Pyredoodle's size include:
The breeding parents' sizes.
Generational genetics.
The dog's sex.
We'll cover each of these topics in-depth below.
The Breeding Parents' Sizes
When looking for a puppy, many pet owners will ask breeders if they can see the parents. This request is typical as it can help individuals gauge how big the litter of puppies will be. Examining the breeding parents can be a terrific indicator of a puppy's size, especially with hybrid breeds, like the Pyredoodle.
For example, if both parents are relatively close in size, you can expect the puppies to be similar. In contrast, if one parent is smaller than the other, the offspring could fall somewhere in between.
Consequently, in some litters, breeders may have some smaller pups that resemble one parent, while others take on attributes from the other parent.
Genetics can be tricky, however. Although each puppy will contain DNA from both parents, they may have more dominant traits from the sire or the dam that will help determine their overall size.
In addition, it's important to note that female puppies are often similar in size to their mother, while male puppies typically grow to be close in size to their father.
Generational Genetics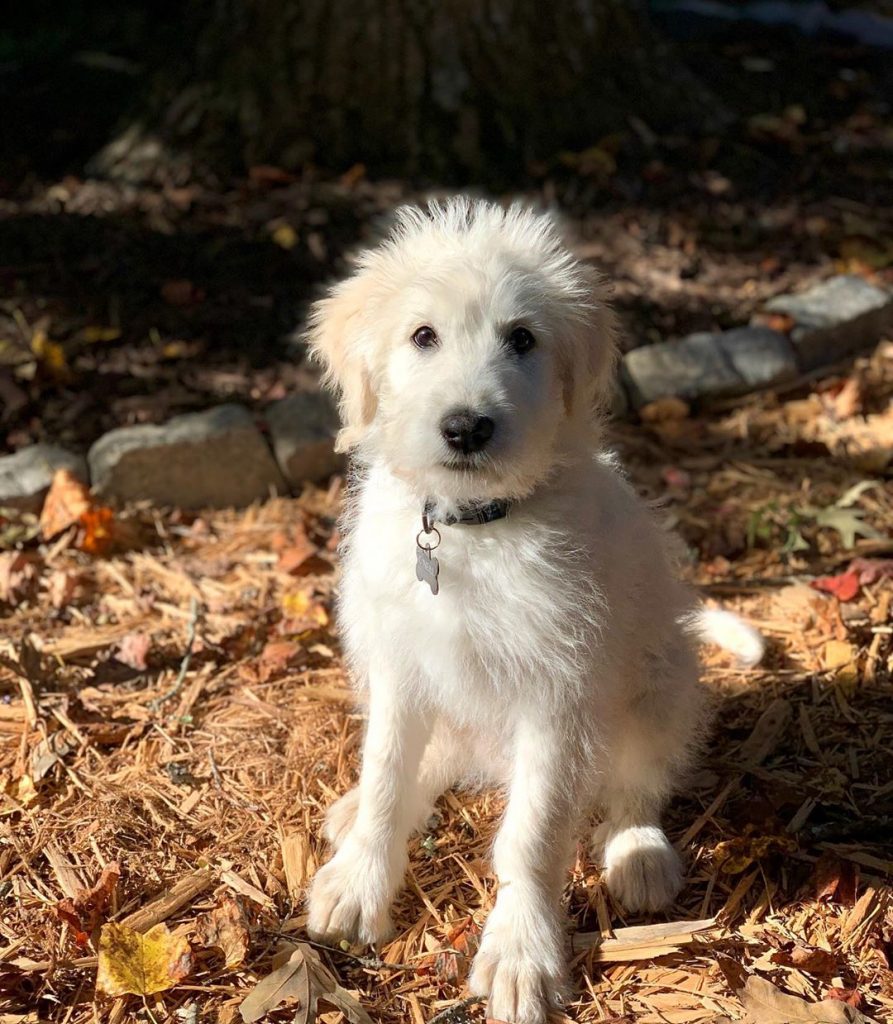 The Pyredoodle is a hybrid dog breed. So, generational genetics will help determine a puppy's size. For example, crossing a purebred Poodle with the Great Pyrenees provides first-generation (F1) puppies. This choice is often the most readily available litter from breeders of this hybrid dog.
Many breeders will aim to narrow a litter's size and temperament by selecting specific breeding parents to bring out ideal traits. Therefore, some breeders will breed two F1 Pyredoodles, resulting in a second-generation (F2) litter. The deeper the generations go within a hybrid breed, the more focused a dog's attributes can be, including size.
In addition, breeders looking for a distinct size will sometimes back-breed a first-generation or second-generation Pyredoodle with a smaller or larger parent to isolate this trait. As a result, the puppies will carry more Poodle genetics with smaller-sized genes that will be more dominant.
For example, if a breeder has a Pyredoodle parent that is the smallest of the litter, they may back-breed it with a Toy Poodle to produce even smaller Pyredoodles. Consequently, too much back-breeding with tiny dogs, or runts, can create health problems with litters, so it isn't a common practice.
The Dog's Sex
Although the dog's sex is not a surefire way to determine its adult size, this element can be an indicator. On average, male dogs are more likely to be larger than their female counterparts. This distinction is often more apparent in larger dog breeds than small ones.
Male dogs will often be taller, heavier, and more muscular than females of the same breed.
However, there could be some litters where one or more females are larger than the males. Genetics is not an exact science, and although males are typically bigger overall, it isn't 100% accurate.
The Sizes of Pyredoodles
Now that you understand how variable a dog's adult measurements can be, we'll dive deep into the Pyredoodle sizes that breeders aim to produce.
For some individuals, these dogs look bigger than they are because of the wavy coat they inherit from their Poodle parents. This trait gives them a fluffier appearance, giving the illusion of a giant dog.
The Mini Pyredoodle
When it comes to Mini Pyredoodles, these dogs are not as miniature as some dog lovers believe. Because the Great Pyrenees is a large-breed dog without smaller versions, it isn't genetically possible to breed a Teacup Pyredoodle or a Toy Pyredoodle litter.
So, a Mini Pyredoodle is the smallest version of this hybrid breed. It's the result of crossing the Great Pyrenees with a Miniature Poodle. However, it is highly unlikely that puppies from this combination will be small enough to resemble the Poodle parent's size.
When you mix a large dog breed that can be up to 32 inches tall and weigh around 100 pounds with one a fraction of that size, the puppies will differ significantly. Although they will not be as compact or small as a Miniature Poodle, they will be considerably smaller than a typical Great Pyrenees.
Pet owners bringing home a Mini Pyredoodle should expect their puppy to grow to around 20 inches tall and weigh 60 to 80 pounds. Smaller offspring may fall into the medium-size category, making them ideal companions for dog lovers who aren't looking for a giant dog.
Of course, first-generation puppies are harder to predict sizes, so if you want the most petite options, you should search for a breeder specializing in F2b or F3b litters. This way, a smaller Pyredoodle is back-bred with a Miniature Poodle to reintroduce smaller size genetics.
The Standard Pyredoodle
The Standard Pyredoodle is the most common option for this hybrid dog breed. These puppies come from mixing a purebred Great Pyrenees with a Standard Poodle. Even though Standard Poodles are not small dogs, they can still be significantly more petite than their breeding partner.
This Poodle size will generally measure over 15 inches tall and weigh approximately 40 to 70 pounds. Because the Standard Poodle is more of an even match for a Great Pyrenees, their adult sizes will be larger than the former but smaller than the other.
Pet owners with a Standard Pyredoodle can expect their four-legged friend to grow between 22 and 35 inches tall and weigh around 80 pounds. In addition, a typical Pyredoodle will fall under the large breed classification, so owners should ensure they can provide adequate exercise and meet their dietary needs.
How to Determine the Adult Size of Your Pyredoodle Puppy
If you want another method to predict your Pyredoodle's adult size, you can use a formula to calculate it manually. This simple formula can provide a close estimate of how big your Pyredoodle will get.
Potential Adult Size = Current Weight / Age in Weeks × 52
Alternatively, you can also try using an online dog size calculator where you can enter a puppy's age in weeks and its current weight. This free online calculator will use the predetermined formula to estimate a dog's full-grown weight and possible height.
For example, if you have an eight-week-old puppy that weighs 12 pounds, it will likely grow to be 78 pounds and measure up to 30 inches tall in adulthood.
Is a Pyredoodle Right for You?
Choosing a pet is a major commitment, especially regarding medium and large dog breeds. Hybrid options like the Pyredoodle require ample physical exercise and mental stimulation with a proper diet to maintain a healthy life.
If you don't have easy access to a designated outdoor space for your Pyredoodle, owners should know the time commitment this breed needs with multiple daily walks. Although many dog owners in small apartments and homes have large breeds, they are less common because of their size.
Have you thought about how having a large dog will impact your lifestyle and family? Consequently, many families who own Pyredoodles prefer these gentle giants over tiny dog breeds.
There is less chance of a child stepping on the puppy or unintentionally causing harm because of their petite size. In addition, Pyredoodles are affectionate and family-orientated dogs, making them a terrific option for homes with children.
Is There a Cost Difference Between Pyredoodle Sizes?
Potential dog owners who are deciding between the two main Pyredoodle sizes may wonder if they will pay more for one size over another. This question can be a contributing factor if budget is a concern.
On average, you can expect to pay $1,450 for a Pyredoodle puppy from a reputable breeder. However, depending on your location, a breeder may charge upwards of $3,000 or more for this hybrid dog.
Because there is not an extreme variance between the Mini and Standard Pyredoodles, the costs may remain the same if a breeder offers both sizes to potential dog owners.
In contrast, if a breeder specializes in producing smaller Pyredoodles, they will often charge more for their puppies. Petite versions of large dog breeds are well-liked and are in high demand.
Frequently Asked Questions
How much should my Pyredoodle weigh?
A fully-grown adult Pyredoodle should weigh anywhere from 80 to 100 pounds, depending on the individual sizes of its parents. That said, your veterinarian will be able to tell you if your dog is over or underweight.
Are Pyredoodles high maintenance?
Double-coated Pyredoodles are high maintenance when it comes to ongoing grooming needs.
Conclusion for "Pyredoodle Sizes: Toy, Miniature, & Standard"
Finding the best dog to suit your home and lifestyle is essential. You should be able to successfully meet its needs at all stages of life. Researching the breed, including its size and requirements, can help dog owners determine if a larger dog, like the Pyredoodle, is the right choice for them.
A typical Pyredoodle will grow to be around 80 pounds and measure up to 32 inches tall. This size of dog will need a suitable diet of nutrient-rich food two or three times daily to meet their dietary needs.
So, if you are comfortable with how much this hybrid breed will eat and its exercise requirements, the Pyredoodle can be a terrific companion.
For guides similar to this list of Pyredoodle sizes, check out:
Learn more by watching "Pyredoodle Dog, Pros and Cons of Owning Pyredoodles Dog, How To Take Care of Pyredoodles Dog" down below:
Garrett loves animals and is a huge advocate for all Doodle dog breeds. He owns his own Goldendoodle named Kona. In addition, he volunteers at the Humane Society of Silicon Valley, where he fosters dogs and helps animals. Garrett enjoys writing about Doodles and believes that dogs can teach humans more about how to live than humans can teach a dog.
Why Trust We Love Doodles?
At We Love Doodles, we're a team of writers, veterinarians, and puppy trainers that love dogs. Our team of qualified experts researches and provides reliable information on a wide range of dog topics. Our reviews are based on customer feedback, hands-on testing, and in-depth analysis. We are fully transparent and honest to our community of dog owners and future owners.