If you're interested in a Poodle Teddy Bear cut for your companion, then this guide has everything you need to know. As a pet owner, you can choose to have complete control over your dog's haircut. From a standard clip to an elaborate trim that requires regular grooming and brushing, the choice is yours. A dog's haircut can also indicate their personality and how well they are cared for. If their coats are messy, untrimmed, and matted, they may not be well cared for at home.
If a dog has a coat that is smooth, well-trimmed, and free of mats, you can assume that they are provided the love and attention that they need. In the case of many dogs, their coats can be kept either long or short. Often, this important decision comes down to how much you want to spend in time and money on grooming their coats. One breed known for its unique coats and diverse grooming and clipping options is the Poodle. These coats range in color, style, and density, making it even more exciting to find new haircuts for them.
When it comes to popular hairstyles for Poodles, the Teddy Bear cut has grown to become one of the top choices for dog owners. Whether you already have a Poodle or are looking for ways you may be able to style your future pet, we're here to help. Next, we share some helpful things to know about the Poodle's coat as well as the beloved and ever-popular Teddy Bear cut. We'll also share some other trimming options and other best practices for caring for your Poodle puppy.
Before scrolling down, you might be interested in these topics: How Long Does Dog Grooming Take and Grooming Advice.
What Kind of Coats Do Poodles Have?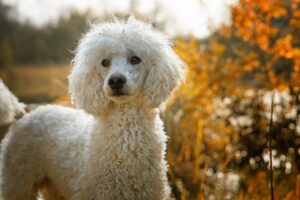 With their curly and poofy coats, Poodles are dogs that are hard to miss. They have only one coat, not one with two layers like some other dogs. Their hair is also quite dense and thick, especially as it curls. Coats are naturally curly, and their hair will continue to grow until it is clipped. Poodles are also praised for their low-shedding habits. Typically, when their hairs fall out from their coat, they are caught back in with their coat. Therefore, there is much less hair that is left around the house. Just be aware that this may also lead to hair getting more tangled up with other hair in their coat.
People with pet allergies can find this characteristic of Poodles to be very valuable. Their coats also come in various colors, including tan, brown, white, black, and others. Their parents are the critical factor in determining what color the Poodle puppies will be. Depending on the type of Poodle, their coat may also change over time. For example, Toy and Miniature Poodles transition from a wavy coat to a much curlier coat when they are about nine months old. They may even have hair that's much more straight than curly. This characteristic will change as they age.
Bring Home a Poodle: Best Mini Poodle Breeders in the United States and Best Poodle Rescues For Adoption in the United States.
What is the Poodle Teddy Bear Cut?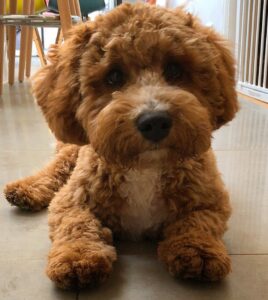 When it comes to styling your Poodle's look, you've got a lot of options. Puppies can start getting trimmed or clipped when they are between just 11 and 16 weeks old. Their cuts can be traditional, poofy, or a mix of different styles. The look for Poodles is not one size fits all. A relatively common type of hair cut for both Poodles and hybrid Doodles is the Teddy Bear cut. This type of look can be a great fit whether your dog is a new puppy or an older dog. Typically, a puppy cut is also known as a Teddy Bear cut. If Poodles ever needed another reason to amp up their cuteness, this haircut may do the trick.
In this look, hair around all parts of the dog's body is kept between one to two inches in length. It does not necessarily specify a distance, just that the length is consistent across the body. Different groomers may suggest different lengths of hair to cut for your Poodle. That includes the face. Leaving a couple of extra inches around the Poodle's face is different from what is usually done for Poodles. Poodles are closely shaved in the front for easier eating, drinking, and licking in a traditional cut.
However, with a Teddy Bear cut, the Poodle has an extra poof to their cheeks and around their eyes. This also makes the Poodle's face much more like a puppy, adding to their overall beauty. Keep in mind that this style may require more attention to detail and help from a professional groomer. You'll want to ensure that the dog's edges are curved and smooth, intended to look like a bear, as the name implies. You'll need to have the right pair of scissors and a smooth, steady hand if you're up for trying this haircut on your own.
Grooming Product Recommendations: Best Dog Grooming Kit and Best Dog Grooming Shears
What Are Other Popular Haircuts For Poodles?
In addition to the Teddy Bear cut, some other prevalent types of cuts work perfectly for all sorts of Poodles. The lion haircut shaves the hair off the limbs, leaving just a poof of hair at the angles. Hair on the chest, head, and stomach is left. While this type certainly elevates the Poodle style, it can also be quite time-consuming and costly. You may also see this look most often in shows and competitions with Poodles.
The summer cut takes advantage of the warm temperatures during the season and trims down the hair's legs and body. They'll leave poofier ears and tails to help keep their style and personality. The city and country cut is excellent for miniature or standard Poodles as it leaves a lot of fur on the legs and leaves hair on the body at a shorter length.
Related Dog Haircut Guides: Best Types of Maltipoo Haircuts and Best Types of Cavapoo Haircuts.
Best Practices for Dog Grooming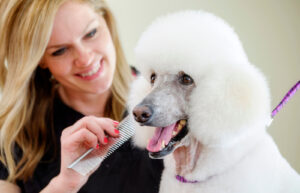 Regardless of the trim that you choose for your Poodle, it's essential to stay consistent with regular grooming practices. Here are some other things to note as you care for your dog's appearance. Learning these grooming tips will help ease the process!
1. Brushing
Just like any other dog breed, Poodles should be brushed regularly. Especially as their falling hair gets recaught in their coats, it's important to brush through their coats, whether short or long, regularly. This daily practice can remove excess hair, built-up mats, and other dirt particles that you and your dog don't want in their coats.
2. Baths
Bathing your Poodle is also an essential practice for good grooming. Poodles can be bathed just about every three weeks. While it may not always be your dog's favorite activity, a bath will help them smell better and keep their coats and skin healthy and soft. You can invest in a dog grooming tub to make things easier.
3. Fluff-Dry
Rather than drying them with a potentially damp towel, amp up their softness and curliness by fluff-drying. This process involves blow-drying their coat while combing through it. This can help prevent mats and other skin irritations from developing.
4. Trim Intentionally
Whether you choose to do your grooming or take your dog to a professional, your dog must be bathed, dried, and brushed before getting a trim. This will ensure that their coats will be consistent lengths and help them feel great as they get a clip. Be sure to follow relevant best practices if you choose to cut your dog's hair, including things like starting with the feet first and staying steady, especially around their face.
Poodle Grooming Product Recommendations: Best Brush For a Poodle and Best Shampoo For Poodles.
Conclusion For "Poodle Teddy Bear Cut"
While Poodles are adorable and friendly, to begin with, an attractive haircut like the Teddy Bear cut can amp up their cuddliness. Before you decide on a haircut option for them, be sure you have considered the amount of time, money, and energy you will commit to taking their coats. While elaborate and stylish coats may be more visually appealing, they require much more time and money at the groomer. Find the haircut that fits who your Poodle is and enjoy life together.
For more dog haircut guides and information, check out:
To learn more about this Poodle cut, watch "How I Groom a Mini Poodle in a Teddy Bear Clip" from Pawz & All down below: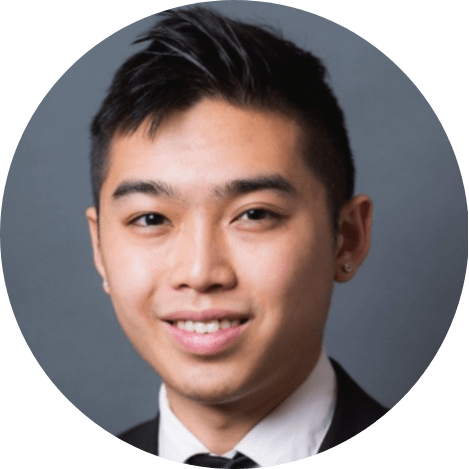 Andy is a full-time animal rescuer and owner of a toy doodle. When he's not saving dogs, Andy is one of our core writers and editors. He has been writing about dogs for over a decade. Andy joined our team because he believes that words are powerful tools that can change a dog's life for the better.
Why Trust We Love Doodles?
At We Love Doodles, we're a team of writers, veterinarians, and puppy trainers that love dogs. Our team of qualified experts researches and provides reliable information on a wide range of dog topics. Our reviews are based on customer feedback, hands-on testing, and in-depth analysis. We are fully transparent and honest to our community of dog owners and future owners.