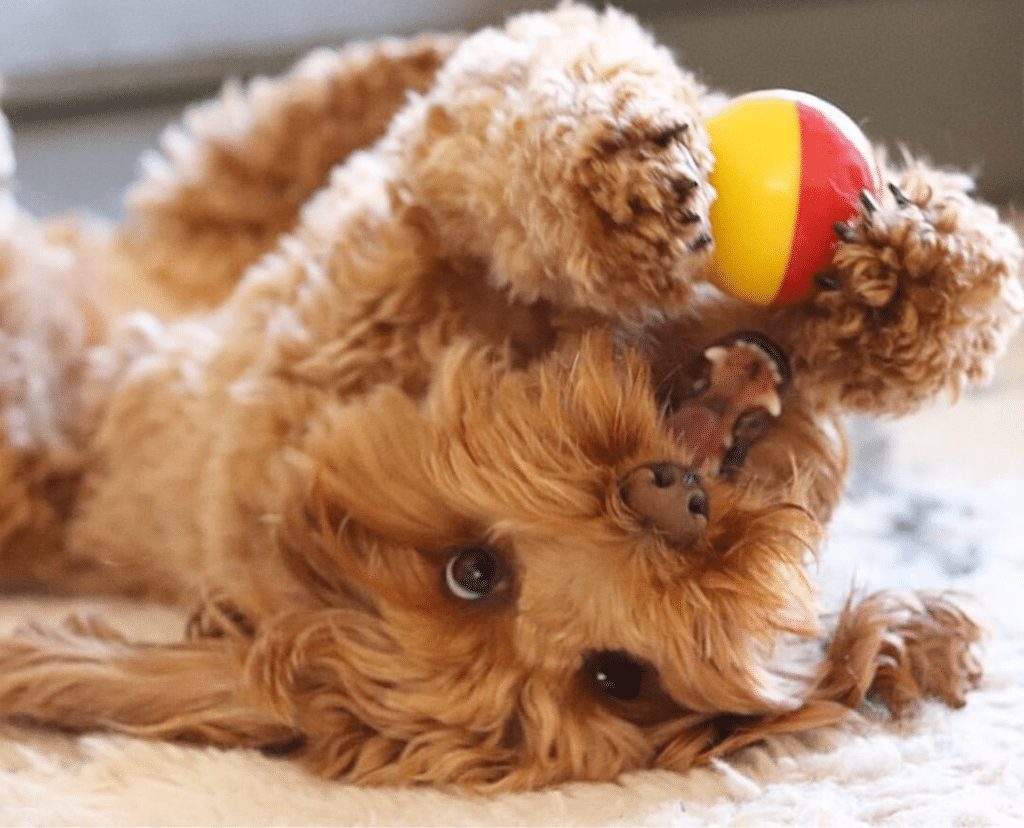 What kind of toys do your pets like to play with? Are you always buying the newest and greatest toys on the market just to see them lay there not touched? My dog and cat are always extremely happy with a new toy, especially an interactive dog toy!
Pet Qwerks Talking Babble Ball toys is so much fun and my pets love them! In this Pet Qwerks Babble Ball review, we will share with you all the most important details in an honest and open review. We tested out several types of Babble Balls including the flashing lights, talking sounds, and animal sounds. With almost 8,000 reviews on Amazon and over 4 stars, these were bound to be good products!
What is a Talking Babble Ball?
The Babble Ball is a uniquely designed toy that interacts with your pet. They have both cat and dog options. The dog options include babble balls of all sizes, shapes, and colors so that you can choose the right one for your pet.
These interactive pet toys make noises when they are touched. They are sensitive and triggered easily to get your pet's attention. The interactive babble balls include some really awesome, features to attract your pet's attention and entertain them for hours.
The Babble Ball also is great for stimulating your pet's sight and sound sensory. The toy automatically turns off when it is no longer being played with so it won't just sit around making random noise.
Key Features of the Pet Qwerks Babbly Ball
There are no other toys exactly like the Babble ball on the market. There are two main types to choose from. You can choose a noise making babble ball or the blinky babble ball. The blinky ball does everything the talking babble ball does but it adds in blinking lights to the equation.
Here are some of the most noteworthy features of the Babble ball.
Triggered easily by breath, touch, or even vibration
Turns off automatically
Multiple sizes and colors (colors vary depending on the ball you choose)
Talking ball or blinky ball
Available for cats and dogs
Designed to be carried in your dog's mouth
Motion-activated flashing lights
Can make 18 different sounds, including whistles, squeaks, and talking
Made with durability and play in mind.
Specialty animal sound balls also available
Replacement batteries are easy to find
The Babble ball has a lot of unique designs to offer.
Types of Babble Balls
There are 4 main types of Babble balls and each one is designed differently.
Animal Sound Babble Balls
The animal sound Babble ball is red and yellow. They have 3 sizes so you can choose which one based on the size of your pet.
This ball makes more than 20 animal sounds during play. The animal sounds include things like birds, frogs, pigs, dogs, cats, lions, elephants, cows, and more. The different balls are made with different textures. The color combination is half red and half yellow.
These are fun and get your dogs attention. They make only animal sounds, and they do not have blinking lights.
Talking Babble Ball
The talking Babble ball also comes in 3 sizes. Much like the animal ball, the textures of the ball vary depending on the size. This ball is equipped with more than 20 phrases or noises. It says several things but also just has some noises programmed as well.
The talking ball is blue in color for the entire ball. Some of the noises and phrases you might hear include "hey, what are you doing", "Grrrrr", "sweet puppy", and "Rock 'n roll doggy". There are plenty more where those come from as well.
This ball also does not have the blinking lights.
Blinky Babble Ball
The Blinky Babble ball costs slightly more because it has an added light feature. This one stimulates your pet's sight and sound during play. These balls make noises, talk, and blink or flash. They also come in 3 sizes and the textures vary by size.
The blinky ball is all red. It is slightly clear red, in order to accommodate the flashing light feature. This one makes more than 18 different sounds, including several talking phrases, a few animal noises, music, and random noises like a doorbell.
This ball has a little bit of everything and it's a great interactive dog toy.
Cat Babble Ball Catnip Infused
This ball was designed specifically for cats. If you prefer, your cats can probably also play with the smallest of the other types of balls as well, although they are more intuitive for dogs. This ball is catnip infused to draw your cat's interest. It is just as great as the talking dog balls.
The Pet Qwerks cat ball is pink in color and it makes 6 different noises. The noises include a few talking phrases as well as a few animal noises like birds, mice, and cats. The ball comes catnip infused but you can also add catnip to it at will.
Pros and Cons of the Babble Ball
We really liked these balls and so did our pets. As with anything, there are of course both pros and cons of the product. Let's discuss a few of these for reference.
Pros of the Babble Ball Toy
You can choose the right toy for your pet
Options for cats and dogs
Multiple features and capabilities
Easily replaceable batteries
Built to be durable for play
Stimulates and entertains your pets
Each type makes multiple sounds
Turn off and on automatically
Cons of Babble Ball Toy
Some dogs react negatively to the noises and lights
The ball is hard plastic, not designed for playing catch
The on sensitivity is very sensitive
Some humans might find the ball annoying
Conclusion for Pet Qwerks Babble Ball Review
Overall, the Pet Qwerks Babble ball options are really good toys that are made for entertaining. They are not your typical catch or chew toy but rather designed to keep your pet from getting bored. They are intuitive and fun for the bet and there are several options to choose from so you really can't go wrong.
While these are mostly advertised for dogs, you can use them for any type of pet! Now, let's get your pet properly entertained. If you liked the Pet Qwerks Babble Ball, you will surely like the Pet Qwerks Barkbone as well. Check it out!
Garrett loves animals and is a huge advocate for all Doodle dog breeds. He owns his own Goldendoodle named Kona. In addition, he volunteers at the Humane Society of Silicon Valley, where he fosters dogs and helps animals. Garrett enjoys writing about Doodles and believes that dogs can teach humans more about how to live than humans can teach a dog.
Why Trust We Love Doodles?
At We Love Doodles, we're a team of writers, veterinarians, and puppy trainers that love dogs. Our team of qualified experts researches and provides reliable information on a wide range of dog topics. Our reviews are based on customer feedback, hands-on testing, and in-depth analysis. We are fully transparent and honest to our community of dog owners and future owners.