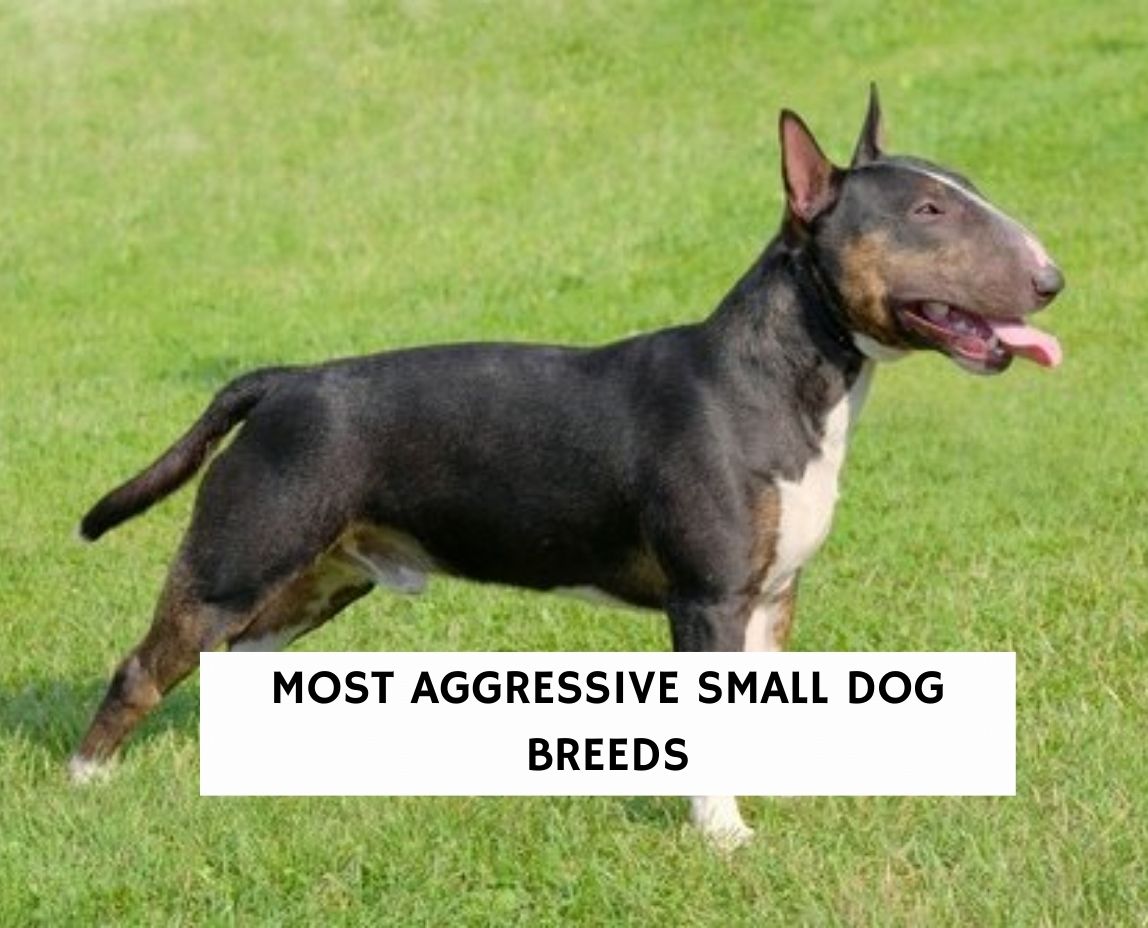 Since you're searching for the most aggressive small dog breeds, here's a question we have for you. Are you in the market for a small dog but want to ensure your new dog has a low likelihood of aggression?
Some small dog breeds happen to be more aggressive than others. This is mainly due to their ancestral history of being hunters and guardians. However, not all dogs are aggressive, regardless of their breed.
Below you will find a list of the most aggressive small dog breeds. It is important to remember that a dog's behavior and personality are influenced by nature and nurture.
Some dogs indeed have higher prey instincts, making them more aggressive. But, training your dog not to act on these instincts from an early age can help you manage these aggressive behaviors better.
Before scrolling down this guide "Most Aggressive Small Dog Breeds," check out these other lists from our team at We Love Doodles: Most Dangerous Dog Breeds in the World and Dog Breeds That Look Like Ewok.
Aggressive Small Dog Breeds
Some dog breeds are more prone to aggressiveness than others. Below you will find the most aggressive small dog breeds. It is important to remember that not every dog will be aggressive simply because of its breed.
Different factors play into this behavior, including traumatic experiences, training, and instincts. These are merely the breeds that display aggressive behaviors more often.
Related: Sickle Tail Dog Breeds with Pictures and Dog Breeds That Look Like Fried Chicken.
1. Dachshund
Dachshunds are prone to aggression because of their long history of badger hunting. Yes, these little dogs are notorious badger hunters, which requires aggression to succeed.
They were initially bred to track and hunt these giant vermin. Because badgers are so aggressive, Dachshunds had to be brave and bold to complete the hunt. This breeding means that Dachshunds are naturally hardwired to fight at times.
2. Chihuahua
Unlike many dogs on our list, Chihuahuas were not bred to be hunters. However, these tiny dogs are still one of the most aggressive dog breeds. But what causes these dogs to act so aggressively?
Because of their small size, Chihuahuas can become scared and anxious. These feelings can cause stress, making your Chihuahua feel the need to protect itself the only way it can: through aggressive behaviors.
In some cases, people are over-protective of their Chihuahuas because of their small size. This can lead to negative behaviors as your dog becomes less able to independently deal with the world around it, increasing your dog's stress and, in turn, aggression.
Additionally, Chihuahuas are often not seen as a threat because of their small size. Therefore, people often let their Chihuahua get away with behaviors that would otherwise be dangerous with larger dogs. However, it would be best if you always addressed aggressive behavior, even with your small dog.
3. Beagle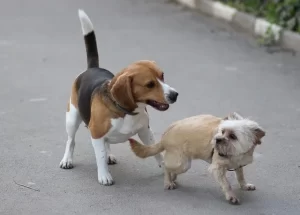 Beagles are natural hunters. Therefore they have a high prey drive that sometimes leads to aggression. This aggression often arises around small animals.
However, it can sometimes occur even with larger animals than the Beagle itself. In these cases, your Beagle has identified the animal as prey leading to tracking and hunting behaviors.
Once they have begun tracking their prey, it is often hard to get a Beagle's attention resulting in the dog not following its owner's commands. In some cases, a Beagle tracking a scent can become startled. This can lead to aggressive behaviors such as growling or biting.
4. Jack Russell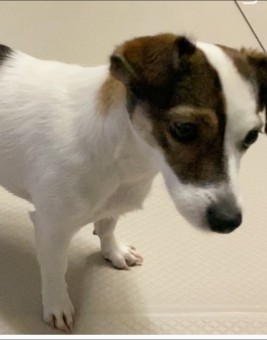 Jack Rusell Terriers are energetic dogs. Unfortunately, if their energy is not used productively, they can become restless, anxious, and aggressive.
Therefore, if these dogs are not given the proper amount of exercise or socialization, they may begin to display aggressive behaviors. Additionally, some Jack Russells become very protective of their owners.
This over-protectiveness can cause Jack Russells to become aggressive, especially around strangers. Early training and socialization can help prevent these aggressive behaviors in Jack Russells. When combined with plenty of exercises, your Jack Russell can be extremely friendly with people of all ages.
5. Cocker Spaniel
Cocker Spaniels are one of the most aggressive dog breeds around. As a result, many of these dogs suffer from Rage Syndrome, also known as Sudden Onset Aggression. Canine Rage Syndrome is a behavioral disorder most commonly found among Cocker Spaniels.
This disorder causes sudden and intense aggression towards anyone near the dog resulting in growling and biting. Just as suddenly as it arrived, this sudden anger will quickly dissipate, and your dog will return to normal as if nothing ever happened.
Rage Syndrome is a genetic disorder, so it is so common among specific breeds. Unfortunately, there is currently no treatment for this disorder. However, being aware of the warning signs of rage can help you protect yourself and others.
6. Pekingese
Although they are tiny, Pekingese is another dog breed known for being aggressive. These dogs become highly attached to one person, which can cause them to become territorial and protective.
Therefore, strangers are often a trigger for Pekingese aggression as they feel the need to protect their owners. These dogs are also known to have fiercely bold and stubborn personalities. Even though your Pekingese is devoted to you, it does not mean you are safe from its sassy attitude and occasional aggression.
These dogs only listen to one person they have deemed the household's alpha. Other family members may find it hard to command the Pekingese as it does not recognize their authority.
7. Shih Tzu
Shih-Tzus are another small dog breed that commonly displays aggressive behaviors. Shih-Tzus were bred to be companions to royalty. However, although they are cute and cuddly, Shih-Tzus have a mean streak, especially if they feel they are competing for the alpha spot.
If your Shih-Tzu believes they are in charge, they may growl or bite at people they believe threaten their position in the hierarchy. It is crucial to assert your dominance over your dog at a young age, so it does not feel the need to become aggressive about status.
8. Lhasa Apso
Lhasa Apsos were once bred to guard Tibetan monasteries. Lhasa Apsos are companion dogs these days, but these guarding instincts are still present. Many Lhasa Apsos will become aggressive with strangers because they guard their homes or family.
They are fearless with people and animals of all sizes. But, unfortunately, this guarding instinct is also combined with a stubbornness that makes Lhasa Apsos hard to train.
These dogs are fiercely independent, so they do not always listen to commands. This can lead to aggressive behaviors that are hard to stop. Therefore, you should be sure to train your Lhasa Apso at an early age. This prevents these aggressive behaviors from forming.
9. Papillon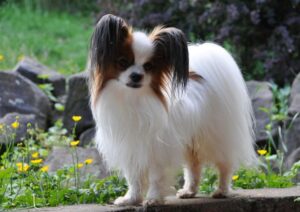 The Papillon is another small dog breed that can become aggressive in certain situations. Like many dogs on this list, Papillons often become aggressive out of fear.
Typically weighing less than 10lbs, Papillons are tiny dogs requiring great care and gentleness when handled. Therefore, these dogs become aggressive with small children who do not understand how delicate they are.
Papillons are also known to have jealous personalities. You may find your Papillon becoming aggressive towards people it becomes jealous of. For example, your Papillon may become jealous and aggressive towards children or other dogs if you pay them more attention.
10. Pomeranian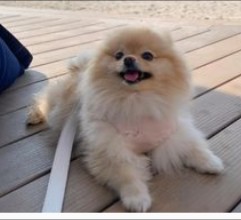 Last on the list of the most aggressive dog breeds is the Pomeranian. Typically weighing around 4-7 lbs total, Pomeranians are known to become aggressive quickly. This aggression is easily tied to their small size as they try to navigate the world around them.
Pomeranians become fearful and anxious easily and have naturally suspicious personalities. These factors contribute significantly to Pomeranians' natural tendency to resort to aggressive behaviors.
Training your Pomeranian from an early age can prevent your Pomeranian from becoming aggressive. This training should include socialization and exposure to the world, making them less scared in different situations.
What is Small Dog Syndrome?
Many people often refer to these aggressive behaviors as 'Small Dog Syndrome.' This refers to a small dog's willingness and freedom to rule over others.
Many people allow their small dogs to demonstrate naughty behaviors that big dogs would never get away with. This is because small dogs are not seen as a threat compared to their larger counterparts. However, Small Dog Syndrome can easily be prevented through early training and socialization.
Regardless of its size, ensuring that your dog knows that aggressive behaviors are not acceptable is key to preventing these behaviors from continuing. Do not ignore the warning signs of aggressiveness in your small dog; this can lead to worsening behaviors and consequences.
Related: Can a Dog Have Down Syndrome?
What Causes Aggression in Dogs?
We have touched on many different underlying factors that can cause dogs to become aggressive. These factors are common among dogs of all sizes and can lead to aggressiveness. Dogs experiencing these emotions sometimes turn to aggression to express or protect themselves.
Fear
Anxiety
Illness
Possessiveness
Frustration
Dominance
Trauma
Instincts
Related: Why Are Chihuahuas So Aggressive?
Conclusion For The "Most Aggressive Small Dog Breeds"
As you can see, dogs can be aggressive regardless of their size. Here you have learned the most aggressive small dog breeds. However, it is essential to remember that aggressiveness has a lot to do with individual dogs. Your dog's behavior is not strictly nature or nurture but rather a combination of the two.
To combat aggressive behaviors, you should provide your dog with consistent training, identify triggers, and stay calm. If you feel your dog's behavior is unmanageable, you can contact a professional veterinarian, trainer, or behaviorist for help.
You can learn more about the different types of dogs by checking out our other guides:
For more information on small dog breeds, watch "Top 7 Low Maintenance Small Dog Breeds" down below: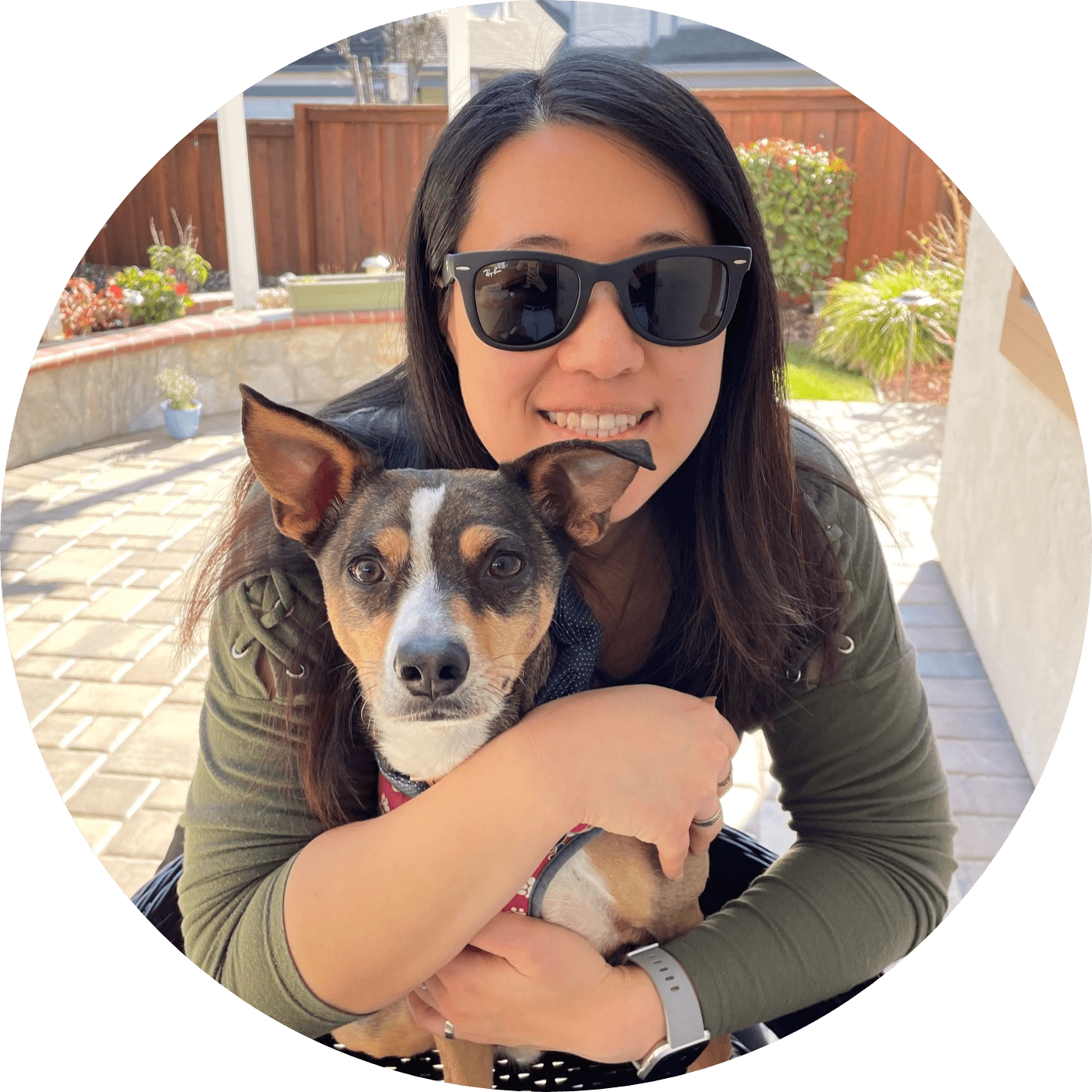 Dr. Sabrina Kong graduated from the Royal Veterinary College in England in 2016 and has been working at a small animal clinic in Northern California since then. She grew up in the Bay Area and got her bachelor's degree from Cal Poly San Luis Obispo. She also became a Certified Canine Rehabilitation Practitioner through a program at the University of Tennessee.
When she isn't in the clinic taking care of her four-legged patients, she enjoys traveling and trying new foods with her friends and her three-legged dog, Apollo. She adopted Apollo from her clinic when he was a puppy with numerous health issues. Dr. Kong truly cares about taking care of animals.