As a micro Sheepadoodle owner (or owner-to-be), your puppy is among the 470+ million dogs in the world with human caregivers. But no two dog breeds have the same characteristics, personalities, and predisposed health issues.
So, we'll help you understand everything you need to know about micro Sheepadoodles, including tips for training them so that they transition seamlessly into your family.
Before scrolling down this micro Sheepadoodle guide, check out these articles that we think might be interesting to you: Best Mini Doodle Breeds and What is a Mini Australian Goldendoodle?
Sheepadoodle Coat Characteristics
The micro Sheepadoodle has an attractive coat for people with allergies since they barely shed. That's thanks to their crossbreeding, which is 75% Poodle and 25% Doodle.
If you're familiar with dog breeding, this equates to an F1B cross. Since micro Sheepadoodles have mostly Poodle genes, their coat is curly and dense.
While micro Sheepadoodles (also called teacup Sheepadoodles) have a similar coat, their color variations vary significantly.
Examples of their coat colors include:
Black and white
Sable (three colors)
Chocolate
Black
Cream
White
Phantom
Blue merle
Of these coat colors, the black and white variety is the most common and traditional. If you're looking for a micro Sheepadoodle with a blue merle coat, prepare yourself to shell out some cash—this is a rarer but high-demand coat combination. Part of this has to do with many blue merle Sheepadoodles having blue eyes.
Related: Sheepadoodle Size Guide and Are Sheepadoodles Hypoallergenic Dogs?
Caring for Your Micro Sheepadoodle's Coat
Micro Sheepadoodles have dense curls that make knots and matting common if you don't take the proper grooming measures. Therefore, you should aim to brush your poodle at least three times per week. You shouldn't take just any brush to your micro Sheepadoodle, though.
The brushes that work best for their coat include:
Pin brushes
Combs
Slicker brushes
Try spraying your micro Sheepadoodle's coat with a water bottle to make it easier to groom them. When you encounter tangles, work them through with your hands. Then, brush their coat in the direction of their hair growth.
You should also take your micro Sheepadoodle to the groomer every couple of months. They'll bathe your pooch and offer you suggestions for adorable Sheepadoodle haircuts.
However, if you want to stick with the traditional look, shaving your micro Sheepadoodle is a great option. That'll allow for new hair growth, which will happen at a rate of about one inch per month.
Related: Types of Sheepadoodle Coat Colors and When is a Sheepadoodle Full Grown?
Sheepadoodle Temperament
The micro Sheepadoodle has a reputation for being a vivacious, energetic breed. You can expect puppies to have lots of energy, running about your house and yard and chewing on anything they can get their little mouths on.
If you're keeping your fingers crossed that your adult Sheepadoodle will settle down, think again—micro Sheepadoodle full-grown dogs also keep their spunk.
Therefore, you should be sure that you have the time and means to give them plenty of play. The good news is that because they're so small, micro Sheepadoodles don't need lots of space to release their energy.
In addition to their high-strung ways, micro Sheepadoodles make excellent companion dogs. They're fiercely loyal and will shower you with love and attention (and they'll expect the same in return).
Are Micro Sheepadoodles Good With Kids?
Micro Sheepadoodles have an excellent reputation as being kid-friendly dogs. However, if you have young children, you should supervise them around your Sheepadoodle.
Naturally, if a child starts playing rough with a micro Sheepadoodle, your pet may react by snarling and biting. The good news is that their mouths are small, so it's rare for micro Sheepadoodles to inflict serious injury.
Furthermore, aggressiveness isn't a characteristic of micro Sheepadoodles. So, you can expect them to be loving towards your child—and loving the many balls that they may throw for them so they can release their energy.
Do Micro Sheepadoodles Get Along With Other Dogs?
Micro Sheepadoodles are highly social animals and, in most cases, enjoy being around dogs. Nevertheless, exposing your Sheepadoodle to other dogs early in their life is crucial for them to be social.
Since they have so much energy, most Sheepadoodles enjoy playing with other similar-sized toy dogs. Therefore, if you've already introduced your micro Sheepadoodle to dogs on a leash to know that they respond well, consider bringing them to a small dog park.
Do Micro Sheepadoodles Get Along With Other Pets?
You can expect your micro Sheepadoodle to fare well with other animals in your home, especially if you welcome them into your family when they're a puppy.
Training your Sheepadoodle at a young age is key to keeping them from chasing after your cat, bird, or whatever other animals you have in your home.
Make sure to use positive reinforcement techniques around all your animals and shower them with as equal attention as possible.
That said, if you adopt an older micro Sheepadoodle, all hope isn't lost—hiring a trainer is an excellent way to ease your new family member into meeting your other pets if you're unsure how they'll behave.
Related: What is a Reverse Sheepadoodle?
Training Your Micro Sheepadoodle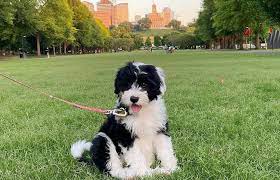 Micro mini Sheepadoodle puppies and adults alike respond well to positive enforcement training. Before bringing your micro Sheepadoodle home, it's wise to speak with the members of your household about what is and isn't okay for your new family member to do.
Are they allowed on the sofa? Do you want them sleeping in their crate? How will you respond if they start barking? If you don't have experience with dog training, we recommend signing you and your micro Sheepadoodle up for a class.
Common branches of training that you can use to teach your puppy include:
Potty training
Crate training
Walking on a leash
Socializing with people and animals
You can use several strategies to help your micro Sheepadoodle become a well-trained dog. We'll cover a few of them here.
Related: What is a Golden Sheepadoodle?
Clicker Training For a Micro Sheepadoodle

Clicker training is the concept of using a clicking device to reward positive behavior in your dog. When your micro Sheepadoodle hears the clicker, they'll know they did something right, usually helped along by a positive word like "good" or a treat.
Since dogs have a relatively short memory, using a clicker helps them more quickly narrow down what behavior they did that sparked the click.
Command Training For a Micro Sheepadoodle
Command training is the most familiar dog training technique, as it's the concept of teaching your dog to respond to verbal cues. "Sit," "lay down," and "come" are some of the most common command words. However, you can even teach your micro Sheepadoodle phrases like, "Go potty."
Proofing Training
Once your micro Sheepadoodle progresses through their training, it'll be time to introduce them to proofing as an advanced training technique. Proofing is the idea of placing distractions around your dog while teaching them to continue to focus on your commands.
Therefore, it helps your micro Sheepadoodle behave well even in unfamiliar places or noisy situations. To use proofing to train your puppy, try teaching them in different settings like a park. You can also have someone in your household create distractions like clapping.
Related: Best Sheepadoodle Names.
The Health of Micro Sheepadoodles
The micro mini Sheepadoodle has a lifespan of around 12 – 15 years. If you've owned a large dog breed in the past, you're likely rejoicing at the thought of statistically getting a few more years with your Sheepadoodle; research shows that smaller species outlive larger animals within the same breed.
Nevertheless, like all dogs, mini Sheepadoodles have common health issues that typically (but not always) set in as they get older. Let's take a look at them.
Addison's Disease: Addison's disease (primary hypoadrenocorticism) is an illness that your micro Sheepadoodle may inherit from their Poodle parent. It's an endocrine disorder that can cause electrolyte imbalances, sometimes leading to death. It's challenging to diagnose Addison's disease with the naked eye, so your veterinarian will likely need to run some tests. Signs that your micro Sheepadoodle has Addison's include lethargy, vomiting, diarrhea, and loss of appetite.
Dysplasia: Dysplasia, particularly of the hip and elbow, is a common skeletal issue in micro Sheepadoodles. Hip and elbow dysplasia begins in Sheepadoodles when they're growing. However, you may not notice they have this joint laxity until they develop osteoarthritis. Should you notice that your micro Sheepadoodle develops a swayed gait and limited range of motion, you should take them to the vet. Your dog may also show less of a range of motion compared to their dog counterparts, and they may balk at climbing stairs or jumping.
Eye Problems: Poodles commonly develop eye issues as they age, so micro Sheepadoodles tend to have problems too. There is a range of eye issues your Sheepadoodle may develop, including cataracts, progressive retinal atrophy, and glaucoma. To prevent these eye issues and more, you should take your micro Sheepadoodle to annual vet check-ups. That way, your veterinarian can perform ophthalmic exams to catch—and treat—any eye issues in their early stages.
Related: How Long Do Sheepadoodles Live?
Conclusion For "Micro Sheepadoodle Information, Facts, Images"
Micro Sheepadoodles are a joy to welcome into the home. They have seemingly endless amounts of energy, much of which they'll pour into cuddling on your lap and giving you lots of kisses.
With early training and regular vet checkups, you'll be setting you and your micro Sheepadoodle up for a happy and healthy life together.
If you find this micro Sheepadoodle guide helpful, you can check out other similar content from We Love Doodles:
You can learn more about the Sheepadoodle dog breed by watching "Sheepadoodle Dog Breed Guide" down below: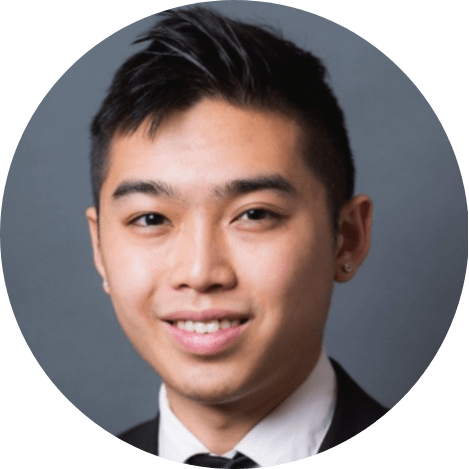 Andy is a full-time animal rescuer and owner of a toy doodle. When he's not saving dogs, Andy is one of our core writers and editors. He has been writing about dogs for over a decade. Andy joined our team because he believes that words are powerful tools that can change a dog's life for the better.
Why Trust We Love Doodles?
At We Love Doodles, we're a team of writers, veterinarians, and puppy trainers that love dogs. Our team of qualified experts researches and provides reliable information on a wide range of dog topics. Our reviews are based on customer feedback, hands-on testing, and in-depth analysis. We are fully transparent and honest to our community of dog owners and future owners.