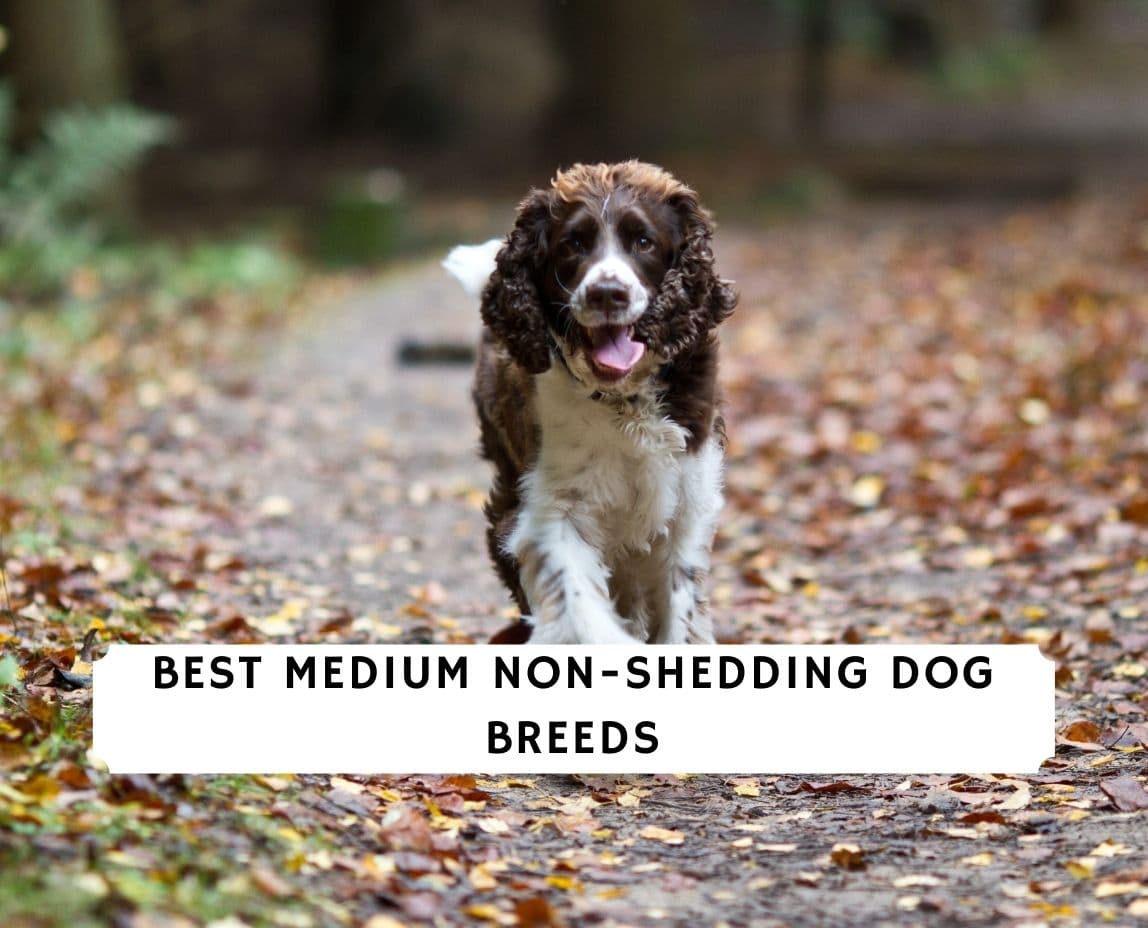 If you're searching for the best medium non-shedding dog breeds, then this list will help you find a compatible companion. There are no words to describe the unconditional love, loyalty, and companionship added to life by bringing a dog into the mix. Like humans, dogs have their individual, unique personalities that can steal a person's heart forever. Some dogs will become the best hiking companions you have ever encountered; others gracefully trot alongside on the ritualistic morning jog.
A few have the skills to perform jobs alongside their owners like therapy or do police work. Almost all of them will happily curl at their owner's feet. All these beautiful qualities of our canine friends should be appreciated, embraced, and cherished but, at the same time, can be overshadowed by the tiniest of facts that most dogs shed and do need to be cleaned up after. Dog hair can get everywhere: pillows, bedding, towels, jackets, etc. Shedding can agitate allergies while creating a mess around the house.
Maybe a small dog breed isn't what you're searching for, and you're not too fond of a giant breed either. Fortunately, there are medium-sized dog breeds. Medium-sized dog breeds are usually between 20 to 50 lbs. Before we continue, remember that non-shedding doesn't mean absolute. It only means minimal shedding. Grooming attention is required. However, the amount of grooming work is less compared to a shedding dog. Part of caring for your dog is grooming them properly, which keeps their coats and skin healthy.
Before scrolling down this list of medium non-shedding dog breeds, you can check out similar articles: Dog Breeds That Can Be Left Alone For 8 Hours and Small Non-Shedding Dog Breeds.
1. Brittany Spaniel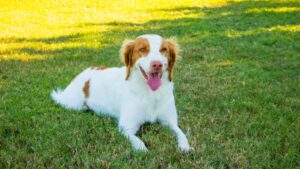 First on the list of medium non-shedding dog breeds is the "Brittany Spaniel." If there's a powerful flow of constant activity in your household, then the Brittany Spaniel is going to be the perfect, energetic dog for your active lifestyle. Being a gun dog breed acting much like a Pointer, they ought to get out quite regularly for exercise and entertainment to not fall into destructive behaviors that arise when boredom sets in. This breed is considered to be very lively and spirited. Brittany Spaniels are also susceptible, meaning they need to be in a positive environment without constant tension and arguing voices.
Harsh treatment is also not the way to win their affection. Instead – uplifting praise, positive reinforcement, and treats for your companion's hard work are better suited and effective. The Brittany Spaniel is excellent for beginner dog owners. This dog breed will grow up to 20 inches in height and up to 51 pounds. The Brittany Spaniel dog breed is friendly to both people and other house pets. Brittany Spaniel's shedding level is minimal. Its feathering, short-haired coat doesn't have an undercoat, so it usually just needs a quick brush through when it comes to grooming.
Brittany Spaniel Mentions: Best Brittany Breeders in the United States and Types of Dogs Born Without Tails.
2. Spanish Water Dog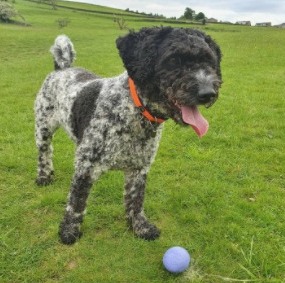 A herdsman, huntsman, fisherman, and guardsman are skills present within the hardworking Spanish Water Dog, which began way back when they're first introduced to the Spanish in 1100 AD by the Turks. They can grow up to 20 inches in height and weigh up to 49 lbs. This breed is solid and sturdy with a smooth gait. They're friendly, but due to their natural herding instincts, Spanish Water Dogs randomly tend to nip at heels, which does not make them an ideal choice for families with children. If you're set on having a Spanish Water Dog and have children, then find ways to keep them distracted through socialization.
When the Spanish Water Dog's hair is fully grown on its face, it'll likely block its expressive, alert eyes. Bathing a Spanish Water Dog is reminiscent of washing a wool sweater as the techniques are pretty similar. However, the single coat is low-maintenance. It usually never needs to be brushed or trimmed. Once a year, your Spanish Water Dog should be sheared down, which means that you need to learn how to bathe and groom them properly. You should also manually separate its curling locks of hair as they cord so mats don't form. Finding a skilled groomer with experience working on Spanish Water Dogs would be the best route to take when your Spanish Water Dog needs bathing.
Spanish Water Dog Mentions: Top Big Dogs That Don't Shed.
3. English Springer Spaniel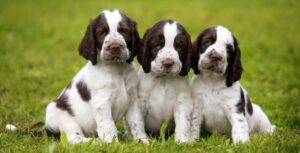 Springer Spaniels are a fun-loving dog breed with lots of energy to expend throughout the day. You'll enjoy activities with your companion such as ball throwing, frisbee tossing, swimming, or other exercise activities. This dog breed truly loves to please, which makes training them a breeze and provides you a canine companion that will always mind its manners in a social setting. A kid-friendly, family favorite with a pleasant temperament needs to be enacted early on in the dog's life and kept up with throughout. The Springer Spaniel is a charming, medium-sized breed that is double-coated with a soft, dense undercoat and a flat or wavy topcoat that is easy to groom when a slicker brush or metal comb is used on it weekly. By brushing them weekly, you'll help remove dead hair and dirt. This helps prevent any hair from being shed in the house. The breed can weigh anywhere between 40 to 50 lbs, grow in heights of about 20 inches. They also live a long life, which can range up to 14 years old. A longer lifespan means you'll have to focus more on its health, activities, and happiness.
English Springer Spaniel Mentions: Popular Dogs with Pink Noses.
4. Whippet
The Whippet dog breed means "to move briskly." Whippets run at speeds close to 35 miles per hour with double-suspension strides. Originating from England, they bear a resemblance to their Greyhound ancestors. However, they're lighter in weight. The Whippet ultimately surpasses almost all other breeds in the acts of sprinting, dexterity, and agility. With their speed, you'll have to be extra careful when you let your Whippet loose in public places. You're not going to want to chase after your dog if it runs away. It'll be too quick. Silky fine coats drape their sleek, refined, lean physiques. The Whippet dog breed is low maintenance, affectionate and energetic. All rolled up into one medium-sized dog package. Grooming the Whippet once a week shouldn't be too difficult of a task.
Whippet Mentions: Whippet Poodle Mix Guide and Best Whippet Breeders in the United States.
5. Chinese Shar-Pei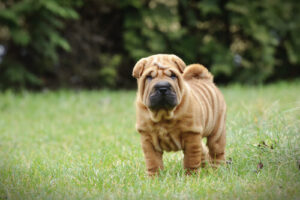 Last on the list of medium non-shedding dog breeds is "Chinese Shar-Pei." Another multipurpose dog with rare shedding and a unique characteristic shared by the Chow Chow is the Chinese Shar-Pei. The purple tongue, combined with their hippopotamus-like wrinkly faces, were thought to guard the household against evil spirits that were said to be frightened away by their looks. Besides protecting evil spirits, they're bred for farm work where they were entrusted with specific jobs. They have numerous purposes, such as being used for hunting games, acting as livestock guardians, and used as fighting dogs. Their wrinkles and rough coats proved difficult for opponents to grasp securely in these fighting matches, which gave them the upper hand in the ring.
Looking more closely at their coat's textures, this breed comes with two variations: the "horse-coated," which is short hair, and the "brush-coated," which is a bit longer hair length. Both types require brushing and are more prone to skin issues. These issues will need the dog to be bathed weekly and brushed every day. The wrinkles on their face also require special attention. Infection can set in between the wrinkles. To avoid infection, regularly wiping in between their wrinkles with a damp cloth is necessary. Chinese Shar-Peis are reserved and rarely bark unless there's an issue when it comes to their temperaments. They can also be quite assertive but are quick learners.
Chinese Shar-Pei Mentions: Best Chinese Shar-Pei Breeders in the United States.
Frequently Asked Questions
What is a medium-sized dog that does not shed?
Top 5 Non-Shedding Medium-Sized Dogs
Poodle
Brittany Spaniel
Spanish Water Dog
English Springer Spaniel
Whippet
Chinese Shar-Pei
What is the friendliest non-shedding dog?
Top 10 Friendly Non-Shedding Dogs
Bichon Frise
Cavalier King Charles Spaniel
Chinese Crested
Coton de Tulear
Havanese
Italian Greyhound
Japanese Chin
Lhasa Apso
Maltese
Miniature Schnauzer
What is the number 1 breed of dog in 2021?
The most popular dog breed in 2021 is the Labrador Retriever. This breed is friendly, intelligent, and versatile, making it an excellent choice for families. Other popular breeds include the Golden Retriever, German Shepherd, and Beagle. These breeds are all popular choices for families looking for a new pet.
AKC Most Popular Dog Breeds in 2021
Labrador Retriever
French Bulldog
Golden Retrievers
German Shepherd Dogs
Poodles
Bulldogs
Beagles
Rottweilers
Pointers (German Shorthaired)
Dachshunds
Pembroke Welsh Corgis
Australian Shepherds
Yorkshire Terriers
Boxers
Cavalier King Charles Spaniel
What is the most low-maintenance medium dog?
Top 25 Low Maintenance Dog Breeds
Bassett Hound
Beagle
Boston Terrier
Bulldog
Cavalier King Charles Spaniel
Chihuahua
Chinese Crested Powderpuff
Dachshund
French Bulldog
Havanese
Italian Greyhound
Japanese Chin
Maltese
Miniature Pinscher
Pekingese
Pembroke Welsh Corgi
Pug
Pomeranian
Rat Terrier
Shih Tzu
Skye Terrier
Sussex Spaniel
Toy Poodle
Yorkshire Terrier
Whippet
What's the easiest dog to own?
13 Easiest Breeds to Train
According to the American Kennel Club, these are the 13 easiest breeds to train:
German Shepherd
Border Collie
Poodle
Golden Retriever
Doberman Pinscher
Shetland Sheepdog
Labrador Retriever
Papillon
Rottweiler
Australian Cattle Dog
Pembroke Welsh Corgi
Miniature Schnauzer
English Springer Spaniel
What is the best dog for lazy owners?
There is no definitive answer to this question, as different people have different opinions on what makes a "lazy" dog breed. Some people might consider a small dog breed the best type of dog for lazy owners because they require less exercise and are easier to care for in apartment-type settings.
Other people might prefer a medium or large-sized dog breed because they are more laid back and low energy. Ultimately, the best dog for lazy owners is the one that best fits their lifestyle and personality. Some popular "lazy" dog breeds include the Bulldog, Basset Hound, Beagle, Chow Chow, and English Mastiff.
Cavalier King Charles Spaniel
English Bulldog
Pug
Miniature Pinscher
Italian Greyhound
Boston Terrier
Chow Chow
American Eskimo Dog
Affenpinscher
American Hairless Terrier
What is the calmest gentle dog?
The following breeds are generally considered to be the calmest and most gentle:
Bernese Mountain Dog
Bichon Frise
Cavalier King Charles Spaniel
Chow Chow
Clumber Spaniel
Cocker Spaniel
English Toy Spaniel
French Bulldog
Havanese
Labrador Retriever
Lhasa Apso
Maltese
Miniature Schnauzer
Norfolk Terrier
Norwich Terrier
Pekingese
Pomeranian
Pug
Shih Tzu
Conclusion For The "Best Medium Non-Shedding Dog Breeds"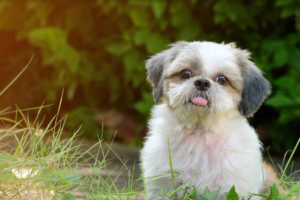 If you're unsure of a compatible dog breed, try not to limit yourself with just our list above. There are numerous breeds out there. Maybe a smaller-sized dog breed could be the perfect fit for your living environment or even a larger-sized breed. If you're still on your journey to finding a companion, you can check out our other lists below.
For more dog breed recommendations, you can check out:
To find more recommendations, you can watch "Top 10 Medium-Sized Dogs That Don't Shed" from luver dog down below: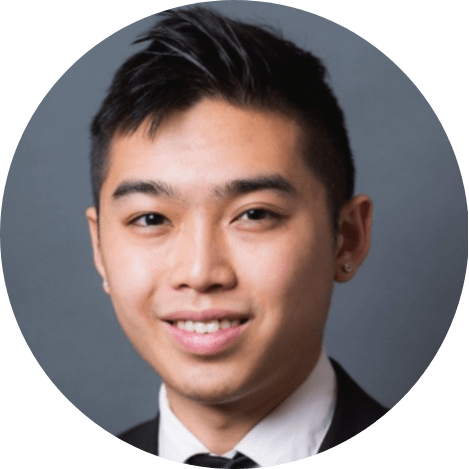 Andy is a full-time animal rescuer and owner of a toy doodle. When he's not saving dogs, Andy is one of our core writers and editors. He has been writing about dogs for over a decade. Andy joined our team because he believes that words are powerful tools that can change a dog's life for the better.
Why Trust We Love Doodles?
At We Love Doodles, we're a team of writers, veterinarians, and puppy trainers that love dogs. Our team of qualified experts researches and provides reliable information on a wide range of dog topics. Our reviews are based on customer feedback, hands-on testing, and in-depth analysis. We are fully transparent and honest to our community of dog owners and future owners.