If you find yourself with a manly, tough puppy, it's only right that the name goes along with its personality. Therefore, we've searched for some of the world's best names to represent masculinity, courageousness, dominance, and strength.
When you think 'manly,' some people automatically think about the military, while others might think of authority or Kings and Kingsmen. Regardless of what your mind jumps to, there are many different names to consider, which we've organized for you here from most common to least common for each category. Read through our lists to find the perfect manly dog names for your puppy.
Other articles you would like: Warrior Dog Names and Evil Dog Names.
Manly Dog Names Inspired By Royalty Rankings
Nothing screams that your dog is manly than a name that's inspired by some of the world's most powerful people or positions. We've included a little history behind the name for each word, so you understand precisely what the name means if you're asked.
1. Caesar
Julius Caesar was Augustus's son, and his last name became an official title for the Roman Emperor. He became mighty and brought down the Roman Republic. This ended up resulting in the most famous assassination in all of history.
The Senate, as well as his partner, Brutus, turned against him and killed him. Today, the area in which Caesar was killed acts as a cat sanctuary where they are sheltered and fed daily. The story of this man has moved dog owners to name their pups after this powerful human.
2. Duke
Duke is the highest noble rank under a King. The word in French, duc, means leader. Duke is an excellent name if you have a large, buff dog.
3. Earl
Earl is another noble ranking among the English. The earls were in charge of the larger divisions within a kingdom. If you have ever heard of George Herbert, the man who found King Tut's Tomb, he was an earl.
4. Denali
In Sanskrit, Denali means The Great One. In North America, the highest mountain is nicknamed Denali as well because it's so massive and present.
5. Gentry
Gentry originates from gentil, a French word that means noble or high-born. Gentry is a high-born class that governs over the higher levels of the clergy.
6. Baron
Baron is a title of royalty who were gifted serfs and land. In return, he had to pledge loyalty to the King and the King's defense as well. They were more or less the guards of the King.
7. Dauphin
Dauphin is another name for the son of the King, the same as a prince.
8. El Cid
El Cid translates to "The Lord." However, El Cid is also a national hero in Spain. He was the ruler of Valencia as well as a Castilian nobleman. He is most famous for his military expertise and has been portrayed in folklore stories and movies.
Manly Names for Dogs Inspired By War
Military Dog Names: Rank & Positions
War has always been associated with manly themes, even though women protect and serve this country just as men do. Originally, only men could serve, which was why so many always thought that war was in the soul of all men.
Now, if your dog is fierce and warrior-like, you might prefer a name from this list instead. Rottweilers, Pitbulls, bulldogs, they're all strong and manly. Some great names could be Boris, which means warrior, or even something such as Casey, a name from Steadfast in War. Casey is an excellent name if your dog has a short, warrior-like temper.
If your puppy is extra-large yet peaceful, a mighty name that would suit him is Igor. Igor means "Warrior of Peace" in Russian. German Shepherds and Malinois would fit perfectly with this name as these dogs were war dogs at one point in time.
Military Rankings For Manly Dog Names
Chief
Scout
Major
Sergeant
Sarge
Commander
General
Ranger
Tracker
Soldier
Admiral
Capitan
Striker
Shooter
Privat Marine
Skipper
Colonel
I.
Hunter
Sailor
Sniper
Gunner
Pilot
Manly Dog Names By Military Weapons
Tank
Beretta
Remy
Colt
Remington
Nitro
Archer
Gauge
Rocket
Caliber
Bullet
Magnum
Nuke
Ammo
Cannon
Ruger
Pistol
Bayonet
Hammer
Torpedo
Carbine
Bazooka
Wesson
Primer
Semi
Grenade
Mauser
Reload
Taser
Uzi
Kimber
Rifle
Dagger
Recoil
Missile
Kevlar
Laser
Musket
Cartridge
Ricochet
Other Manly Inspired Dog Names
Zippo
Max
Buckshot
Ace
Flash
Camo
Radar
Honcho
Boots
Hotshot
Walter
Major
Chinook
Spirit
Honor
Apache
Garrison
Patriot
Roger
Freedom
Glory
Barret
Boomer
Jag
Rascal
Hero
Cadence
Victory
Trooper
Justice
Dodger
Combat
Chevron
Brass
Trigger
What Does A Manly Dog Name Look Like?
There's not a one-size-fits-all when it comes to dog names, but what exactly does a 'manly' dog name mean? What does it say about your puppy?
Manly dog names are considered names that more or less 'beef up' your dog's appearance. If you have an extra-large Pitbull that's 140 pounds, and his name is Twinkie, that's not going to match the appearance of your big boy. Which, if that's your prerogative, then hey! Twinkie is an awesome name, nonetheless.
However, if you're going for a manly dog name, you'll want a name that lets everyone know that your dog is one tough canine. So, a big 140-pound giant pit would be great with a name such as Brutus, Major, Scout, Caliber, or something along those lines.
How To Choose A Manly Name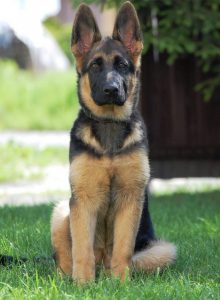 If you're still stuck, and none of these names work for you, but you want your puppy to have a manly name, then there are a few things that you can do.
Think of your favorite activity. If you love watching football, think of some football names such as Linebacker or Scrimmage. Or, if you love cars, Turbo or Rev might be proper names.
Make a list. Make a list of some of the manly names you come up with on your own and run them by your friends and family. They might have some input as well.
Try the name out. You can always do a name trial to see how it fits your dog. Don't worry about changing it a couple of times within the first month, as your dog will acclimate. This can help you find out his personality and name him accordingly.
Conclusion for Best Manly Dog Names
Naming your dog comes down to matching his personality to his name. Also, it should be easy for you to pronounce. By making a list of manly words, names, themes, or movie characters, you can find the perfect name for your puppy. We hope that you were able to find a manly dog name for your puppy!
Other articles you might like:
Garrett loves animals and is a huge advocate for all Doodle dog breeds. He owns his own Goldendoodle named Kona. In addition, he volunteers at the Humane Society of Silicon Valley, where he fosters dogs and helps animals. Garrett enjoys writing about Doodles and believes that dogs can teach humans more about how to live than humans can teach a dog.
Why Trust We Love Doodles?
At We Love Doodles, we're a team of writers, veterinarians, and puppy trainers that love dogs. Our team of qualified experts researches and provides reliable information on a wide range of dog topics. Our reviews are based on customer feedback, hands-on testing, and in-depth analysis. We are fully transparent and honest to our community of dog owners and future owners.