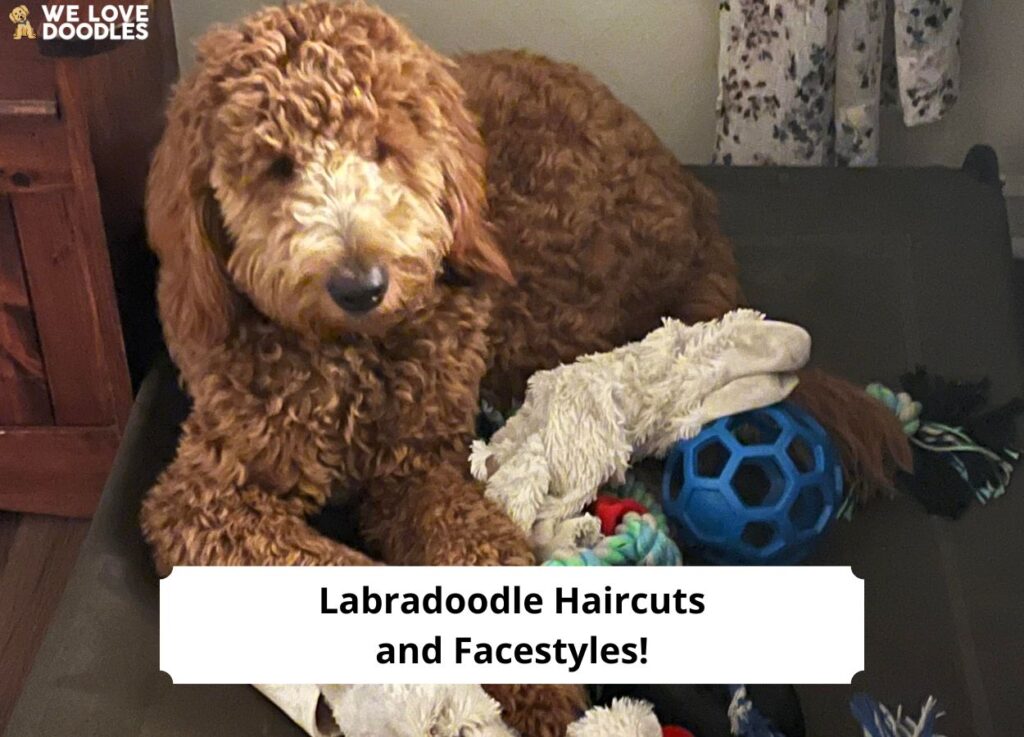 Labradoodles are adorable dogs that are popular due to their adorable look, sweet personalities, and low-shedding coats. Still, their coats can still be difficult to manage at times. Labradoodle owners should choose the right haircuts and facestyles to keep their dogs looking great and their coats manageable.
Below, we'll cover the popular styles for Labradoodles and other hair-care tips.
Before reading this guide, "Labradoodle Haircuts and Facestyles," check out: Best Labradoodle Haircuts (Puppy Cut, Teddy Bear Cut, etc.)! (2023) and 6 Best Short Labradoodle Haircut Styles! (2023).
Short Clip
It's easy to maintain a short Labradoodle haircut. For owners in warmer climates who want an easy-to-maintain haircut that isn't as long as a kennel cut, this is an excellent choice.  Hair should not be cut longer than an inch around the ears; otherwise, it should be shorter.
Lamb Cut
Since Labradoodles have curling coats, this cut was originally developed for Poodles. Its body and head are sheared short, while its legs are left longer and fluffy. It is possible to make your pooch look lamb-like by leaving its ears long. If you want to maintain a knot-free Labradoodle, you will need extra skills.
Long Clip
Your Labradoodle's hair will be two inches longer all over the body when you use a long clip. It should have the same length throughout the body, so it can show off his beautiful curly coat. In order to keep this haircut from forming knots, you will need to brush and groom it regularly.
Puppy Cut
In Labradoodles with long clips, their hair is left long on their bodies, usually two inches long at most. To highlight your dog's beautiful curls, it should be the same length throughout.
The length of this haircut will also have to be maintained with regular trips to the groomer because it is ideal for cooler climates. Regular brushing is necessary to keep knots from forming.
Kennel Cut
There is nothing better for summer hairstyles than kennel cuts. Labradoodles benefit from having one's hair shaved down to around 1/2 inch in hot weather — except for the ears in some cases. In addition, this style is ideal if your dog has knots or matting that cannot be removed.
Asian Fusion
There is a reputation in the Eastern world that their dogs attract social media attention. You must give your dog the Asian fusion hairstyle if you want it to look stylish and oh-so-on-trend.
This hairstyle makes dogs look like they have short bodies with flared legs, so they look like they're wearing bell bottoms. There are also donut-shaped muzzles and triangle-shaped ears, as well as countless ways to style your dog.
Summer Cut
A summer cutter shaves a dog's coat completely, leaving only 1/2 to 1/4 inches of hair, including their ears. It's best suited to dogs that are active and more likely to have severe matting and tangles.
As the temperature rises in summer, dogs are more prone to overheating, making short hairstyles more popular. Most pet parents allow their pets to grow their coats during the summer, so when cooler weather arrives, they will have a thick, long coat.
Mohawk Cut
Look no further than a mohawk for your Labradoodle if you are seeking an eye-catching haircut! Body hair on dogs with mohawks is cut to one inch long all over.
Each head hair is two to four inches longer than the next. For a more dramatic look, you can also leave the long hair hanging down the back of the dog all the way to his tail.
How to Keep Your Labradoodle Looking Great Between Trims
Once you choose the perfect cut for your Labradoodle, you'll need to arrange regular grooming appointments. If you need to maintain your dog's coat, these trips can help you keep it looking great.
Bathing
Bathing can begin as early as three months old for puppies. It's crucial to make your Labradoodle's bathing experience as comfortable as possible early on since you will wash it often throughout its life.
Be sure to prepare warm water and a calm environment when bathing your Labradoodle. The puppy should be bathed in a small container instead of a tub to get used to the water.
You should wet his coat thoroughly, but not his face, especially his ears, because they can get infected. Ensure the dog's skin is lathered down with dog-safe shampoo.
Afterward, rinse it thoroughly to prevent residual shampoo from creating matting and making brushing difficult. You may need several towels to completely dry your Labradoodle, depending on its size.
Using a hairdryer may be an option, but take precautions as the noise can stress them out.
Brushing
The next step after bathing your Labradoodle is to detangle and brush it. It may be beneficial to purchase a detangler specifically for dogs in order to simplify the process.
A thick bristle brush would help to prevent damage to your Labradoodle's hair follicles. Be sure to brush toward the skin in small sections. At the skin level, merely touching the topcoat can result in matting.
Your Labradoodle's chest and neck should be brushed out especially carefully. This is especially true under the legs, where tangling is more prevalent.
It may also be a good idea to trim his nails at this time. In case you accidentally clip the quick, keep flour or cornstarch nearby as a clotting agent. Any excessive bleeding can be prevented by doing this.
Grooming
Trimming and haircutting are also referred to as grooming. It's generally best to leave grooming to a professional, although you can trim between appointments if you wish.
Make sure you use grooming products that are made for pets and only attempt to groom your dog if you feel comfortable with the process.
How to Choose the Right Haircut for Your Labradoodle
If you are trying to figure out which haircut is perfect for your Labradoodle, there are a lot of factors to consider. Here are some pointers that can help you choose the right style.
Look for Stylish Dog Haircut Examples
There's no limit when it comes to finding the most creative and fun dog haircuts, especially online. Considering your dog's breed, size, and fur type will help you make the best decision.
By looking at a variety of haircuts and facestyles, you'll have more options for your Labradoodle. Focus on how you can continue grooming your dog after the haircut, not just how it looks now.
Choose the Right Groomer
In order to take care of your Labradoodle properly, you need to hire a quality groomer. Groomers can help you find the best dog haircut over time by regularly grooming them. In addition to that, your dog's nails will stay trimmed, his spirits will be high, and his health will be excellent.
In this case, you should spend time researching professional groomers and seeing what they have done previously. Ensure that the groomer you choose is both skilled at cutting dogs and easy to work with.
Come up with your own custom hairstyles. If you're in the market for a skilled groomer, you should get references.
How to Prepare Your Dog for a Haircut
Some dogs do better with groomers and haircuts than others. If you think your Labradoodle may be nervous about the session, there are some things you can do to help prepare it.
Introduce Your Dog to Grooming Too
When your dog is getting groomed for the first time, it's a good idea to expose it to the tools of the trade. Therefore, if they are not afraid of grooming, they will likely cooperate better.
In order to get your dog accustomed to the tools, you should leave them out in plain sight around the house. It is also possible to let them sniff tools or even play with them under supervision. To help create a positive association between the grooming tools and your dog, you can give treats as you use the tools.
You must ensure that you give your dog positive reinforcement before their first grooming session, regardless of which method you use. You'll both have a much better experience this way.
Be Patient With your Dog
When dogs experience a new situation or place, they can become anxious. A dog experiencing anxiety may pant, whine, or try to escape. Additionally, dogs may defecate or urinate in inappropriate locations.
Keeping your dog comfortable in the new situation and being patient with it is the best way to avoid these behaviors. It is a bad idea to scold your dog since this will only make them more anxious.
Instead, reward calm behavior with praise or treats. As a result, your dog will be more likely to behave calmly in future grooming sessions when they associate the new situation with positive experiences.
Allow the Dog to Exercise before the Grooming Visit
It can be stressful for dogs to get groomed for the first time. It will help to wear out your dog before their grooming appointment with exercise.
Walking or running your dog before their grooming appointment can make them happy. The experience will be more enjoyable for both of you if you can calm them down.
Frequently Asked Questions
How short should I cut my Labradoodle's coat?
Generally speaking, it's best to keep a Labradoodle's coat length at half an inch or longer. Many owners who groom their dogs at home use a 3/4-inch blade.
Should you trim a Labradoodle's eyelashes?
You don't need to trim your Labradoodle's eyelashes. In fact, you shouldn't — eyelashes help protect their eyes. That said, you should trim your Labradoodle's face so that its eyesight isn't blocked.
Should Labradoodles be shaved in summer?
It might seem counterintuitive, but trimming your dog's hair too short can cause them to overheat. Sunburn is also a risk for shaved dogs. That said, there are situations — like excessive matting — where it's better to shave, even with the risks.
Conclusion for "Labradoodle Haircuts and Facestyles"
In addition to the summer cut, the lion cut, the puppy cut, and plenty of traditional Poodle haircuts, there are other popular haircuts and facestyles that will suit your Labradoodle well. Putting time into choosing which style fits your pooch will give you more options in the long run.
If you work with a professional groomer, you can develop a style over time. Or, if you have the right tools, you can give your Labradoodle a convenient trim at home.
If you find this guide, "Labradoodle Haircuts and Facestyles" helpful, check out:
Learn more by watching "Best Labradoodle Haircuts 🐶 Puppy Cut 🐶 Teddy Bear Cut 🐶 Lamb Cut 🐶" down below:
Garrett loves animals and is a huge advocate for all Doodle dog breeds. He owns his own Goldendoodle named Kona. In addition, he volunteers at the Humane Society of Silicon Valley, where he fosters dogs and helps animals. Garrett enjoys writing about Doodles and believes that dogs can teach humans more about how to live than humans can teach a dog.
Why Trust We Love Doodles?
At We Love Doodles, we're a team of writers, veterinarians, and puppy trainers that love dogs. Our team of qualified experts researches and provides reliable information on a wide range of dog topics. Our reviews are based on customer feedback, hands-on testing, and in-depth analysis. We are fully transparent and honest to our community of dog owners and future owners.