Labradoodles are a crossbreed of the Labrador Retriever and a Standard, Miniature, or Toy Poodle. Due to their intelligence and easygoing personality they inherit from their purebred parents, the Labradoodle has become a well-loved puppy breed among dog lovers in the United States.
It's no surprise that you'll see Labradoodle puppies for sale in Hawaii. However, if you're looking for this specific dog breed, you'll need to do a ton of research to make sure you're buying a puppy from a reputable breeder. Before you put your deposit down on a puppy, make sure the Labradoodle breeder health tests, genetic tests, and socializes their puppies. Here are some of the best Labradoodle breeders in Hawaii.
Other articles you would like: Best Dog Food for a Labradoodle and Best Crate for a Labradoodle.
1. Live Aloha Labradoodles HI
Located in Kailua, Live Aloha Labradoodles HI is committed to providing happy and healthy multigenerational Labradoodles. They have been breeding dogs since 2014 and currently have 10 dogs in their breeding program in a variety of coat colors and sizes.
Their parent Labradoodles in Hawaii undergo testing for elbow and hip dysplasia along with PRA testing. They are also CERF certified by the OFA. This helps virtually guarantee that your Labradoodle puppy won't have any genetic diseases later on in life. Live Aloha Labradoodles provides a caring environment for their Labradoodles that is essential for raising well-trained and good-natured puppies.
Labradoodle Breeder Details
2. Kailua Doodles Hawaii
Housed on the island of Oahu, Kailua Doodles Hawaii is an in-home breeding program involved in raising premier Labradoodles, Double Doodles, and Goldendoodles. 
All their Labradoodle puppies receive necessary vaccinations, deworming, and veterinarian check-ups at regular intervals. These records are available during the adoption process for the family or individual who is adopting a puppy. This makes it easy to take to your new veterinarian and verify they are up to date on all their vaccinations.
Additionally, every Labradoodle puppy is also allotted a microchip to ensure its recovery in case the dog is stolen or lost in any other way. With a General Health Guarantee, they also provide a refund if the puppy develops any genetic or health disorder.
Labradoodle Breeder Details
3. Laurelwood Doodles Hawaii
**Updated 1/21/2021, this breeder no longer sells Labradoodles. Only Goldendoodles and Double Doodles.**
Located in the Hawaiian Paradise Park on the big island, Laurelwood Doodles is committed to breeding and raising socialized, happy, and healthy Labradoodles and Goldendoodles.
The early training programs include Early Neurological Stimulation assisted by military developed Biosensor training. This helps to ensure that their Labradoodle puppies in Hawaii are ready for the real world and have experienced various sights and sounds. The dogs also undergo crate training and are exposed to various natural noises like thunderstorms and fireworks.
The Labradoodle puppies are raised to socialize with people and other dogs. Moreover, they are also trained in developing useful qualities and skills like eye contact, obeying commands, name recognition, and cuddling. This Labradoodle breeder in Hawaii really going above and beyond what is expected in the first 8 weeks of a puppy's life.
All their Labradoodle puppies in Hawaii are veterinarian checked, vaccinated, and dewormed professionally. These breeders also keep a detailed health record of the Labradoodle puppies available for their customers for a complete reference.
After a puppy is adopted, they are sent to their new homes with a piece of fabric that has the mother's scent on it so that the puppy's transition is relatively easier. Due to Covid, they have seen an influx in applications as several people want a puppy so there may be quite a long waitlist.
Labradoodle Breeder Details
Why Buy From A Labradoodle Breeder in Hawaii?
When you want to buy a Labradoodle puppy, pet stores are the first option for almost everybody as it is easy to just pop in and pick up a pet that melts your heart the most. However, acquiring a Labradoodle puppy that way comes with risks. The major risks include a puppy with underlying health issues or genetic issues because you don't know their medical background.
This is why reputable Labradoodle breeders in Hawaii are important. Getting your puppy from a breeder provides you with a number of proven advantages. Some of them include:
You Will Know Everything About the Puppy
Responsible breeders will tell you everything about the Labradoodle puppy from its birth. This includes their temperament, health, and any other characteristics that the breeders have observed while raising the puppies. Everything is meticulously noted, assessed, and disclosed.
This will give you a fair idea of whether the Labradoodle puppy you are looking to adopt matches your personality as a future dog owner or not. Another benefit is that you have complete control over how to look after the puppy after you take it home with the professional guidance of the breeder.
They provide answers to all your questions and doubts about the puppy and you can always refer back to the records they provide you with, especially regarding the puppy's health. The key here is to ensure that both the puppy and its new family feel comfortable with each other.
Healthy And Happy Puppies
Ethical Labradoodle breeders in Hawaii always focus on breeding healthy and happy puppies. The parents are extensively tested so that the puppies bred are the best of their breeds.
As these puppies are raised in a homely environment with proper medication and regular check-ups, they are free from behavioral disorders and other health issues. Thus, the Labradoodle puppies in Hawaii you take home are raised well and are safe.
They Provide Limitless Information
Most of the reputable Labradoodle breeders in Hawaii are committed to breeding one or two specific breeds. As a result, they always conduct thorough research on these exact breeds and their history.
They also have in-depth knowledge and information regarding the breed which is helpful for the pet owner as they might have questions during or after the process of adoption. Ethical Labradoodle breeders can also recommend the best veterinarians in your area. In cases when you adopt a rare breed, breeders ensure that you connect with knowledgeable vets.
You Are Never Alone With the Puppy
Responsible breeders always stay in touch with the people who purchase their puppies. The communication between the breeder and their puppy may range from days to months as breeders are equally concerned about the health and well-being of the puppy in your home. Hence, you have constant support and expert advice on all your puppy issues.
You Will Be Provided References
Good Labradoodle breeders in Hawaii provide assurance and references on how their puppies have gotten along with other individuals and families before you. They usually keep a record of all testimonials from their previous foster caretakers. They will also allow you to contact them directly so that all your doubts about your puppy are answered.
Therefore, reaching out to a Labradoodle breeder is always the best choice, especially when it comes to adopting and raising a rare breed like the Labradoodle. Add a spark of joy to every corner of your home with the happy, smart, and fun-loving Labradoodles.
If you are interested in buying a puppy, you can get in touch with the Labradoodle breeders in your area or visit any of the above breeders in Hawaii.
More information about Labradoodle Puppies in Hawaii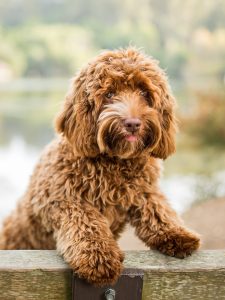 The gentle and friendly nature of the Labrador Retriever combined with the cute, active, and elegant character of the Poodle is a Labradoodle. The kind of breed that is top-notch and well sought after among dog lovers.
The Labradoodle traces its origin to Australia where an Australian breeder created and named it 'Labradoodle' in 1989. The breed wasn't as popular at first, but it eventually received the attention it deserved as more and more families started to discover this breed for its easygoing temperament and nonshedding features.
Behavior
Labradoodles are friendly, loyal, and happy breeds. Their playful nature makes them well-liked and a great choice for families and even individuals who want a pet friend of their own for some good company. In addition, Labradoodle puppies mingle well with both children and adults, making them popular with multi-generational families.
Hypoallergenic Nature
Unlike other breeds, Labradoodles do not shed as much which makes them the perfect companion for those allergic to dog hair. Their coat is more similar to hair than actually pet fur. Thus, it carries less dander which causes pet allergies.
Intelligence
Labradoodles possess a high level of intelligence. They can be trained easily and love showing off their skills. Additionally, they excitedly perform tricks and entertain their audience because they are an obedient dog breed. They always follow their owner everywhere from walking in the park or along the beach to hiking and trekking along challenging terrains.
Coat Nature and Colors
These adorable dogs have different coat types like curly, wavy, shaggy, or straight. In addition, their color varieties include white, black, golden, chocolate, red, cream, and silver which you won't find in most purebred dogs.
Conclusion for Labradoodle Breeders in Hawaii
Now that you have gotten to know more about the Labradoodle's nature, character, and looks, it is time to know where to look if you want to buy a Labradoodle for your family. If you are from Hawaii, the good news is that there are a number of good Labradoodle breeders across the island. However, not all Labradoodle breeders in Hawaii are the same and you will need to do your research to find someone reputable. You can start with our list or do your own research! Best of luck finding your next puppy!
Other articles you will like:
Garrett loves animals and is a huge advocate for all Doodle dog breeds. He owns his own Goldendoodle named Kona. In addition, he volunteers at the Humane Society of Silicon Valley, where he fosters dogs and helps animals. Garrett enjoys writing about Doodles and believes that dogs can teach humans more about how to live than humans can teach a dog.
Why Trust We Love Doodles?
At We Love Doodles, we're a team of writers, veterinarians, and puppy trainers that love dogs. Our team of qualified experts researches and provides reliable information on a wide range of dog topics. Our reviews are based on customer feedback, hands-on testing, and in-depth analysis. We are fully transparent and honest to our community of dog owners and future owners.