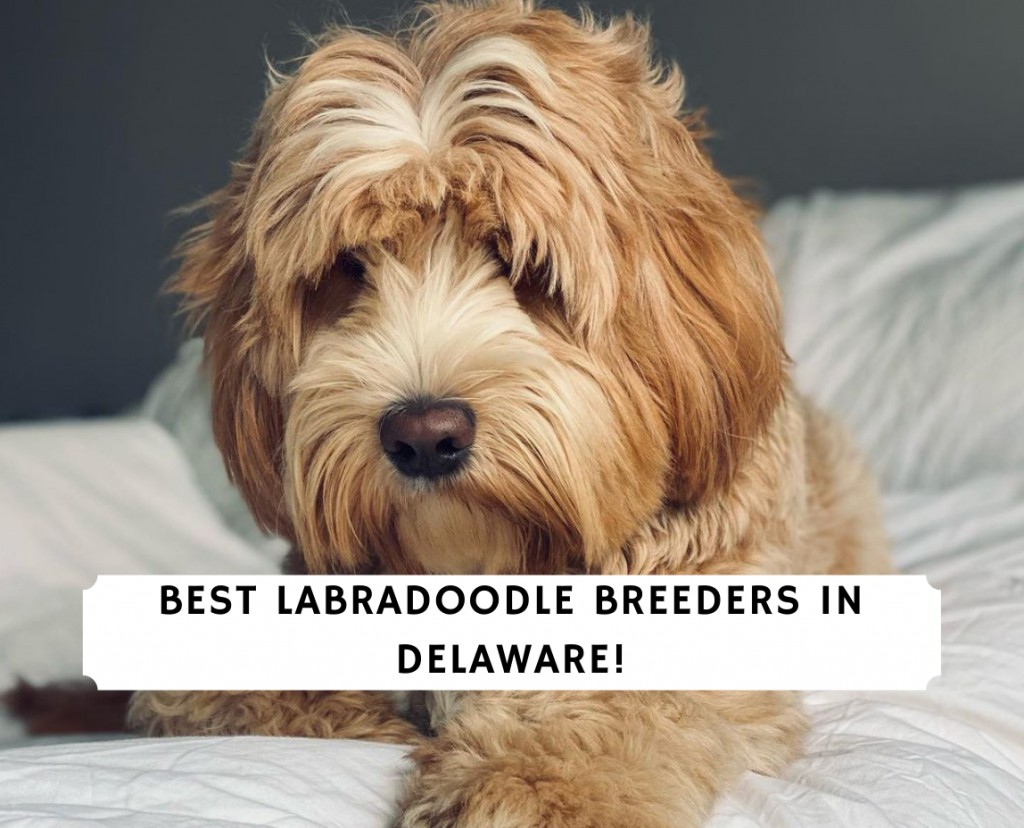 Dogs are the most popular pet in the world. Roughly a third of the global population owns at least one dog, and a massive number of those dogs come from breeders. While the first choice for any potential pet owner should be adopting from a shelter or rescue, sometimes the best option is purchasing from a reputable breeder.
When purchasing Labradoodle puppies in Delaware from a breeder, there are several things to consider. First, the breeder's compassion for their Labradoodle puppies is of the utmost importance. These Labradoodle breeders in Delaware are those who see their animals as more than a source of income and are extremely knowledgeable of the breed. In addition, you also should verify any health testing, genetic tests, and visit the breeder's facilities.
Today, puppy mills and backyard breeders with Labradoodle puppies for sale in Delaware are widely criticized, but they unfortunately still exist. When searching for Labradoodle puppies, local breeders who truly love and care for their dogs are the only acceptable option. With this in mind, we have a list of the best Labradoodle breeders in the Delaware area.
Check out these other posts: Best Dog Food for a Labradoodle and Best Crate for a Labradoodle.
1. Waltzing Matilda's Labradoodles Delaware
Located in Milford, Delaware, Waltzing Matilda's Labradoodles is the ideal small and local breeder. The owner and operator, Michelle, says that the priority for her business is maintaining the integrity of the Labradoodle breed while providing families with happy and healthy puppies.
Waltzing Matilda's produces Australian Labradoodles, which are a mix of Labrador Retriever, Poodle, and the Cocker Spaniel. This results in a highly intelligent and affectionate dog with a hypoallergenic non-shedding coat. Australian Labradoodles tend to conform to a specific breed more so than just Labradoodles because they are bred over multiple generations.
Michelle's business was born out of pure love for dogs and the Labradoodle breed. She keeps this love alive every day when caring for her dogs. Waltzing Matilda's is not a large facility or kennel and Michelle's Labradoodle puppies live in her house with her family!
Free to run through her home and all over her acre-plus fenced property, the Labradoodle puppies in Delaware from Waltzing Matilda's spend their days being loved and played with by Michelle's family.
Waltzing Matilda's offers a unique program for those interested in becoming involved with the care of their dogs: a "guardian" program, in which local families adopt and house dogs currently being bred. This eliminates the need for Michelle and her family to kennel extra dogs and provides adult dogs with loving, safe homes.
Guardians owners are even allowed to visit dogs and be present during deliveries. In addition, Guardian families will fully adopt the Labradoodle once their breeding window is closed. The requirements for either adoption or the guardian program are extremely strict, but it is something to consider if you are on a budget. This Labradoodle breeder in Delaware is accredited by the Australian Labradoodle Association of America (ALAA) and Worldwide Australian Labradoodle Association (WALA), so you can ensure that they are reputable.
Labradoodle Breeder Details
2. Delaware Doodles
Delaware Doodles is a very small independent breeder located in southeastern Delaware. Operating since 2003, its mission is to provide healthy Labradoodle puppies to those looking for highly trainable and allergy-friendly pets. Their puppies are given extensive health testing from birth and come with a two-year health guarantee.
Delaware Doodles also requires that adopters sign a contract agreeing to spay or neuter their dogs which is essentially forbidding them from being bred. The breeder is a highly-rated, Continental Kennel Club (CKC) recommended breeder of Australian Labradoodles and Goldendoodles.This means that they are a reputable reputable Labradoodle breeder in Delaware.
Delaware Doodles' dogs are born and raised in the owner's home. There is only one litter being cared for at a time, ensuring that puppies receive the absolute best medical care, training, and socialization. The owner began breeding when her first Labradoodle suffered from many serious health issues which could have been prevented if a breeder did health and genetic testing.
She truly cares for each and every Labradoodle puppy she raises, making a point to provide the utmost care for her dogs. Each puppy adopted from Delaware Doodles will come with extensive medical records, basic care items, and a special blanket with the mother and siblings' scents for comfort and ease of transition.
As with most, Delaware Doodles requires that potential adopters complete an extensive application, which includes references and a no-breeding contract. Their Labradoodles for sale in Delaware cost $2,500 and come with a variety of items and health certificates.
Labradoodle Breeder Details
3. Blackbird Labradoodles Delaware
Blackbird Labradoodles is owned and operated by a retired couple in central Delaware. The focus of this breeder is on producing the perfect Labradoodle puppies for families and those who need therapy dogs. Their dogs are guaranteed allergy-friendly and are derived from a long line of specialty therapy dogs.
When establishing their business, the couple took care in finding the perfect foundation dog to become not only a breeding dog, but also a member of the family.
Since then, they have begun to breed Labradoodle puppies, bringing their total number of litters at any time to only three maximum. The dogs and Labradoodles puppies live on their property and in their home, receiving the love, socialization, and training necessary for success.
Blackbird's application process is extensive. Adopting from Blackbird Labradoodles is a supportive, professional experience. This Labradoodle breeder in Delaware provides extensive health records, microchipping, and guaranteed socialization with adults, children, and other animals.
They also provide lifetime support for all of their Labradoodle puppies for sale. Blackbird requires all applicants to complete an application and submit a signed warranty and contract forbidding breeding and binding the buyer to adhere to Blackbird's stringent care and housing requirements.
The breeder's location means that they are accessible for much of the Eastern and Mid-Atlantic United States. While they do not ship puppies, Blackbird Labradoodles will work with adopters to arrange a pickup that works with their schedule. Their payment plan requires that adopters pay in three installments for the smoothest and most convenient process possible.
Labradoodle Breeder Details
4. SoDel Doodles Delaware
SoDel Doodles is a family-run breeder located in Southern Delaware. Their business is run from their home on a large, spacious farm near the ocean! SoDel's dogs are family pets as much as they're the driving force behind the business. Their Labradoodle puppies in Delaware are raised in and around the home and growing up socialized and well-trained.
The Labradoodle breeder's site is beautiful and streamlined, allowing potential adopters to learn about their dogs, breeds, and family. SoDel's site offers an enormous number of resources and links to help adopters decide whether a puppy is right for them. They thoroughly explain the application process, from the application itself to weekly updates to "Gotcha Day", when families can choose their Labradoodles puppies.
SoDel does not reserve specific Labradoodle puppies, but instead allows adopters to choose their own from a few that the breeders feel would be a good match. The application is simple and easy to complete, but the breeder's follow-up via phone and/or email still vets adopters to ensure that only the most qualified can adopt one of their beloved dogs.
SoDel's selection includes Poodles, Labradoodles, and Bernedoodles (Bernese Mountain Dog and poodle mix). They offer hypoallergenic and standard dogs, as well as dogs deemed ideal for service training. SoDel is meticulous in the care of their dogs, from the moment they're born to the day they're adopted and beyond.
Labradoodle Breeder Details
How to Choose a Labradoodle Breeder in Delaware
Labradoodles can make an excellent family or service dog. Their gentle, friendly temperament and intelligence result in a highly trainable, pleasant dog, and their partial or total lack of shedding makes them the perfect choice for those with allergies.
Though both parent breeds are prone to similar serious health issues, purchasing from a reputable local Labradoodle breeder in Delaware ensures that puppies are tested for common diseases, disabilities, and given proper treatment.
By going through local breeders, you can ensure that Labradoodle puppies who do have disabilities or health issues are not discarded at high-kill shelters or dumped, but rather cared for by the breeder themselves or adopted by loving families.
When purchasing a new pet from a breeder, the best first step is becoming well-informed. Knowing the Labradoodles breeder's day-to-day care and interaction with their animals is a great indicator of their true motivation. A good and compassionate breeder will be completely transparent regarding their business and their animals.
More Information About Labradoodles in Delaware
For those who want a specific dog breed or those who are looking for a dog with a specific temperament then breeders are a natural choice. This is especially the case with Labradoodle puppies in Delaware. Once considered a "mutt", Labradoodles are a boutique designer dog breed beloved for their sweet personality, friendly temperament, and minimal shedding.
There are two main types of Labradoodles widely available: the standard, which is a cross between the Labrador Retriever and Poodle breeds, and the Australian Labradoodle, which is a combination of the Labrador retriever, Poodle, and Cocker Spaniel Breeds.
Conclusion for Labradoodle Breeders in Delaware
Though the first choice should always be adoption, purchasing from a Labradoodle breeder can be a good choice after thorough research via articles like this one! Since the Labradoodle has become so popular, it's important to try and get a healthy and happy dog from a reputable breeder. This is one of the reasons why we put together our list of Labradoodle breeders in Delware that are extremely reputable. However, we always suggest that you do your own research, ask lots of questions, and conduct an in-person visit to view the parent dogs.
Other posts you would like:
Garrett loves animals and is a huge advocate for all Doodle dog breeds. He owns his own Goldendoodle named Kona. In addition, he volunteers at the Humane Society of Silicon Valley, where he fosters dogs and helps animals. Garrett enjoys writing about Doodles and believes that dogs can teach humans more about how to live than humans can teach a dog.
Why Trust We Love Doodles?
At We Love Doodles, we're a team of writers, veterinarians, and puppy trainers that love dogs. Our team of qualified experts researches and provides reliable information on a wide range of dog topics. Our reviews are based on customer feedback, hands-on testing, and in-depth analysis. We are fully transparent and honest to our community of dog owners and future owners.