The Kangal Shepherd Dog is a popular breed, but not much is known about it, even among dog enthusiasts. It's important to consider the potential Kangal sizes when deciding whether or not to bring this powerful breed home.
Generally, the Kangal Dog is a large breed. Males can reach up to 34 inches, while females can reach up to 29 inches. This means that this dog is not suited for apartment living and requires a large backyard.
Keep reading as we describe further important considerations when adopting the Kangal Dog.
Before reading this guide, "Kangal Dog Sizes: Everything You Need to Know," check out: What Is a Kurdish Kangal? (2023) and Dog Breeds That Start With K! (2023).
History of the Kangal Dog
The Kangal Dog is an old breed of sheepdog that may have ancestry in the early mastiff-type dogs shown in Assyrian art. The breed gets its name from the Kangal District of the Sivas Province in central Turkey, which is most likely where the breed first appeared.
Traditional predators like wolves, bears, and jackals are no match for these dogs. Most are kept by rural farmers who are thrilled with the breed's ability to protect their flocks of sheep and goats.
Given that the Sivas-Kangal area is isolated from the rest of the world, the Kangal Dog hasn't been subjected to cross-breeding. This has allowed the Kangal Dog to develop into a natural breed that is consistent in appearance, temperament, and behavior.
Many Turks regard the Kangal as the country's official dog. Throughout Turkey, breeding kennels run by government and academic institutions ensure the longevity of the breed and its documented history. To that end, both Turkish postal stamps and coins have depictions of the Kangal Dog on their designs.
Historically, this breed was known as the Anatolian (Karabash) Shepherd Dog. The club eventually broke up into two factions — the Kangal (Karabash) breeders and the Anatolian Shepherd Dog breeders — after someone brought in a pinto dog from Anatolia, causing tension and division within the group.
Kangal Dogs in the West
David and Judith Nelson, two Americans who were living in Turkey when they began their research on these dogs, introduced the Kangal to the canine literature of both Europe and North America. In 1985, the Nelsons were the first American family to bring a Kangal Dog into the country. This and other imported Kangals set the stage for the breed in the United States.
Some people believe that Charmian Steele and a few others in Britain first established the breed in the Western world. 1965 saw the introduction of Kangals into England, and the first litter was born in 1967.
Although the name "Anatolian Shepherd" can refer to all dogs with shepherding heritage in Turkey, authentic Turkish Kangal dogs are often considered a different breed than the more general Turkish shepherd. The export of purebred Kangal Dogs from Turkey has been strictly regulated.
The original Turkish Kangal Dogs are still and always will be working shepherds at heart. The American branch of the Kangal Dog Club is still pushing for looser import policies. It is widely believed that the genetic diversity introduced by imported dogs might greatly benefit the American dog population.
Kangal Dog Sizes
The Kangal is a gorgeous creature with a powerful physique that has developed over time to withstand a rigorous environment. And while it's a big dog, it's not as big as some other types of mastiffs. The Kangal's years of experience herding have given it an innately high level of agility and speed.
Male Kangals can reach a maximum weight of 143 pounds and a maximum height of 34 inches, whereas female Kangals can reach a maximum weight of 121 pounds and a maximum height of 29 inches.
Because of its long history of service as a watchdog in Turkey, the Kangal Dog has naturally matured into a huge, muscular, and stocky build. The ears hang down from the sides of the broad, rather wide skull.
The ideal proportions for a Kangal Dog are for it to be somewhat longer (from prosternum to the tip of hips) than tall (from withers to floor), and for the length of its front leg (from site of elbow to floor) to be just a little bit more than half of its total body length.
The silhouette is finished off by the characteristic curl of the tail, which is almost always present.
Coat of the Kangal Dog
The Kangal Dog is known for its short, thick double coat. The Kangal Dog's color might vary from light dun to gray, but its black mask and silky ears stand out. There should be no penalty attached to visible scars or other signs of injuries on the Kangal sustained while performing their duties in the field.
Temperament of Kangal Dog
The average Kangal Dog possesses the temperament of a livestock guardian dog, meaning it is vigilant, territorial, and protective of the domestic animals or family with whom it has formed an attachment.
Protecting herds of sheep and goats in Turkey requires a guard dog with speed, agility, and bravery.
Kangal Dogs would rather use fear to deter predators than resort to physical force, although they will fight back if threatened. Kangal Dogs are naturally wary of unusual dogs but don't tend to be aggressive toward humans. They are hesitant around new people but fiercely devoted to their loved ones.
The goal of this dog's training is to make you the alpha in the pack. A pack of dogs will always have some sort of hierarchy. Living with dogs transforms us into a group where each member of the pack works together to support the leader. There are strict boundaries and norms to follow.
When a dog is unhappy, he shows it by growling and, if necessary, biting. This means that every other human must be superior to the dog. The dogs shouldn't have any say in the matter; the humans should. That's the only way to guarantee a prosperous canine-human partnership.
Space Requirements for Kangal Dog
Living with a Kangal Dog in a small space is not advised. This is a pretty sedentary dog when inside, so it's ideal to provide a big yard to roam around in.
Although the Kangal Dog shares the protective nature of other livestock guardian breeds, it also possesses more people-pleasing tendencies than most.
Well-socialized Kangal Dogs are not usually violent toward humans. While they are especially fond of youngsters, they have a hard time understanding the concept of private property.
It is likely to wander, attack stray dogs, and potentially be hostile toward human visitors, especially during the night. This shows the importance of quality fencing.
Health Considerations for Kangal Dogs
Kangals are not only some of the most powerful dogs, but they have great overall health. There are a few recognized health problems associated with Kangals, including:
Hip Dysplasia
Hip dysplasia is the most important health problem to keep an eye out for in Kangal Dogs because it is so prevalent in large breeds. This is a congenital disorder in which the hip bones do not form correctly, which can lead to problems in later life with arthritis.
Lipoma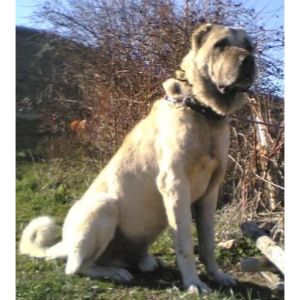 These dogs can develop benign tumors and bumps in their belly and chest. Even though these tumors are harmless, they may prevent dogs from fully enjoying the activities of daily life.
If you find any strange lumps in your dog's chest or abdomen while you are brushing him, you should take him to the veterinarian immediately.
Entropion
Another inherited disease, this disorder causes the eyelids to fold inward and is characterized by a malformation in the eyelids. After the eyelids have been folded, the eyelashes and hair will brush against the eye, which can be irritating and uncomfortable.
Regular checkups at the vet, early detection and treatment, and other preventative measures are all effective in resolving these health issues.
The Kangal has an average lifespan of 11 to 13 years, which means that you will have the pleasure of these devoted companions and protective guard dogs with you for a long time.
Bite Force of the Kangal Dog
This breed is famous for its powerful bite, which is a popular topic of discussion among dog enthusiasts. The Kangal is the most powerful of all dogs with a 743 PSI biting force.
Rest assured, these dogs are not raised to be unpredictable in their hostility. Rather, they exhibit their tremendous might only when they are in a position to watch over their pack.
Now that a dog has been officially recognized for having the strongest bite, there will be talk of rivals who might be able to dethrone the current champion. But there have been no worthy opponents so far.
Kangal Dogs and Children
Despite their large size, Kangal Dogs have a kind demeanor toward children. They are protective of their pack, and their instincts will teach them not to behave aggressively with humans that they view as members of their family.
These giants are gentle and docile among people they know and trust. Because of their tough nature, they won't be bothered if children pull on their ears or climb all over their bodies.
There are very few dogs that are more suitable as companions for children than this particular breed, as they will protect children to the absolute best of their ability.
Grooming Requirements of Kangal Dog
Their dense and short double coat will shed in moderation most of the year, but expect Kangals to shed profusely during spring and winter each year.
Brushing your dog's coat every day with de-shedding tools should begin at the onset of these two seasons. You should only brush its coat twice weekly, apart from the spring and winter months.
They won't require baths very often. In most cases, bathing them once a month is going to be enough to maintain their cleanliness. If you bathe your Kangal too frequently, you risk removing the natural oils from its coat, which can lead to skin issues.
Because of its propensity to drool, this breed of dog requires special attention to its oral health. Brush his teeth at least twice a week to ensure that they remain spotless and gleaming.
Nutrition Requirements for Kangal Dog
High-quality kibble is an essential part of a Kangal Dog's diet. Raw food, such as meat and eggs, are not off-limits for this dog, but it is preferable to get the okay from your veterinarian first.
Daily servings of premium kibble should range from four to seven cups for an adult Kangal that has reached full maturity. This quantity will be sufficient to meet their calorie requirements daily.
A Kangal puppy needs between 3,600 and 4,800 calories per day. A little less food should be given to them as they get older. For example, adults need between 2,100 and 3,500 calories per day.
The food that you give to your dog should include sufficient protein to keep their bones and joints healthy, as well as a modest amount of carbs to keep their energy levels stable.
Frequently Asked Questions
Is a Kangal a good family dog?
While Kangal Dogs can be hit or miss with other pets, they are fantastic with livestock and children.
Is a Kangal bigger than a Cane Corso?
The average Kangal Shepherd Dog weighs 90 to 140 pounds, while the average Cane Corso weighs 90 to 100 pounds.
Will a Kangal turn on its owner?
Kangal Shepherd Dogs are loyal to their owners above all. They are not known for violent outbursts.
Conclusion for "Kangal Dog Sizes: Everything You Need To Know"
There are a few different sizes for a Kangal Dog, but many weigh between 120 and 140 pounds.
So, although the Kangal is an amazing breed that will be there by your side no matter what, it is important to consider all that goes into taking care of it before you bring the dog home.
Kangals will do best with a large yard or, ideally, a farm to roam.
For more guides similar to this list of Kangal Dog sizes, check out:
Learn more by watching "Kangal Dogs 101: Everything You Need To Know – Is It the Right Dog for You?" down below:
Garrett loves animals and is a huge advocate for all Doodle dog breeds. He owns his own Goldendoodle named Kona. In addition, he volunteers at the Humane Society of Silicon Valley, where he fosters dogs and helps animals. Garrett enjoys writing about Doodles and believes that dogs can teach humans more about how to live than humans can teach a dog.
Why Trust We Love Doodles?
At We Love Doodles, we're a team of writers, veterinarians, and puppy trainers that love dogs. Our team of qualified experts researches and provides reliable information on a wide range of dog topics. Our reviews are based on customer feedback, hands-on testing, and in-depth analysis. We are fully transparent and honest to our community of dog owners and future owners.