If you've ever had salsa in front of your dog, you know how eagerly he begs for food. Perhaps after eating some salsa in front of your dog, you thought about giving him a little. But is salsa OK for dogs?
Salsa is not something that dogs should consume, so avoid giving it to them. Even though a modest quantity of salsa shouldn't hurt your dog, almost all of its ingredients might be dangerous if consumed often or in excessive amounts.
Continue reading to learn more about why you shouldn't give your dog too much salsa and the amount that is OK.
Before you read this guide, "Is Salsa Ok for Dogs," check out: Can Dogs Eat Hot Chips? (2023) and Can Dogs Eat Takis? Safety Risks & Info (2023).
Is Salsa OK for Dogs?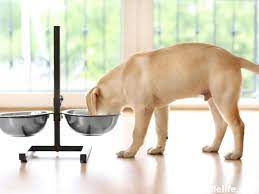 Salsa is not something your dog should consume, and you must never give it to them frequently. Salsa is made of a few different ingredients, most of which are fresh and organic, but that doesn't mean it's good for dogs to eat.
Salsa's likelihood of including onion and garlic is an issue. Each of these ingredients is not recommended for dogs since they both include thiosulfate, which can make your dog sick with anemia and other conditions involving red blood cells.
A small amount of salsa probably won't hurt the dog, but if it eats a lot of it or eats it too often, the effects may add up and become dangerous to the dog's health. Another thing to watch out for is that dogs should never consume spicy foods such as salsa since the extra heat from the jalapenos or chilies is unappealing to them.
What Amount of Salsa Can My Dog Eat?
Your dog shouldn't consume any salsa at all, so it's better to avoid giving it to them in the first place. There is no reason to worry, though, if your dog manages to take a little salsa from your table or if a visitor feeds them.
Small amounts of salsa shouldn't be too problematic, especially for bigger dogs. You might offer your dog some additional water to help him rinse it away because it can be spicy. Smaller dogs should be observed after consuming salsa.
If you're aware that your dog consumed some salsa, keep a tight check on them to see if any symptoms appear. Keep an eye out for symptoms of diarrhea, vomiting, or stomach pain. If you notice any of these signs, you should call your vet right away for advice.
Salsa Ingredients
Before we can fully understand how dangerous salsa is for dogs, we need to figure out how each of the different ingredients affects them. The typical components required to make salsa are listed below.
It should be emphasized that, similar to guacamole, certain salsa recipes may call for a few additional ingredients to give them a unique flavor.
Tomato
Any salsa recipe must start with tomato as its main component. It has a savory taste that significantly alters the flavor of your favorite salsa. But what's more? It is healthy and safe for your dog. However, dogs should never be given green, unripe tomatoes since they might be dangerous to them.
Tomatine and solanine, two poisonous compounds found in unripe tomatoes, tomato plants, and their leaves and stems, can also harm your dog's health. But as the tomatoes ripen, the amount of water in them shrinks a lot, making them safe for your dog to eat.
So, instead of salsa, you can give your dog simple, ripe tomatoes that don't have any poisons. Tomatoes are very acidic and might upset your dog's tummy when eaten in excessive amounts, so make sure to use caution when giving them to your dog.
Onion and Garlic
Your salsa recipe will never be complete unless you include the two flavorful ingredients onion and garlic. Even though they are an important part of any good salsa, are they safe for your dog to eat?
All parts of the onion and garlic plants are poisonous to dogs, and even a minuscule portion can make your dog sick, apart from the fact that they can cause dogs to have terrible breath. The hazardous ingredients are still there and just as strong whether the food is consumed raw, cooked, or powdered.
Garlic and onions are members of the allium family, which is reported to include the poisonous substances N-propyl disulfide and thiosulphate, which are harmless for humans but dangerous for dogs.
Hemolytic anemia is caused by these toxins attaching to red blood cells in the circulation and causing an oxidative disintegration of their membranes. It is important to get in touch with your veterinarian right away for medical attention if your dog has consumed any food that contains onion or garlic.
Jalapeno
While you might like the hot flavor of jalapenos in your delectable Mexican food, your canine buddy will most definitely not. They may experience some tastes differently since they lack the number of taste buds that humans have.
Jalapenos are another component of salsa that is unhealthy for dogs. Even though it has no harmful properties, the digestive tract of dogs is not built to manage this much heat.
Large amounts of jalapenos might irritate your dog's stomach, especially if their stomachs are already sensitive. Symptoms including stomach ache, diarrhea, vomiting, and flatulence might affect your dog.
Cilantro
In addition to being a safe, non-toxic, and dog-safe herb, cilantro has several health advantages for dogs, including preventing bad breath, promoting intestinal health, cleansing the body, and having antibacterial and anti-inflammatory qualities.
However, you should avoid giving them too much of it to avoid turning what was previously thought to be a formula for success into a tragedy. This applies to every food that you offer your dog.
Additionally, cilantro is a great source of essential minerals, including calcium, magnesium, iron, vitamin A, vitamin C, and vitamin K. All of these things will support your dog's continued vitality and well-being. Add a little quantity of cilantro to your dog's feed and slowly increase the amount with successive meals to ensure that your dog is not allergic to it.
Lime Juice
Your dog shouldn't consume any of the fantastic lime juice you add to your salsa to give it a desired sour flavor.
The ASPCA claims that lime includes several hazardous substances, including psoralens, a phototoxic substance, and essential oils. These toxins are not poisonous to people because their digestive systems can readily break them down, but your dog cannot do this.
Your dog can develop mild symptoms (such as gastrointestinal distress) to more significant health issues (such as photosensitivity, organ failure, convulsions, and death), based on how much lime juice was consumed. It's better to be safe than sorry, so make sure your dog doesn't get any lime-containing food.
Salt
Nearly every meal consumed by humans contains salt, and salsa is no exception. Although you would believe that any food without a large quantity of salt is bland, this is not the situation with dogs. Dogs find salty food to taste strong, and it can cause them to become thirsty.
Many foods already include salt, so you don't need to add more if you're giving them to your dog. Additionally, excessive salt intake by your dog may result in sodium poisoning, which can cause seizures, tachycardia, and dehydration.
Tortilla Chips
Even though it isn't technically a part of salsa, if you know this Mexican dip, you know that tortilla chips are often eaten with it.
Similar to salsa, it's not advisable to offer your dog tortilla chips. Since they have a crunchy, hard texture, they can choke dogs, especially smaller canines.
Also, tortilla chips are high in fat and salt, which could be bad for your dog's health. They also contain maize, which is often linked to food allergies in dogs.
Do Dogs Enjoy Salsa's Taste?
Dogs frequently adopt their owners' personalities and behavioral patterns. If you enjoy salsa frequently, there is a good possibility that your dog will as well. Yet, dogs lack the taste receptors necessary for meals that are sour, bitter, or spicy.
The acidic flavor of the salsa's lime juice will turn them off. Even if you find your salsa sweet, your dog might not. Although they are not particularly harmful to dogs, jalapenos in salsa are quite unpleasant.
Dogs may experience pain from the burning sensation that follows after the consumption of jalapenos or a chili-pepper mixture. Your dog might need some water to rinse the flavor of the salsa down.
How Can Dogs Be Kept Away from Salsa?
Although it might be challenging, teaching your dog the house rules is important for both your comfort and the safety of your dog. If your dog eats from your dish, you might have to correct it or teach it to only eat from its bowl and not from any other objects like a table or plate.
What Should I Do If My Dog Eats Salsa?
Observe your dog closely if it consumes salsa. Your dog could get sick or not depending on how much salsa it ate, how big it is, and how healthy it is in general.
If you notice any warning signs, take your dog to the vet right away to be examined. Salsa toxins may be dangerous to dogs, so it's important to get them medical help right away.
Frequently Asked Questions
Can dogs eat tomato salsa?
Dogs should not eat canned tomatoes in salsa due to the high salinity and preservatives.
Can dogs eat fresh tomato sauce?
Your dog should avoid eating tomato sauce, pasta sauce, or ketchup. The onion, garlic, salt, and preservatives are not good for them.
Can dogs eat Mexican food?
Generally speaking, Mexican food — like most human food — is not suitable for dogs.
Conclusion for "Is Salsa OK for Dogs"
Is salsa OK for dogs? The simple answer is no.
Salsa is regarded as dangerous for the canine diet, mostly due to the toxicity of the onion and garlic. Tortilla chips, which frequently go with salsa meals, present a significant choking risk to dogs. But you can give your dog small quantities of somewhat ripe tomatoes and cilantro.
If you find this guide, "Is Salsa OK for Dogs," helpful, check out:
Learn more by watching "Can Dogs Eat Salsa?" down below:
Garrett loves animals and is a huge advocate for all Doodle dog breeds. He owns his own Goldendoodle named Kona. In addition, he volunteers at the Humane Society of Silicon Valley, where he fosters dogs and helps animals. Garrett enjoys writing about Doodles and believes that dogs can teach humans more about how to live than humans can teach a dog.
Why Trust We Love Doodles?
At We Love Doodles, we're a team of writers, veterinarians, and puppy trainers that love dogs. Our team of qualified experts researches and provides reliable information on a wide range of dog topics. Our reviews are based on customer feedback, hands-on testing, and in-depth analysis. We are fully transparent and honest to our community of dog owners and future owners.