Dog ear plucking is one of the canine world's more unlikely controversies. Everyone seems to have an opinion, from groomers to vets to dog owners. But for many dog breeds, ear care is necessary.
So, who is right? Is dog ear plucking necessary? And if it is, how do you correctly pluck your dog's ears?
Before you scroll down this guide, "Is Dog Ear Plucking Necessary," check out: How to Trim a Goldendoodle's Face (2023) and How to Deworm a Puppy Naturally (2023).
Ear Plucking for Dogs: Is It Necessary?
In an ideal world, there would be a cut-and-dried answer to this question. But one of the reasons "Is dog ear plucking necessary" is such a vexing question is that it varies wildly from dog to dog.
There are two main theories about ear plucking and whether your dog needs it. Let's explore them in more detail.
Hair Traps Moisture
The primary reason groomers and vets recommend removing excess ear hair is that it's a way for dogs' ears to trap dirt, pests, and moisture.
When too many of these things build up, your dog can develop problems like:
Ear infections
Ear mites
Yeast infections
While all of these conditions are treatable, they are uncomfortable for your dog. And there's no denying that dogs are sensitive about having their ears touched. That's doubly true of a painful, inflamed, or infected ear.
It's possible to mitigate some of your dog's sensitivity by handling their ears frequently in puppyhood, but all that does is get them used to having a healthy ear handled.
To combat this, many vets and groomers recommend routine ear plucking for dogs. It keeps their hair at a manageable length and stops too much moisture from accruing in the ear canal.
So, ear plucking is necessary, right?
Ear Hair and Better Ear Health
Unfortunately, it's not that simple. For every vet that says ear hair traps moisture and causes an ear infection, there's another that argues the opposite.
The argument goes that, like human ears, dog ears naturally trap water, bacteria, and pests in their ear hair.
By catching these things before they penetrate the ear canal, they promote better ear health.
Arguably, plucking your dog's ears leaves them exposed. It makes it possible for many different things to get into your dog's ears and cause problems.
So, who is right?
Like so much else about canine health and behavior, it depends on the dog. Anal gland expression is an excellent point of comparison because it's equally controversial.
Many groomers find it beneficial for certain dogs. Equally, some dogs never need treatment in the first place.
Deciding what side of the ear-plucking debate you come down on has lots to do with your dog. So, let's discuss when ear plucking for dogs could be beneficial.
When to Consider Ear Plucking for Dogs
So, when is plucking dog ear hair necessary?
When trying to decide what's right for your dog, there are several factors you need to consider.
Dog Breed
Some dogs have naturally hairier ears than others. This includes:
Poodles
Doodle-type hybrids
Shih Tzus
Lhasa Apsos
Many of these dogs require grooming to keep them healthy and prevent uncomfortable conditions like mats.
That makes sense. Mats can be painful. But what does that have to do with your dog's ears?
Incredibly, it all comes down to moisture. Dogs with hairier ears trap more moisture in their ears than their less hairy canine contemporaries. That puts them at a higher risk of ear infection.
It's not the most serious health condition there is, but it's uncomfortable for your dog and leaves you footing a vet bill.
Plucking your dog's ear hair can reduce the chances of ear infection and lead to a happier, healthier dog.
Dog Age
Maybe your dog isn't predisposed to hairy ears. That doesn't mean your dog's ear hair can't build up.
Many dogs experience this phenomenon as they age. That's normal. But it also increases the chances of your dog developing ear infections.
In that scenario, you might consider ear-plucking for dogs. However, if your dog is older and unused to the procedure, arrange for a vet or professional groomer to do it.
It's not that you can't pluck your dog's ears yourself. But many dogs don't like having their ears touched. It can be uncomfortable and, if done incorrectly, painful.
Since this is something you may do routinely, you need your dog to be as comfortable and receptive to the experience as possible. Hiring a professional can help them relax.
Dogs with Chronic Medical Conditions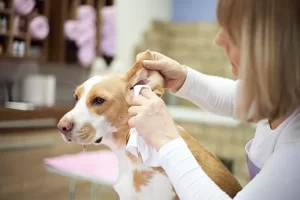 Another reason to consider plucking your dog's ears has nothing to do with age or breed. You should also consider plucking your dog's ears if they repeatedly suffer from ear infections, mites, or other conditions affecting the ears.
How to Pluck Your Dog's Ears at Home
There are a couple of ways you can keep on top of the hair in your dog's ears without consulting a vet or groomer.
However, you must take time to familiarize your dog with having their ears handled and also with the equipment you need to use.
Ear Plucking with Tweezers
One way to pluck the hair in your dog's ears is with tweezers.
Start by ensuring your dog is comfortable. Lying down is the ideal position because it keeps them relaxed and frees you up to navigate your dog's ears.
With your tweezers, gently manipulate the strands of hair you want to pluck. Never do more than five at once.
Tug gently. If the hairs don't come out at once, you may be pulling too hard. Release them, and try again with fewer hairs.
If at any point your dog expresses signs of pain, stop immediately.
Using Powder
Another way to pluck your dog's ears is using a combination of depilatory powder and your finger.
Sprinkle the powder onto the ear, taking care to avoid the ear canal.
Next, sprinkle the powder on your fingers. With your fingers lightly powdered, pick up four or five strands of hair and twist them in the direction they grow.
The powder helps you grip the hairs and should help them come out without pain or complication.
As before, stop if you sense your dog is in discomfort.
Note that although it's possible to use baby powder in conjunction with your fingers, vets don't recommend it. That's because some of its ingredients, like talc, can be harmful to dogs.
Alternatives to Ear Plucking for Dogs
Given how controversial plucking dog ear hair can be, are there any alternatives to ear plucking?
Trim Your Dog's Ear Hair
The most popular alternative is to compromise. Instead of completely removing the hair at the root, many groomers trim the hair.
That ensures there's something to catch and trap bacteria before it can penetrate your dog's inner ear.
But it also reduces how much moisture gets trapped in the ear. Simultaneously, it reduces any itching that may derive from long hair and wax build-up.
The one drawback to this technique is that it requires regular visits to a groomer, especially if you aren't comfortable doing the job yourself. That said, if you have a dog with a high-maintenance coat, you may constantly find yourself at the groomer's, anyway, and they can work trimming your dog's ear hair into their routine.
Frequently Asked Questions
Hopefully, that helps clarify whether dog ear plucking is necessary and offers some alternatives for you to consider.
If not, here are other questions people frequently ask about dog ear plucking.
Why do groomers pluck dogs' ears?
Groomers pluck dog ears to reduce the chances of ear infections and stop moisture from building up in your dog's ears.
Do groomers pluck dogs' ears?
Because dog ear plucking can be controversial, not every groomer offers this service. If you want a groomer to pluck your dog's ears, consult with them before arranging the appointment.
Can I pluck my dog's ear hair at home?
There are several ways for you to pluck your dog's ears at home. However, because dog ears are sensitive, we recommend enlisting professional help.
Does plucking dog ear hair hurt?
Provided the procedure gets done correctly, dog ear plucking should not be painful. If you have never plucked your dog's ears before and think your dog is in pain, stop immediately.
What dog breeds need ear plucking?
Not all dogs have enough ear hair to make ear plucking necessary. Breeds with excessive ear hair include Poodles, Doodles, Shih Tzus, and Lhasa Apsos.
Is it okay to pluck dog ear hair?
Provided you do it correctly, dog ear plucking is safe.

However, because some dogs experience increased ear infections and problems with frequent plucking, it's important to consult your vet and find out if it is necessary before you start.
How do you pluck dogs' ears without hurting them?
There are several ways to pluck dog ears painlessly. The most popular methods involve either tweezers or depilatory powder.
How do you pluck the hair out of dogs' ears?
Whatever technique you choose for your dog's ear plucking, you must remember to pull the hair in the direction it grows.

You can experiment with tweezers or powder to see which is right for your dog. Alternatively, trimming rather than plucking the hair can resolve ongoing issues for your dog.
Conclusion for "Is Dog Ear Plucking Necessary"
Is dog ear plucking necessary?
Ultimately, all dogs are different. Talk to a vet or groomer about whether dog ear plucking could help your pet. And if you can't decide, you can always try it once and assess your dog's reaction.
If you find it makes them happier and healthier than previously, that's a strong argument for dog ear plucking.
If you find this guide, "Is Dog Ear Plucking Necessary," helpful, check out:
Learn more about dog ear plucking by watching "Should I Pluck My Dog's Ear Hair?" down below:
Garrett loves animals and is a huge advocate for all Doodle dog breeds. He owns his own Goldendoodle named Kona. In addition, he volunteers at the Humane Society of Silicon Valley, where he fosters dogs and helps animals. Garrett enjoys writing about Doodles and believes that dogs can teach humans more about how to live than humans can teach a dog.
Why Trust We Love Doodles?
At We Love Doodles, we're a team of writers, veterinarians, and puppy trainers that love dogs. Our team of qualified experts researches and provides reliable information on a wide range of dog topics. Our reviews are based on customer feedback, hands-on testing, and in-depth analysis. We are fully transparent and honest to our community of dog owners and future owners.